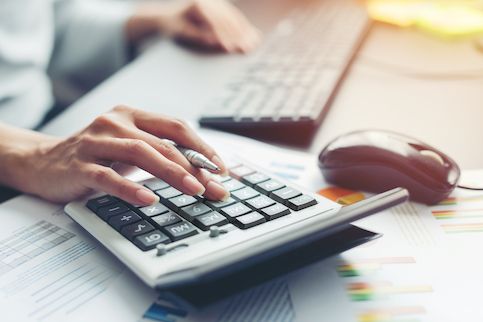 VA Funding Fee: What It Is And How Much You'll Pay In 2022
Published on November 16, 2021
A Department of Veterans Affairs (VA) home loan is a great mortgage option for eligible veterans, current military service members and surviving spouses because it can help a borrower get into a home while keeping costs down.
A typical conventional mortgage will come with a variety of requirements and fees that can make getting a home difficult for buyers on a budget. A VA loan lets you sidestep some of these costs by allowing you to get a loan with no down payment and no mortgage insurance and limiting the amount you'll pay in closing costs.
The VA funding fee, a common cost associated with VA loans, can cause a lot of confusion for borrowers. Not sure what it is, how much it costs or if you'll have to pay it? We've made it easy for you.
Let's take a closer look.
What Is A VA Funding Fee?
Borrowers must pay the one-time VA funding fee when taking out a new VA loan or refinancing an existing VA mortgage. Borrowers pay the fee directly to the Department of Veterans Affairs, who uses the money collected to continue funding home purchases for active military members, retired veterans and surviving spouses. The funding fee helps offset the cost of the VA loan program, and ensures that borrowers continue to get all the great benefits associated with VA loans, including 0% down payment options with no mortgage insurance.
Most VA loan borrowers must pay the funding fee as part of the process of receiving their home loan.
VA Funding Fee Chart For 2022
So, if the fee varies, how much will you end up paying? Let's look at this year's guidelines in the VA funding fee chart set by the U.S. Department of Veterans Affairs.
| | | |
| --- | --- | --- |
| Down Payment | First-Time VA Borrower | Subsequent VA Borrower |
| < 5% | 2.3% | 3.6% |
| 5% or more | 1.65% | 1.65% |
| 10% or more | 1.4% | 1.4% |
As of January 1, 2021, eligible VA loan borrowers won't receive varying percentages depending on whether they're active or reserve duty status. The above guidelines apply to all borrowers.
If you plan to get a VA loan as a cash-out refinance, the funding fee requirements are 2.3% for first-time borrowers and 3.6% for subsequent borrowers. For an Interest Rate Reduction Refinance Loan, also known as a VA Streamline refinance, the funding fee is 0.5% across the board.
VA Funding Fee Exemptions
You may qualify for a VA funding fee exemption, which means you may not have to pay the fee at all. This is only true for some borrowers, though. The types of borrowers exempt from paying a funding fee, according to the VA, include:
Veterans and service members either eligible for compensation for a service-connected disability, or who currently receive service-connected disability compensation

Surviving spouses who meet the eligibility requirements for a VA loan

Active-duty service members who have been awarded the Purple Heart
To get a VA mortgage loan, you'll first apply for a Certificate of Eligibility, which will state whether you're exempt or nonexempt from paying the funding fee. Be sure your lender knows your exemption status.
If you don't yet have a COE, the VA website has information on how to apply and what documentation you'll need to provide.
Apply for a Mortgage with Quicken Loans®
Apply online for expert recommendations with real interest rates and payments.
Start Your Application
VA Loan Funding Fee Refund
What if you had a disability claim pending as you went through the process of getting your loan and buying your home, only to have it approved after you'd already closed and paid the funding fee? Though inconvenient, the good news is that you may qualify for a refund of the fee if you're eligible for an exemption after closing.
You must have been entitled to compensation prior to the date of closing. If the effective date of your compensation occurs after the date you closed on your home, you may not get a refund.
If you believe you're entitled to a refund, reach out to your lender or call your VA Regional Loan Center at (877) 827-3702.
VA Funding Fee FAQs
Here are some common questions you may have about the VA funding fee as a VA loan borrower.
How do I pay a VA funding fee?
You pay your VA funding fee when you close your VA-backed or VA direct home loan. You can pay the VA funding fee in two ways:
You can roll the funding fee in your loan and pay it off over time (which means you finance it).

You can pay the full fee all at once at
Is a VA funding fee part of my closing costs?
You have the option to include the funding fee in your loan and pay it off over time or pay the full fee as part of your closing costs. As a buyer, you may not have to pay the VA funding fee at all if you negotiate for the seller to cover it as part of their closing costs.
Do all VA loans have a funding fee?
Yes, all VA loans have a funding fee. If you use a VA home loan to buy, build, repair a home or refinance a mortgage loan, you must pay the VA funding fee unless you meet certain exemptions as mentioned above.
Exempt individuals are those who have become eligible for compensation for a service-connected disability, or who currently receive service-connected disability compensation. You may also be exempt if you received the Purple Heart as an active duty military member, or if you qualify as a surviving spouse.
How do I calculate the VA funding fee?
How much you pay depends on the type of loan you get and your total loan amount. Your funding fee is based on a percentage of your total loan amount. However, other factors may influence the funding fee amount as well, such as whether it's your first time using a VA-backed or VA direct loan, as well as your down payment amount.
You can multiply your interest rate by your mortgage amount to calculate the approximate VA funding fee amount. For example, let's say you plan to purchase a home for $200,000 at 4% with 0% down.
Your monthly payment would be about $955 for just principal and interest – not including taxes or insurance. Your funding fee would total $4,600 (at 2.3% for first-time VA borrowers) if you paid the fee out of pocket.
Rolling the $4,600 into your loan amount adds over $6,000 in total costs over the life of the loan and would increase your monthly payment.
Is the VA funding fee tax deductible?
You can deduct the amount of money that you pay toward the funding fee along with your mortgage interest paid each year. Even if you pay the whole funding fee upfront, you can deduct the entire fee from your taxes that year. If you roll the fee into your loan amount, you can only deduct the portion of the fee that you pay during that year.
The Bottom Line: Leave Room In Your Budget For Funding Fees
Depending on the price of your new house, the funding fee adds to the overall cost for VA borrowers.
Though many prospective home buyers worry about saving enough for the down payment, keep in mind that other costs go into closing on a home. In addition to a funding fee, you'll also want to budget for closing costs, which could end up being 1% – 5% of the total loan amount.
Ready to begin the home buying process? You can get started online with Rocket Mortgage®.