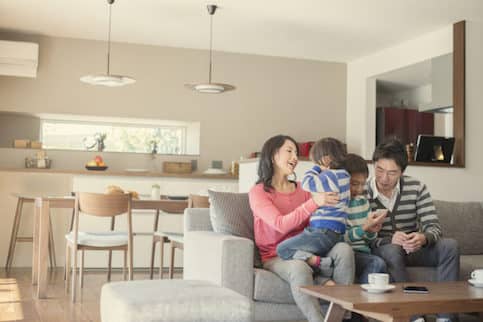 Non-Conforming Loan: What It Is And How It Differs From A Conforming Mortgage
Published on November 15, 2021
There's a lot of vocabulary in the mortgage process, and it's important to know your terminology. For example, a potential buyer might consider getting a non-conforming loan to purchase a single-family home. But what does "non-conforming" mean in regards to mortgages and why does it matter?
If you're looking to buy or refinance a home, it's important to understand some of this mortgage lingo. Let's dive in to the differences between conforming versus non-conforming loans, along with the different types of non-conforming loans you can consider.
What Is A Non-Conforming Loan?
Non-conforming loans are loans that do not conform to the guidelines of Fannie Mae or Freddie Mac. The most common types of non-conforming loans are government-backed mortgages – like Federal Housing Administration (FHA) loans, U.S. Department of Agriculture (USDA) loans and Department of Veterans Affairs (VA) loans – and jumbo loans that are above Fannie Mae and Freddie Mac limits.
What makes a loan non-conforming? Reasons can vary, but might include:
Lower minimum credit requirements
Lower minimum down payment requirements
Higher debt-to-income ratio (DTI) allowances
High loan limits (for jumbo loans)
Government loans can be a good choice if you don't qualify for a conforming loan, while jumbo loans can help you get a mortgage higher than the conforming limit.
See What You Qualify For
Congratulations! Based on the information you have provided, you are eligible to continue your home loan process online with Rocket Mortgage.
If a sign-in page does not automatically pop up in a new tab, click here
Conforming Vs. Non-Conforming Loans
The best way to understand what a non-conforming loan is might be to talk about how it differs from a conforming loan.
A conforming loan is one that meets the requirements to be sold to Fannie Mae or Freddie Mac. Lenders bundle and sell mortgages to these government-sponsored enterprises (GSE) to increase their liquidity, ensuring they have more funds to create additional mortgages. But in order for a mortgage to be sold to one of these investors on the secondary mortgage market, the loan must meet certain rules set by the Federal Housing Finance Agency (FHFA). These rules are what differentiate between conforming and non-conforming loans.
| | |
| --- | --- |
| Non-Conforming Loans | Conforming Loans |
| Loans can't be sold to GSEs on the secondary market | Can be sold to government-sponsored enterprises on the secondary market |
| Loan amounts may exceed conforming loan limits | Loan amounts are at or below the conforming loan limits |
| Less strict eligibility requirements | More strict eligibility requirements |
| Lower down payment requirements | Higher down payment requirements |
2023 Loan Limits
The first big difference between a conforming and a non-conforming loan is the loan's limit, which varies by state and county. Below are the conforming loan limits for 2023.
For the lower 48 states, the maximum amount on a regular loan for a one-unit property is generally $726,200.
For Alaska, Hawaii and certain high-cost areas, the maximum is $1,089,300.
If you're buying a multi-unit home, higher limits do apply.
Anything above county limits is a jumbo loan,

so it's considered

non-conforming.
Credit Score
To get a conforming loan, you must meet the credit guidelines of the agency that's buying the loan. For example, in 2023 Fannie Mae and Freddie Mac will accept a median FICO® Score of 620 or higher for a fixed-rate loan. A non-conforming loan like one offered by the FHA will typically not require such a high score.
Debt-To-Income Ratio
Conforming loans require a DTI below 50%. Non-conforming loans vary with respect to this requirement. A jumbo loan typically requires a lower DTI, while you may be able to get an FHA loan with a higher DTI.
Loan-To-Value Ratio
Your loan-to-value ratio (LTV) affects your down payment. For conforming loans, you'll need an LTV of no more than 97%, which equates to a 3% down payment. Again, this varies for non-conforming loans. A jumbo loan typically requires a higher down payment, an FHA loan allows an LTV of up to 96.5% and VA loans usually offer LTV of up to 100%.
Types Of Non-Conforming Loans
Non-conforming mortgages can be broken down into a few different types of loans. Let's review the most common ones below.
Government Loans
Government home loans are backed by the federal government. When it comes to these loans, mortgage lenders are referring to those insured by the FHA, USDA and VA, and these loans each come with their own respective requirements and benefits.
FHA Loans
FHA loans offer low interest rates and less strict credit score requirements. They also require a:
Minimum down payment

of 10% for borrowers with a FICO® Score between 500 – 579

Minimum down payment of 3.5%

for borrowers with a FICO® Score of 580 or higher

Mortgage payment that can't be more than 31% of the borrower's gross monthly income

DTI no higher that 43% of the borrower's gross monthly income
USDA Loans
USDA loans are a popular home loan option due to their no down payment requirement, competitive rates and closing costs that can be rolled into the mortgage. This government loan uses the following requirements:
Minimum FICO® Score of 640 or higher with most

lenders

Property must be located in a

rural

area

or on the outskirts of the suburbs

Household income must be below 115% of the area median
Rocket Mortgage® doesn't offer USDA loans at this time.
VA Loans
VA loans come with many benefits, including no down payment requirement and lower interest rates. However, they do require a special origination fee called a VA funding fee and borrowers have to meet the following criteria:
No minimum credit score

is

required by the VA, but Rocket Mortgage clients must have a median FICO® Score of

580

Available for eligible active-duty service members, reservists, veterans and surviving spouses of those who passed in action or as a result of a service-connected

disability

The property must be used as a primary residence within 60 days of the purchase
Jumbo Loans
Another common type of non-conforming loan is a jumbo loan, which comes with higher loan limits. At Rocket Mortgage®, we do loans with limits of up to $3 million.
The good news is that jumbo mortgages typically come with similar rates to any other loan. There are just a couple of requirements you'll need to meet:
Your DTI must be lower than it would be on a regular loan (45% is our starting point).
You'll need a down payment greater than 10%

of the purchase price

.

We require a minimum median FICO® Score of 680.
Your lender may require additional documentation due to the size of the loan.
Apply Online with Rocket Mortgage
Get approved with Rocket Mortgage® – and do it all online. You can get a real, customizable mortgage solution based on your unique financial situation.
Apply Online
The Pros And Cons Of Non-Conforming Loans
Trying to figure out which loan is right for you? Here's how non-conforming mortgages stack up to conforming loans.
Pros
When it comes to non-conforming loans, there are three big benefits:
Higher loan amounts are available (jumbo loans).
Depending on the loan option, you might be able to buy different types of property than you could with a standard conforming loan.
You might be able to get a non-conforming loan if you have a negative mark on your credit, like a recent bankruptcy.
Cons
Unlike conforming loans, non-conforming loans:
Are offered by fewer lenders, which may limit your ability to shop around
May come with a higher interest rate, i

f you're not using a government loan

Have less standardization from lender to lender
Non-Conforming Loan FAQs
It's common for questions to arise as you begin researching conforming versus non-conforming loans. To help you with this, we've answered a few of the most commonly asked questions regarding non-conforming mortgage loans.
Can you refinance a non-conforming loan?
Most loans are eligible for refinancing, including non-conforming loans. If you're looking to refinance your mortgage for extra cash or to switch your non-conforming loan to a conforming loan, you'll need to start by finding a qualifying lender that can help you through the process.
Is a conforming or non-conforming loan better?
Choosing between a conforming or non-conforming loan depends on your personal financial situation and which option is best for your needs. While non-conforming loans may help you buy a home with no down payment (if you qualify for a VA loan) and afford more expensive homes through government-backed loan programs, conforming loans also have benefits such as lower mortgage rates for borrowers with strong credit scores.
Can you use a non-conforming loan to buy a second home?
While you can use some non-conforming loans to purchase a second home, these mortgages do have occupancy rules. Essentially, you'll need to spend a significant amount of time each year in this home in order to qualify it as a second residence, otherwise you are limited to 14 days of renting to another tenant.
Is a conventional loan conforming or non-conforming?
A conventional loan is simply a mortgage that isn't backed by a government agency. That means it can either be conforming or non-conforming, depending on its loan amount. For instance, if you take out a conventional mortgage for $730,000, your loan would be non-conforming because it exceeds the conforming loan limits. On the other hand, if the loan is for $600,000, then it could be considered a conforming loan.
The Bottom Line: Non-Conforming Loans Offer Many Benefits
While "non-conforming" might initially sound negative, all it means is that your loan won't be purchased by Fannie Mae or Freddie Mac. For many home buyers, non-conforming loans are a way to secure a loan outside of typical conforming requirements.
Ready to see your personalized loan options? Apply online to find out more and determine the best choice for you.
Apply for a mortgage today!
Apply online for expert recommendations with real interest rates and payments.
Start Your Application