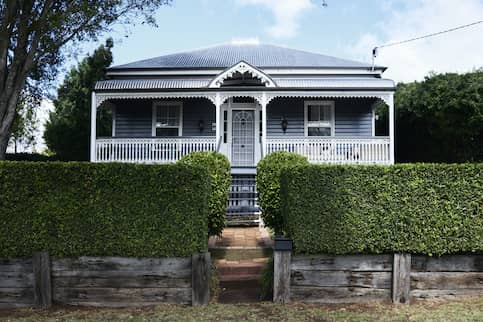 Buying A House After Bankruptcy: A How-To Guide
Published on July 31, 2023
Declaring bankruptcy is a major financial turning point. While this uncomfortable event might feel like the end of your homeownership dreams, the reality is that bankruptcy isn't a permanent red flag to mortgage lenders. Buying a house after bankruptcy can still be a possibility.
Can You Buy A House After Bankruptcy?
Yes, it's possible to buy a house after bankruptcy. However, some lenders require you to wait several years before you can apply for a new home loan. Additionally, the home buying process might be easier after you've taken steps to rebuild your credit.
How Long After Bankruptcy Can You Get A Mortgage?
The type of bankruptcy you pursue, the type of loan you apply for and the unique factors surrounding your situation will impact how long it takes to be in the clear for a mortgage. In some cases, you can apply for a mortgage immediately after the bankruptcy is discharged or dismissed. But in general, you can expect to wait between 2 and 4 years.
Buying A House After A Chapter 7 Bankruptcy
A Chapter 7 bankruptcy indicates the debtor is seeking to liquidate their assets and wipe away all debt. The bankrupt party emerges from the process with a fresh start. But the filing will appear on your credit report, which will have a negative impact on your credit score.
A few common financial situations that could lead to a Chapter 7 bankruptcy include:
Unexpected medical bills: Medical costs can spiral out of control quickly, which can push some into bankruptcy.
A job loss: An unexpected change in income can make it difficult to keep up with your payment obligations.
Credit card debt: Credit cards are notorious for having sky-high interest rates attached. If you fall into credit card debt, it can be very difficult to pull yourself back into the black.
Divorce: Divorce leads to many uncomfortable financial situations. A possibly dramatic change to household income leads some divorcees to file for bankruptcy.
If you file a Chapter 7 bankruptcy, you'll usually have to wait at least 4 years from the court discharge date to qualify for a conventional home loan. But some government-backed home loan programs offer reduced waiting periods.
See What You Qualify For
Congratulations! Based on the information you have provided, you are eligible to continue your home loan process online with Rocket Mortgage.
If a sign-in page does not automatically pop up in a new tab, click here
Buying A House After Chapter 13 Bankruptcy
In a Chapter 13 bankruptcy, debtors seek a reorganization of their debts and commit to strict repayment plans. Debtors must make payments to creditors, but they don't lose all their assets. Plus, they don't take as hard of a hit to their credit because creditors reward debtors who are committed to paying their debts.
After the court dismisses the Chapter 13 bankruptcy, many home buyers can apply for a home loan immediately. But the waiting period varies based on the loan type you pursue.
Find a better way to manage debt.
See your offers in seconds with a simple, online application from Rocket LoansSM .
Get Started Today
What Type Of Mortgages Can You Get After Bankruptcy?
Borrowers looking to get a mortgage after bankruptcy have different loan options to consider. Each loan type has slightly different rules surrounding a post-bankruptcy home loan.
Conventional Mortgage
If you try to get a conventional loan post-bankruptcy, the waiting period is longer than most. Chapter 7 must be dismissed or discharged 4 years prior to application for a conventional loan. In the case of conventional loans with a Chapter 13 bankruptcy, you must wait 4 years from the date of filing and 2 years from the date of discharge before applying for a conventional loan.
Before you move forward with a conventional home loan application, try to meet the following qualifications:
Minimum 620 credit score

3% – 5% minimum down payment

Maximum debt-to-income ratio (DTI) of 50%
Expect to encounter a mortgage insurance premium if you aren't putting down at least 20%. In general, this type of home loan is the most difficult to obtain after a recent bankruptcy. But if you are willing to wait several years, this option is on the table.
FHA Mortgage
After bankruptcy, FHA loans are a useful option to consider. Before jumping into the process, consider reaching the following benchmarks:
Minimum 580 credit score
5% minimum down payment
Be prepared to pay mortgage insurance
A Chapter 7 declaration must have been discharged or dismissed for 2 years prior to a borrower's FHA loan application. During that waiting period, you must have also either reestablished good credit or not incurred new debt.
For a Chapter 13 claim, you can apply for a new FHA loan after dismissal. To do so, you must have made court-ordered payments on time and have received written permission from the court overseeing your case.
Your application must go through manual underwriting, and the lender must be satisfied with your explanation of what led to bankruptcy and why it won't happen again. Once 2 years have passed since discharge, you're able to apply for a mortgage loan without manual underwriting.
USDA Mortgage
A USDA loan presents an opportunity for buyers looking to purchase a primary residence in a qualifying rural area. You'll need to meet the following criteria to get started:
Minimum 640

No down payment requirement

Home must be in a qualifying rural or suburban area
In general, you'll need to wait at least 3 years from a Chapter 7 bankruptcy's dismissal or discharge to apply for a USDA loan. For Chapter 13, the waiting period may be reduced to 1 year. Rocket Mortgage® does not offer USDA loans at this time.
VA Mortgage
VA loans are a good option for veterans, active service members and eligible surviving spouses.
Your Chapter 7 must be dismissed or discharged for 2 years before you apply for a VA loan. There's no waiting period to apply for a VA loan if you've been discharged or dismissed for Chapter 13 bankruptcy. In either case, you'll likely need to meet the following requirements:
Minimum 580
No down payment requirement
Must meet military service requirements or be a qualifying surviving spouse
Waiting Periods After Bankruptcy
Filing for bankruptcy of any kind can have an impact on your homeownership journey. But the different kinds of bankruptcy have different impacts. Here's a breakdown of the waiting periods you can expect.
| | | |
| --- | --- | --- |
| Loan Type | Chapter 7 | Chapter 13 |
| Conventional Loan | 4 years | 4 years |
| FHA Loan | 2 years | None |
| USDA Loan | 3 | 1 year |
| VA Loan | 2 years | None |
How To Buy A House After A Bankruptcy
If you've gone through a bankruptcy, here are the steps you can take to buy a house.
1. Rebuild Your Credit
Bankruptcy will have a negative impact on your credit score. If you want to buy a home, most lenders look at your credit score as a key factor. With that, it's essential to work on rebuilding your credit score.
Here are some strategies to help you rebuild:
Make monthly payments on time: Payment history is a significant factor in your credit score. If you make on-time payments consistently, this can help build your credit score.
Pay down your debt: Carrying too much debt can drag your credit score down. Not only will paying off your debt help you improve your credit score, but it can also help you create some breathing room in your financial situation.
Avoid new debt: If possible, avoid taking on any new debt in the build-up to homeownership. Keeping your debt burden lower can help you improve your credit score.
2. Evaluate Your Financial Situation
An honest look at your financial situation will help you determine whether you're ready to move forward with a home purchase. If you decide that your finances can handle the major commitment, be realistic about how much home you can afford. Don't take this big leap without being confident in the stability of your post-bankruptcy finances.
3. Write A Letter Of Explanation
Write a letter to explain the circumstances surrounding your bankruptcy, and submit the letter with your mortgage application when you ask for preapproval. Make sure you detail any underlying problems that led to the bankruptcy and explain how you've dealt with them to make sure the same situation doesn't arise in the future.
4. Get Preapproved
Getting preapproved will give you a clearer idea of what you can afford. Once you've gotten a preapproval letter, you'll be able to attach a copy of it to any offer you make on a house. It will signal to the seller that you're serious about your offer and that your lender has found you creditworthy.
It's best to be completely upfront about your past difficulties. They'll be discovered anyway – and very early in the process.
5. Reply To Lender Questions
If you're applying for a mortgage after bankruptcy, lenders are likely to have questions. Lenders make their money by providing loans. Every time they issue a loan, they're taking a risk, so any context you can provide may go a long way toward getting yourself approved. Being open and honest with your answers can streamline the process.
FAQs
It's important to get your questions about bankruptcy answered. Here are some of the most common ones.
Can I buy a house after multiple bankruptcies?
Yes. It's possible to buy a house after multiple bankruptcies. But the waiting period and loan details will vary from lender to lender.
How long does it take to rebuild credit after bankruptcy?
In general, it will take at least 2 years to rebuild your credit after bankruptcy. However, the exact timeline for rebuilding your credit varies based on the actions you take. Some strategies to help you grow your credit score include making on-time payments and paying down debt.
How long after bankruptcy can I get an FHA loan?
After a Chapter 7 bankruptcy, there is a 2-year waiting period before you can get an FHA loan. But after a Chapter 13 bankruptcy, there is no waiting period to apply for an FHA loan.
The Bottom Line
It's possible to buy a home after bankruptcy. But after this major hit to your credit score, it's worthwhile to spend time rebuilding your credit before eyeing your next home purchase. Once your waiting period is over and your financial situation is stabilized, it's helpful to apply for initial approval to find out what you can realistically pay for a home purchase.
View Your Refinancing Options
See expert-recommended refinance options and customize them to fit your budget.
Start Your Refinance Online