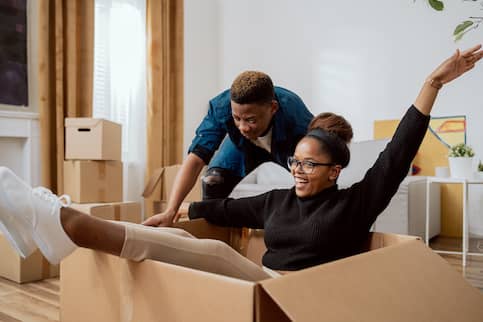 First-Time Home Buyer Assistance Programs: A Guide
Published on March 4, 2023
*As of July 6, 2020, Rocket Mortgage® is no longer accepting USDA loan applications.
Buying a house is always a significant investment, but the hill to climb can be steeper if it's your first time. First-time home buyers face numerous challenges, such as finding a home in their price range and affording the down payment. Fortunately, first-time home buyer programs are available to provide financial aid and education for those looking to buy a home. Here are the ins and outs of first-time home buyer programs and where to find them.
What Are First-Time Home Buyer Programs?
Purchasing a home often means paying hefty upfront costs, including a down payment. Since this expense is usually 3% or more of the purchase price, it amounts to thousands of dollars. First-time home buyer programs defray this cost through financial education and monetary assistance. Governments and nonprofit organizations offer these programs at the city, county, state, and federal levels. They provide aid because homeownership stabilizes neighborhoods and allows Americans to build generational wealth. Likewise, employers occasionally offer this kind of help to attract and retain workers.
First-time home buyer programs typically pair education and financial assistance since first-time home buyers are unfamiliar with buying a home. Information on how a mortgage works, the different closing costs, and the responsibilities of maintaining a home help home buyers make decisions that best fit their circumstances. As a result, the educational and financial aspects improve the preparedness of first-time home buyers.
See What You Qualify For
Congratulations! Based on the information you have provided, you are eligible to continue your home loan process online with Rocket Mortgage.
If a sign-in page does not automatically pop up in a new tab, click here
Types Of First-Time Home Buyer Assistance Programs
First-time home buyer programs are available in a variety of forms. One of the following will fit you best, depending on your circumstances:
1. Homeowner Education
The amount to know as a first-time home buyer is dizzying. Fortunately, home buyer education classes are available to help you. You'll learn about each step in the home buying process, from qualifying for a mortgage to what to bring on closing day. These courses will make the journey manageable and help you make informed decisions.
Generally, you'll learn about the benefits and drawbacks of homeownership, the mortgage process, and how to navigate challenges along the way. For example, if your credit score is on the lower end, you'll learn how to raise it and which loan types accept home buyers with weaker credit.
Providers offer classes online and in person. Courses will typically cover the basics of buying a home, such as how to pay for closing costs, available loan types, homeowners insurance, taxes, and financial requirements for homeownership. If you're unsure how to get into a class, the Department of Housing and Urban Development (HUD) offers housing counseling to all at low or no cost. In addition, programs giving financial assistance to first-time home buyers usually require you to take an education course.
2. Down Payment Help
Some programs focus on providing down payment assistance, meaning you'll receive financial help for one of the most expensive elements in the home buying process. Generally, you must fulfill these requirements to qualify for first-time home buyer assistance (although these vary based on your region and service provider):
You haven't owned a home in 3 years.
You need down payment assistance for the house that will become your primary residence.
You must occupy the home within 60 days after closing.
In addition, down payment assistance comes in one of three types. The type you receive depends on the program you apply for, the mortgage type you use, and your financial circumstances.
Grants For First-Time Home Buyers
Home buyers don't have to repay grant money. So, it's a free lump sum toward your down payment. Grants are available at the local, state, and federal level for first-time home buyers. Therefore, it's a good idea to check with your city or county government first to get information on what assistance you can receive.
Silent Second Mortgages
This assistance type provides a loan for your down payment separate from your mortgage. It typically doesn't have a forgiveness option. However, you don't have to immediately repay the loan after moving into your home. Usually, you have a specified period for repayment. In addition, your loan may have a 0% interest rate. As with a forgivable loan, your provider will place a lien on your home until you pay back the loan. This means your second mortgage provider has a financial interest in your home until you repay the loan.
Forgivable Loans
Forgivable loans have specific conditions for home buyers to avoid paying back the loan. For example, you might receive a forgivable loan requiring you to pay your mortgage for several years and never miss a payment. Your loan provider will put a lien on your home and then remove it once you fulfill the forgiveness conditions or repay the loan.
3. Closing Cost Credit
Fannie Mae's HomePath Ready Buyer Program provides a 3% closing cost credit for eligible borrowers who complete the education requirements and go on to buy a HomePath home.
Fannie Mae is a government-sponsored enterprise (GSE) at the federal level that regulates and supports the national real estate market. It helps first-time home buyers who make 100% or less of the median income in their local area. If you are in this income range, you can qualify for closing cost assistance for a HomePath home, which is a house Fannie Mae has renovated and put back on the market after the previous homeowners defaulted on the loan.
However, these homes may need additional work despite Fannie Mae's repairs. For example, you might need to fix the furnace or get a new roof. Therefore, factoring these expenses into your budget before buying is crucial.
4. Favorable Mortgages
Your choice of mortgage is another way you can get help as a first-time home buyer. Several options are government-sponsored loans with special perks and eligibility requirements.
Conventional
Conventional mortgages can help first-time home buyers because they are more straightforward than loans from government programs. Obtaining one is usually faster than other loan types and presents fewer restrictions for using the funds. As a result, you'll receive your loan approval quicker and have a wider range of choices when looking for homes. Plus, the Federal Housing Finance Agency (FHFA) recently lowered the fees of conventional loans backed by Fannie Mae and Freddie Mac, making them less costly for first-time home buyers with low incomes.
FHA Loans
The principal advantage of FHA loans is the less stringent credit score requirement. Since first-time home buyers often have a thinner credit history, FHA loans are helpful. Most lenders, including Rocket Mortgage®, require a 580 median credit score along with a 3.5% down payment for a buyer to qualify for an FHA loan. While the FHA allows median credit scores as low as 500 if you have a 10% down payment, you may have a hard time finding a lender with that standard. One of the downsides of FHA Loans is the upfront and monthly mortgage insurance premiums (MIP), which is an extra cost that helps fund the FHA loan program.
VA Loans
VA loans are available to eligible active-duty service members, reservists, National Guard personnel, veterans of the U.S. military and qualifying surviving spouses of those who passed in the line of duty or because of a service-connected injury. The huge benefit of these loans is that they don't require a down payment. Instead, you pay a one-time funding fee between 1.25% – 3.3%, which is usually rolled into the total loan amount. The VA funding fee is waived for veterans with VA-recognized disabilities. Finally, you'll receive a low interest rate without worrying about higher credit requirements or mortgage insurance payments.
USDA Loans
U.S. Department of Agriculture (USDA) loans create affordable housing in rural areas. They offer a 0% down payment option and low interest rates for first-time home buyers in eligible areas. These loans have upfront and monthly guarantee fees that function similarly to mortgage insurance, but historically they have been lower than FHA MIP fees. Rocket Mortgage doesn't offer USDA loans at this time.
5. Low-Cost Homes
The housing industry is a huge component of the U.S. economy, so it's no surprise that the government is involved in this sector at every level. For example, the U.S. Department of Housing and Urban Development (HUD) oversees the nation's housing needs and works with other government departments that handle housing. As a result, one of its aims is to help first-time home buyers, especially those with limited funds.
In addition, HUD is responsible for the Federal Housing Administration, or FHA. The FHA insures mortgages private lenders make and set rules for mortgage loans. Because homeowners sometimes default on FHA loans, HUD is usually also an owner – and eager seller – of many homes in the U.S. Plus, HUD maintains a database of homes for sale that federal agencies own. These homes are typically less expensive, making them affordable for first-time home buyers.
HUD Homes
HUD homes are those that HUD repossessed after foreclosure, meaning the previous owner defaulted on their mortgage. The benefit to buying these is like buying a HomePath® property: you can get a discount on an ideal home. You can find these homes for sale on the HUD home store.
However, the same downsides also exist because they come in as-is condition. To offset this drawback, these homes must meet FHA appraisal standards, and HUD offers FHA 203(k) renovation loans for repairs.
HUD's Special Home Buying Programs
HUD programs make low-cost homes available to those trying to buy a home with limited resources. They offer tremendous benefits, listed below:
Good Neighbor Next Door: The good neighbor program aims at growing neighborhood stability through responsible homeownership and investment. To this end, law enforcement officers, teachers (pre-K – 12), firefighters, and emergency medical technicians can get a whopping 50% discount on the list price of HUD homes.
Section 8 Housing Choice Voucher: The Section 8 Housing Choice Voucher homeownership program means Section 8 Housing homeowners can get an additional perk. If you live in a participating Public Housing Authority, you can apply your voucher to your mortgage payment, making your mortgage extraordinarily affordable.
Section 184 Indian Home Loan Guarantee Program: This program helps American Indian and Alaska Native people pursue their homeownership dreams. Section 184 borrowers can get into a home with a low down payment and flexible underwriting. You can use this loan on and off native lands. In addition, the loan is eligible for new construction, rehabilitation, existing homes, and refinancing. HUD's website offers a map of approved areas by state and county and a list of eligible lenders.
How Can I Find First-Time Home Buyer Assistance Programs?
Assistance programs are excellent ways for first-time home buyers to accomplish their homeownership goals. However, knowing how to find them is crucial. The resources below can help.
HUD's Web Page
HUD's database of local home buying assistance programs sorts programs by state. They list sources of housing counseling, assistance programs, homeownership support, help for seniors, legal assistance, and more.
Fannie Mae's Finder Tool
Fannie Mae's tool for first-time home buyers finds local programs offering down payment and closing cost assistance. First, you'll submit your location, preference for home size and price range, household size, income level and personal information. Then, the tool will connect you to assistance providers to help make your homeownership dreams a reality.
Apply Online with Rocket Mortgage
Get approved with Rocket Mortgage® – and do it all online. You can get a real, customizable mortgage solution based on your unique financial situation.
Apply Online
First-Time Home Buyer Program FAQs
Here are some commonly asked questions about first-time home buyer programs to round out your understanding.
Who is a first-time home buyer?
Generally, a first-time home buyer is anyone who hasn't had ownership of or a financial stake in a residential property in the last 3 years. While the definition might vary between first-time home buyer assistance programs, major mortgage investors like Fannie Mae and Freddie Mac use it when offering help.
The 3-year timeline is essential to keep in mind. For example, say you get a divorce and your spouse gets the house. If you live in an apartment for 3 years after the divorce, many of these programs would consider you a first-time home buyer.
Can I use more than one assistance program?
While each program is different, borrowers usually can combine as many benefits as they can obtain. As a result, you can combine assistance from multiple sources to pay for your down payment, defray closing costs, and get a low interest rate.
Is there more help on the way?
More help could be on the way for first-time home buyers through President Biden's economic agenda. Specifically, homeowners can benefit from the Downpayment Toward Equity Act of 2021, which includes a $20,000 down payment assistance program for first-generation homeowners. The act increases the amount to $25,000 if the buyer is part of a group that the act defines as economically disadvantaged.
Unfortunately, this act has been stalled in committee since July 2021, so its future is unclear. Additionally, it may be that the bill undergoes changes between now and when it becomes law, reducing the assistance for first-time home buyers. We will share information as soon as it's available.
The Bottom Line: There's Help Available To Buy A Home
If you are a first-time home buyer, numerous programs exist to help you on your journey toward homeownership. Remember, help may be available at the local, state and federal levels. Plus, nonprofits and employers often also have initiatives you can combine with other sources of aid. Utilizing the tools mentioned above can help you find the resources you need.
If you're ready to purchase a home, apply online now to get started.
Apply for a mortgage today!
Apply online for expert recommendations with real interest rates and payments.
Start Your Application