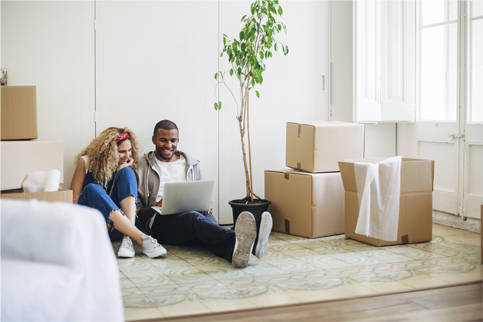 First-Time Home Buyer Programs, Loans And Grants: A Guide
Published on September 24, 2021
*As of July 6, 2020, Rocket Mortgage ® is no longer accepting USDA loan applications.
Making the decision to buy your first home can be overwhelming. It's also very expensive. How will you ever be able to gather up a down payment plus your closing costs, get approved for a mortgage and find a house you can afford?
Fortunately, there are a wide variety of first-time homeowner programs available to help you make this purchase. For most people, owning a home is a part of the American dream, and our government has programs available to make it possible.
We're here to help you find the financial resources to get you into your dream home.
U.S. Department Of Housing And Urban Development (HUD)
The housing industry is a huge component of the U.S. economy, so it's no surprise that the government is deeply involved in this sector of economic activity.
HUD is the U.S. government agency that oversees the nation's housing needs. It's responsible for the Federal Housing Administration, or FHA. The FHA insures mortgages made by private lenders according to its rules. Because homeowners have defaulted on FHA loans, HUD is usually also an owner – and eager seller – of a large number of homes in the U.S.
Because of the federal foreclosure moratorium in response to the COVID-19 pandemic, there is currently a very low inventory of foreclosed homes. That is likely to change as foreclosures resume.
HUD Houses
If you're looking for a bargain, consider buying a HUD house. HUD houses are homes that were last purchased with an FHA loan. Because of foreclosure, the government now owns these properties, and HUD manages them until they're sold.
HUD houses are purchased "as-is." HUD makes no warranties and will not undertake repairs. Potential buyers are strongly encouraged to perform a thorough home inspection so they know exactly what they're getting into before moving forward with a HUD home purchase.
As you can imagine, people who are unable to make their mortgage payments are likely to be unable to pay for home repairs, so many HUD homes need substantial renovation. Also, the foreclosure process is lengthy, so some of these homes have been sitting empty for a long while. If you buy a HUD home with an FHA mortgage (more on that below), you may be able to finance renovations with an FHA 203(k) loan and roll both loans into one convenient monthly payment.
HUD's Special Home Buying Programs
HUD has three special home buying programs that offer tremendous incentives if you're eligible.
Good Neighbor Next Door (Formerly Known As Teacher/Officer/Firefighter Next Door)
Law enforcement officers, teachers (Pre-K – 12), firefighters and emergency medical technicians make good neighbors, and HUD wants to encourage these future homeowners by offering them a whopping 50% discount on the list price of HUD homes. This program aims at growing neighborhood stability through responsible homeownership and investment.
Homeownership For Public Housing Residents
If you qualify for the Section 8 Housing Choice Voucher program, it may be possible to apply your voucher to a monthly mortgage payment if you live within a participating Public Housing Authority. You can learn more about eligibility requirements directly from HUD.
Section 184 Indian Home Loan Guarantee Program
This program works to help American Indian and Alaska Native people pursue their homeownership dreams. Section 184 borrowers can get into a home with a low down payment and flexible underwriting. Section 184 loans can be used, both on and off native lands, for new construction, rehabilitation, purchase of an existing home, or refinance. HUD's website offers a map of approved areas by state and county as well as a list of eligible lenders.
Fannie And Freddie
In addition to HUD, the FHA, VA and USDA (discussed below), Freddie Mac and Fannie Mae are government-sponsored enterprises (GSEs) that are heavily involved in the mortgage industry. They purchase loans after origination by private lenders, to keep mortgage lenders liquid so they can keep originating new mortgages.
Fannie and Freddie only purchase mortgages that conform to their requirements. Known as qualifying or conforming mortgages, these are the conventional mortgages that you may be familiar with, like the 15- or 30-year fixed-rate mortgage and a variety of ARMs. Fannie and Freddie are also charged with encouraging homeownership among traditionally marginalized home buyers.
Just as HUD becomes the owner when an FHA borrower defaults on one of its loans, Fannie Mae and Freddie Mac become owners when a homeowner defaults on one of their purchased mortgages. They, too, offer homes for sale.
HomePath® Or HomeSteps® Homes
If you're a first-time home buyer, you might want to consider a HomePath® or a HomeSteps® home. These homes are owned by Fannie Mae or Freddie Mac.
When borrowers default on their conventional mortgages, they sometimes transfer the property to the lender through a deed in lieu of foreclosure transfer to avoid having a foreclosure on their credit history. This is significant because foreclosures can take a long time, and the house can sit vacant, or worse, suffer damage at the hands of owners who know they will ultimately face eviction.
There are lots of great reasons to consider a HomePath or a HomeSteps® home for your first home purchase, including low required down payments, HomeStyle® renovation loan eligibility and closing cost assistance.
Just one example of the possible savings? At the completion of an approved homeowner education program, Fannie Mae will give the future homeowner a credit for up to 3% of the HomePath home's purchase price as a closing cost credit.
View Your Refinancing Options
Call our Home Loans Experts at (800) 251-9080 to begin your mortgage application, or apply online to review your loan options.
Start Your Refinance Online
Types Of Mortgages For First-Time Home Buyers
There are many different types of mortgages available, and several have features designed specifically with the first-time home buyer in mind.
In addition to the FHA, the Veteran's Administration (VA) and the U.S. Department of Agriculture, (USDA) offer loan programs that provide guarantees through private lenders.
FHA Loan
The FHA insures mortgages issued through private lenders. FHA loans are very popular among first-time home buyers since they typically require lower minimum credit scores and down payments than conventional loans.
VA Loan
VA home loans are a great benefit available to our nation's servicemembers and their families. These are not special programs for first-time buyers, but are excellent loan programs for those who qualify. VA loans don't require credit scores, and the debt-to-income ratio allows for easier eligibility.
USDA Loan
Also known as rural development loans, USDA loans are backed by the U.S. Department of Agriculture and provide affordable mortgage options for homes in rural areas. These loans are for those who choose to live in rural areas, although some suburban areas are included.
HomeReady® Or Fannie Mae Standard Mortgages
With a Fannie Mae-backed loan, your two options for low down payments are Fannie Mae's HomeReady® program, or its standard 97% LTV option. Freddie Mac counterparts are also included.
HomeReady or Home Possible®
Fannie Mae's HomeReady® and Freddie Mac's Home Possible® programs are designed to help low- to moderate-income borrowers – to be eligible, your income must be less than 80% of your area's median income. Borrowers can get a home with a down payment as low as 3%. They also receive homeownership education as part of the program, to encourage sustainable homeownership.
Fannie Mae Standard or HomeOne®
Fannie Mae's standard 97% LTV option and Freddie Mac's HomeOne® mortgage are exclusively available to first-time home buyers, which are defined as borrowers who haven't owned a home in the past 3 years, and who have no income limits. These options also allow you to make a down payment of as little as 3%. Loan-to-value ratio refers to how much of the home purchase is covered by a loan. So, with 3% down, your LTV ratio is 97%.
You can find a feature-by-feature comparison of these mortgages on Fannie Mae's website.
Low Down Payment Conventional Loan
Government-backed loans aren't the only ones that offer affordable financing options. Mortgage lenders like Rocket Mortgage® offer several conventional loan options that allow down payments as low as 3%, with varying eligibility requirements.
One benefit of getting a conventional low down payment mortgage – as opposed to an FHA loan – is that you'll be able to stop paying mortgage insurance when you reach 20% equity in your home. However, you might get a better interest rate with an FHA loan.
Down Payment Assistance
For many, it's cobbling together the down payment that presents the biggest challenge, especially if you live in a place with high rents. Fortunately, there is down payment assistance available, primarily in the form of first-time home buyer grants and generally at the state and local level. There may even be funds available from the private sector and nonprofits where you live.
Chenoa Fund
One nationwide (except New York) source of down payment assistance is the Chenoa Fund. The Chenoa Fund is an affordable housing program administered by CBC Mortgage Agency (CBCMA), a federally chartered government entity.
The Chenoa Fund provides up to 3.5% down payment assistance, or DPA. Conveniently enough, that's the down payment you need for an FHA loan. If you have a FICOⓇ Score of 620 or higher and a DTI of 45% or less, you'll get a silent second mortgage with no interest and no payments. If your income is less than 115% of your area's median income, and you make your mortgage payment on time for 36 months, the mortgage is forgiven. If you make more than 115% of your area's median income, the DPA must be repaid.
If you make a late mortgage payment, you'll be given a second chance at loan forgiveness. You get to reset the period, and the mortgage will still be forgiven if you make timely payments for the next 36 months.
The Bottom Line: There's Help Available For First-Time Home Buyers
Buying your first home can be overwhelming. Whether you're actively shopping for a new home or you plan on waiting a few years, knowing your options now will bring you one step closer to your goal.
If you're still wondering which loan program to consider, we're here to help! As an approved FHA and VA lender, we can work with you to help determine which option is best for you. Get started today at Rocket Mortgage or speak to a Home Loan Expert.
View Your Refinancing Options
Call our Home Loans Experts at (800) 251-9080 to begin your mortgage application, or apply online to review your loan options.
Start Your Refinance Online