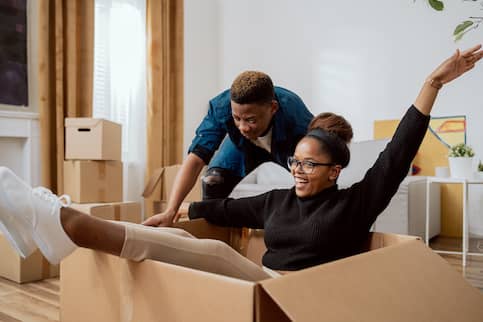 First-Time Home Buyer Assistance Programs: A Guide
*As of July 6, 2020, Rocket Mortgage® is no longer accepting USDA loan applications.
Buying a house is always a big investment, but the hill you must climb can seem that much higher if it's your first time. Among other challenges confronting first-time home buyers, one of the biggest is being able to afford a down payment. The good news is there's assistance out there. This article will go over the ins and outs of first-time home buyer programs.
What Are First-Time Home Buyer Programs?
First-time home buyer programs are designed to help those buying their first home to afford the significant upfront investment entailed by a down payment and closing costs. These programs are offered by federal, state and municipal governments. They may also be offered by housing-focused nonprofits and even employers wishing to provide an additional benefit to their workforce.
In addition to being a first-time home buyer, the programs usually have other requirements associated with them. One of the most frequent is often an education component. This enables organizations to provide classes and counselors who can guide potential new homeowners through the process of buying a home along with the basics of applying for a mortgage.
See What You Qualify For
Congratulations! Based on the information you have provided, you are eligible to continue your home loan process online with Rocket Mortgage.
If a sign-in page does not automatically pop up in a new tab, click here
Who Is A First-Time Home Buyer?
There's not necessarily a hard and fast definition of first-time home buyer. This can vary from program to program. However, in general, the definition of a first-time home buyer used by major mortgage investors like Fannie Mae and Freddie Mac includes anyone who hasn't had an interest in property within the last 3 years prior to the current purchase.
This is important. Let's say you get a divorce and your spouse gets the house. If you live out of an apartment for 3 years after the divorce is finalized before finding a home of your own, many of these programs would consider you a first-time home buyer.
First-Time Home Buyer Down Payment Assistance Programs
For many, it's cobbling together the down payment and closing costs that presents the biggest challenge, especially if you live in a place with high rents. Fortunately, there is down payment assistance available, primarily in the form of first-time home buyer grants or loans and generally at the state and local level. There may even be funds available from the private sector and nonprofits where you live.
It should be noted that despite being referred to as down payment assistance, most funding from first-time home buyer programs can also be used toward closing costs. They can come in the form of grants or loans.
Before applying for any assistance, be sure your lender will accept it. As an example of things to watch out for, Rocket Mortgage doesn't accept down payment assistance from state housing finance agencies because these programs require you to get your loan through lenders the state works with. Additionally, loans must be a second lien, subordinate to our interests.
First-Time Home Buyer Grants
The most preferable type of down payment assistance you can get is a grant. The best way to think of a grant is as free money. There are no requirements to pay it back. Given this, if you qualify for two different programs and one is offering a loan and the other is offering the same amount as a grant, take the grant.
First-Time Home Buyer Loans
You can also get first-time home buyer assistance that comes in the form of a loan. This may be something you have to pay back or it could be something that's forgivable if you meet certain conditions.
With a loan, options that involve secondary liens are usually the most acceptable to lenders because in the event you default on your mortgage and the home must be sold to recoup losses, the lender still gets paid first.
If the loan is forgivable, you may not have to make payments on it at all. The way these are typically structured is that you only must pay the loan back if you violate the forgiveness terms. Commonly, these involve terms like using the home as your primary residence for a certain amount of time. Some employers offering down payment assistance may require you to continue working there for a period in exchange for forgiveness.
Apply Online with Rocket Mortgage
Get approved with Rocket Mortgage® – and do it all online. You can get a real, customizable mortgage solution based on your unique financial situation.
Apply Online
Lower Cost Mortgage Options For First Time Buyers
Now that we've gone over the types of assistance you can get, let's discuss some potential mortgage options. Although not all of these programs are exclusive to first-time home buyers, each has attributes that would make the program beneficial to this group.
Conventional Conforming Loans
A conventional conforming loan is one that meets the requirements for sale to Fannie Mae or Freddie Mac. There are several requirements for something to be a conforming loan, but the main requirements are that clients are required to have a 620 credit score and first-time home buyers must have a 3% down payment.
Beyond basic qualifications, there are a couple of other things you should know about conforming loans. For starters, there are conforming loan limits. In most areas, this amounts to $647,200 for a 1-unit property. In high-cost areas, limits are set at the county level up to a maximum of $970,800 for a single unit. Limits are also higher for multiple units, up to 4.
Finally, if you make a down payment of less than 20%, you'll have to pay for private mortgage insurance (PMI). In most cases, you can request that PMI come off once you reach 20% home equity and it automatically comes off once you reach 22% equity.
Government-Backed Loans
Another avenue that first-time home buyers may find particularly appealing is to go with a government-backed loan. We'll run through three of the major ones here and discuss their benefits.
Federal Housing Administration (FHA) loans: The principal advantages of an FHA loan are the less stringent requirements in terms of credit. This is of particular interest to first-time home buyers who often have a thinner credit history. Most lenders, including Rocket Mortgage, require a 580 median credit score along with a 3.5% down payment. Technically, the FHA allows median credit scores as low as 500 if you have a 10% down payment, but you may have a hard time finding a lender. One of the downsides is upfront and monthly mortgage insurance premiums (MIP).
Department of Veterans Affairs (VA) loans: VA loans are available to eligible active-duty service members, reservists, National Guard personnel and veterans of the U.S. military, along with qualifying surviving spouses of those who passed in the line of duty or as a result of a service-connected injury. The huge benefit here is that they usually don't require a down payment. Instead, there is a one-time funding fee of between 1.4% – 3.6%. Some are exempt from the funding fee.
S. Department of Agriculture (USDA) loans: USDA loans are made available for the purpose of creating affordable housing in rural areas. They offer a 0% down payment option for those looking to buy in an eligible area. While there are both upfront and monthly guarantee fees that function similarly to mortgage insurance, these have historically been lower than FHA MIP fees.
One word of caution on these loans: Each of these agencies follow FHA appraisal requirements that have stricter standards regarding health and safety. Although different everywhere, the current housing market across much of the country is heavily weighted toward sellers. In this environment, they can afford to be picky. This could mean you have a harder time getting your offer accepted with a government-backed loan.
While Rocket Mortgage does offer FHA and VA loans, we don't offer USDA loans at this time.
Conventional Nonconforming Loans
We've discussed conventional conforming loans, but nonconforming loans that don't meet the requirements of Fannie Mae or Freddie Mac are also considered conventional because they aren't sold to the government.
The most common reason for getting in nonconforming loan is that you need a jumbo loan, one that goes beyond local conforming loan limits, in this rising price environment.
Rocket Mortgage offers the Jumbo Smart loan, which is available with 15 and 30-year fixed interest rates or a 7-year ARM (adjustable rate mortgage.) This jumbo loan option allows you to get a 1-unit property of $2 million with a median FICO Score of 680 or better for 30-year fixed loans, and 700 or higher for 15-year fixed and ARM options.
First-Time Home Buyer Closing Costs
Fannie Mae offers a special program for buyers of their HomePath® homes that offers 3% closing cost assistance to go along with a minimum 3% down. In order to qualify, you must take and pass Fannie Mae's HomeView™ course on homeownership.
HomePath® homes are properties that Fannie Mae comes to own after the previous homeowners have defaulted on their mortgage resulting in Fannie Mae gaining possession of the property. In the best case scenario, homeowners have turned the property over in a deed-in-lieu of foreclosure. This means the property is transferred without incident.
However, it's important to note that these homes often need work because the prior homeowner either didn't have the resources or motivation to continue to maintain the property. This should be factored into your budget.
Although this program applies to Fannie Mae-owned properties, most down payment assistance funds can also be used to help pay for closing costs.
First-Time Home Buyer Classes
One commonality among many first-time home buyer programs is that there's an education requirement. Sometimes providers will specify that you must take a certain homeownership literacy course. Other times, they just want you to take a class that's been approved by the Department of Housing and Urban Development (HUD).
Home buyers can use this HUD directory to find a class or counselor where they live.
First-Time Home Buyer State And Local Assistance Programs
Many state and local governments offer homeownership assistance. Finding that assistance can be a challenge. Luckily, HUD maintains a directory of programs available in the areas where you plan to live.
U.S. Department of Housing And Urban Development (HUD) Programs
The housing industry is a huge component of the U.S. economy, so it's no surprise that the government is deeply involved in this sector of economic activity.
HUD is the U.S. government agency that oversees the nation's housing needs. It's responsible for the Federal Housing Administration, or FHA. The FHA insures mortgages made by private lenders according to its rules. Because homeowners have defaulted on FHA loans, HUD is usually also an owner – and eager seller – of many homes in the U.S.
Because of the federal foreclosure moratorium in response to the COVID-19 pandemic, there's currently a very low inventory of foreclosed homes. That's likely to change as foreclosures resume.
HUD Houses
HUD Homes are houses that have been repossessed by HUD after someone defaults on their mortgage. The benefit to buying these is like buying a HomePath® property – sometimes you can get a good deal. However, the same downsides also exist in that they are sold as is.
These properties can be found on the HUD Home Store. HUD also has a handy directory of available foreclosures across many government agencies. It should be noted that due to the COVID-19-related foreclosure moratorium, there are less foreclosures available in general.
HUD's Special Home Buying Programs
HUD has three special home buying programs that offer tremendous incentives if you're eligible.
Good Neighbor Next Door (Formerly Known As Teacher/Officer/Firefighter Next Door)
Law enforcement officers, teachers (pre-K – 12), firefighters and emergency medical technicians make good neighbors. HUD wants to encourage these future homeowners by offering them a whopping 50% discount on the list price of HUD homes. This program aims at growing neighborhood stability through responsible homeownership and investment.
Homeownership For Public Housing Residents
If you qualify for the Section 8 Housing Choice Voucher program, it may be possible to apply your voucher to a monthly mortgage payment if you live within a participating Public Housing Authority. You can learn more about eligibility requirements directly from HUD.
Section 184 Indian Home Loan Guarantee Program
This program works to help American Indian and Alaska Native people pursue their homeownership dreams. Section 184 borrowers can get into a home with a low down payment and flexible underwriting. Section 184 loans can be used, both on and off native lands, for new construction, rehabilitation, purchase of an existing home, or refinance. HUD's website offers a map of approved areas by state and county as well as a list of eligible lenders.
Rocket Mortgage isn't a participating lender at this time.
Biden First-Time Home Buyer Tax Credit
Part of Pres. Biden's economic agenda includes a $20,000 down payment assistance program for first-generation homeowners. The act increases the amount to $25,000 if the buyer is part of a group that the act defines as economically disadvantaged.
This act has been stuck in committee since last July, so it's hard to say if anything will ever come of it. Additionally, it may be that the bill undergoes many changes between now and when it becomes law, if it does. It's just something interested home buyers might want to keep an eye on.
The Bottom Line: There's Help Available For First Time Home Buyers
If you are a first-time home buyer, there may be many programs available to help assist you in your journey to buy a home. It's important to look at both the state and local level. Nonprofits and employers often also have their own initiatives.
If you feel ready to move forward, you can apply for preapproval and lock your rate today. Feel free to give one of our Home Loan Experts a call at (833) 230-4553.
Apply for a mortgage today!
Apply online for expert recommendations with real interest rates and payments.
Start Your Application