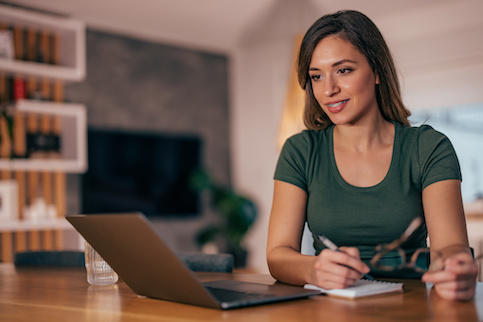 Using Credit-Builder Loans To Build Credit
Published on October 2, 2022
Although your credit score is just a three-digit number, it can have a big impact on your life. A good credit score opens the door to affordable financing opportunities, while a bad credit score could bar you from getting the financing you need altogether. But the good news is that it's possible to use loans to build credit. Let's explore how you can do just that.
What Is A Credit-Builder Loan?
A credit-builder loan is an unconventional loan type in which you start making payments without touching the principal amount. Instead, the lender tucks the loan amount into an earmarked account. During the life of the loan, you have the chance to improve your credit score with on-time payments.
Generally, the typical loan amount for a credit-builder loan ranges from $300 – $1,000.
See What You Qualify For
Congratulations! Based on the information you have provided, you are eligible to continue your home loan process online with Rocket Mortgage.
If a sign-in page does not automatically pop up in a new tab, click here
How Credit-Builder Loans Work
It's clear that credit-builder loans are a unique financial product. Here's a closer look at the inner workings of this loan type.
You apply for the loan: As with all loans, you'll need to apply for a credit-builder loan. But since these loans are designed to help you build credit, it's unlikely you'll be denied for a poor credit score.
The lender sets the loan amount aside: After the loan is approved, the lender will put the principal funds into an earmarked account. Depending on the lender, this might be a savings account or certificate of deposit (CD).
You start making payments: Although you haven't received any loan funds yet, you'll start making regular payments.
The lender reports your payment history to the credit bureaus: If you are making on-time payments, this will help your credit score. If not, it could hurt your credit score.
You can access the funds at the end of the loan term: At the end of the day, this loan type offers a chance to build credit and savings.
If you take out a credit-builder loan, you can expect it to follow these general steps.
How To Use A Credit-Builder Loan To Build Credit
In order to build credit with this loan type, it's important to consider these tips for building credit with a credit-builder loan, including:
Choosing a loan with affordable monthly payments: Don't apply for a credit-builder loan that you cannot reasonably fit into your budget.
Making all payments on time: Payment history is the most important factor in your FICO® Score. Since credit-builder loans offer an opportunity to build good credit, don't waste it. Instead, commit to all on-time payments.
Automate: If you are worried you'll forget a payment, look into an automatic payment option. Some credit builder loans offer this option to avoid a potential missed payment.
Monitoring any changes in your credit report: As you make payments to your credit builder loan, this information should start to appear on your credit report. Make sure that the correct information is showing up.
The reality is that a credit-builder loan can either improve or hurt your credit score. How it impacts your credit score is up to you. For example, making late payments to this type of loan can do your credit score more harm than good.
How To Find Credit-Builder Loans
Credit-builder loans are a relatively unique loan product. But that doesn't mean they are hard to find. Many different lenders offer this type of loan, including:
Credit unions
Community banks
Community Development Financial Institutions
Lending circles
Factors To Note Using A Credit-Builder Loan
Although designed to build credit, a credit-builder loan is still a type of loan. And with that, it's important to weigh out several factors before committing to this option. When comparing potential loans, consider the following factors:
Annual percentage rate (APR): The lender will attach an interest rate or APR to the loan. The higher the APR, the more expensive your loan will be. Make sure to shop around for the best rates.
Loan term length: Different lenders offer different loan terms. Before signing up, consider how long you can comfortably afford a credit builder loan. If you have concerns about the payment, then stick to a shorter term.
Additional fees: Some lenders tack on extra fees. Read the fine print before deciding on a credit builder loan.
Savings goals: A credit builder loan can double as a way to build savings because you'll receive the loan amount at the end of the time. Consider how these forced savings will factor into your financial goals.
Other Options To Help Build Credit
If you don't think a credit-builder loan is the right option for your finances, that's okay! There are plenty of other ways to build your credit score.
Use A Secured Credit Card
A secured credit card requires an upfront deposit that often serves as your spending limit. As you make payments to this revolving line of credit, that information will be reported to the credit bureaus. If you are making on-time payments and keeping your credit card usage reasonably low, this could improve your credit score.
Be Added As An Authorized User
You don't have to open your own credit card to build credit. Another option is to be added as an authorized user to a credit card account in good standing. For example, you might have a family member with good credit card habits who is willing to add you as an authorized user. As long as you both continue responsible credit card management, this can positively impact your score.
Apply For A Personal Loan
A personal loan is an installment loan that offers an opportunity to build credit. Unlike a credit builder loan, you'll receive the funds of this loan upfront. However, this unsecured line of credit represents more risk to the lender, which often means higher interest rates for borrowers.
Depending on your financial needs, this could be the right move for your finances.
The Bottom Line
A credit-builder loan is one of many ways to build your credit. Consider using all of the available options that make sense for your situation as you build credit. If a personal loan aligns with your financial goals, then start your application for a loan with Rocket Loans℠.