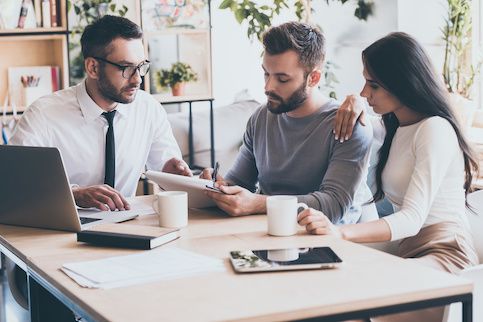 How Do I Shop For A Mortgage?
Published on October 21, 2019
*As of April 20, 2020, Quicken Loans® isn't offering conventional adjustable rate mortgages (ARMs).
As of December 19, 2017, MyQL is now referred to as Rocket Mortgage.
If you're looking to buy a home for the first time, there's a good chance that you're a novice when it comes to shopping for the right mortgage. You may have heard terms like 30-year fixed and ARM thrown around, but here's your chance to get an inside view from a banker's perspective. A home loan is likely the largest financial investment you'll ever make in your lifetime, so it makes sense to do some research ahead of time.
We recently chatted with Andrew Bow, a President's Club Power Banker with Quicken Loans. Since he's been a Home Loan Expert for more than six years, he has some valuable insight on first steps to take for people beginning to shop for a mortgage.
Get Clear On Your Goals
For starters, Bow suggests getting clear about your home-buying goals and what makes now the right time for you to buy.
"Get an understanding of your motivation. Some people are just looking to buy an investment home, while someone else may want a home to start a family," he says. "Also, nail down the area that you're interested in living in to get a sense for market pricing."
Prospective buyers should start talking to real estate agents, family and friends to learn about their experiences; it's a great way to help you learn about specifics to your area, such as the type of insurance required and average cost of utility bills, Bow says.
"You don't have to have previous knowledge about what the housing market's doing because your mortgage banker should be able to tell you about that," he says. "But, you do need to know your numbers and how large of a down payment you're comfortable making."
Look At Your Credit
Bow suggests taking a hard look at your credit score, income and assets so you're aware how much you can afford. Lenders use your credit score to determine whether you qualify for a loan and what rate you'll be charged. Generally speaking, the higher your score, the better the mortgage you'll be offered.
"A lot of this process boils down to a buyer's level of awareness about things like credit," he explains. "I suggest using websites like Rocket HQ so you can take a look at your credit report."
It's smart to pull your credit report at least six months prior to buying a home so you have time to correct any errors you find on your report. He also suggests using technology to simplify preparation to buying a home.
"These days, there are plenty of tools out there to help people when it comes to mortgage shopping," he says. "For instance, Quicken Loans has a phone app to help you evaluate loan options, as well as mortgage calculators you can use to help you know the amount of taxes you'll be looking at."
Prospective home buyers should have a good sense of how much they want to borrow and how long a term they'll need to compare lenders.
Consider The Approval Process
However, credit is not the only thing home buyers should verify. They'll need to get prequalified or preapproved by their lender, a process that verifies additional factors like income and debt in order to determine how much home the buyer can afford.
For example, a Prequalified Approval, the first step in the new Power Buying Process™ from Rocket Mortgage® by Quicken Loans, verifies a home buyer's credit score by pulling their three-digit FICO® Score and report. The lender will also ask for a verbal verification of income and assets in order to determine the debt-to-income ratio, which determines what monthly payment the buyer can afford.
While a Prequalified Approval provides an idea of how much home a home buyer can afford, it likely carries more weight to have a lender verify the income and assets, since most of the calculations came from a verbal verification by the home buyer.
Enter the Verified Approval1, the next step in the Power Buying Process, where a home buyer submits documentation of income and asset statements (typically W-2s, tax returns, bank statements and pay stubs) in order to get a Verified Approval Letter. This process can be completed within 24 hours.2
In essence, prospective home buyers should consider what a lender offers by means of an approval when shopping for a mortgage. It could be the difference in locking in the best interest rate and monthly mortgage payment.
Check Out Company Profiles
Bow emphasizes that the shopping process really comes down to finding a company and mortgage banker you trust. You need a certain level of comfort and confidence in a company's track record of customer service, he says.
"I always start off by reassuring clients that my company has an A+ rating with the Better Business Bureau and is ranked highest by J.D. Power and Associates," he says. "We also use a website called Social Proof where prospective clients can go online and see what recent clients have said about me. This lets them see for themselves what level of service I've provided in the past."
He suggests looking up the Nationwide Mortgage Licensing System (NMLS) number of the lender and mortgage banker, too. Each banker and firm in the industry have a unique number assigned by the NMLS. This trackable number helps to improve transparency in the residential mortgage market from state to state.
"There are literally hundreds of mortgage lenders in the market. And people usually are looking to have a lot of trust and the least amount of fees," he says. "It's really important to take the time to look up a company's credentials and the banker's NMLS number. You want to be sure that the person who is handling your finances has the proper licensing."
Mortgages are available from several types of lenders, including commercial banks, credit unions and mortgage companies. These institutions likely offer different interest rates, promotions and loan options.
Consider Mortgage Types
When considering the type of loan you'll need, consider how long you plan to live in your new home, along with your credit and the amount of funding you'll need.
The three most common mortgage types are the fixed-rate mortgage, the adjustable-rate mortgage (ARM) and the Federal Housing Administration loan (FHA).
A fixed-rate mortgage is a conventional loan that has a set rate of interest for the term of the loan.
An ARM is a conventional loan with an interest rate that is initially fixed for 5, 7 or 10 years, and then that rate changes periodically, usually in relation to the financial markets. The initial rate is often lower than the rate on a fixed-rate mortgage, and the rate may change at any time after the introductory period.
An FHA loan typically has easier borrowing requirements with a low down payment, lower credit expectations than other loans and flexible qualifying income requirements.
Other mortgage options include VA loans for active-duty military personnel, veterans and their families; jumbo loans for mortgages larger than $510,400 (or higher depending on your home's location); and reverse mortgages, which are a special type of home equity conversion mortgages for homeowners age 62 or older that require no monthly payments.
Assess Rates And Fees
Shopping around is part of the normal process because you'll likely want to go with the institution giving you the most competitive interest rate. The lowest advertised interest rate may not always be the best option since fees can significantly increase the cost of a mortgage. In general, a mortgage with higher fees has a lower interest rate.
"I've found that people always want to get a good deal; that's how it is when buying anything in America. Buying a house isn't any different," Bow says. "But part of getting a good deal is building a relationship that you feel comfortable with as well."
When shopping around, it's important to give each institution the exact same information and numbers. Work with the banker to compare longer and shorter terms so you get an idea of the variation in interest rates, fees and monthly payments. Ask about the underwriting fees (costs associated with loan processing and paperwork), broker fees, settlement costs and closing costs.
"There really are no such things as dumb questions when it comes to buying a home," Bow says. "Be sure to share all of the questions on your mind. That's what your mortgage banker is there for. They should have the training and experience to reassure you that you've made the best decision."
These steps will help educate you on this sometimes-complex process and empower you to negotiate and ask smart questions. This will help ensure that you're getting the best deal possible.
If you're ready to start the Power Buying Process, you can apply online with Rocket Mortgage® by Quicken Loans or speak with a Home Loan Expert at (800) 785-4788.
Apply for a Mortgage with Quicken Loans®
Call our Home Loans Experts at (800) 251-9080 to begin your mortgage application, or apply online to review your loan options.
Start Your Application
1Participation in the Verified Approval program is based on an underwriter's comprehensive analysis of your credit, income, employment status, debt, property, insurance, appraisal and a satisfactory title report/search. If new information materially changes the underwriting decision resulting in a denial of your credit request, if the loan fails to close for a reason outside of Quicken Loans' control, or if you no longer want to proceed with the loan, your participation in the program will be discontinued. If your eligibility in the program does not change and your mortgage loan does not close, you will receive $1,000. This offer does not apply to new purchase loans submitted to Quicken Loans through a mortgage broker. Additional conditions or exclusions may apply.
2Verified Approval within 24 hours of receipt of all requested documentation.