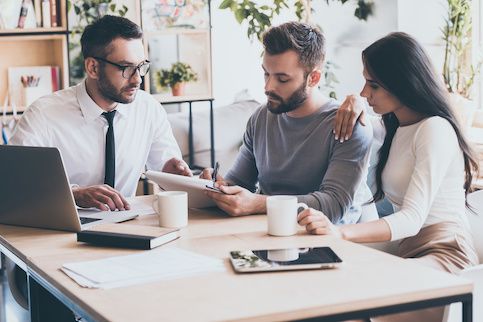 How To Shop For A Mortgage That's Right For You
Published on July 9, 2021
Rocket Mortgage® isn't offering 5-year conventional ARMs at this time.
If you've decided to buy a house, either for the first time or after a long time in your current home, you may find yourself confused by all the mortgage products available. Add to that all the government programs designed to encourage homeownership, various choice of lenders, the industry jargon and requirements, and you'll quickly come to feel overwhelmed.
Take a deep breath. We're here to help you make sense of it all and learn how to shop for a mortgage that's right for you.
How To Start Shopping Around For A Mortgage
If you're looking to buy a home for the first time, there's a good chance that you're a novice when it comes to shopping for the right mortgage. A home loan is likely the largest financial investment you'll ever make in your lifetime, so it makes sense to do some research ahead of time and understand what really matters to you and your budget.
Here's your chance to get an inside view from a banker's perspective. We chatted with Andrew Bow, a Triple Crown Banker with Quicken Loans®. He has some valuable insight on first steps to take for people who are just beginning to shop around for a mortgage.
1.
Set Your Goals
For starters, Bow suggests getting clear about what you're looking for and whether now is the right time for you to buy.
"Get an understanding of your motivation. Some people are just looking to buy an investment home, while someone else may want a home to start a family," he says. "Also, nail down the area that you're interested in living in to get a sense for market pricing."
Start by discussing why you want to move. Do you want to be closer to family or friends? Do you want to remain near the core of a city, with all its cultural and career opportunities? Are you looking for a great school district because you're ready to start a family? This will help you narrow down where to look for your home, and help you decide if a starter or forever home is right for you.
Ask yourself how long you plan to stay in the home. If you're moving for a relatively short period (perhaps to attend graduate school, for example), you might save money by choosing an ARM or interest-only mortgage.
Once you've decided where to look, start learning more about prices in that real estate market. "You don't have to have previous knowledge about what the housing market's doing because your mortgage banker should be able to tell you about that," Bow says. "But, you do need to know your numbers and how large of a down payment you're comfortable making."
2.
Figure Out What You Can Afford
Once you have an idea of what you can expect to pay, make sure that you can afford it. Review your savings plan to make sure you will have adequate cash on hand to afford a down payment and closing costs. There are government programs and conventional loans that specifically help first-time home buyers and low and moderate income families purchase a home with low down payment requirements and assistance with closing costs.
Next, you'll want to use our mortgage calculator to figure out how much you can expect your monthly payment to be, including PMI/MIP, property taxes and homeowners' insurance. Start talking to real estate agents, and your family and friends to learn about their experiences. It's a great way to help you learn about specifics to your area, such as the types of insurance required and average cost of utility bills. Bow says this will help you get a grasp on a realistic new homeowner budget.
Understanding what you can afford on a monthly basis will help you choose the right loan term. If you can afford the higher payment of a 15-year fixed-rate mortgage, that's great, but if you can't, choose the 30-year fixed option.
3.
Look At Your Credit
Bow suggests taking a hard look at your credit score, income and assets so you're aware how much home you can afford. For a comprehensive look at what credit is and why it is important, take a look at Credit 101: Guide For Managing Your Credit. Lenders use your credit score to determine whether you qualify for a loan and what interest rate you'll be charged. Generally speaking, the higher your score, the better the mortgage terms you'll be offered.
"A lot of this process boils down to a buyer's level of awareness about things like credit," Bow explains. It's smart to pull your credit report at least 6 months prior to buying a home so you have time to correct any errors you find on your report.
Great news! Rates are still low to start 2021.
Missed your chance for historically low mortgage rates in 2020? Act now!
Start My Application
How To Shop For Mortgage Rates
For the next step in the process, you'll need a strategy to find the best mortgage rates. Let's take a look at the steps that you should take when shopping for rates.
1.
Leverage Technology
Bow suggests using technology to simplify preparation for buying a home.
"There are plenty of tools out there to help people when it comes to mortgage shopping," he says. "For instance, Quicken Loans has a mobile app to help you evaluate loan options, as well as mortgage calculators you can use to help you know the amount of taxes you'll be looking at."
Prospective home buyers should have a good sense of how much they want to borrow and how long a term they'll need to compare lenders.
2. Request
Multiple Mortgage Rate Offers
According to the Consumer Financial Protection Bureau, the agency responsible for mortgage lender oversight, failure to comparison shop for a mortgage costs the average home buyer approximately $300 per year and many thousands of dollars over the life of the loan. Get three or four quotes on the same day, to make comparisons easier, as interest rates can change daily. This will help you decide on a lender, and will also signal to credit reporting agencies that you're more likely shopping around than applying for four separate mortgages.
If you like one company but received a better quote from another, don't hesitate to tell the company you want to do business with to see if they'll match or beat it. Not only will you save money, you'll also learn a little more as you grow comfortable asking about a variety of mortgage options.
3.
Compare APRs
Interest rates are only part of the process. It can be difficult to compare mortgages because many lenders are able to offer lower rates in exchange for higher closing costs, while others charge a higher rate because they let you roll the closing costs into the mortgage. Lenders are required to disclose a loan's APR, which is the true cost oSf the loan, including all fees, rates and other charges, on an annual basis. Comparing APRs helps you compare costs on an apples-to-apples basis.
How To Shop For A Mortgage Lender
When shopping for a mortgage lender, price is only one factor, albeit an important one to consider. You should also consider the approval process, client service and whether your lender offers a wide range of mortgage products.
1.
Consider Their Mortgage Preapproval Process
Credit is not the only thing home buyers should verify. They'll need to get prequalified or preapproved by their lender.
Prequalification means you have provided income and basic information about your debts to the lender, who responds by telling you how large of a loan you can expect to be approved for.
Preapproval means that you've submitted financial information to a lender who then verifies additional factors like income, runs a credit history, and calculates your debt-to-income ratio. In general, you'll need a preapproval letter attached to any offer you make on a home.
At Rocket Mortgage, we offer Prequalified Approval, the first step in the new Power Buying Process. This gives borrowers a good idea of how much home a home buyer can afford. We verify a home buyer's credit score by pulling their three-digit FICO® Score and report. We ask prospective borrowers for a verbal verification of income and assets and determine the debt-to-income ratio.
To make an offer, though, prospective home buyers will need a Verified Approval,1 the next step in the Power Buying Process, where a home buyer submits documentation of income and asset statements (typically W-2s, tax returns, bank statements and pay stubs) in order to get a Verified Approval Letter. This process can be completed within 24 hours.
In essence, prospective home buyers should consider what a lender offers by means of a preapproval when shopping for a mortgage. It could be the difference in locking in the best interest rate and monthly mortgage payment.
2.
Choose A Lender You Trust And Feel Comfortable Working With
Bow emphasizes that the shopping process really comes down to finding a company and mortgage banker you trust. You need a certain level of comfort and confidence in a company's track record of customer service, he says.
"I always start off by reassuring clients that my company has an A+ rating with the Better Business Bureau and is ranked highest by J.D. Power and Associates," he says. Bow also recommends checking online reviews. "This lets [prospective borrowers] see for themselves what level of service I've provided in the past."
He suggests looking up the Nationwide Mortgage Licensing System (NMLS) number of the lender and mortgage banker, too. Each banker and firm in the industry has a unique number assigned by the NMLS. This trackable number helps to improve transparency in the residential mortgage market from state to state.
"There are literally hundreds of mortgage lenders in the market. And people usually are looking to have a lot of trust and the least amount of fees," Bow says. "It's really important to take the time to look up a company's credentials and the banker's NMLS number. You want to be sure that the person who is handling your finances has the proper licensing."
Mortgages are available from several types of lenders, including commercial banks, credit unions and mortgage companies. These institutions likely offer different interest rates, promotions and loan options.
3. Look At What Types Of Mortgages
Are Offered
The three most common mortgage types are the fixed-rate mortgage, the adjustable-rate mortgage (ARM) and the Federal Housing Administration loan (FHA). Let's review the differences between them:
A fixed-rate mortgage is a conventional loan that has a set rate of interest for the term of the loan.
An adjustable-rate mortgage (ARM) is a conventional loan with an interest rate that is initially fixed for 5, 7 or 10 years, and then that rate changes periodically, usually in relation to the financial markets. The initial rate is often lower than the rate on a fixed-rate mortgage, and the rate may change at any time after the introductory period.
A federal housing administration (FHA) loan typically has easier borrowing requirements with a low down payment, lower credit expectations than other loans and flexible qualifying income requirements.
Lenders that offer all or most of the loans available can compare which best suits your needs. Lenders that offer only conventional loans, for example, may not be forthcoming about a better-suited FHA loan that they don't offer.
Other mortgage options include:
These steps will help educate you on this sometimes-complex process and empower you to negotiate and ask smart questions. This will help ensure that you're getting the best deal possible.
How To Shop For A Mortgage Without Hurting Your Credit
When shopping for a mortgage, many prospective buyers worry about how this might affect their credit score. To avoid any damage to your credit, keep the below tips in mind.
Keep your mortgage shopping to within a 45-day time period to avoid having multiple credit inquiries reported on your account.
Prequalify for a mortgage before looking at houses. This will only require a soft pull of your credit, rather than a hard pull, which can lower your score.
Have a strong understanding of your credit score ahead of time, and try to remedy any issues that you find on your report.
Limit other borrowing activities that could cause your score to drop during this time.
The Bottom Line: Let Us Help You Start The Mortgage Shopping Process Today
If you're ready to start the buying process, you can apply online with Rocket Mortgage or call our Home Loans Experts at (800) 251-9080 to get started. If you're not quite ready to ask questions or apply just yet, keep reading about mortgages and buying a home in our Learning Center.
1 Participation in the Verified Approval program is based on an underwriter's comprehensive analysis of your credit, income, employment status, debt, property, insurance, appraisal and a satisfactory title report/search. If new information materially changes the underwriting decision resulting in a denial of your credit request, if the loan fails to close for a reason outside of Quicken Loans' control, or if you no longer want to proceed with the loan, your participation in the program will be discontinued. If your eligibility in the program does not change and your mortgage loan does not close, you will receive $1,000. This offer does not apply to new purchase loans submitted to Quicken Loans through a mortgage broker. Additional conditions or exclusions may apply.
View Your Refinancing Options
Call our Home Loans Experts at (800) 251-9080 to begin your mortgage application, or apply online to review your loan options.
Start Your Refinance Online