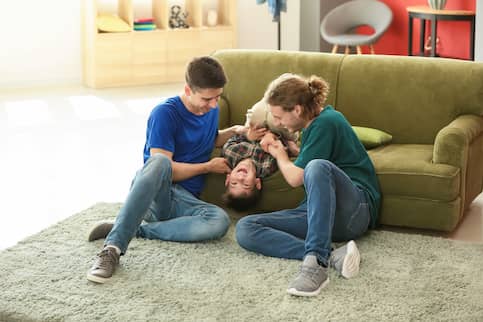 Government Home Loans: What You Need To Know
If you're trying to buy a home, you may be considering using a government loan. These loans are often easier to qualify for than conventional loans and come with lower credit and down payment requirements.
There are several different kinds of government home loans, so it's important to understand the differences. Being informed will help you find the mortgage that's best for your situation.
How Does A Government-Backed Home Loan Work?
Government-backed loans are insured by a government agency. You'll apply through a private lender, but the government will repay a percentage of the loan if you default on it. Since these loans are less risky for the lender, they tend to be easier to qualify for.
See What You Qualify For
Congratulations! Based on the information you have provided, you are eligible to continue your home loan process online with Rocket Mortgage.
If a sign-in page does not automatically pop up in a new tab, click here
Common Types Of Government Home Loans For Buyers
There are two main types of home loans — conforming and nonconforming loans. Conforming loans meet the guidelines set by Fannie Mae and Freddie Mac.
Government home loans are considered nonconforming loans because they don't meet these guidelines. Listed below are the three types of government loans you'll want to familiarize yourself with.
FHA Loans
FHA loans are backed by the Federal Housing Administration (FHA), and they're designed to make it easier for low-income borrowers to qualify for a mortgage for a primary residence. These loans come with lower down payment and credit requirements.
However, FHA loans do come with mortgage insurance premiums (MIPs). You'll make an upfront payment which is 1.75% of the loan amount and pay an annual mortgage insurance, broken into monthly payments. You'll want to consider these costs when you're thinking about the total cost of the loan.
Here are the FHA loan terms and requirements:
Credit score:

580

for most lenders, including Rocket Mortgage®

Down payment:

5%

Maximum DTI:

Varies (but can be as high as 57%)

Loan terms:

5/1 ARM, 15, 20, 25 and 30-year term
VA Loans
VA loans are backed by the Department of Veteran Affairs (VA) and help veterans, active-duty service members and eligible spouses find affordable homes. Before you can apply, you must obtain a Certificate of Eligibility (COE), which is a document issued by the VA showing that you are eligible for a VA loan based on you or your spouse's service record.
VA loans come with no down payment requirements and flexible credit requirements. They do require closing costs, but the costs can be rolled into a loan. You will have to pay a one-time VA funding fee, and the home must be used as your primary residence.
Here are the VA loan terms and requirements you'll need to know about:
Credit score:

none, but most lender require either 580 or 620

Down payment:

No down payment is required

Maximum DTI:

No limit set by VA

Loan terms:

5/1 ARM, 15, 20, 25 and 30-year term
USDA Loans
USDA loans are backed by the U.S. Department of Agriculture (USDA) and help low-income borrowers in rural neighborhoods find affordable housing. To qualify, you must meet the USDA's income limits and ensure the home is located in an eligible rural or suburban area.
Here are the loan requirements for a USDA loan:
Credit score:

The USDA doesn't set a minimum credit score

Down payment:

No down payment is required

Maximum DTI:

Varies, depending on loan profile

Loan terms:

30-year term
Rocket Mortgage® doesn't offer USDA loans at this time.
Refinancing Government Home Loans
Refinancing a government loan can be tricky because you don't want to lose access to certain benefits. Listed below are the best ways to refinance a government-backed loan.
VA Refinance
A VA refinance lets you refinance your current VA loan and replace it with a new loan under different terms. There are two refinancing options you can choose from:
Interest Rate Reduction Refinance Loan (IRRRL): An IRRRL lets you refinance your VA loan to lower your monthly mortgage payments.

VA cash-out refinance: A VA cash-out refinance lets you refinance your loan to take advantage of the equity in your home. Borrowers with non-VA loans can refinance into a VA-backed loan if they meet the eligibility requirements.
FHA Refinance
FHA loans also come with several loan refinancing options:
FHA Simple Refinance

: An FHA Simple Refinance replaces your current FHA loan with a new fixed or adjustable-rate loan. The process is fairly straightforward, and you can roll your closing costs into the loan amount.

FHA Streamline Refinance: An FHA Streamline Refinance doesn't require a credit check, appraisal or income verification. To qualify, you must have had your loan for at least 210 days and have made at least six monthly payments.

FHA cash-out refinance: A cash-out refinance allows you to refinance and access the equity in your home.
USDA Refinance
Homeowners with USDA loans also have the option to refinance their mortgages:
USDA Streamline Refinance:

The USDA Streamline Refinance allows borrowers with little or no equity to refinance their current USDA loan for more affordable payment terms. There's no appraisal or credit check required, but the refinance must result in a minimum $50 net reduction to principal, interest, real estate taxes and homeowners insurance (PITI) payments. You may be eligible for this once 12 on-time payments have been made.
View Your Refinancing Options
See expert-recommended refinance options and customize them to fit your budget.
Start Your Refinance Online
Other Government Home Loan Programs
Let's look at some lesser-known government home loan options you may want to consider. Keep in mind, some lenders, including Rocket Mortgage®, do not offer these loans.
Home Loans For Native American Veterans
The Native American Veteran Direct Loan (NADL) is available for veterans who are also Native American and want to purchase or build a home on Federal Trust land. These loans don't come with any down payment requirements and there are no loan limits.
You can also qualify for low interest rates and low closing costs. But before applying, the veteran's tribal group has to enter into a Memorandum of Understanding (MOU) with the VA.
Home And Property Disaster Loans
If your home is damaged or destroyed in a natural disaster you can apply for a disaster assistance loan from the U.S. Small Business Administration (SBA). These loans are available to homeowners, businesses, renters and nonprofit organizations.
Before you can apply, the SBA must issue a disaster declaration for your area. From there, you can apply for a loan and check your status on the SBA's website.
FHA Loans For Disaster Victims
If you've lost your home in a Presidentially declared disaster area, a Section 203(h) loan can help you rebuild or buy another home. Insured mortgages can be used to purchase or reconstruct the home.
FAQs About Government Loans For Houses
Here's some additional information about using a government loan for your mortgage.
How do I apply for a government home loan?
You'll apply for a government home loan through a bank, credit union or online lender. Just make sure the lender offers the type of loan you're applying for.
Are government home loans available for first-time home buyers?
FHA, VA and USDA loans are all available to first-time home buyers. If you meet the eligibility requirements, it doesn't matter if you're a first-time or repeat home buyer.
How do I qualify for a home loan through the government?
You'll have to find out what the eligibility requirements are before applying. For example, to qualify for a VA loan you must be a veteran, active-duty service member or eligible spouse.
Does the government have home improvement loans?
The government does offer federal, state and local home improvement loans and grants. For example, there are grants available to low-income families, senior citizens and Native Americans.
The Bottom Line
Government home loans are offered through private lenders and backed by a government agency. If you meet the eligibility requirements, these loans often come with flexible loan terms and eligibility requirements. If you're ready to move forward, you can apply for a mortgage today.
Take the first step toward buying a house.
Get approved to see what you qualify for.
Start My Approval