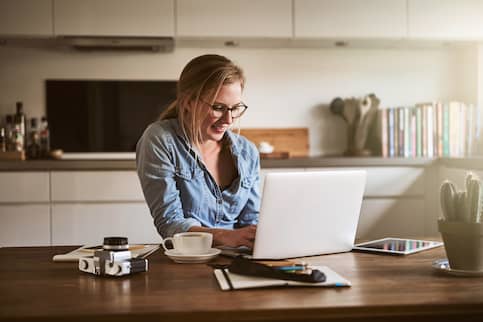 How To Get A Mortgage If You're Self-Employed
Published on September 20, 2021
As a self-employed person, you're working hard to build a business and leave your mark on the world. You're proud of what you've accomplished, and that your endeavors have put you in a position to be able to buy a home. So why should you be worried about being self-employed when applying for a mortgage?
Everyone feels apprehensive when they apply for a home loan, but self-employed borrowers have to provide lots of documentation – even more than employed borrowers, who need only produce a couple years' worth of W2s and recent paystubs. As long as you're prepared for it – and your financial house is in order – you can become a self-employed mortgage borrower.
Is It Harder To Get Approved For
A Mortgage While Self-Employed?
There's sometimes a misconception that it's difficult to get a mortgage while self-employed. The biggest difference is the documentation your lender may require in support of your application.
Do Self-Employed Mortgage Borrowers Have To Meet Different Standards?
Mortgage lenders evaluate self-employed clients the same way they would look at anyone else. They want to see that you have a decent credit score. They'll also look at your debt-to-income ratio in order to determine whether you can afford the mortgage payment associated with the loan. Finally, lenders will look at asset and income account statements to verify your resources.
Every Lender Has Their Own Policy On Self-Employed Mortgage Borrowers
Rules can vary based upon the lender and the type of loan you're getting, so shopping around might be a little more difficult if you're self-employed. This is because every lender has different policies in place regarding risk mitigation. As you look around, make sure you're clear about what the lender will need from you.
Apply for a Mortgage with Quicken Loans®
Call our Home Loans Experts at (800) 251-9080 to begin your mortgage application, or apply online to review your loan options.
Start Your Application
What Documents Will I Need To Provide?
Mortgage loan officers will want to understand the self-employed borrower's business, their expertise in their chosen field and their ability to earn a stable, consistent and ongoing income for at least the next 3 years.
While underwriting standards will vary based on the lender and the type of loan you're getting, the same types of documents are likely to be required. Here's an overview of some of the common documentation used across the industry:
Current statement of bond insurance (policy must be at least 2 years old)
A letter from your licensed CPA, enrolled agent or tax preparer
Letters from clients indicating service has been performed
A membership letter from a professional organization that can verify through your membership at least 2 years of self-employment.
Any state license and business license that may be required in your profession.
Evidence of workers' compensation and employer's liability insurance.
A DBA (Doing Business As) issued at least 2 years ago. If you're using a DBA for verification, you must prove current self-employment with 2 months of recent business account statements, creditor statements or company invoices.
At least 1 year of both your business and personal tax returns, for income documentation purposes, and W-2s, if your business is incorporated.
A year-to-date profit and Loss statement, preferably audited by a CPA. Unaudited statements may require most recent business bank statements as well.
Bank and account statements that verify the amount held in personal savings and investment accounts to show that you can make a down payment while still retaining savings in case of a loss of income.
How Do I Know Which Mortgage Lenders Are Best Suited To My Situation?
There was a time when all you could do was go down to your local bank branch and meet with the loan officer, who would gather all your information and tell you what the bank would be willing to offer. Now, the amount of information to be gathered can seem overwhelming.
Shop Online
You can shop online, carefully looking for any information directed to self-employed applicants. You can also call or chat online with some lenders. At Rocket Mortgage®, you can speak with one of our Home Loan Experts or chat online with a person – not a bot – until midnight EST to get all of your questions answered.
Work With A Mortgage Broker
You can also consider working with a mortgage broker, whose job it is to know the ins and outs of each lender's policies toward lending to the self-employed, and whose relationships should help move your application forward.
How Can I Prepare Before Applying?
Whether you're a self-employed or an employed borrower, giving yourself the time and space you need to prepare for applying for a mortgage will make the process quicker, easier and far less stressful.
Review Your
Credit Score And History
The first step is getting a copy of your credit report and reviewing it carefully.
If you need to make some improvements, make sure to correct any errors found in your credit record. Pay bills in full and on time. If you don't have credit cards in your own name, apply for some at least 6 months before you plan to begin applying for loans. Limit your credit utilization – the ratio of your balances compared to your overall credit limit across all your accounts – to no more than 30% each month.
If you have negative items on your credit report, speak with a Home Loan Expert about how best to correct them if they're wrong, or how long you'll need to wait before applying if they're correctly reported.
Calculate
Your Debt-To-Income (DTI) Ratio
If you feel you should qualify based on your credit score and history, but you aren't getting approved for the loan amount you need, try lowering your debt-to-income (DTI) ratio. Doing so will increase your capacity to take on a higher mortgage payment in the eyes of your lender.
The best way to lower your DTI is to pay off debt. Another avenue to try is consolidating your debts at a lower rate in order to bring your monthly payments down to a more manageable level.
Start Saving So You Can
Offer A Higher Down Payment
If you're working with a lender and they're on the fence about your mortgage application, being able to put extra money down can go a long way toward allaying their concerns. Lenders are taking a risk when they originate your mortgage. A larger down payment shows you're willing to share that risk.
Higher down payments also can help you to secure a lower mortgage interest rate, if everything else is held equal.
Separate Business And Personal Assets
Rocket Mortgage Triple Crown Banker Dennis Spensley noted that it's helpful if you can separate your business assets from your personal assets.
"Self-employed clients typically have their business and personal assets intermingled," Spensley said. "If they can keep the funds that they will use for down payment and settlement fees isolated from their business assets in a personal savings account, that would work best."
In any event, it's probably not the most professional look for a business owner to have their personal and business affairs so intertwined.
FAQs
We're going to try to anticipate your questions here, but if we miss one, feel free to contact us. One of our Home Loan Experts will either have your answer or will find it.
What are lenders looking for when they're considering my application?
Basically, they're trying to determine what it is you do and whether you'll be able to repay them. There is no third party – like an employer – to help them decide. So they'll want to know about your business and how much you've made in the past few years, plus they'll be trying to figure out your likelihood of continuing to earn that income.
How can I show what I'll make in the future?
There are a variety of different ways to demonstrate the continuing viability of your business, like future contracts that you may have or your repeat business percentage. Every industry's practices are a little different, so if you're unsure what documentation you'll need, speak to your lender.
What credit score do I need to buy a house?
To qualify for an FHA loan, you'll need a median score of at least 580. For conventional and VA loans, a 620 minimum median FICO® Score is required.
Jumbo loan scores depend on the loan amount, but they start with a median score of 680 – 720, depending on the lender. Rocket Mortgage offers a Jumbo Smart loan that offers a mortgage of up to $2.5 million with a minimum FICO® Score of 680.
In addition to your credit score, a lender will look at your credit history to see how you've managed debt in the past. They'll look at your history with late payments, placing particular emphasis on light mortgage and rent payments within the last 2 years. Other negative marks would be things like collections or discharged accounts, foreclosures and bankruptcies.
If you have negative items on your credit report, speak with a Home Loan Expert about any path forward along with applicable waiting periods that may apply.
Why do lenders care about my emergency savings account?
Lenders want to see that you'd be able to make your payment for a while in the event that you lose your income temporarily. As you shop around, you'll find that lenders may have vague or unwritten policies for how much emergency savings you need to have. Generally speaking, it's a good idea to have at least 2 months worth of expenses in highly liquid savings.
Why do lenders suggest larger down payments from self-employed individuals?
Although the down payment requirements for Rocket Mortgage don't change as a result of self-employment, some mortgage lenders may try to mitigate their risks by having you make a higher down payment, which results in a lower loan-to-value ratio (LTV). That's a fancy way of saying that lenders like it when you have as much skin in the transaction as they do.
The Bottom Line On Getting A Mortgage When You're Self-Employed
As a self-employed person, you'll have to jump through a few extra hoops to get your mortgage. The major difference is that you'll have to provide business income documents because your income is ultimately tied to the success of the business.
For more information, check out our step-by-step guide on getting approved for a mortgage. Are you ready to apply? Start your application online today!
1 Quicken Loans, LLC (doing business as Rocket Mortgage), Rocket Homes Real Estate LLC, and RockLoans Marketplace LLC (doing business as Rocket Loans®) are separate operating subsidiaries of Rocket Companies, Inc. (NYSE: RKT). Each company is a separate legal entity operated and managed through its own management and governance structure as required by its state of incorporation, and applicable legal and regulatory requirements.
Apply for a Mortgage with Quicken Loans®
Call our Home Loans Experts at (800) 251-9080 to begin your mortgage application, or apply online to review your loan options.
Start Your Application