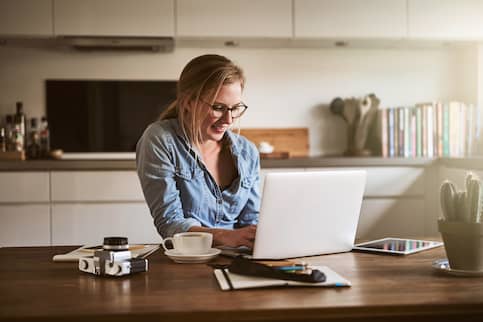 Self-Employed: How To Get A Mortgage
Published on January 8, 2021
Anyone who's been self-employed knows you don't just sit around eating cheese balls and watching soap operas every day. You work your tail off to put food on the table and make a living. You can even make a really good one.
Because you're not employed by a traditional business, there's some additional documentation required to qualify for a mortgage. It doesn't have to be a hindrance; it just requires a little preparation.
How Difficult Is It To Get A Mortgage Loan While Self-Employed?
There's sometimes a misconception that it's difficult to get a mortgage while self-employed. While preparation helps, it doesn't have to be harder. The biggest thing to know is that there's just some different documentation that's required.
Mortgage lenders evaluate self-employed clients the same way they would look at anyone else. They want to see that you have a decent credit score. They'll also look at the level of debt you carry in order to determine whether you can afford the mortgage payment associated with the loan. Finally, asset and income documents will be used to verify your resources.
Rules can vary based upon the lender and the type of loan you're getting, so shopping around might be a little more difficult if you're self-employed. This is because every lender has different policies in place regarding risk mitigation. As you look around, make sure you're clear about what the lender will need from you.
Apply for a Mortgage with Quicken Loans®
Call our Home Loans Experts at (800) 251-9080 to begin your mortgage application, or apply online to review your loan options.
Start Your Application
What Documents Do You Need To Provide?
While underwriting standards will vary based on the lender and the type of loan you're getting, the same types of documents are likely to be required. Here's an overview of some of the common documentation used across the industry.
Employment Verification
One of the great draws of self-employment is the ability to strike out on your own and be your own boss. Taking responsibility for your success can be very freeing.
It does, however, make the process of verifying your employment a little different. What would normally require a phone call to your employer instead requires you to furnish a little bit of paperwork. The good news is you can provide any of the following as documentation:
Current statement of bond insurance (policy must be at least 2 years old)
A letter from your licensed CPA, enrolled agent or tax preparer
Letters from clients indicating service has been performed
A membership letter from a professional organization that can verify through your membership at least 2 years of self-employment
Any state license and business license that may be required in your profession
Evidence of workers' compensation and employer's liability insurance
A DBA (Doing Business As) issued at least 2 years ago

If you're using a DBA for verification, you must prove current self-employment with 2 months of recent business account statements, creditor statements or company invoices.
In addition to using this documentation, because of volatility surrounding COVID-19, your lender will likely do some more legwork to determine if your business is open and operating. If we need anything from you, your Home Loan Expert will let you know.
Income Documentation
Rocket Mortgage® Triple Crown Banker Dennis Spensley said one of the most important things a client can do to move the process along is to have income documentation ready at the beginning.
"When I am helping a self-employed client, I try to set the right expectation upfront," Spensley said. "We'll need 2 years of tax returns, both business and personal."
If you've been self-employed for less than 2 years, it may be necessary to show additional documentation regarding the likelihood of continued income. Additionally, if you show declining income, you may have a more difficult time qualifying. Speak with a Home Loan Expert regarding your options.
While the specific forms necessary are dependent on how you incorporate your business, in general, we'll need personal tax returns (and, if it's a corporation, W-2s) as well as a statement showing your portion of the business's profit or loss. Profit and loss forms might include a Schedule C, Form 1120S or K-1, depending on your business structure.
Depending on the type of loan you're trying to qualify for and the specifics of your situation, we might look at your gross receipts or we might require that profit and loss statements be audited by a CPA. In any case, the profit and loss statement should be dated within 60 days of close. Your Home Loan Expert will be able to provide additional info.
Credit Score And History
Like anyone getting a mortgage, if you're self-employed, a lender will be looking at your credit score and using your credit report to learn your history. This gives them an idea of how well you've handled debt and credit in the past.
For starters, they'll be looking at your credit score. To qualify for an FHA loan, you'll need a median score of at least 580 between the three bureaus. For conventional and VA loans, a 620 minimum median FICO® Score is required. Jumbo loan scores depend on the loan amount, but they start with a median score of 700.
As with any loan, the higher your score the better your loan terms will be if everything else is held equal.
In addition to your credit score itself, a lender will examine your credit history to see how you managed debt in the past. They'll look at your history with late payments, placing particular emphasis on light mortgage and rent payments within the last 2 years. Other negative marks would be things like collections or discharged accounts, foreclosures and bankruptcies.
If you have negative items on your credit report, speak with a Home Loan Expert about any path forward along with applicable waiting periods that may apply.
Personal Assets
Mortgage lenders will look at bank statements and statements for any other accounts you use to qualify in order to determine what you have in personal assets that can be directly used or easily liquidated to make your down payment. Lenders also want to see that you'd be able to make your payment for a while in the event that you lost your income temporarily.
Although the down payment requirements for Rocket Mortgage® don't change as a result of self-employment, some banks may mitigate their risks by having you make a higher down payment, which results in a lower loan-to-value ratio (LTV).
Lenders don't always require you to have resources for a specific number of months' worth of mortgage payments. It depends on the type of loan you're applying for. However, having at least 2 months' worth of reserves is a good guideline.
How To Boost Your Chances Of Getting Approved
If you know you'll be applying for a mortgage soon, the following tips can help you increase your chances of getting approved for the amount you need.
1. Improve Your Credit Score And History
The first step to improving your credit is establishing basic awareness of where you stand currently. With that in mind, it's very important to be able to check your credit report. Our friends at Rocket Homes® 1 allow you to view and gain insights from your VantageScore® 3.0 credit score and report, updated every week.
Beyond that, there are some general tips that will help anyone improve their score.
Correct any errors found in your credit record.

Pay bills in full and on time.

Limit your credit utilization – the ratio of your balance compared to your overall credit limit across all your accounts – to no more than 30% each month.
2. Lower Your Debt-To-Income (DTI) Ratio
If you find that you qualify based on your credit score and history, but you aren't getting approved for the loan amount you need, try lowering your debt-to-income (DTI) ratio. Doing so will increase your capacity to take on a higher mortgage payment in the eyes of your lender.
The best way to lower your DTI is to pay off debt. Another avenue to try ins consolidating your debts at a lower rate in order to bring your monthly payments down to a more manageable level.
3. Offer A Higher Down Payment
Although this isn't the case at Rocket Mortgage®, some lenders are requiring higher down payments to qualify in order to decrease risks associated with the volatility caused by COVID-19. That's something to be aware of. Regardless of requirements, higher down payments do have the advantage of helping you secure a lower rate if everything else is held equal.
4. Separate Business And Personal Assets
Spensley also noted it's helpful if you can separate your business assets from your personal assets.
"Self-employed clients typically have their business and personal assets intermingled," Spensley said, "If they can keep the funds that they will use for down payment and settlement fees isolated from their business assets in a personal savings account, that would work best."
The Bottom Line
Getting a mortgage while self-employed is in many ways the same as it is for any regular employee paid by a company in which they don't have ownership. The major difference is that you'll have to provide business income documents because your income is ultimately tied to the success of the business. Your lender will also work with you to verify employment.
Beyond that, lenders will look at your credit score and history as well as your personal assets. To improve your chances of approval, you can work on your credit and lowering your debt, along with offering a higher down payment in some cases. Finally, it's important to separate business and personal assets.
For more information on getting a mortgage, check out our step-by-step guide. You can also start to look at how much money you'll need to purchase a home.
Are you ready to apply? Start your application online today!
1 Quicken Loans, LLC (doing business as Rocket Mortgage), Rocket Homes Real Estate LLC, and RockLoans Marketplace LLC (doing business as Rocket Loans®) are separate operating subsidiaries of Rocket Companies, Inc. (NYSE: RKT). Each company is a separate legal entity operated and managed through its own management and governance structure as required by its state of incorporation, and applicable legal and regulatory requirements.
Apply for a Mortgage with Quicken Loans®
Call our Home Loans Experts at (800) 251-9080 to begin your mortgage application, or apply online to review your loan options.
Start Your Application