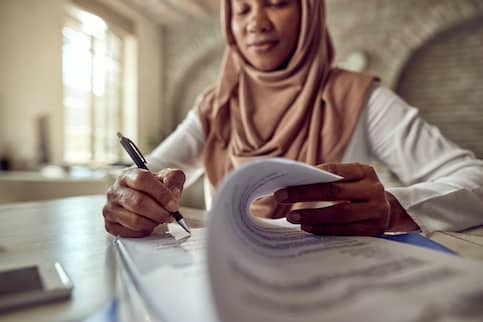 Does Getting Preapproved Hurt Your Credit?
Published on February 4, 2022
Buying a home can be a stressful time, especially in a seller's market. In that climate, a mortgage preapproval is a key tool to help give you an edge over other buyers. But applying for a preapproval triggers a thorough check into your financial health – including your credit report. Because of that, you may find yourself wondering, "Does getting preapproved hurt your credit?"
Here's what you need to know about the impact mortgage preapproval has on your credit score.
What Is A Preapproval For A Mortgage?
Mortgage preapproval is a step many take early in the home buying process. Essentially, the borrower asks mortgage lenders to scrutinize their finances, such as their income, credit history, outstanding debt and ability to afford a down payment. This helps the lender determine if the borrower is a dependable choice for a home loan.
One of the main pieces of financial information that the lender uses is the borrower's credit report. The loan officer uses the credit report and financial documentation to decide whether you qualify for a loan and the expected size. Preapproval also includes the interest rate and fees you will probably receive with the projected loan amount.
Preapproval won't guarantee you a loan, but it indicates to sellers that you meet financial requirements for an approval.
Once you qualify, the lender gives you a preapproval letter that details their willingness to issue the loan to you – along with the potential terms. This gives you a leg up over other buyers.
However, you should know that preapproval letters typically have an expiration date of 30 – 60 days. So, most wait for preapproval until they are searching seriously for a home.
See What You Qualify For
Congratulations! Based on the information you have provided, you are eligible to continue your home loan process online with Rocket Mortgage.
If a sign-in page does not automatically pop up in a new tab, click here
Does A Preapproval Hurt Your Credit?
Getting a mortgage preapproval can cause a slight decrease in your credit score. However, this should not significantly impact your credit score in the long term, and the benefits of preapproval ultimately outweigh any negative short-term effect to your credit.
Still, that doesn't mean you should apply with multiple lenders willy-nilly. Doing so can have a more significant impact, hurting your credit score. Because of this, it's wise to limit your rate shopping to a month or so. Credit bureaus will know that you are searching for a home and likely won't hold each listed inquiry against you.
How Do Preapprovals Affect Your Credit?
During the mortgage preapproval process, you must authorize your lender to look at your financial information. Namely, they need to review your credit report, which is a detailed breakdown of your credit history.
They may pull this report from one or more of the three national credit bureaus (Equifax®, ExperianTM, or TransUnion®), depending. And, with your permission, they obtain your credit score from these reports as well.
This is called a credit check, otherwise known as a credit inquiry. There are two types of credit inquiries: soft inquiry and hard inquiry. These inquiries have different levels of impact on your credit score, but the effect is short-lived.
Take the first step toward buying a house.
Get approved to see what you qualify for.
Start My Approval
The Impact Of Credit Inquiries On Your Score
There are multiple advantages to a mortgage preapproval. However, there is a downside: the impact on your credit. That's because you allow your lender to review your credit reports and pull your credit score.
When a person or entity pulls your credit, a type of notation called an inquiry shows on your credit report. Here are the two types of inquiries and their differences:
Hard Credit Inquiry
A hard inquiry takes place when a lender reviews a borrower's credit. Lenders do this when they need to make a decision about lending, like if you apply for mortgage preapproval. This type of inquiry will show up on your credit report. And, since it associates you with new debt, it may temporarily impact your credit score.
You'll likely only face a small drop in points with one or two hard inquiries. This won't significantly affect your score. However, multiple hard inquiries in a year may have a more substantial impact.
Soft Credit Inquiry
A soft inquiry is a little laxer compared to a hard credit inquiry. It only occurs when your lender provides you with a rate quote. If you ever applied for a credit card or received preapproval for a credit card in the mail, a soft inquiry probably occurred.
Luckily, soft credit checks don't impact your credit score, unlike hard inquiries. That's because you are not actually applying for credit.
How Long Will Your Credit Be Affected By Your Preapproval?
After a hard credit inquiry, you may find that your credit score took a dip. That reduction in points doesn't usually last long. In addition, the inquiry itself gets removed from your credit report after 2 years.
How To Prepare Your Credit For A Mortgage Preapproval
Make sure you review your credit profile before you apply for either a preapproval or mortgage. It's best to check your score around a year before you begin looking at houses. That will give you enough time to focus on your score and improve it if you need to.
You can follow these steps to help prepare your credit for a mortgage preapproval:
Review your credit score. During this check, look for any red flags or risk factors that come with it. These items listed on your credit report have the largest negative impact.
Look over your credit report and dispute any inaccuracies you find there.
Avoid applying for any new forms of credit or overusing your credit card. This will stop your utilization ratio from increasing.
Try to pay down or chip away at any debts you have, particularly high-interest debt like a credit card.
Pay careful attention to your regularly occurring expenses and bills.
The Bottom Line
Mortgage preapproval may make the difference for a buyer in a competitive market. However, you should limit how many you apply for during your search. Multiple loan applications can hurt your credit score and, thus, your chances of a home.
If you're considering where to apply for your letter, get preapproved with Rocket Mortgage® today.
Take the first step toward buying a house.
Get approved to see what you qualify for.
Start My Approval