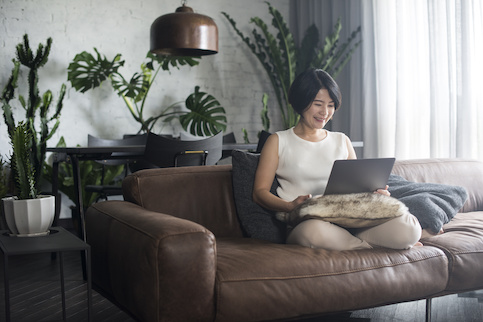 What Is An HOA? Homeowners Associations, Defined And Explained
Published on October 7, 2021
Everyone potential homebuyer has a list of criteria they're looking for in their future home. Some want a large enough driveway, three bathrooms and/or a finished basement. Others are looking for a well-kept community, in which case they may consider an area with a homeowners association (HOA).
These organizations are well known for their rules and regulations. Still, a survey conducted by Zogby Analytics in 2020 on behalf of the Foundation for Community Association Research (FCAR) shows that 74% of Americans living in HOAs, condominiums, and housing cooperatives say their community managers are valuable and provide support to their residents.
Here's how they function and ways they may (or may not) work for you.
What Is An HOA?
A homeowners association (HOA) is an organization that implements rules for the property and the residents who live there. Those who reside in a property with an HOA are required to pay HOA fees.
You'll find HOAs in deed-restricted communities, where a board of directors oversees the enforcement of rules and the spending of these collected dues. In some cases, they may use them to improve common areas or provide services like lawncare, snow removal and pest control. In others, they may put them toward security measures. But their overall responsibility is to ensure the upkeep of the community.
For many residents, these associations provide safety and peace of mind. Their work helps the community stay well-taken care of and valuable.
Apply for a mortgage today!
Apply online for expert recommendations with real interest rates and payments.
Start Your Application
Pros And Cons Of HOAs
HOAs come with their variety of pros and cons. Here are a few of the benefits and drawbacks potential homeowners should keep in mind.
Homeowner Association Advantages
Here are some of the things an HOA can do for you that you may find advantageous:
Protect property value: HOAs instill rules that everyone in the community must follow. In particular, enforce regulations about taking care of the home's exterior. Sometimes, they may also oversee a neighborhood watch or hire security. As a result, they protect the value of your property.
Maintain amenities: One of the perks that may come with an HOA community is available amenities, like clubhouses and pools. They use monthly fees to maintain these spaces, so you don't face extra costs to use them.
Less conflict: You don't have to worry. The HOA sets standards for the entire community, which means everyone knows what's acceptable. They can also act as intermediaries, taking a problem off your hands.
Homeowner Association Disadvantages
HOAs come with several benefits, but they're also known for disadvantages like:
HOA fee consequences: Living in an HOA's community means you must pay regular fees along with your regular homeowner costs. If you don't, you could face legal consequences or even foreclosure.
Uniformity and rules: Each HOA has a CC&R, or Covenants, Conditions, and Restrictions. They determine the appropriate look for your home, such as paint colors, holiday decorations and lawn care. Many homeowners may prefer to have more freedom.
Potential mismanagement: Some HOAs can be poorly managed, whether they misuse funds or fail to support their residents. That can lead to community conflict and financial problems.
Homeowner Association FAQs
People are often curious about a few things when it comes to HOAs. Here are some of the most common questions.
What types of homes have HOAs?
There are a few types of homes that usually come with an HOA. They are:
Condominiums: A condominium (or condo) is a privately owned residence situated in a community or building with multiple units. Paying HOA fees usually gives you access to areas like event spaces, a fitness center, or a swimming pool. They may also cover landscaping maintenance, trash removal, and pest control.
Townhouses: A townhouse is an individually owned, multifloor structure that's attached to adjacent units. Townhouse owners generally pay a lower monthly fee than condo residents because they are responsible for more of the home's maintenance. However, HOA fees will usually cover some upkeep, such as trash removal. They may also provide access to an amenity like a pool.
Planned single-family communities: A planned single-family community hosts single-family houses, which are detached and individually owned. Most are in upper-middle-class areas or even more affluent neighborhoods. HOA dues usually cover snow removal, lawn care, and communal space maintenance. The HOA may also host community events such as cookouts for residents.
What are HOA fees and how much are they?
HOA fees may vary wildly between communities. The cost typically depends on the type of home you live in and the range of services and amenities the HOA offers. The more included, the higher the fees. For example, suppose your HOA covers snow removal and landscaping as well as maintenance for a fitness center, community clubhouse, tennis court, and pool. In that case, you'll likely pay more than someone with an HOA that only provides security and some lawn care.
Fees can be under $100 or exceed past $1,000. However, though, they usually sit around $200 to $300 per month.
It's also possible for HOA fees to change with time. Factors such as inflation, fines, or special assessments (unplanned charged for renovations) can lead to increased costs for residents.
What happens if you don't pay HOA fees?
At first, you will likely receive a notice that informs you of the missed payment. This usually incurs a late fee with a set time limit of around 30 days. If you also fail to pay within that time, your fine will increase, and you may lose access to certain HOA privileges, like the pool.
The HOA may then choose to take legal action. They may pursue a lawsuit, file a lien against your home or even attempt foreclosure. However, an HOA can't evict a tenant or homeowner; only the landlord, property owner or mortgage lender can do that.
Some HOAs may offer payment plans to help residents catch up, but not always. Always review an association's rules before you join their community. That way you avoid any surprises.
What questions should you ask when buying an HOA property?
If you are considering a home with an HOA, here are some questions worth asking before you buy.
Can I see the CC&Rs? This is a list of the rules of the property. If they don't align with your goals, then you probably want to look elsewhere.
Who manages the HOA? The board may consist of either professionals or volunteers from the community. If it's the latter, you may be able to join the board later, which may be important to you.
What does the HOA fee include? Find out how much the HOA fee is, when it's collected and how the HOA uses it.
How frequently do the HOA fees increase? Inquire how often the fees increase, such as every year. The intended schedule may determine whether you can afford to live in that particular community.
Does the HOA have a reserve fund and annual budget? An adequate reserve fund may decrease the chances of high fee increases in the future.
Can I see a copy of the HOA's most recent financial statement? Like asking about where the HOA uses its fee money, a financial statement can give insight into the HOA's spending habits. It may show you that the association is struggling or financially responsible.
Can I read the minutes from the last HOA meeting? It's good to understand the HOA, but it's also crucial to gauge how the residents feel. Sitting in on a meeting or reading the minutes from a recent one will help you see where owners are satisfied versus unsatisfied.
What is the possibility of future special assessments? Like fee increases, special assessments can lead to higher costs. Plans for future special assessments may determine whether the community is financially sustainable for you.
The Bottom Line: Knows The Ins And Outs Of HOAs Before Buying A Property With One
HOAs are often valuable to homeowners in their communities, from covering snow removal to helping with social events. But their control can also stifle homeowners who want more privacy and freedom. Every potential homeowner should do their own research on properties they're interested in with HOAs.
If you're considering a home, try speaking with a Home Loan Expert beforehand.
Apply for a mortgage today!
Apply online for expert recommendations with real interest rates and payments.
Start Your Application
Apply for a mortgage today!
Apply online for expert recommendations with real interest rates and payments.
Start Your Application