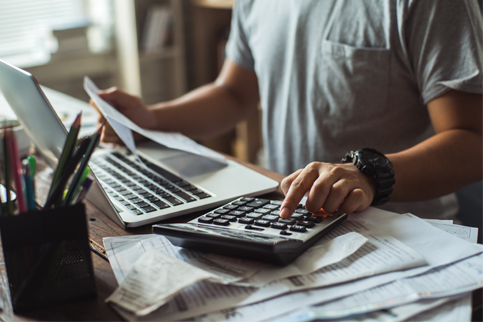 What Kind Of Home Can I Buy With A Mortgage?
Published on April 11, 2019
Property Types
Before you begin the home buying process, it's important to understand what property types are available to you when you get a mortgage. Keep in mind, not all lenders will offer loans for all homes.
This guide identifies the eligible and ineligible property types when you get a mortgage with Quicken Loans. We'll explain each property type, share pros and cons and help you determine which property types fit your needs.
Single-Family Home
Single-family homes are typically defined as a property that includes one main living unit where the property owner is the legal and rightful owner of the building and the lot of land. Single-family homes have individual utility services, like water and heating, as well as street access.
There are two types of single-family homes:
Attached single-family homes are individual dwelling units that share a wall with another home. They're often found in the form of row houses or townhomes.
Detached single-family homes are separate structures that don't share a wall with another building.
Attached single-family homes are very similar to other property types. Reviewing the property title can show you what kind of property it is.
The Pros Of Owning A Single-Family Home
You have more privacy because you won't share walls or common areas with your neighbors.
You may have extra storage space such as an attic, garage or basement.
Single-family homes typically have larger yards compared to other property types like condos and townhomes.
The Cons Of Owning A Single-Family Home
You may experience payment fluctuations for homeowners insurance and property taxes.
You'll be responsible for landscaping and outdoor maintenance unless homeowners association (HOA) fees cover this.
Is Owning A Single-Family Home Right For You?
A single-family home can be a great option if you're a first-time home buyer planning on staying in the home long term and you want a yard for your family to enjoy. You'll be responsible for both the exterior and interior upkeep of the property. However, your investment in the home can pay off over time as your property increases in value and you build equity.
Multi-Unit Or Duplex
Multi-unit properties are homes that can have multiple living units. For example, a duplex is a specific kind of multi-unit home that has two units attached to each other.
These homes can be occupied by both the owner and the renters, which means they can serve as both a primary residence and an investment property. Units can be stacked side by side or on top of one another, meaning you'll share walls with your neighbors.
Getting a loan for these property types depends on the number of units. Quicken Loans only offers loans for multi-unit property types with four or fewer units.
The Pros Of Owning A Multi-Unit Home
You can live in the home while collecting payments from renters.
Your family members or friends can all live under one roof while having their own space.
Your renters will be at one location, making the property easier to manage.
The Cons Of Owning A Multi-Unit Home
Multi-family properties generally have a much higher price tag than a single-family home.
Living with renters can be stressful, especially if they make unrealistic requests or don't keep up with rent payments.
You're responsible for repairs on more than one unit, including units that you have less control over.
Is Owning A Multi-Unit Or Duplex Home Right For You?
If you're interested in owning a property that can serve as a primary residence or an investment opportunity, multi-unit homes might be what you're looking for, as the extra income earned from your renters can help offset your mortgage payments.
Planned Unit Development (PUD)
A PUD community can have single-family residences, townhomes or both. Properties within a PUD are close together to maximize the number of homes within a smaller space, which are similar in size and appearance. PUD communities have common areas usually owned by a homeowners association (HOA) that typically offer services and amenities paid for by collecting dues from homeowners.
The HOA's bylaws will outline their rules for owning a home in the PUD. Their board of directors or your real estate agent should be able to give these to you.
The difference between a home in a PUD and a condo is that a PUD homeowner owns the land their home sits on as well as the home itself. Condo owners only own the home itself. These ownership rights are shown in the property title. If you're unsure whether the home you'd like to buy is a PUD or a condo, reach out to your real estate agent or the HOA to find out.
The Pros Of Owning A PUD Home
Amenities are provided to residents, which could include activity buildings, workout centers or basketball and tennis courts.
The HOA can be responsible for maintaining common grounds, like a neighborhood pool, park or open field area.
The HOA can also hold residents accountable for personal property maintenance, preventing your home's value from declining as a result of your neighbors not maintaining their property.
These benefits can vary among PUDs – confirm with your real estate agent and the HOA for specifics.
The Cons Of Owning A PUD Home
HOA fees can be costly, and there can be legal consequences if these fees aren't paid. You could lose your right to vote on HOA matters, and the HOA could even decide to initiate a foreclosure.
You'll have to agree to certain restrictions while living in a PUD, including rules for property maintenance, landscaping and pets.
You'll have less privacy because PUD residents often live closer together.
Is Owning A PUD Home Right For You?
PUDs can offer a great sense of community. Although HOA dues, also known as HOA fees, can be costly, the services and amenities they cover can be very attractive. Community leaders are elected, which allows you to make property enhancements or rule changes to help meet the needs of the community.
Condo
A condo is a real estate property that has multiple buildings, each with separate living units. These units are owned individually and can be attached or detached. Unlike a PUD home, you'll only own the unit –you won't own the land the unit sits on. It may be more difficult for you to purchase a condo, as most lenders usually require a certain percentage of the condos to be owner occupied. Check out some of the conditions that may make a condo ineligible for financing.
The condo community's HOA or a management company will typically be responsible for handling the services of the community. Condo residents must pay association fees to cover the cost of services and amenities like snow removal, a walking path or a tennis court.
The HOA's bylaws will outline their rules for owning a condo in the community. Their board of directors or your real estate agent should be able to give these to you.
The Pros Of Owning A Condo
The HOA handles property maintenance, including lawn care and snow removal.
Your condo may have amenities exclusive to residents of the community, like a workout center, pool or basketball court.
You'll experience a sense of community because residents live close together.
These benefits can vary from condo to condo – confirm with your real estate agent and the HOA for specifics.
The Cons Of Owning A Condo
HOA fees can be expensive and a special assessment may occur if there is a budget shortage.
If you do not pay your HOA fees, the HOA could decide to initiate a foreclosure, which might result in you losing your home.
Community bylaws can restrict what types of home improvements you can complete or prevent you from having a pet.
Apply for a Mortgage with Quicken Loans®
Call our Home Loans Experts at (800) 251-9080 to begin your mortgage application, or apply online to review your loan options.
Start Your Application
Is Owning A Condo Right For You?
Condos can offer a great living experience if you want to feel connected to a community or if you're not ready to purchase a single-family home. You likely won't have to worry about lawn care or snow removal. This can be an important benefit of condo living if you're always on the go or if you want a living space that's less physically demanding to maintain.
Modular Home
Modular homes are assembled off-site in factories and then transported to a property. They often look the same as a traditional single-family home. These homes must follow strict building codes and will come with a certification that gives information about the home, like the model and year it was built.
People sometimes confuse modular homes with manufactured or mobile homes. One difference between these property types is that a manufactured home has a U.S. Department of Housing and Urban Development (HUD) tag that identifies the home as a manufactured or mobile home. Also, a modular home has a permanent foundation, while a manufactured home does not.
The Pros Of Owning A Modular Home
Modular homes are high quality because they're assembled in a controlled factory setting.
They're usually cheaper and built quicker than homes built from scratch.
Modular homes are designed to be energy efficient, which can mean lower utility costs.
The Cons Of Owning A Modular Home
The land purchased for the home may not include utility services like electricity, water or a septic system. There may be restrictions that prevent you from placing the home on certain locations.
You may have to pay the builders in full before the home is built.
Is Owning A Modular Home Right For You?
Modular homes can be a great option if you're looking to build a home quickly. They're also very customizable, giving you the opportunity to create your perfect home without having to invest in home improvement projects. If you plan to place the home on recently purchased property, make sure you can afford to install any necessary utility services.
Co-Op
A co-op is a unit in a building owned and managed by a co-op association, through the co-op board. The co-op association is the legal entity that owns the building. Residents become owners by purchasing shares, giving you a proprietary lease. This means you have the right to occupy a specific unit or apartment within the co-op owned building.
Co-ops are usually run by elected shareholders known as a board of directors. Usually, the process for determining if you can become a shareholder involves an intensive application review. They evaluate your tax returns, employment history, references and financial information such as credit history.
Since co-op members don't own their specific unit, many lenders do not issue mortgages to help people buy co-op shares. However, Quicken Loans offers co-op mortgages in the state of New York where co-ops are common.
The Pros Of Co-op Living
You'll share financial responsibility for property upkeep with other members, which will reduce your individual costs.
You'll be able to experience community living.
You're entitled to the same tax deductions as homeowners.
The Cons of Co-op Living
You may have to follow certain rules, including bans on subletting or listing your unit as a vacation rental.
You'll have to pass a selective application process to become a member. This selectivity can make selling your shares difficult if you want to move out.
If one shareholder defaults, it can affect other members to the point where they may have to pitch in for costs like maintenance fees.
Is Becoming A Member Of A Co-Op Right For You?
In states with expensive housing like New York, a co-op is usually a more affordable living option than a condo. There is shared ownership of property maintenance like lawn care and home repairs. Co-ops also offer a sense of community as residents occupy individual units within the same building.
Ineligible Property Types
Quicken Loans doesn't offer financing on the following property types.
Timeshare
A timeshare, or vacation ownership, is a property with divided rights of use. This means multiple people can use the property during different times of the year. They tend to look like condos and are typically found in resorts. There are two forms of timeshare ownership: deeded ownership and right-to-use.
In a deeded ownership, you'll have deeds recorded in the property's county. You'll own part of the property and will have the freedom to sell, rent or put it in your will. Once the units have been sold, an HOA will take control of the community or resort.
In a right-to-use ownership, you don't own the property. Depending on the timeshare, you have the right to use the property for a set amount of time. Once your contract expires, the timeshare stays under the control of the community developer.
Condotel
A condotel has hotel-like features with individual condo or apartment units. They usually have a registration desk and offer services and amenities like laundry services and tennis courts. In a condotel, short-term rentals are facilitated or mandated by the HOA.
Manufactured/Mobile Home
A manufactured or mobile home is constructed in a factory. These homes do not have a permanent foundation and are transported in one or two large pieces to where you intend to live.
These homes have a HUD tag on the exterior of the home. Also known as a data plate, these metal tags are used specifically to identify a home as being manufactured or mobile.
Which Home Is Right For You?
For most people, buying a home is the biggest financial purchase they'll ever make. The property type of the home is just one of the factors to consider when deciding which home is right for you.
If you still have questions, we're here to help! Speak with a Home Loan Expert by calling us at (800) 769-6133.
Apply for a Mortgage with Quicken Loans®
Call our Home Loans Experts at (800) 251-9080 to begin your mortgage application, or apply online to review your loan options.
Start Your Application