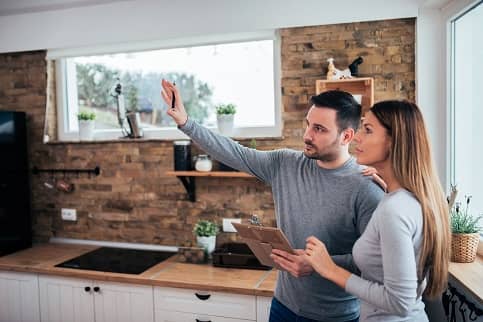 Buying A Fixer-Upper House: A How-To Guide
Published on December 17, 2020
When looking for a house to buy, you're likely to have an innumerable amount of possible options. At one end of the spectrum, you have a house that is "move-in ready," requiring no work other than just opening the door and moving right in. On the other end of the spectrum, you have a fixer-upper house that may require major renovations. If you're looking at buying a fixer-upper house, here are a few things to consider first.
What Is A Fixer-Upper House?
If you're looking at buying a fixer-upper house, you may already know that it is going to require a certain amount of work before it's considered finished. There are many varieties of fixer-upper houses as well – some just require cosmetic updates like carpet, paint or flooring. Other fixer-uppers have major mechanical or structural issues.
Fixer-upper houses are popular because they can allow you to invest some of your own time, labor and materials and create your own home equity. Before you consider buying a fixer-upper house, make sure that you understand exactly what needs to be updated and whether you have the time, knowhow and money necessary. It's all too easy to find yourself in way over your head.
Apply for a Mortgage with Quicken Loans®
Call our Home Loans Experts at (800) 251-9080 to begin your mortgage application, or apply online to review your loan options.
Start Your Application
The Pros And Cons Of A Fixer-Upper
Taking on a fixer-upper house is appealing to many people because of the advantages that can come with doing the project right. The challenges of such a project require careful consideration, so make sure you weigh both the pros and the cons of buying a fixer-upper home.
The Pros
There are several advantages to buying a fixer-upper home:
A fixer-upper can be a great path to first-time homeownership

You may get the capability to buy a larger home in a better neighborhood

In a competitive housing market, you may have more competition for move-in ready homes

A fixer-upper home is going to come with a lower initial cost. This can allow you to keep your monthly mortgage payments low and save up for renovation costs over time.

With a fixer-upper, you can really personalize the home and make it your own
The Cons
There is also a negative side to buying a fixer-upper
Depending on what needs to be fixed, it may require a special skill set

There is the potential to lose money

There is also a significant time investment — depending on what other things you have going on in your life, it will likely take much longer than you initially anticipate.

Reality television fixer-upper shows gloss over most of the reality of fixer-uppers
"Fixer-uppers are a mixed bag, and depending on how old the home is, that bag can be full of a lot of unpleasant surprises," says Mark Scott, CEO of MARK IV Builders.
While TV shows often make it seem like it's easy to fix up a home on a tight budget, that's not always the case.
"Structural issues and other things can often throw a budget totally out of whack," Scott says. "And if you picked a bargain remodeler, good luck getting them to finish a job that is out of their league. Many don't have the gumption for challenging structural changes or problems that arise."
Chip and Joanna Gaines, stars of HGTV's show "Fixer Upper," do deserve a little credit, as they've said on their show that they recommend home buyers have an extra $5,000 – $10,000 set aside in case problems arise during the project.
8 Tips To Help You Decide
If you're looking at buying a fixer-upper house, here are some tips to consider.
1. Look At What You're Working With
When you're starting to look for a home, it can be hard to see past the worn linoleum flooring or the wood paneling on the walls. But these are easy fixes.
Real estate broker Ali Berry says, "I tell my clients to keep an open mind and look at the layout of the house. The paint, carpet, floors, cabinets, etc., can be changed relatively easily. The main things you want to look for are a great layout, good bones, no foundation issues and good mechanicals (heating and cooling systems, water heater, water pump, etc.). Cosmetic things can be changed, but the flow of a house cannot; well, not without spending a fortune, that is."
2. Estimate Your Costs High
Couples appear on renovation shows and say they have a $300,000 budget, but then they need to knock down a wall and fix some foundational issues, and suddenly they have an extra $15,000.
That's not a reality most people live in. That's why it's important to figure out your budget beforehand – and stick to it!
Once you find the house you want that's in your price range, This Old House has a simple equation to figure out how much you should offer.
Add up what it would cost to renovate the property. Be generous on this estimate. Take into consideration all the materials and labor it will take to make this house your home. Subtract that from what the value will be after renovation.
They also advise adding an extra 5% – 10% for any problems that might arise or things you decide to add during the renovation. If there's one thing the reno shows have taught us, it's to expect the unexpected.
3. Predict Your Market Value
Another important step in how to buy a fixer-upper is to calculate the value of your fully renovated home. Free online tools like Zillow or Trulia can help you figure out the ballpark, but they can also be wildly off-base and shouldn't be relied on as a final answer. A good way to estimate your after-repair value (ARV) is by looking at comparable houses in the neighborhood.
4. Check For An Inspection Clause
Having an inspection is especially critical to fixer-upper projects, because an inspection can help identify problems that can easily blow your budget.
The cosmetic things are easy to spot, but it's hard to know if the house has foundation problems or a working heating and cooling system during a walk through.
Getting an inspection will help diagnose some of those bigger, more expensive problems. Those types of problems are the kind that can really sink your budget and eat up all the sweat equity you thought you were creating.
It can be tempting not to spend the extra money on an inspection and put money into getting rid of that wallpaper from 1972 instead, but it'll be worth it. An inspection will give you peace of mind that you're not going to have any big issues arise during renovation that will take up more time and money. Or if there is an issue, you can either go into renovation knowing that, or you can walk away from it.
5. Remember To Count Your Time Investment
Another major consideration before you attempt to take on a fixer-upper is how much time it will take.
While most TV shows can overhaul a home in a one-hour episode, they don't often talk about how much time it actually takes. A few shows will mention the time frame, often 30 – 60 days, but this is not realistic for homeowners who attempt fixer-uppers in real life.
"Truthfully, you want a remodeler who will be honest about the time frame. You don't want them to rush and hastily skip over details, but you also need them to commit and actively work toward a fixed completion date," Scott says.
In reality, a fixer-upper project can take months or even a year to complete. During that time, you may or may not be able to live in the house. This can leave you with limited living space if you're able to stay in the house. In the worst-case scenario, you may be paying a mortgage on the fixer-upper and paying rent or a second mortgage while you live off-site.
Personally, when I committed to buying a home that was under construction a few years ago, I ran into this very issue. The project was supposed to be completed by June 1 and ended up not being done until mid-October.
6. Choose Projects Strategically
Another great tip is to prioritize projects by cost and type. One good rule of thumb is to work from the outside-in.
Structural changes and additions: roof, exterior, changes to load-bearing walls
Systems: plumbing, HVAC, electrical
Cosmetic updates: paint, carpet, flooring
You wouldn't want to hang your drywall while the roof is still leaking, and it doesn't make sense to install your carpet while you still have to paint. This is especially true if you're planning on living in the house while you're doing all the renovations. Gutting your kitchen might make more sense in the summer when you can count on grilling out on your patio than in the winter when you have nowhere else to eat.
7. Count On Doing It Yourself
If you have the time and skills (or are willing to learn), DIY home improvement will usually be the most cost-effective route. If you do end up hiring out some or all of the work, you'll want to ask around for recommendations on local contractors. Always try to get multiple bids, especially with contractors that you haven't worked with before.
8. Don't Go Overboard
Another tip is to balance home improvement costs with your home's resale value when considering whether to buy a fixer-upper. Conventional wisdom says that kitchens, bathrooms and adding additional bedrooms offer the most resale value when doing renovations.
Fixer-Upper Mortgage And Loan Options
Finally, financing a fixer-upper is much more complicated and complex than getting a mortgage on a home that's not in need of major repairs and updates.
Most lenders aren't going to finance a fixer-upper with a traditional mortgage. After all, they aren't going to approve a loan for more than the home's current value.
Turning to a home equity loan won't work either since you won't have any equity built up on a new purchase.
This is where other solutions need to be considered, like an FHA 203(k) loan (Quicken Loans® doesn't offer this type of financing) or a personal loan in order to purchase the home. Once the home is in qualifying condition, you could always refinance into a traditional mortgage.
FHA 203(k)
An FHA 203(k) loan is backed by the federal government and includes money not only for a home's purchase price, but also for some repairs and renovations. This makes a 203(k) loan an ideal candidate for many types of fixer-upper houses. With a 203(k) loan, you'll need to specify and get bids for all of the repairs that you want to fund with the loan, and most loans will also include a 10-20% contingency to account for any extra cost overruns.
VA Renovation Loan
A VA renovation loan is a type of loan that is available for veterans and other military service members. If you qualify for one, a VA Renovation loan has all of the same benefits of a regular VA loan, like no down payment and lower closing costs. And like an FHA 203(k) loan, you can also include rehab and renovation costs into the loan amount alongside the purchase price.
HomeStyle
A HomeStyle loan can be another option for buying a fixer upper house. HomeStyle is a Fannie Mae conventional loan that has many similarities with the government-backed FHA 203(k) loan. One difference between the HomeStyle and a 203(k) loan is that the HomeStyle loan limits the renovation amount to 50% of the as-completed value, whereas the 203(k) has no maximum as long as your ARV is under the FHA maximum loan amount.
CHOICERenovation Loan
The CHOICERenovation loan is a program from Freddie Mac that was introduced in 2019. CHOICERenovation loans can be another option to purchase a fixer-upper, and can even be used as an option for refinancing, as long as you aren't taking any cash out. And unlike a 203(k) loan, which cannot be used for an investment property (unless you plan on living in one of the units), a CHOICERenovation loan can be used for a second home or investment property.
Are You Ready For A Fixer-Upper?
Before you fall too deep in love with the thought of homeownership, it's important to evaluate your readiness. For starters, what do you want in your ideal home? Do you have a geographic area you're most interested in? Consider reading experiences of other real-life fixer-uppers, like the Quicken Loans #BeBrave series or this interview with a fixer-upper.
It's also important to consider your employment status and how much money you have in the bank for a down payment on a prospective home. In most cases, you'll have to put down 3% – 20% of the home's purchase price. Getting preapproved will help you know just how much house you can afford. Also consider that your monthly mortgage payments could be higher than your rent payments.
The good news is, there is no magic involved with estimating home buying expenses. So, with a little bit of number crunching, you'll be able to ballpark your costs. Being financially and mentally prepared for these new responsibilities will get you off to a strong start. Having a passion and talent for renovation is essential, and it's also important to have a plan for mortgage financing options.
Apply for a Mortgage with Quicken Loans®
Call our Home Loans Experts at (800) 251-9080 to begin your mortgage application, or apply online to review your loan options.
Start Your Application