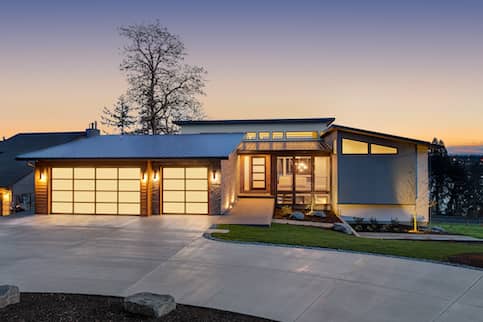 Contemporary Homes: Everything You Need To Know
Published on July 5, 2023
If you're thinking about buying a home, you'll find many architectural styles on the market once you begin house hunting. Although the vast array of housing options can be overwhelming to some potential home buyers, having so much to choose from can be a plus.
One popular home style you might frequently encounter is the contemporary home. Contemporary homes have design elements that keep up with current trends while also giving you – the homeowner – the opportunity to have your creativity shine through.
Let's take a quick look at the origins of contemporary architecture, the primary interior and exterior features of these homes, and the pros and cons of owning one.
What Is A Contemporary-Style Home?
A contemporary home is a house with design elements and features that reflect today's architecture style. Although similar to a modern home, contemporary houses come with common characteristics such as clean lines, natural lighting and a minimalist feel. Therefore, this type of home is its own category for a reason.
Contemporary architecture has been around since the late 20th century but has evolved with current trends. Design trends often change, and – depending on what's popular at any given time – a contemporary-style home will reflect these changes. Contemporary homes also shine a huge spotlight on the building materials they use, which tend to be natural and sustainable.
See What You Qualify For
Congratulations! Based on the information you have provided, you are eligible to continue your home loan process online with Rocket Mortgage.
If a sign-in page does not automatically pop up in a new tab, click here
Contemporary Home Exterior Features
Although not all contemporary architecture houses look the same, certain defining features make this style of home "contemporary."
Here are some typical exterior traits of contemporary homes:
An asymmetrical layout

Free-form design

Large windows

Eco-friendly building materials

Green roofs

Tidy landscaping
Contemporary Home Interior Features
Now that we know what contemporary house plans look like from the outside, it's important to know what you'll be walking into after you enter the front door.
Common interior design characteristics of contemporary homes include:
An open floor plan

1 – 2 stories

Energy-efficient appliances

Natural elements

A flexible layout

Neutral color schemes
Pros And Cons Of Buying A Contemporary-Style House
Let's take a look at some of the advantages and disadvantages of buying and owning a contemporary-style house.
Pros
A primary benefit of owning a contemporary home is that you get to put your own creative spin on it – but that's not only the plus. Advantages of buying a contemporary house include:
Personalization and uniqueness to your taste

Eco-friendly materials throughout the home

Low maintenance
Cons
Before you start your search for a contemporary-style house, it's important to also be aware of the downsides that come with owning one. Some disadvantages of buying a contemporary house include:
Higher building costs

Fewer real estate comps

Difficulty incorporating other house styles into the home
Contemporary Home Design FAQs
Below are some frequently asked questions about contemporary homes.
What's the difference between a contemporary and a modern home?
Contrary to the name, modern architecture became popular in the mid-1900s. Contemporary architecture reflects the current-day design trends by including modern elements.
How do I add contemporary design features to my home?
If you're looking to add contemporary features to your home, one of the first steps you can take is to add contemporary home decor. You can paint your walls with natural tones and add pops of bright color. Geometric shapes and clean lines throughout the home can also add a contemporary feel, as can wood, tile or vinyl flooring.
Where can I find contemporary homes on the market?
Contemporary homes are available for sale all across the country. If you're starting the home buying process, we recommend working with a real estate agent who can make your search easier. Real estate professionals have access to the MLS and pocket listings, and they possess a wealth of knowledge that can help you find a new home to fit your needs.
The Bottom Line
Simple yet bold accents, clean lines and large windows are a few common characteristics of contemporary homes at this time. You can add many contemporary design elements to your home without having to build one yourself, and these homes are readily available on the housing market due to their popularity.
Ready to find your contemporary dream home? Get started with us today and speak with one of our Home Loan Experts!
Apply for a mortgage today!
Apply online for expert recommendations with real interest rates and payments.
Start Your Application