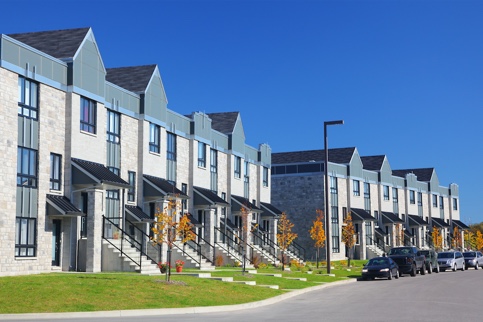 What You Need To Know About Buying A Multifamily Home
Published on June 13, 2019
Multifamily homes can be an excellent way to earn a passive income by simply collecting rent every month in exchange for maintaining the home. But there are things you should know before you put an offer in on a home.
The biggest thing to know about buying a home with multiple units is that more units often means a bigger investment. You may also need more documented funds in order to complete your mortgage process. By following this guide, you'll have the keys before you know it.
What's The Difference Between Buying A Single-Family Home And A Multiunit Home?
When it comes to buying a multiunit home, there are several differences between this and getting a mortgage on a single-family home.
If you're looking for a multiunit property, some of these differences include the down payment amount, the document and assets you'll need for reserves and the fact that rental income can be used to qualify.
Before going to much further, there's a fundamental question that needs answering here.
How Can You Tell The Difference Between A Single-Family And Multifamily Home?
Multifamily homes have different addresses for each occupant. There aren't common areas and there are separate living quarters.
If there are things like separate kitchens and living rooms for each unit, that's a good indicator, and each unit should also have its own entry and set of keys that no one else has access to. Separate utilities or at least separate shutoffs are also common.
Qualifications To Buy A Multifamily Home
This section will run through what you need to know in order to buy a multifamily home along with a comparison to single-family properties in order to highlight the differences where they exist.
Down Payment
Your down payment will typically have to be higher for a multifamily home than it would have to be for a single-family property, although there are certain exceptions. Let's break this down.
Conventional Loans
For a single-family home, you can get a conventional loan through Fannie Mae or Freddie Mac with as little as 3% down. On a multifamily property, you'll have to put down a little more in order to get started.
First, let's address primary properties, in which you be living in one of the units and renting out the others. For a two-unit residence, you'll need to put down 15% of the purchase price. For a residence of three to four units, the minimum down payment is 20%.
On the other hand, if it's a multiunit investment property, meaning you don't live in any of the units, the minimum down payment is always 25%. It's worth noting that conventional loans are distinguished from others discussed below in that this is the only type you can use to purchase a multiunit property without living in one of the units.
FHA Loans
You can purchase up to a 4-unit property with an FHA loan. Unlike a conventional loan, the minimum down payment remains 3.5%.
One thing to be aware of with FHA loans is that if you make a down payment of less than 10%, you'll pay mortgage insurance premiums (MIP) for the life of the loan. By making a down payment of 10% or more, you only have to pay it monthly for 11 years.
VA Loans
Qualifying active duty service members, reservists, veterans and surviving spouses of those who passed in service or as a result of a service-connected disability may apply for a VA loan. One of the great advantages of a VA loan is that you can get a primary home with up to four units with no down payment.
The only thing you'll pay is a one-time funding fee. This can either be paid at closing or built into the loan. Disabled veterans and qualifying surviving spouses are exempt from this fee.
You also have to meet standard VA service time requirements and have a Certificate of Eligibility.
Apply for a Mortgage with Quicken Loans®
Call our Home Loans Experts at (800) 251-9080 to begin your mortgage application, or apply online to review your loan options.
Start Your Application
Credit
Lenders look at your credit report and FICO® Score in order to get a picture of your past credit history in order to determine how you could be expected to handle a mortgage going forward.
When lenders look at your report and score, they get data from Equifax®, Experian™ and TransUnion®. For the purposes of mortgage qualification, lenders look at the median score of the three. If you're applying with a spouse or other person, it's the lowest median score between everyone on the loan that counts.
Your credit report also gives lenders a look at your existing debt payments. From that, they're able to calculate a debt-to-income ratio (DTI) that will be the key determination in how much you can afford. DTI is a comparison of your monthly payments for revolving and installment debts to your monthly income. Here's a brief example.
If your annual income is $60,000, that breaks down to $5,000 per month. Let's say you have a mortgage payment of $1,200, credit card balances totaling $500 and a car payment of $350. That makes your monthly DTI 41% ($2,050/$5,000).
For many loan options, the maximum DTI you can have is dependent on a number of factors. But, where the mortgage investors do give DTI guidelines, they'll be mentioned below.
Conventional Loans
For the purposes of purchasing a multiunit property, you'll need a credit score of at least 620. Fannie Mae and Freddie Mac are fairly straightforward about this.
As far as DTI, Fannie Mae caps the ratio at 50%. Freddie Mac makes individualized decisions based on factors in your financial profile rather than any kind of line in the sand. There are other slight differences between the two investors in standard conventional loans as well, but your Home Loan Expert will work with you to find the best option.
FHA Loans
If you're going to be getting an FHA loan, you can purchase a 4-unit property through Rocket Mortgage with a median credit score of move low as 580. In order to do that though, you'll need to keep a fairly low DTI ratio. This is worth spending a minute on because in addition to your final DTI, FHA also uses something called a front-end ratio for credit scores below 620.
Your front-end ratio works the same as DTI, but it's calculated before the house payment is added in. In order to get an FHA loan with a credit score between 580 – 619, your current debts before the house payment cannot exceed 38% of your total income. Your final DTI should be no higher than 45%.
If you have a median score of 620 or higher, FHA makes individual judgments as to DTI. In many cases, you may be able to get approved for more through an FHA loan than you could with many other options.
VA Loans
Although the VA itself makes no definitive statement regarding any necessary credit score to qualify, lenders are left to set their own guidelines. At Rocket Mortgage®, we require a 580 median FICO® Score to purchase a 1 – 4 property.
In terms of DTI, a VA fixed loan is the best option if you're eligible to take advantage of it due to the ability to go up to 60% with a 620 median credit score. This guideline enables you to afford the most house.
If you're purchasing up to 4 units with a 580 median credit score, there are a couple of special DTI rules. The portion of your gross monthly income spent on your mortgage payment can't exceed more than 38%. Your total DTI should be no higher than 45%.
If it's an adjustable rate mortgage (ARM), the limit for DTI is 50%.
How Much Do You Need In Reserves?
Reserves are assets that can be used to cover a certain number of months' worth of mortgage payments in the event that you lose your job or have another significant life change that impacts your income.
For the purposes of reserves, your mortgage payment covers five categories that you can remember by the acronym PITIA: principal (the amount that goes toward paying down your mortgage balance), interest, property taxes, homeowners insurance and homeowners association dues if you have them.
The amount necessary for reserves depends on the investor in the mortgage.
Conventional Loans
Conventional loans through Fannie Mae will require six months of mortgage payments for a multiunit primary residence. Freddie Mac makes its primary residence lending decisions based on a variety of factors.
If it's an investment property, Freddie Mac again makes decisions on a case-by-case basis. If it's Fannie Mae, you'll need 6 months of mortgage payments for the property you're buying. If you own multiple properties not including your primary property or the property you're looking to purchase, you'll need reserves covering a certain percentage of the unpaid principal balance remaining on those other properties. Every situation is different here and your Home Loan Expert can walk you through the details.
FHA Loans
Reserve requirements don't always apply to FHA loans. However, there are occasional circumstances where you could be required to show savings for between 1 and 3 months' worth of mortgage payments.
A Home Loan Expert will be able to let you know if any reserves are required to be shown in your case.
VA Loans
For VA loans, if you're going to be qualifying with rental income – and many of you might be because it's a multiunit home – there are some very specific reserve requirements.
If you're going to be qualifying with income rental income that doesn't come from the property you're buying, you need to be able to cover 3 months' worth of mortgage payments for that property. If the rental income is to come from the property being purchased, you need 6 months' worth of mortgage payments for the property being purchased.
In the event that you qualify with rental income from both the property you're purchasing and another rental property, you'll need 6 months of payments for the property in the current transaction and 3 months for the one you already have.
There are certain instances in which you may need a couple of months payments even if rental income isn't being used as part of the equation, but a Home Loan Expert can give you more information.
Qualifying With Proposed Rent
If you're looking to qualify to purchase based on anticipated future rent payments from either your investment property are the units of the home that you're not living in, there are some special requirements to be aware of. Although different loan options do have subtle nuances in this area, the guidelines are substantially similar. If more nuance is needed, one of our Home Loan Experts can help walk you through the nitty-gritty.
When you get your appraisal done, the appraiser should fill out either Form 1007 or 1025, based on the type of loan you're getting. In addition to using these forms as a guide for valuing your home, they also contain sections for determining what the estimated market rent would be for similar properties in your area.
You'll also be required to show evidence of a lease agreement for any income you wish to use.
Once you have these two documents in place, your qualifying rental income is based on the estimated market rent or the amount stipulated in the lease agreement, whichever is less. In either case, 25% of the total will be subtracted from this amount as a vacancy factor.
Vacancy factors are meant to account for the time it would take to find a new tenant if and when the previous tenant moves on.
If you think you're ready to get started with buying a multifamily home, you can start your application online or give us a call at (888) 452-0335
.
Apply for a Mortgage with Quicken Loans®
Call our Home Loans Experts at (800) 251-9080 to begin your mortgage application, or apply online to review your loan options.
Start Your Application