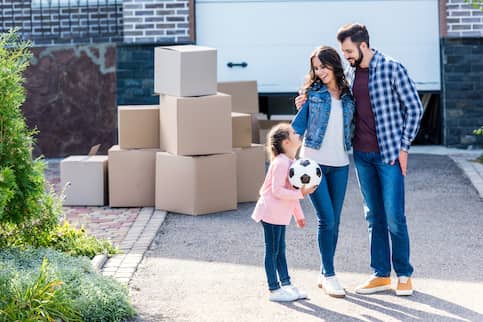 Building A House Vs. Buying A House: Which Is Better For You?
Published on December 1, 2021
Life is full of choices. Chocolate or vanilla? French fries or onion rings? Soup or salad? Perhaps the biggest choice of all, though, is deciding whether to rent or buy – and, once you're ready to become a homeowner, you may find yourself deciding between building a new home or buying an existing home.
When deciding between building a house and buying one, you should examine these differences between the two so you can be in your new home in no time.
Find A Mortgage Today and Lock In Your Rate!
Get matched with a lender that will work for your financial situation.
Get Started
Is It Cheaper To Build Or Buy A House?
According to the National Association of REALTORS®️ (NAR) , the median sales price of previously owned houses in July 2022 was $403,800. The U.S. Census Bureau, alternatively, reported a median price of $439,400 for new construction homes sold in July 2022. In general, the additional expenses of new home construction make previously owned homes the cheaper option.
Building a house includes separate expenses that are already part of an existing home. If you build a home, you'll need to purchase the land, obtain a construction loan, pay an architect to create blueprints, hire a home builder, landscape the property and more. The costs of building a house can add up quickly. The flipside to this is you'll have the exact home you want.
Whether you're building a new home or buying a home, it can be expensive. If you're looking to save a little money, starting from scratch probably isn't the best idea. Even if the home needs some upgrades, you have the choice to delay the upgrades and allow yourself time to budget.
Building Vs. Buying At A Glance
| | |
| --- | --- |
| Building A House | Buying A House |
| Average cost to build: $403,800 | Average cost to buy: $439,400 |
| Average of 7 months to build | Average time on market is 14 days |
| Customizable | May need renovations |
| More energy-efficient | Less energy-efficient |
| Less competition for purchasing land | Seller's market |
Additional Costs Of Building A House Vs. Buying
There may be some unexpected costs you take on, whether you're building a home or buying one. For example, when building a home, you'll need to pay for it while construction is going on. This means you may have a period where you're paying for two residences. New costs can arise as construction happens, so it's important to budget for unexpected fees.
On the other hand, existing homes can have their own problems. For instance, the energy efficiency of older homes is often less compared to newer homes, which can lead to higher utility bills. They also may have older roofs and can have underlying pest or mold problems. Not to mention, older home systems could mean you should invest in home warranties.
Pros And Cons Of Buying An Existing Home
Buying an existing home has its benefits and drawbacks. There's a reason most people buy existing homes: they're more affordable. Read on to learn more pros and some cons of buying an existing house.
Pros Of Buying An Existing Home
Timing:

Whether you're moving to take a new job or just looking to upgrade from your current home, you can move into an existing home much faster. After you go through the mortgage process and closing, you're set to move in. This is especially helpful for people relocating for a new job or a family with children who will be starting at a new school and spare time is limited.

Awareness:

What you see is what you get. You've done your research, you've checked out the neighborhood and inspected the house inside and out. You know exactly what you're getting. The floor plan and layout of the existing home isn't going to change.

Flipping:

If you purchase a home and make upgrades, you can flip it and sell it for a profit. Depending on how time-consuming and expensive the upgrades are, it could be well worth your time to consider this option.
Cons Of Buying An Existing Home
Remodel:

If your home needs some work, it's going to cost you time and money. Depending on what you're remodeling, your costs could easily jump into the thousands. For example, the average cost of a bathroom remodel in the U.S. is $125 per square foot and typically ranges between $6,612 – $16,642.

Insurance:

Homeowners insurance costs are higher with a preowned home than with a new-construction home. Some preexisting homes come with out-of-date features, which increases the insurance costs.

Layout:

We previously mentioned that "what you see is what you get" is a pro. However, it can also be a con. If you like most of the home but are hesitant about another part of it, you could develop home buyer's remorse. It's not easy or cheap to change the layout of a preowned home. You need to make sure you're happy with what you're buying before you sign on the dotted line.
Pros And Cons Of Building A New Home
Just like buying an existing home, building a new home comes with its own set of factors to weigh.
Pros Of Building A New Home
Control:

Everything is in your hands to come up with your completely custom home. You have total control over the design and layout. There shouldn't be any remodel costs because you're starting from scratch building exactly what you want.

Appliances:

Since you're building new, you may want to consider purchasing all new and energy-efficient appliances to go with your new home. That way, you'll get all the big purchases out of the way at the same time. There shouldn't be a need for any costs associated with fixing a washer or dryer unit for years to come if you buy everything brand new. Plus, you'll have lower energy bills.

Less competition: The current real estate market is hot. Demand for buying a home has been high making it a seller's market. NAR reported in July 2022, the average home was on market for just 14 days.
Cons Of Building A New Home
Time:

If you've got time in your favor, building a new home can be great. If you don't, however, building from scratch may not be for you. It takes an average of 7 months to build a home. Keep in mind, there are lots of factors out of your control that can impede the project, like weather or supply chain issues delaying your building materials.

Limitations:

The building process for a new home can be expensive. Make sure you've done the appropriate research to ensure you're not getting in over your head. Making changes and purchasing upgrades from the builder can be expensive, so make sure you're 100% happy with what you decide.

Legality:

Make sure you read all paperwork (including the fine print) from start to finish. Your agreement with the builder could limit your rights if an issue arises and you take the builder to court.
Financing Options For Building Vs. Buying A Home
Financing a home build is different from financing an already-built home. With an existing home, you have home loan options like a conventional loan and an FHA loan. These are standard and are offered by a large variety of lenders.
To finance a home build, you'll have to seek out lenders that offer raw land loans, construction loans and mortgages. Construction loans and conventional mortgages can be combined into what are called construction-to-permanent loans, or one-time-close construction loans.
These loans convert to a permanent conventional mortgage once the home is built. Construction-to-permanent loans streamline the process, but they come with downsides. There's less flexibility if you go over budget and the interest rates can be higher.
Other Important Considerations Before You Decide To Build A New Home
You should weigh many factors before deciding to build your next home. Consider thinking about these extra factors before jumping in:
Ask a local real estate agent or do your own research on the best builder for the job.

Determine the amount of sweat equity you're willing to put into a build or home renovation.

Consider fixer-uppers as a middle-ground between building an entirely new house and buying an existing one.

Gauge how important it is for your new home to have all your requested amenities.

Figure out how much time you have before you need to move in.

Decide where you will live while your home is being built.

Work out if you need to sell your current house to be able to fund construction.
The Bottom Line: Should You Build Or Buy A House?
As with anything in life, there are pros and cons no matter if you decide to build a new home or buy an existing home.
Still not sure if building or buying a home is right for you? Start the mortgage application process to see your financing options and what type of home you can afford.
Ready to talk details?
Connect with local custom home builders on HomeAdvisor.
View our affiliate disclosure policy here.
Get A Quote Today