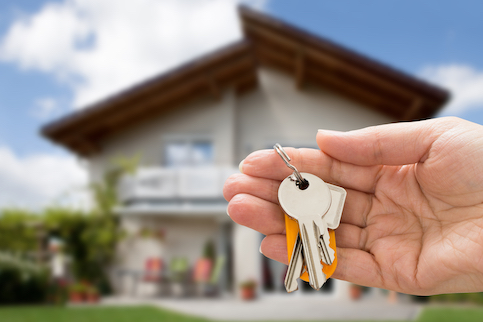 Fighting A Seller's Market: How To Land The Home Of Your Dreams With The Best Offer
Published on November 22, 2019
If you're ready to buy a home, you might have noticed something: There aren't as many "For Sale" signs dotting lawns in the neighborhoods where you want to live. That's because the number of homes on the market across the country is low compared to past years. It's a trend that's making life more difficult for buyers.
These low inventory levels have resulted in a seller's market. Homes priced well and in desirable locations are increasingly attracting multiple offers. Many are selling not just at listing price, but above listing price.
How can buyers compete in today's seller's market? Their best bet is to make the most attractive, compelling offer possible. If you can offer the right price, move-in date and other perks, you'll increase your odds of beating out other buyers for that home of your dreams.
The Challenge
A look at the latest numbers from the National Association of REALTORS® shows why sellers have the advantage today. A total of 1.83 million existing homes were being sold at the end of September 2019, according to the association. That sounds like a lot, but that figure is 2.7% from September 2018, when 1.88 million homes were for sale. Relative to the pace of sales, there were only 4.1 months' worth of inventory on the market. For context, the housing markets is considered in balance between buyers and sellers when 6 months' worth of inventory is available.
This might explain why housing prices keep rising. To beat their competitors, buyers are making offers closer to asking price. The association said that the median existing home price for all housing types in September was $272,100. That is up 5.9% from September 2018. There have been 91 consecutive months of year-to-year price gains.
How do you win over other potential buyers of that house you desperately want? The surest way is by offering the highest possible price you can afford. If you outbid your fellow buyers, the odds are good that you'll nab that house.
But what if you don't want to make an offer above asking price? Are there any ways you can sweeten your offer to gain an edge? We talked to some real estate agents to get some suggestions.
Get Approved For A Mortgage
Marc Carver, principal at Carver Property Group in Alpharetta, Georgia, says that aside from price, getting approved for a mortgage loan is the best way to strengthen your offer. Many lenders and real estate agents may refer to this as preapproval. Whatever you call it, it's a way of figuring out exactly how much you can afford.
To give yourself a strong offer in the eyes of sellers and their real estate agents, Quicken Loans® recommends getting a Verified ApprovalSM1. During the Verified ApprovalSM process, you'll provide us with documentation to prove your income – things like your paycheck stubs, W-2s and bank account statements. You'll also have to give permission to pull your credit. Then, we determine how much mortgage money you're eligible to borrow. If you're approved, the lender issues you a Verified ApprovalSM Letterstating the size of the loan you are approved for.
Because your income, assets and credit profile have been vetted, you, the sellers, and your respective real estate agents can be extremely confident in your offer. How confident? If, through no fault of your own, you get a Verified ApprovalSM Letter and the loan doesn't close, Quicken Loans will give you $1,000.
Sellers prefer offers from buyers who are approved (as opposed to buyers who have not put their finances in order) because there's a smaller chance the mortgage financing will fall through at the last minute and scuttle the sale.
"This is really a must rather than an advantage," Carver says. "Most sellers will not seriously consider an offer without a letter of preapproval."
Drop The Contingencies
Joe Lopez, an agent with San Antonio, Texas-based SellSmart Elite Realty, knows how difficult the low-inventory market has been for buyers. He has seen plenty of homes in what he calls the "sweet spot of pricing" ($150,000 – $250,000) sell within a week of hitting the market.
"When my buyers find a house they want, I ask them one question: 'Do you want to buy the house or do you need to own it?'" Lopez says.
If the buyer(s) need the house, Lopez advises them to make an offer with as few contingencies as possible. A contingency gives buyers a loophole to walk away from a real estate sale. For instance, most buyers will include a home inspection contingency in their offer, meaning that if the home inspection turns up serious problems, they can walk away from the home sale without losing their earnest money deposit.
Many contingencies, such as the home inspection, should never be left off an offer; the protection they provide is too valuable. But buyers can sweeten their offer by eliminating other contingencies.
A big one to eliminate? Making the sale contingent on selling your current home first. You might want to close the sale of your existing home before you take on the financial burden of making mortgage payments on a second. This is reasonable, but know that sellers will almost always choose an offer that doesn't come with this contingency, if they have that choice. If you can't swing two mortgage payments at once, be sure to include this contingency. But if there is any way to avoid it, doing so will make your offer stronger.
The Escalation Clause
Brett Maternowski, an agent with Dalton Wade Real Estate Group in St. Petersburg, Florida, recommends that buyers who want the strongest bid possible include an escalation clause in their offers. Such a clause allows buyers to make an offer under asking price but also gives them the chance to boost that offer if other buyers bid higher.
Maternowski gives this example: You make an offer of $280,000 on a home listed for $300,000. This offer includes an escalation clause saying that you're willing to raise your bid to $1,000 more than any other higher bid that comes in from other buyers. You can put a limit on the clause saying that you're willing to keep escalating until hitting the listing price of $300,000.
"This clause takes out all the guesswork by allowing the buyer to feel comfortable in getting the best price," Maternowski says.
Apply for a mortgage today!
Apply online for expert recommendations with real interest rates and payments.
Start Your Application
Move-In Dates Matter
Kathryn Bishop, an agent with Keller Williams Realty in Studio City, California, says buyers who give the cleanest, easiest offers for sellers often win out.
As an example, Bishop points to move-in dates. If your sellers want a specific move-in date, even if that date isn't ideal for you, agree to it in your offer. You might have to sacrifice a bit – such as renting an apartment to live in temporarily until you can get into your new home – but by being flexible with move-in dates, you'll give yourself the best chance to nab the house you want.
Don't Get Greedy, Even If Your Wallet Is Hurting
You might want the sellers of your home to help cover the closing costs you need to buy your home. In a seller's market, though, asking for this – something that could cost your sellers thousands of dollars – could thwart your chances of submitting a winning bid.
Roman Ludwing, an agent with Pro Agents Realty in Coral Springs, Florida, says that sellers aren't as likely to agree to pay for even a portion of the buyer's closing costs in a seller's market.
"In a seller's market, they will most likely move to an offer that is not requesting closing costs," Ludwing says.
Get Specific – And A Little Personal
Sarah Ward, head REALTOR® at San Diego's College Area Realty, says that the agent working with you should call the agent representing the seller before you make your offer. Your agent should ask exactly what the sellers want to see in an offer. Your sellers might prefer that you work with a specific title insurance provider. They might want to move in a specific number of days.
The more you know about what your sellers want, the more likely you are to craft an offer that they'll want. Ward recommends, too, that buyers write a personal letter explaining why they want to buy the home and what it will mean to them and their family. She also recommends that they include a photo of themselves and their family with the offer.
That might sound corny, but Ward said such a move can make a "big impact on the seller's emotions."
Check out the Learning Center's additional tips on how to win a bidding war.
1Participation in the Verified Approval program is based on an underwriter's comprehensive analysis of your credit, income, employment status, debt, property, insurance, appraisal and a satisfactory title report/search. If new information materially changes the underwriting decision resulting in a denial of your credit request, if the loan fails to close for a reason outside of Quicken Loans' control, or if you no longer want to proceed with the loan, your participation in the program will be discontinued. If your eligibility in the program does not change and your mortgage loan does not close, you will receive $1,000. This offer does not apply to new purchase loans submitted to Quicken Loans through a mortgage broker. Additional conditions or exclusions may apply.
Apply for a mortgage today!
Apply online for expert recommendations with real interest rates and payments.
Start Your Application