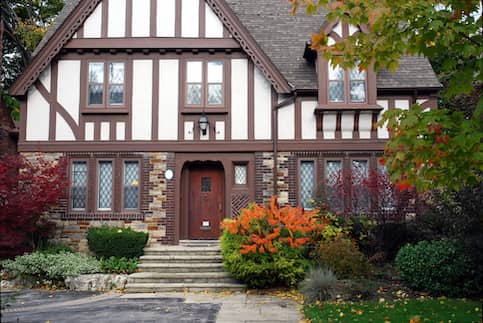 Types Of Houses: Popular And Common Styles In Real Estate
Published on November 16, 2022
If you're actively looking for a home to buy, then you know how confusing the hunt for a house can be. You might have a picture-perfect idea in your head, but you can't describe exactly what you're looking for.
We've gathered a list of structural and architectural home types to help you define your dream home. Before you jump and get a mortgage, let's take a look at the different types of houses you could potentially have.
The
Common Structural Types Of Homes
People live in homes of all different shapes and sizes. We've compiled a list of the most common structural house types below to help you better define what you're looking for in your home search.
1. Single-Family Homes
Single-family homes are freestanding residential buildings. A single-family home doesn't share a wall with another building. A single-family homeowner typically owns the building and the land the building sits on.
2. Semi-Detached Homes
A semi-detached home is a single-family dwelling that shares one common wall. Unlike a townhome, where you may have a neighbor on both sides of your home, semi-detached homes share only one wall, and the home design typically mirrors each dwelling.
3. Multifamily Homes
A multifamily home is a residential property that consists of more than one housing unit. Each unit will likely have its own main entrance, kitchen space and bathroom.
4. Townhomes
Townhomes are multifloor homes with their own entrance, bathroom and kitchen space. Townhomes share two walls with neighbors unless the townhome is located at the end of a building. In some markets, the terms "townhome" and "townhouse" are used interchangeably.
5. Apartments
An apartment is a unit inside of a building structure composed of similarly styled individual units. A tenant rents an apartment from a landlord, so the tenant isn't building any equity while paying rent. While lease agreements vary, many landlords are responsible for making repairs and upgrades to the leased unit. Some apartment communities include common area amenities like a laundry room, gym or pool.
6. Condominiums (Condos)
Condominiums, or condos for short, are buildings made up of individual units that are owned. They can look and feel like an apartment building or community. Unlike with an apartment, a condo owner owns the interior space of their unit and is building equity with every mortgage payment. The common area is usually managed by a homeowners association, with fees being assessed to homeowners for common area expenses.
7. Co-Ops
A co-op may physically resemble an apartment or condominium building, but on paper, a co-op is very different. People who invest in the co-op are called shareholders. Shareholders who live in the co-op have a proprietary lease giving them the right to live in a specific unit in the building.
Co-op housing is typically owned by a cooperative corporation. A co-op owner is a shareholder of a corporation, and the corporation owns and manages the building. The cooperative corporation is run by a board of directors who are elected by the shareholders and are responsible for common area maintenance and repair.
8. Tiny Homes
What is a tiny house? Tiny homes are homes that are generally 60 – 400 square feet in size but may go up to just under 600 square feet. Since becoming popular, tiny homes are available in a wide range of styles. Many are prefabricated with custom interior and exterior features and benefits that can make tiny living livable.
9. Manufactured Homes
Manufactured homes are homes built in factories, according to standards set by the U.S. Department of Housing and Urban Development (HUD). Manufactured homes are affixed to a permanent chassis with wheels and can be installed in both permanent and temporary locations.
Manufactured homes built before June 15, 1976, are called mobile homes and feature looser construction standards. As a result, through Rocket Mortgage®, you can get a conventional loan, FHA or VA loan on a manufactured home built on or after that date if you have real property permanently affixed to the land. FHA loans will require foundation inspections in accordance with the Permanent Foundations Guide for Manufactured Homes, but you can use a previous inspection if you've had one in the past.
15
Popular Architectural Styles Of Homes
Travel across America and you'll find an incredible variety of architectural styles. As you search for your new home, take note of the home styles you prefer. The descriptions below could help you articulate just what you're looking for in your new home.
1. Ranch Style
Ranch-style homes are built with accessibility and flexibility in mind. Many are constructed horizontally, with each room easily interchangeable with the next. A large family room can easily become a home-school classroom by adding French doors or a bedroom into a home office.
Unique features of a ranch-style home include:
Single story with brick, wood and stucco exterior. You'll often find an attached garage and the whole home accented with simple trim.

Large picture windows and sliding glass doors that lead to a deck or backyard.

Floor plans tend to be open unlike the other home styles we'll discuss.
2. Cape Cod Style
The Cape Cod-style home originated from the Cape Cod area in the mid-1600s. Originally designed to withstand incredibly harsh New England winters, homes featured heavy shutters that could be closed to protect windows and keep drafts down during heavy storms.
Original Cape Cod homes featured a central fireplace linked to chimneys throughout the home to heat separate areas of the home more efficiently. Modern Cape Cods have decorative shutters and fireplaces placed at the end of the home as opposed to the center of the home.
Unique features of a Cape Cod-style house include:
Either one or one-and-a-half stories with a steep roof and a small roof overhang.

The home is constructed of wood and covered with clapboard or shingles, and it boasts a symmetrical appearance with a center door.

Architecture includes multipaned windows, dormers (which are created as usable space with windows in the roof) and a formal floor plan, usually with hardwood floors.
3. Colonial Style
Like the Cape Cod, colonial-style homes were built out of necessity. Weather along the Eastern seaboard can be tough and cold. Central fireplaces, separate rooms and relatively low ceilings retained heat efficiently. Early colonists brought with them their own architectural twist from the countries they left. We now have different variations of colonial-style homes like the Georgian, Dutch and Spanish colonial styles to name a few.
Though their roots were planted in the 17th century, traditional and modern colonial-style homes can be identified by their unique use of soothing symmetry. Exterior windows, doors and columns on one side of the home are often mirrored on the other side. Other features include a square symmetrical façade, evenly spaced multipaned windows with shutters and fireplaces with evenly proportioned chimneys.
Unique features of a colonial-style home include:
Two to three stories with a rectangular shape, a gabled roof (both sides slope at the same angle) and dormers.

A decorative crown over the front door that's supported by pilasters or columns.

Construction is made of brick or wood siding.

Grand entrances and porticos reveal living areas on the first floor while bedrooms are located on upper levels.
4. Victorian Style
When calling a house a Victorian-style home, "Victorian" is actually referring to the time period from the 1830s to 1900. The home's architectural style is called a Queen Anne. Victorian-era homes are large structures with ornate woodwork and large wraparound porches. The paint and decor span the spectrum of design.
Original Victorian era-style homes were often brightly painted with no shortage of unique features like turrets, verandas and multipurpose rooms for the busy family.
Unique features of a Victorian-style house include:
Steeply pitched roofs of irregular shape with a dominant front-facing wide gable.

Ornate woodwork and textured shingles with decorative wooden brackets and clapboard siding.

An asymmetrical porch one story high that extends around the front or the front and sides of the house.

Some homes have combinations of up to eight exterior colors.

The home's interior often contains high ceilings and deep archways between rooms, with small rooms divided up by their use: a formal dining room, a small library, a parlor, a formal living room and so on.
5. Tudor Style
Like some of the other home architectural styles we've discussed, the Tudor home originated in England. Tudor-style homes feature multigabled roofs and half-timber framing. It was a highly sought-after home style prior to World War II; however, after the war, many people wanted a more modern, American-style home.
Unique features of a Tudor-style home include:
Steeply pitched roofs with wide gables, elaborate chimneys with small dormers and slate surrounds.

Exposed wood framework on the exterior, with the spaces between the frames filled with stucco and masonry.

Large, narrow casement windows with multiple panes that are framed with wood or metal.

Stone trim and decoratively embellished doorways with stone trim and door surrounds.
6. Mediterranean Style
The Mediterranean style draws from countries like Greece, Spain and Italy. These homes are typically built with a stucco exterior with large arched windows and red clay roof tiles. Spanish settlers in the Southwest during the 16th century took advantage of the thick clay walls to maintain cooler temperatures in the desert heat. In the 1920s, Americans became fascinated with this distinctive style, and it soon took off in popularity.
Unique features of a Mediterranean-style house include:
A flat or low-pitched tile roof, often red, with warm-colored stucco finishing.

Many homes include extensive outdoor living areas or verandas, second-floor balconies, and large open seating areas to allow for air flow throughout the home.

Balconies and large arched windows are surrounded by wrought-iron railings and details.
Compare And Save
Have control over your money. Shop all your financial options in one place.
Find Your Best Offer
7. Contemporary Style
Contemporary and modern are often used interchangeably when discussing architecture, but they are quite different. "Modern" refers to a period that has already passed, whereas "contemporary" refers to now. Many contemporary homes are built with eco-friendly materials and a design focus on clean lines and natural textures.
Unique features of a contemporary-style home include:
Clean, simple lines

Neutral colors and natural textures
8. Modern Farmhouse Style
A new home style gaining popularity is the modern farmhouse. Pulling inspiration from traditional farmhouses, modern farmhouses often feature tall ceilings, exposed beams and a large front porch. Modern farmhouse style combines the rustic feel of a farmhouse with clean lines and modern convenience.
Unique features of a farmhouse-style house include:
Barn-shaped roofs, large porches

Clean lines and modern functionality
9. Prairie Style
During the Victorian era, young architects were tired of the European styles and wanted to create something fresh for modern American living. The prairie-style home is designed to reflect and pay homage to the surrounding environment. Made popular by architect Frank Lloyd Wright, prairie-style homes are designed to be functional, flowing and open.
Unique features of a prairie-style home include:
Cantilevered long, flat roofs

Simple and natural woodwork

Open concept floor plan
10. Midcentury Modern Style
The midcentury modern style is easily recognizable and most often characterized by flat straight lines, large glass windows and open spaces. The focus of midcentury modern style is its simplicity and integration with nature and the surrounding environment with an emphasis placed on form as function.
It was made popular in the mid-1950s with the work of famous architects Rudolph Schindler, Ludwig Mies van der Rohe and Joseph Eichler.
Unique features of a midcentury modern-style house include:
Bilevel floor plans with wide, flat roofs along with angular details and asymmetrical features.

A focus on the use of floor-to-ceiling windows, walls of glass and wide open floor plans.

Known for using materials like steel, plywood and concrete in the home's construction.
11. Split-Level Style
Split-level homes emerged from the ranch-style home design of the 1950s. In a split-level home, living spaces are separated by short flights of stairs unlike a standard two- or three-story home connected with long flights of stairs.
Unique features of a split-level home include:
Living spaces separated by short flights of stairs.

Much of the house is in the basement.
12. Cottage Style
Brought over from England, cottages were the home to working-class farmers. Cottage-style homes are cozy and typically on the smaller side in square footage. They often feature wood or wood shingle siding, small porches and a cozy fireplace.
In America, some people purchase cottages to use as a vacation home, and many people prefer the tighter quarters and personality of a cottage.
Unique features of a cottage-style house include:
Wood shingles or siding

Small living space but very cozy

Individual character
13. French Country Style
French country-style houses are inspired by the gorgeous homes found in the French countryside in areas like Provence. French country homes typically have pointed roofs and shutters, and they incorporate stone and have a weathered appearance. Inside, you'll find subdued color palettes with worn colors and natural exposed wood grain.
Unique features of a French country-style home include:
Made of stone or incorporates stone elements.

Distressed, painted, vintage furniture and decor.

Lots of wood and other natural materials.
14. Bungalow Style
The term "bungalow" can be traced back to the 19th century when the British ruling class set out to build an easily constructed rest house to use during their visits. Charles and Henry Greene are credited as early adopters of this style. A bungalow-style home typically has tapered or squared columns supporting the roof, lots of main floor living space and a fireplace.
The simple, affordable style grew in popularity in the 1900s in America. Bungalows come in several styles – California style, Michigan style, Chicago style and ranch style – but they all refer to the same type of home.
Unique features of a bungalow-style house include:
Made of stone or incorporates stone elements.

Either one or one-and-a-half stories with a low-pitched roof and a horizontal shape.

Large covered front porches.

Most of the living spaces are on the main floor, with the living room located in the center.
15. Craftsman Style
A Craftsman-style home focuses on the value of handmade, well-constructed architecture. Craftsman-style homes feature beautiful hand-worked materials, exposed beams, low-pitched gable roofs and tapered columns on their porches. Inside, you can find custom elements like built-in bookshelves, hand-laid fireplaces and window seats.
Unique features of a craftsman-style home include:
Hand-crafted wood features

Exposed beams

Large square or tapered columns
The Bottom Line: The Right Type Of Home Style For You Will Depend On Your Preferences
Choosing the right home for your lifestyle and personal goals can be tough if you can't articulate what you're looking for. Take time to review some of these home styles with your real estate agent to make sure your agent knows exactly the style you desire.
If you're ready to get on the road to homeownership, speak with a Home Loan Expert today.
Find A Mortgage Today and Lock In Your Rate!
Get matched with a lender that will work for your financial situation.
Get Started