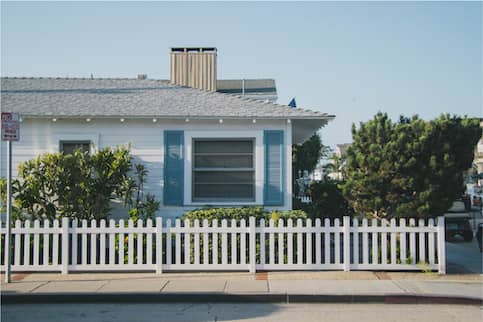 Does Homeowners Insurance Cover Mold?
Published on September 21, 2021
Most insurance policies cover water damage, but does homeowners insurance cover mold? Whether or not your homeowners insurance covers mold remediation depends on the source of the mold and if that cause is a covered peril. Perils are types of damage to your home that your insurance provider will cover for you, such as weather damage or sudden events that threaten the structure of your home.
Although mold isn't specifically covered in most home insurance policies, water damage that causes the mold can be covered. A burst pipe or leaking AC are examples of scenarios where your home insurance can help cover costs, whereas long standing leaks or negligence aren't likely to be covered.
Key Takeaways:
Mold is not always covered by homeowners insurance since the source of the mold may not be a covered peril.
Sudden and accidental water damage is covered by homeowners insurance policies.

Mold as a result of old appliances or long-standing leaks is not covered.
When Does Home Insurance Cover Mold Removal?
Fortunately, there are plenty of instances where mold is covered by insurance, especially if the cause was something that you couldn't have predicted. Mold removal is covered by insurance when the source of the mold is water damage from a covered peril.
Instances where mold is covered by home insurance includes water damage from an accidental event, like:
A burst pipe or water heater
A malfunctioning appliance
A firefighter extinguishing a fire in your home using water
Homeowners insurance doesn't cover mold alone, but the resulting damage of the covered peril. This means that insurance may not cover the entire cost of mold removal and the resulting damage.
When Doesn't Homeowners Insurance Cover Mold?
Homeowners insurance doesn't cover mold when it is the result of negligence from the homeowner or in the event of flooding. Mold from hurricanes or ice storms might be covered by homeowners insurance since these events are generally a covered peril. Flood insurance is a separate entity that you must add to your homeowners policy if you need it. This means mold that grows as a result of home flooding isn't covered by a general home insurance policy.
Other example scenarios where mold isn't covered in homeowners insurance policies are:
If there is a leak for many years that has been ignored
Not using a dehumidifier in your basement or in any humid climate resulting in black mold
A storm that causes flooding and consequently mold
How Much Does It Cost To Remove Mold From A House?
The average cost of mold removal is $2,347,1 but removing mold from an entire home can cost up to $30,000. This makes it even more crucial to spot mold early or prevent it altogether in order to avoid the high costs of remediation.
Getting rid of mold as soon as possible is extremely important in stopping its spread. Small mold remediation can cost an average of $4581 while larger scale remediation averages at about $6,333. If the infected area is more than 10 square feet, it's best to hire a qualified mold inspector and get a quote. Such an inspector can charge $200 – $6002 for a visit.
Mold removal costs depend on the area that it is being removed from:
Crawl spaces only: $500 – $4,000
Ducts, crawl spaces, walls, attics: $2,000 – $6,000
Widespread structural damage: $10,000 – $30,000+
The Environmental Protection Agency permits areas of mold that are less than 10 square feet to be cleaned by homeowners themselves with long gloves that go to the middle of your forearm, goggles and an N-95 respirator.
How Much Will Insurance Cover For Mold?
Most insurance policies limit their coverage for mold removal ranges from $1,000 – $10,000. If homeowners prefer a higher amount of coverage for mold protection, they can add mold coverage to their policy as an optional rider. Mold-prone states like Florida have expensive mold protection rates given their humid climates.
The type of mold has no effect on the cost of mold removal or whether it is covered. Black mold is treated like any other type of mold by insurance providers.
Apply for a mortgage today!
Apply online for expert recommendations with real interest rates and payments.
Start Your Application
How To File A Homeowners Insurance Claim For Mold
Once you discover mold in your home, don't touch it and review your home insurance policy to see if they cover mold or water damage from mold. After reviewing your policy, file a homeowners insurance claim for mold if you choose to get coverage from your provider with the following steps:
Capture the damage. The first step to filing a successful home insurance claim is taking pictures of the mold and documenting the damage with photos. This will be useful when proving to your insurance provider that you do in fact have a mold infestation in your home.
Contact your insurance provider. If you decide to seek coverage from your insurance provider, you will have to get in touch with an agent who will help you file the claim. The agent will send a claims adjuster to your home to assess the damage and ultimately communicate with your provider to determine how much the payout will be. It's also a good idea to review your policy or consult your insurance agent to investigate your provider's mold coverage limits.
Do some damage control. Once you have filed your claim and the claims adjuster has scoped out the damage, you can start doing some damage control to prevent the mold from spreading even more. Homeowners should try to dry their home as much as possible by opening windows, running a dehumidifier and using fans to reduce moisture. Don't clean or remove evidence of damage before the cost of the damage has been determined so the adjuster can make an accurate assessment.
A homeowner's priority when filing a home insurance claim should be to prove the source of the mold was from a covered peril so the claim doesn't get rejected for lack of maintenance or neglect.
How To Avoid Having A Mold Damage Claim Denied
To avoid having your home insurance claim for mold denied, take the following steps when filing the initial claim.
Properly capture the damage. Taking high-quality photos of the damage as well as videos ensures that your insurance provider has an accurate understanding of the extent of the damage.
Provide recent maintenance records. Giving your insurance provider the most up-to-date maintenance records for your home to include with your insurance claim can help you avoid getting your mold damage claim denied.
Follow provider instructions when filing. Making sure to follow the instructions from your insurance provider when filing your claim is important so your claim doesn't get denied for small errors.
Research licensed contractors. The mold removal industry is largely unregulated. Make sure if you do contact a contractor that they are licensed so that they can give you an accurate estimate for mold remediation.
What If My Claim Is Denied?
If an insurance claim for mold is denied, homeowners should reach out to a licensed contractor who can give a second opinion on what the source of the mold was. There is also the option to appeal the denial from an insurance company by following their appeals process. Finally, the state insurance commissioner may be able to help with how to get the claim approved or file a complaint regarding the denial.
How To Spot Mold In Your Home
Homeowners can spot mold in their home by smelling, seeing or getting sick from mold. The quicker you catch mold, the less damage there will be from the mold spreading. The more the mold has spread, the more costly it will be to repair the damage.
Places mold can grow include:
Behind walls
Under carpets
Behind your fridge
Between bathroom tiles
Humid areas such as the kitchen or bathroom
Areas with poor ventilation or lighting
Mold can have a soft and fuzzy texture, and if the pattern is more uniform, it could be what's called a mold colony. It also has a musty scent like rotting leaves in fall, and the stronger the smell is the more likely the mold is in that area.
It can also be a situation where the mold smell comes about when you turn on your home AC or heating, which likely means that the mold is in your AC or heating system.
Sometimes when you can't see mold, but you can smell it, it may be in an inconspicuous area like under the carpet, behind an appliance or inside of the wall. If you can't spot the mold but you can smell it, you can also call a mold inspection team to help you locate it.
Sickness from mold exposure is another unfortunate way homeowners discover they have mold. Some physical symptoms to look out for include:
Sore eyes or throat
Coughing or sneezing
Runny or congested nose
Itchy skin or asthma
These symptoms may not necessarily be from mold since they are characteristics of many illnesses ranging from allergies to a viral infection. However, if you find that your symptoms get worse the more time you spend at home, there could be a link between your illness and mold growth in your home.
Preventing Future Mold Growth
The best way to save money when it comes to mold remediation is to prevent mold from growing in the first place. This is particularly important for homeowners who live in humid climates since they are more likely to encounter mold growth.
Some tactics to prevent mold growth include:
Installing dehumidifiers in bathrooms and basements
Cleaning gutters, replacing old appliances, and bleaching your bathroom
Keeping an eye on areas of your home that are susceptible to mold growth like crawl spaces, laundry rooms and cabinets beneath the sink – especially if you live in a humid climate
Installing leak, temperature and humidity sensors so you can be immediately alerted about potential damage
Even if your home insurance covers mold, it's a costly process especially if the mold has spread to large areas. If mold is found in your home, document the damage and read through your home insurance policy for mold coverage. If you choose to file a homeowners insurance claim, take the steps above to make sure your claim is approved and you can return to normalcy as soon as possible. Finding a homeowners insurance policy that meets your needs can prevent you from bearing the costs of mold remediation alone.
Apply for a mortgage today!
Apply online for expert recommendations with real interest rates and payments.
Start Your Application