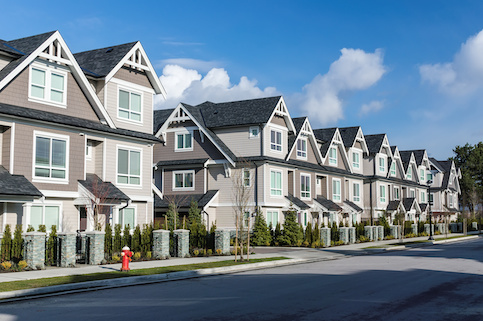 Condos: What They Are, Pros & Cons, And More
Published on September 19, 2020
Most of us know that buying a home is a big decision with a lot of variables. Finances, geography, family, friends, lifestyle, work, the list goes on and on. We are all unique, so the perfect home means something different to everyone. With so many different wants and needs, one of the most critical components of a successful home search is making sure every possible option is on the table. The more choices you have, the more likely you will make one that makes you happy. One option that you don't want to overlook, especially if you're looking to own a low-maintenance property, is a condo.
What Is A Condo?
Technically speaking, a condominium (condo) is a privately owned residence in a building or community with multiple units. A key features of a condo are the shared common areas and amenities such as lawns, pools, tennis courts, etc. Essentially, it's a little bit yours and a little bit everyone's. While things like the pool and tennis courts are almost always shared, the space inside your specific unit is yours and yours alone. The nuances can vary greatly – especially between condos and townhouses – but the common theme is there are some things you share and some things you don't in terms of both use and responsibility.
How Do Condominiums Work?
Pretty sweet, right? A pool you don't have to clean, manicured lawns that you don't have to mow, etc. Well, as you may have guessed, these perks aren't free. Condo owners pay dues to a board or homeowners association (HOA) to cover the costs of these amenities as well as maintaining the shared areas of the property. This part is particularly appealing if you're looking to own a home, but don't want to be responsible for maintenance and yard upkeep. No more figuring why your drain is backed up or why the AC isn't working ... just pick up the phone and help is on the way!
Apply for a Mortgage with Quicken Loans®
Call our Home Loans Experts at (800) 251-9080 to begin your mortgage application, or apply online to review your loan options.
Start Your Application
The Pros And Cons Of Owning A Condo
If you're considering a condo, it's critical to understand the pros and cons of condominium ownership before making the investment. Make a list, prioritize each item, and involve everyone who you will be living with before you make a final decision.
Pros
As you have probably started to understand, there are many pros to purchasing a condo that are worth serious consideration. Let's take a look at a few of them.
Managed Maintenance
Homeownership comes with a lot of responsibilities, and maintenance can be overwhelming. Getting your furnace and AC serviced each year, cleaning the gutters, making sure the paint is looking fresh, addressing problems like water in the basement or leaks in the roof, maintaining your lawn – the list can be overwhelming. Condo ownership relieves the stress of all this work and worry by offering a maintenance-free alternative. Some people like shoveling snow – no, really! – but for others, they'd rather sip some warm coffee and watch the condo maintenance team get it done for them.
Stress-Free Travel
Jet-setters rejoice! Owning a condo means you lock your door and travel stress-free knowing that everything else is being taken care of. Want to leave your single-family home for a week? The list for preparing can be daunting.
Accessible Luxury
Do some research on the cost of a condo versus a single-family home and you'll find that buying an open-concept house with plush finishes, a private pool and a tennis court comes with a price tag that's out of reach for most of us. Condos often have open layouts, pools, fitness centers and other amenities and luxuries that you may not otherwise be able to afford. This is especially true if you are buying a brand new condo.
Access To Transit
Many condos offer easy access to public transit, which can save money and decrease your carbon footprint. If these are lifestyle choices that are important to you, get on the condo train! ... Or ... bus?
Lower Price Tag & Insurance
Many condos are more affordable than houses, and not just in the luxury space as discussed previously. In addition, insurance rates are lower for condos due to the fact that you're only responsible for insuring your specific unit and not the common spaces. These factors mean condos are often the more budget-friendly choice.
Move-In Ready
Condos often come fully furnished, which can save time, money, and the hassle of moving big pieces of furniture. And it frees you from the pain of choosing from endless furnishing options, if that's not really your cup of tea.
Close-Knit Community
Living in close proximity is not for everyone, but it does tend to create a feeling of community. Not all condo communities are the same in this regard though, so it's important to find the condo complex that fits your lifestyle.
Wheelchair Accessible
Condos are built to appropriate code as specified in the Americans with Disabilities Act, which makes your home accessible to friends and family with disabilities. That four-story single family home, not so much.
Cons
Condos aren't all about a relaxing swim and some tennis in the sun. There are drawbacks as well. Let's look at a few of the downsides to purchasing a condo that should not be overlooked when weighing your options.
HOA Regulations
Abiding by the rules and regulations of the homeowners association (HOA) can be a potential roadblock and should be given serious consideration. Don't like to be told what to do when it comes to your home? A condo might not be the best choice.
HOA Fees
While you'll be saving money on the cost of the condo and on insurance, there are HOA fees to consider. These fees do provide value by covering things like maintenance and lawn care, but they can range from a couple hundred dollars to a thousand dollars a month. Review the value proposition before making the investment in a condo.
Hard To Sell
Reselling a condo can sometimes be more of an issue than reselling a traditional house. For example, they can be less attractive to potential buyers due to certain HOA regulations, and they can affect the type of loan a buyer can qualify for. Work with your real estate agent to understand the challenges of selling the specific condo you're considering buying so you can have a solid game plan for the future.
Should You Consider Buying A Condo?
Considering a condo versus a single-family home takes understanding a lot of variables and nuances, many of which we have covered here, but some we have not. The difference when it comes to refinancing a condo and new financial tools that make getting a condo easier are just a few examples, so keep your research going if you want to continue down this path. Generally speaking though, a condo complex can be wonderful for young first-time home buyers or retirees, but it's usually not ideal for people craving more privacy and autonomy. Ultimately, it comes down to your lifestyle and your list of must-haves and deal breakers when searching for a home.
The Bottom Line On Condo Ownership
As you can see, there are many pros and cons worthy of different levels of consideration based on your personal preferences. Always carefully consider the many factors when deciding what type of home is right for you. So, what's the first step if you are considering looking to purchase a condo or any other type of property? You can start by speaking with a mortgage expert today.
Apply for a Mortgage with Quicken Loans®
Call our Home Loans Experts at (800) 251-9080 to begin your mortgage application, or apply online to review your loan options.
Start Your Application