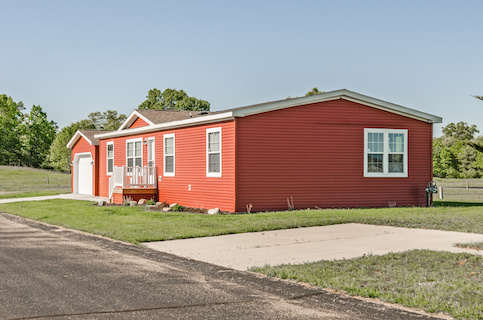 A Quick Guide to Manufactured Homes
Published on December 16, 2021
It's time to re-think manufactured homes. After decades of being called "mobile homes" or even "trailers," modern manufactured home offers far fewer compromises than the mobile homes of the past.
Manufactured Home Definition In Simple Terms
First, what is a manufactured home?
It's a home built off-site and then transported to a different location to be installed. Manufactured homes are now safer, sturdier and more efficient than ever. Here's what you need to know about them.
See What You Qualify For
Congratulations! Based on the information you have provided, you are eligible to continue your home loan process online with Rocket Mortgage.
If a sign-in page does not automatically pop up in a new tab, click here
What Is A Manufactured Home – And What Isn't?
A manufactured home is a factory-built home that is put together on a temporary chassis. In comparison, a traditional home is built on-site on a permanent foundation.
These homes are built based on standards set by the U.S. Department of Housing and Urban Development (HUD). The terms "manufactured home" and "mobile home" are often used interchangeably but there are key differences between the two.
Mobile homes are prebuilt homes that were created before June 15, 1976. After that, the federal HUD standards went into effect and anything built after that date is considered a manufactured home.
Modular homes are like manufactured homes in that they conform to HUDstandards. However, modular homes look like standard homes and it's hard for many people to tell the difference between the two.
Then we have tiny houses, but these are not the same as manufactured homes. Tiny houses are regulated under the RV code.
The Cost Of A Manufactured Home
Establishing a budget is a key part of buying a house, and budget is one of the biggest reasons people choose to purchase a manufactured home. They are much more affordable than a conventional home. But just like a traditional home, the cost of a manufactured home varies depending on the type of home you buy and the size.
Manufactured homes averaged $56.56 per square foot in 2019. Site-built homes were more than twice as expensive per square foot at $118.91, which doesn't include the price of land.
Manufacturing efficiency is the key factor of the price difference in this comparison. Most mobile homes are built on an assembly line, which is a controlled environment. Site-built homes can encounter delays through weather and supply issues.
Manufactured Homes And Land Ownership
There are many advantages to buying a manufactured home, but the biggest downside is that you might not own the land your home is located on. More than 37% of manufactured homes are in communities where a landowner rents the land to homeowners.
If you don't own the land where you've installed the manufactured home, the home itself could decrease in value while the value of the land increases.
This has given rise to the predatory buying of manufactured home parks. According to the Financial Times, there has been a rise in big investors buying up manufactured home parks for the opportunity to turn a profit.
This has led to skyrocketing rent payments for manufactured home tenants. It also led to legislation at both the state and federal level pushing for laws that would keep wealthy investors from driving tenants out.
The nonprofit organization Resident Owned Communities USA is also working to help manufactured home communities. They're doing this by helping these communities collectively purchase the land their manufactured homes are on.
Apply for a mortgage today!
Apply online for expert recommendations with real interest rates and payments.
Start Your Application
Manufactured Homes And HUD Regulations
The HUD has strict regulations to control the quality of modern manufactured homes. Here is an overview of the HUD's regulations:
The home must be a mi

nimum of 400 square feet.

Ceiling heights in bathrooms and rooms must be at least 7 feet.

The ceiling in storage areas and hallways must be at least 6-foot-6-inches.

There must be two outside doors located at least 12 feet from each other in single-wide units,

Single-person bedrooms must have 50 square feet of floor space.

Two-person bedrooms must have 70 square feet of floor space.

The home must have adequate windows for ventilation.
Manufactured Homes Vs. Modular Homes
There's can be some confusion about manufactured and modular homes. Both are manufactured off-site, so that's understandable. Fortunately, the differences are simple.
Manufactured homes are not helped to the same building codes as on-site homes, but rather by the Department of Housing and Urban Development.
Drilling down further, manufactured homes often use a steel chassis as opposed to the traditional/permanent foundation of a modular home. However, many manugA few other quick points separate manufactured homes from modular homes:
Manufactured homes generally have a lower cost per square foot.
Manufactured homes often depreciate faster than modular homes.
A modular home cannot be moved once installed on-site.
Modular homes usually arrive at the home site in multiple pieces.
Modular homes are available in a variety of styles that can look exactly like a traditional "stick built" home.
Manufactured Home FAQS
Single wide vs. double wide: What's the difference?
The main difference between a single-wide and double-wide manufactured home is space. A single-wide home is typically 14 – 18 feet wide and 52 – 80 feet long.
In comparison, a double-wide home is 28 – 36 feet wide and 52 – 80 feet long. You'll typically pay about 25% less per square foot for a single-wide home than you would for a double-wide.
How are manufactured homes built?
The materials used to build manufactured homes are similar to what goes into building a traditional home. This includes things like lumber framing, fiberglass insulation and wood flooring. The difference is that for manufactured homes, these items are ordered in bulk and put together in a temperature-controlled area.
How long do manufactured homes last?
This is a hotly debated topic but a 2018 study showed that manufactured homes should retain their value for the same length of time as traditional homes.
Would I have to live in a community of manufactured homes?
Manufactured homes are located in rural, urban and suburban locations across the country. More than a third of them are installed in manufactured home communities. However, living in a manufactured home community is not a requirement.
Are manufactured homes more energy-efficient?
Many newly built manufactured homes are designed to be more energy-efficient. These homes often come with energy-efficient windows and doors, added insulation and more. It's also possible to remodel older homes for added energy efficiency.
Do cities have special requirements for manufactured homes?
Yes, state regulations often require manufactured homes to be a certain size. You should check with your state's laws regarding manufactured homes before purchasing one.
Are manufactured homes safe?
Thanks to HUD regulations, manufactured homes are safer than they used to be. According to ManufacturedHousing.org, properly installed manufactured homes are as safe as traditional houses during a major storm. However, manufactured homes don't come with a basement, which could make them less safe during a tornado.
How much does it cost to move when you live in a manufactured home?
The cost of a move will depend on the size of your manufactured home and how far you're moving. According to MyMove.com, it can cost anywhere from $1,000 up to $20,000. But if you're moving fewer than 100 miles, you can probably move on less than $5,000.
What are the demographics of today's manufactured homeowners?
According to a 2017 overview of the demographics of manufactured homeowners:
The average income is $28,400

Fewer than 5% earn more than $100,000 per year

23% are between the ages of 18 – 29

22% are between the ages of 50 – 59

15% are disabled or unable to work

Manufactured homes are most common in Texas, Louisiana, Florida, Michigan, and Alabama
The Bottom Line
There's no shortage of different types of homes on the market. Fortunately, buyers looking at the lower end of the price spectrum can find a safe, affordable path to homeownership by choosing the manufactured home route. Unlike previous stereotypes about mobile homes, manufactured homes are well-constructed and made of high-quality materials.
However, they may lose their value more quickly, especially if you don't own the land the home is on.
Want to know more about buying a home? Visit our Home Buyer's Guide to get all the knowledge you need.
Apply for a mortgage today!
Apply online for expert recommendations with real interest rates and payments.
Start Your Application