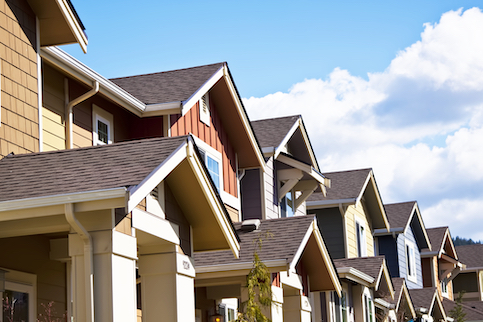 What Is A Townhouse And Is Townhome Living Right For Me?
Published on January 6, 2020
As first-time home buyers try to wedge themselves into an increasingly unaffordable housing market, the humble townhouse has experienced a renaissance.
Not quite a detached home, not quite a condo, a townhouse is a sort of hybrid that offers homeowners the best (or the worst, depending on your perspective) of these two home types.
What Is A Townhouse?
A townhouse is an individually owned, multi floor home that's attached to one or more other units. Residents own and are responsible for both the interior and exterior of their townhome.
Townhouses tend to look a lot like traditional, detached homes but generally operate more like a condo in that they're all part of a larger governing body. This means that if you buy a townhouse, you're most likely going to be a part of a homeowners association.
Townhouses are particularly popular in dense urban and suburban areas, where you'll often see them lining the streets. You can spot them by looking out for rows of houses that are connected on one or both sides, so each homeowner shares a wall with their neighbors. Townhouses can offer an affordable way for home buyers to get into a home in a relatively expensive area.
Townhomes put an emphasis on vertical space as a way to be economical with square footage in populous areas, so they're usually made up of multiple stories. They also typically have a front and back yard that the owner is responsible for.
Apply for a Mortgage with Quicken Loans®
Call our Home Loans Experts at (800) 251-9080 to begin your mortgage application, or apply online to review your loan options.
Start Your Application
What Is The Difference Between A Townhouse And A Condo?
Townhouses and condos are different from single family detached housing in that they exist in buildings or developments where multiple individual households reside closely together, each in their own unit or home.
In both the case of townhouses and condos, each individual unit is separately owned (as opposed to an apartment building, where one person owns many units and rents them out to occupants) and is typically occupied by the owner, though it may be possible for individual units to be rented out by their owners, depending on HOA or condo association rules.
But how does a townhouse differ from a condo? Typically, condo owners are only responsible for the inside of their units, and pay into an HOA that covers costs to maintain the outside of the building and any shared common areas.
By contrast, townhome owners are responsible for both the inside and outside of their homes, making them more similar to detached homes in this respect. As such, townhouse communities typically have lower HOA fees than condos, because most of the maintaining falls to individual homeowners, like it would in a detached home community.
Townhome owners also tend to have more freedom in what they can do with their space, as condos typically come with more restrictions on things like renovations (such as limiting what upper floor condo owners can do with their flooring).
However, be sure to learn about HOA rules for any townhouses you're considering. Each HOA comes up with its own rules, and you don't want to move into a community only to realize that the HOA rules are much more restrictive than what you'd like.
You should also keep in mind that although you may be able to get a lower HOA bill with a townhome, because you own more space, townhomes often cost more overall than condos.
What Are The Advantages And Disadvantages Of Townhouse Living?
Let's take a look at some of the pros and cons of choosing to buy a townhouse.
Advantages
If you're considering purchasing a townhouse over renting an apartment, you can often find a townhouse with monthly costs similar to renting, with the added benefit of being able to build equity on a home you own.
Since townhouses are usually smaller than detached homes, maintenance tends to be less costly or labor-intensive.
If you want to own your home but can't afford a detached house just yet, a townhome is a more affordable way for first-time home buyers to get acquainted to homeownership.
If you're considering a townhouse versus a condo, consider your furry friends. Owning a townhouse usually means having your own yard, which can be a great benefit if you have pets, or if you just want a place to care for your own garden.
You typically get more freedom to make decisions about both the inside and outside of your home with a townhouse than with a condo.
You may have access to more amenities than a detached homeowner would, such as a community pool.
Disadvantages
If you don't want to join an HOA and be governed by its rules, you'll probably be limited in your search to detached homes (though HOAs can be common in detached home neighborhoods as well, depending on your area).
Since you share a wall, there's less privacy with a townhome than a detached home.
Compared to condos or rented apartments, townhomes come with more responsibility in terms of repairs and maintenance.
A lot of the pros and cons of purchasing a townhome will depend on the community you live in, as community amenities, HOA rules and required maintenance can vary a lot. Some townhomes may come with more shared spaces and features, and thus come with higher HOA costs. Be sure to shop around and compare communities to find one that fits your wants and needs.
Is A Townhouse Right For Me?
Townhouses can make sense for all different types of homeowners, including:
Empty nesters looking to downsize
Buyers looking to be close to urban centers while still having a good amount of space
Buyers who want more say in the interior and exterior of their home
Investors
Really, whether a townhouse is right for you depends on what your needs are and what you want out of homeownership. While some hopeful homeowners might like the idea of living in a smaller space that offers the freedom of owning a detached home with the amenities of living in a condo, others might have a strong preference for a detached home or condo, and not be interested in a home that's more of a middle ground between those two property types.
If you're unsure of what type of house is right for you, do research on the pros and cons of each type – to get started, check out our post about the different types of homes that you can buy with a mortgage. That will give you a good primer on what's available to you.
If you've looked over your options and decided that townhouse living is calling your name, your next step is to find out what you can afford using a mortgage calculator.
Ready to begin the home buying process? Get started online with Rocket Mortgage® by Quicken Loans®.
Apply for a Mortgage with Quicken Loans®
Call our Home Loans Experts at (800) 251-9080 to begin your mortgage application, or apply online to review your loan options.
Start Your Application