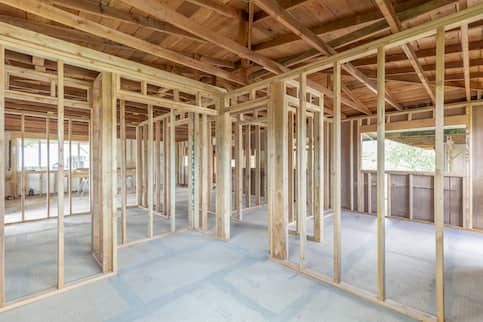 10 Cheap, Budget-Friendly Ways To Build A House
Published on September 18, 2020
Avid house-hunting fans love to poke fun at the extensive "must-have" lists often presented in our favorite home television shows. But if you've undertaken the search for your dream home yourself, you know how challenging it can be to find a house that you love within your budget.
In fact, this dilemma is one that many potential home buyers face. So, if you find yourself constantly frustrated with the slim pickings of homes on the market or you're struggling to remain within your price range, then it could be time to quite literally go back to the drawing board and consider building your perfect home from scratch.
1. Build Your Own House, With A Contractor
If your area of concern isn't necessarily about your budget, but rather finding what you want in a home at all, then working with a contractor to construct your perfect house could be the solution you're looking for. You'll be surprised what you can accomplish with a blank slate, some expert advice and your one-of-a-kind vision.
Make A Plan
In many aspects of life, preparedness is the key to success – and this most certainly applies to building a house. You'll want to make sure you have a defined budget, the right people and well thought out resources in order to make this process as seamless as possible.
Figure Out Where to Build
With any project you should always make sure you have a strong foundation – and especially in the case of building a home. So, if you're planning to use your current lot, make sure you understand the costs associated with any necessary excavation or reshaping of your land.
If you're interested in starting construction elsewhere, you should make sure to do ample research about the location and that area's zoning codes. And since zoning policies oftentimes vary from city to city, you'll want to do your research beforehand so you can understand exactly how imaginative you can get with your build. Some areas might not allow for a pool, garden sheds or other unique features. Other zoning codes have certain rules regarding additions or deck and fence sizing.
Simply understanding the features you'd like to see in your home and ensuring that they're all attainable for your particular lot is a great first step toward your dream home.
Know Your Numbers
Although you probably already have some kind of budget in mind leftover from your house hunting experiences, the construction process can come with a range of different costs that you may not have even considered. In order to establish a reasonable budget that works for you, let's first break down some of the costs you could be looking at.
Land: As we mentioned earlier, foundation is key. Do you know if your lot is construction-ready? Or will you have to hire a landscaper to reshape or level out your lot? Will your yard require any excavation or erosion control? Ask yourself these important questions before moving forward with any plans.
Architects: Regardless of how specific your vision is, take some time to consider enlisting the help of an architect. These experienced designers will make drawing up the floor plan that much easier, while also being available for advice regarding any unique features you have in mind. Just make sure to properly articulate your vision and find an architect you can coordinate well with in the future.
Contractors: You don't want to feel lost when faced with the big decisions surrounding your home build, and a great way to avoid this is by hiring a contractor. Similar to working with an architect, having this professional on your team can provide you with advice and help flesh out the logistics behind your build. Many experienced contractors will understand the best and most durable materials to work with, and some may even be able to get you deals on certain materials based on their relationships with a supplier. Contractors should also have an area of knowledge around the safety and legal requirements of construction in your area to ensure an efficient build.
Once you feel that you have a grasp on the costs associated with home building, start putting together your budget. Your budget should realistically reflect the costs of land, labor and materials within your area.
If you're starting to grow worried about these costs stacking up, look into applying for a construction loan. There are many kinds of construction loans, each suited for different projects, so you shouldn't be hard-pressed to find one that can meet your needs and get your build running.
Apply for a Mortgage with Quicken Loans®
Call our Home Loans Experts at (800) 251-9080 to begin your mortgage application, or apply online to review your loan options.
Start Your Application
2. Build Your Own House, Without A Contractor
For those of you who already have experience with construction projects or have a network of experts among your friends and family, then you've probably already considered building your home on your own.
As long as you truly have the right resources – skilled laborers, reliable and safe-to-operate tools, and the right knowledge about your construction ambitions – then DIYing your build can save you quite a bit of cash in the long run. The more you choose to do yourself, the more money you can put back in your pocket.
However, you may still want to consider recruiting the help of an architect, designer or contractor to avoid making any costly mistakes – especially if this is your first-ever build.
But if you're feeling confident in your skills, the internet should be able to provide you with plenty of resources. Don't be afraid to download floorplans from online for inspiration or hit up Pinterest for some trendy home project ideas.
3. Build A Simple Box
As geometry class taught us, squares are the easiest shape to deal with. So, if you don't mind keeping things simple, constructing a square or rectangular floor plan can save you big bucks.
And rather than constructing an elaborate home, add square footage by building upward, not outward – it's generally cheaper. Additionally, never underestimate what landscaping, decks, paint jobs and decor can do to spruce up your exterior.
So, if a simple build meets your needs, seriously consider going with this affordable option and reaping the rewards.
4. Choose A Design With A Simple Roof
This concept of spending-less-saves-you-more also applies to roofing: simpler designs will cost you much less. Although multi-level roofs may look nice, it's always cheaper to go with a simple roofing option.
Not only will it save you money in the short-term, but due to their structure, simple roofs are at less of a risk for leaks or damage over time. So, if you're on a tight budget or simply don't care much about rooftop aesthetics, then a plain, gently sloping roof is a smart way to save some dough.
5. Build an Energy Efficient Home
Over time there has been an increasing trend in sustainable living and energy efficient homes – and for good reason. Not only can upgrading your home to an energy efficient model save you hundreds in energy bills each month, but you also get to do your part for the environment.
Whether you're a seasoned expert in sustainability or you're simply interested in taking small steps toward going green, there are plenty of ways to make your home more energy efficient – from installing better insulation or high-efficiency windows to utilizing solar or wind energy as a resource.
The drawback for many people, however, is the initial cost of these features, which can run rather high. But simply viewing them as an investment rather than a one-time purchase, and keeping in mind how much money these products can save you over time, will make their price tag much less intimidating.
6. Keep Water Usage Areas Together
Now this is truly a great way to save money when building your home from the ground up: keep your water usage areas together. By clumping your laundry room, bathrooms and kitchens as closely together as possible – either vertically or horizontally – you can eliminate a need for excess plumbing materials and shave off some extra costs. So, when you're drawing up your floorplan, keep this in consideration if you're looking to save some cash.
7. Skip the Expensive Finishes, For Now
If your budget is running low, don't panic. Keep in mind that although you're building your home now, you can always install flooring or countertops later. Focus on building a strong foundation – finishing touches can always be added at a later date.
8. Build A Tiny House
If you're open to more a unorthodox way of living, then the tiny home lifestyle could be up your alley. This bite-sized movement has skyrocketed in popularity over the past few years due to its sustainability and clever use of square footage. With its viral success online, tiny-home owners have grown into a passionate online community with information on the lifestyle pros and cons, tiny home floorplans, and veteran advice in abundance.
But tiny homes aren't just appealing because they're trendy. In fact, their biggest draw is their affordability.
Since tiny homes are, well, tiny, they'll cost you significantly less to build than a conventional house. Most tiny homes range from just $20,000 – $100,000, depending on how luxurious you want your build to be. Not to mention, they also cost significantly less to maintain than your standard home. You can even opt to build your tiny home on wheels if you're interested in traveling or plan to move in the future.
But the tiny home lifestyle isn't fit for everyone. Perhaps the largest drawback to tiny homes, besides their limited size, has to do with the financing: you won't be able to rely on any loans.
Even when purchasing a tiny home, buyers are limited to cash or credit. So, unless you're ready to pay upfront, be prepared for the credit card bills. But if you're looking for something new and are confident you can pay off your tiny home, it may be an option worth exploring.
9. Unconventional Building Materials
Another option for those looking for something new is simply trying to find ways to utilize unconventional building materials. With the tiny home movement picking up steam there has been an influx of popularity for shipping container homes – houses built using reclaimed storage containers.
The kind of innovation that looked at storage containers and saw durable, home construction materials is the kind of creativity you should try and hone in on when building your home. Not only is this recycling of materials extremely sustainable, but it will also clearly save you money on your build.
10. Build Off The Grid
In case you haven't caught on, sustainable living in general has become a huge trend in recent years. Which is why off the grid housing, or self-sufficient homes, are appealing to more and more people over time.
Off the grid homes rely on natural energy resources, like solar or wind powered generators and composting toilets, and many self-sufficient homeowners also take part in gardening and harvesting home grown foods.
If you're passionate about sustainability and want to give this net-zero lifestyle a try, then check out off-grid home plans or peruse the expansive online community for more information.
How To Build A Cheap House: FAQs
Can I Get A Mortgage to Finance My DIY Build?
As we mentioned earlier, there are construction loans available for application depending on your type of build. However, with construction loans, the money will go directly to your contractor as the build is completed, rather than you, the homeowner.
And for lower-cost builds, like our tiny homes or shipping container models, financing gets even trickier. Most homes won't qualify for any kind of loan unless it has a permanent foundation, and even if your home is on wheels, chances are it may not meet the requirements to qualify for an RV or motorhome loan, either. In this case, it'd probably be easiest to look into applying for a personal loan.
What Are Some Costly Errors To Avoid?
Firstly, be prepared. You should be absolutely confident that you have all of the proper construction permits you need and that you meet your area's zoning regulations before construction even begins. Getting caught building without a permit will not only delay your build for extended periods of time, but the fees can cost you over double the price of the original permit.
Secondly, during your build you should also know what you're doing or hire somebody who does. Plumbing or electrical mishaps will cost you a pretty penny if you make a mistake early on, especially if you don't catch it right away. So, set yourself up for success and subcontract the help of an expert if you're not totally confident in a certain aspect of your build.
Are There Communities of Tiny Homes?
As we discussed earlier, yes, the tiny home phenomenon has cultivated a rich online community filled with tiny-home owners. You can find communities who vlog about their lifestyle on YouTube, influencers on Instagram, and endless Q&As and advice on Reddit. Don't be afraid to reach out to these like-minded people to learn more about the lifestyle and figure out if it's truly right for you.
Summary: Building Your Own House Can Save Big Bucks
Today we learned:
When and how to start your build with the help of a contractor
When it's smart to DIY your build
How to save money with simple architecture
The benefits of energy efficient homes
What's important to focus on during your build and what can be added on later
Various unconventional home lifestyles
Whether you're looking to build a unique and more unconventional home, are interested in living sustainably, or just want to save as much as you can with your home build, there are plenty of options when it comes to building your dream home.
For more construction tips or advice on how to finance your future home, check out our Learning Center for more resources.
Apply for a Mortgage with Quicken Loans®
Call our Home Loans Experts at (800) 251-9080 to begin your mortgage application, or apply online to review your loan options.
Start Your Application