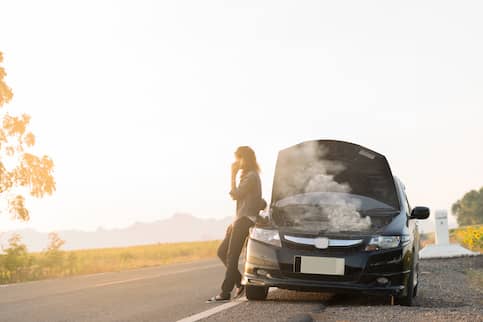 How To Get A Personal Loan
Published on August 8, 2022
If you're looking for a way to pay down debt, cover a financial emergency or fund a major expense, a personal loan can help. There are many different types of personal loans you can apply for, and they're generally available through banks and online lenders.
However, there are many different steps involved in applying for a personal loan. This article will explain how to get a personal loan, and what to do before applying.
What Is A Personal Loan?
A personal loan is an unsecured installment loan available through a bank, credit union or online lender. When you apply for a personal loan, you'll receive a one-time lump sum that will be repaid monthly at a fixed interest rate.
Borrowers with good credit will receive the best rate and terms on a personal loan. You can use a personal loan to fund a home improvement project, pay for auto or medical expenses, or consolidate debt.
Types Of Personal Loans
Before applying for a personal loan, you need to know what you plan to spend the money on. The type of expense will determine the type of personal loan you apply for.
Here are some of the different types of personal loans available:
Debt consolidation loans:

A debt consolidation loan is a personal loan you take out to pay off high-interest debt. It combines multiple debts into one loan at a lower interest rate.

Co-signer loans:

If you have limited credit history or your credit score is low, you may be required to apply for a personal loan with a co-signer. A co-signer applies for the loan with you and takes responsibility for repaying the loan if you default on it.

Secured and unsecured loans:

Secured loans require some type of collateral to take out the loan while unsecured loans are available without collateral. Personal loans are typically unsecured, but some loans may require you to put down an asset as collateral.

Fixed-rate loans:

If you take out a fixed-rate loan, the interest rate won't change over the life of the loan.

Variable-rate loans:

A variable-rate, or adjustable-rate, loan has an interest rate that changes over time.
Where Can I Get A Personal Loan?
If you're looking for a personal loan, you can apply for one with the following types of lenders:
Banks and credit unions:

Banks and credit unions usually offer low rates on personal loans, but they can be harder to apply for. This could be a good option if you already have an existing relationship with a local bank or credit union.

Online lenders:

Online lenders like Rocket Loans℠

work with banks to expedite personal loans. They often come with an easier application and approval process and you may receive the funds faster.

Non-banking financial institutions (NBFIs):

Online finance companies, insurance companies, peer-to-peer lenders, and payday lenders are all examples of non-banking financial institutions (NBFIs).
What Do I Need To Apply For A Personal Loan?
Before applying for a personal loan, it's a good idea to gather all the required documentation first. Going into the loan application prepared will help you go through the loan process more quickly.
Before applying, you'll need the following information:
A form of personal identification:

You can verify your ID with a driver's license, passport, or Social Security card.

Proof of income:

You'll also need to show the bank you have a regular source of income. You can do this by providing your paystubs, W-2, and tax returns.

Employment information:

The bank won't just take you at your word that you're employed. You'll also need to provide your manager's name and contact information as well as the company name.

Proof of residence:

To show proof of residence, you can provide utility bills, lease agreements or other documents proving where you live.
How To Apply For A Personal Loan In 9 Steps
If you're ready to apply for a personal loan, you'll take the following nine steps to apply.
1. Figure Out What You Can Afford
Before taking out a personal loan, you need to ensure you're ready for the financial commitment. You can use a personal loan calculator to estimate what the monthly payments will be. This gives you time to look at your budget and ensure you can afford the payments before committing to a long-term loan.
However, there may be additional fees you have to account for. For instance, some lenders charge an origination fee which is typically between 1% – 5% of the total loan proceeds. So, if you take out a $20,000 loan, you could pay an origination fee between $200 – $1,000.
2. Check Your Credit Score And Report
Creditworthy borrowers will qualify for the best rates and terms on a personal loan. So before applying, you should request a copy of your credit report and find out what your score is to give you a better idea of where you stand.
If you have a bad credit score, then building credit should be at the top of your to-do list before applying for a personal loan. However, applying with a co-signer or co-borrower can also improve your odds of qualifying for a personal loan.
3. Choose Your Personal Loan Type
You should know which type of personal loan you want to obtain before starting the application process. For instance, if you're looking to pay down high-interest credit card debt, you may want to apply for a debt consolidation loan.
Or if you have poor credit you may want to apply with a co-signer to increase your odds of approval. If no one is willing to co-sign for you, you could apply for a secured loan instead.
4. Get Prequalified
The next step is to get prequalified for your personal loan. When you get prequalified, your lender does a soft check on your credit and lets you know the type of loan amount and interest rate you qualify for.
This allows you to see what kind of loan you can expect to receive without dinging your credit report. Getting prequalified is fairly simple and usually just involves filling out and submitting an online form on your lender's website.
5. Shop Around For A Lender
Instead of just accepting the first offer you receive, it's a good idea to get prequalified with several different lenders and compare your loan offers. You should do this all at once to avoid a hard pull on your credit.
Shopping around for different lenders allows you to find the best rates and terms. It also gives you a chance to see how different lenders work and find one that you're comfortable with. When comparing lenders, make sure to read the fine print and understand what comes with each offer.
In addition to comparing the interest rates, you want to look at any fees you're expected to pay. That includes things like origination fees, prepayment penalties or late fees.
6. Apply For The Personal Loan
Once you've compared your options and chosen a lender that best suits your needs, it's time to start the formal application process. Depending on the lender you chose, you may be able to complete the entire application process online. If you choose a bank or credit union, you may have to complete the application in person.
During the application process, your lender will need to see proof of employment and income. They'll also review your credit score, credit history and debt-to-income ratio to see if you're a good candidate for a personal loan.
7. Provide Lender With Required Documents
After you submit your application, your lender may ask for additional documentation like paystubs or proof of residence. Having these documents on hand and ready to be sent to the lender will make the application process easier and faster.
8. Close On The Loan
Once your application is submitted and approved, you can choose which loan you're going to proceed with. At that point, you need to sign the papers and close on your loan. Once you've closed on the loan, you'll receive the funds, and the loan repayment period begins.
9. Start Making Personal Loan Payments
After you've closed on the loan, you'll typically receive your funds within a week depending on the lender's process. This is a great time to begin setting up automatic monthly payments.
Setting up automatic payments will ensure there are no late fees or missed payments. And some lenders offer a slight discount for setting up auto-pay. And putting a payment plan in place ensures you have a plan for how you'll repay your loan and won't be scrambling every month to make your payments.
The Bottom Line: Getting A Personal Loan Is A Straightforward Process
A personal loan can help you fund a major purchase, consolidate your debt or cover a financial emergency. Shop around among different lenders and compare the rates and terms you're offered.
If you're ready to start the prequalification process, you can apply for a loan with Rocket Loans to see what you qualify for. With Rocket Loans, you can apply online within minutes and get funding the same day.
Getting A Personal Loan Has Never Been Easier.
The Rocket LoansSM application process makes borrowing simple.
Apply Now