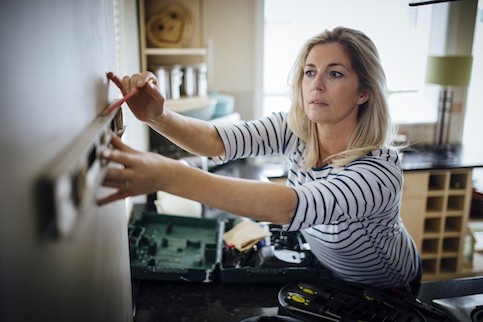 Unexpected Costs That Can Break Your Remodel Budget
Remodeling is a great way to update an outdated room, transform an unused space or just give your home a facelift. A remodel can also add value when you're getting ready to put your home on the market.
No matter how careful you are with your remodel budget, though, unexpected costs can sneak up on you. Discover what things to look out for and how to avoid them altogether or reduce costs when they occur.
Remodeling Your Expectations
One of the biggest hidden costs of a remodel results from homeowners changing their minds about what they want or becoming impatient.
If your contractor has already subcontracted out some work to others, like cabinet makers or custom furniture designers, you have to pay them whether you actually use what they've made or not.
To avoid these costs, do your research well in advance of hiring your contractor. If you're worried about the progress of the project, ask questions. Behind-the-scenes work takes time and money, so don't assume the job isn't getting done and then change your mind just because you don't see progress.
Revealing Your Structure
Anytime you're moving a wall for an open floor plan, adding new walls or making a change to the structure of your home, you have to account for structural changes.
Tearing down a wall might reveal water damage, mold, pests that need to be exterminated or asbestos that needs to be removed. Adding new walls may mean running new electrical wires, installing outlets, adding plumbing or hiding HVAC ducts.
Some of these hidden costs are unavoidable, such as asbestos removal or pest extermination. The best way to prepare is to allow an extra 10-15% in your budget for these types of expenses. To prepare for costs related to wiring, plumbing and HVAC, discuss your planned uses of the remodeled rooms so your contractor can work these in ahead of time.
Bringing Your Home Up to Code
Building codes exist to ensure your home is safe, but codes change all the time. The older your home is, the more likely you'll run into things that are not up to code.
Contractors are obligated to bring the building up to code or could be in danger of losing their contracting license. Plus, living in a home that's not up to code could put you and your family at risk.
This is another example of an issue that can't really be avoided, but you can prepare by doing diligent research before the remodel. Consider the age of your home and any updates in energy efficiency that might affect your house meeting building codes.
Also, think about recent events in your area, like natural disasters or increases in commercial buildings close to your neighborhood, which might introduce new codes. Discuss possible code issues with your contractor at the first meeting.
Increasing Utility Bills
Although the extra electricity used by all the power tools during your remodel may be negligible, it's worth mentioning that your utility bills may be a little higher until the remodel is complete. If you've already run into other unexpected expenses, that extra cost on your electric bill could be the straw that breaks the camel's back. Just be aware that power tools, compressors and other equipment might add a few bucks to your remodel.
Boarding Your Pets
You don't want your fur babies getting underfoot during your remodel.
Veterinarian Karen Halligan warns that any animals or the contractor could get hurt, or accidents could cause material damage, adding even more money to the final tally.
Halligan suggests that boarding pets for some or all of the remodel may be the best option.
You can prepare for this by being upfront with your contractor. Let the team know that you have pets, ask for estimated timelines and examine your boarding options before the remodel starts. If you have friends or relatives who are willing to take your pets for a while, take advantage of the favor.
Dining Out
If your remodel involves the kitchen, remodel safely and expect to make alternative dining plans. You may not have access to gas or power for some appliances, or the kitchen area may be off-limits altogether. If either is the case, you may find yourself dining out more than usual.
To keep it to a minimum, you can ask the contractor to create a temporary kitchen area. If that's not feasible, you can set up your own makeshift eatery, with a microwave or other countertop kitchen appliances, in another room of the house. Or, if the weather permits, cook outside on the barbecue. If all else fails, consider no-cook meals and snacks until your kitchen is back in commission.
Remodeling is stressful enough without added expenses, but being prepared can help ease your anxiety. Keep open lines of communication with your contractor, and expect a few bumps along the way. Try getting creative to finance those unexpected remodeling costs.
Do you have tips to save from going over budget during a remodel? Share them in our comment section!
Apply Online with Rocket Mortgage
Get approved with Rocket Mortgage® – and do it all online. You can get a real, customizable mortgage solution based on your unique financial situation.
Apply Online