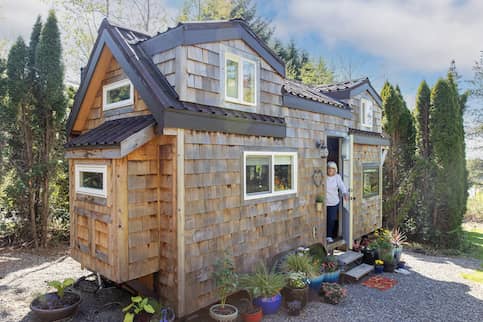 How To Build A Tiny House: A Step-By-Step Guide
Published on January 10. 2023
If you're ready to downsize and the thought of living in a small, custom-made home excites you, consider learning how to build a tiny house of your own.
You can DIY the entire project or keep costs down by doing some work yourself, while you get help with the more complicated parts. The tiny home life is a new lifestyle that people are embracing, and if you're into off-grid life or living as a minimalist, this type of home may be right for you.
What Is A Tiny House?
A tiny house is a structure that is much smaller than a traditional house and can be built on a mobile platform or permanent foundation. According to a study by Porch.com, it is any house that measures less than 600 square feet. The study found the average tiny house in the U.S. is only 225 square feet and these structures average $52,000, or 87% less than regular houses.
Why Build A Tiny House?
You might wonder why anyone would consider a tiny house given its small size, but there are many reasons, including the following:
Many people are turning to a minimalist lifestyle, especially after the kids move out and downsizing seems like the right choice. Many families do it because they want to and not because they have to for monetary reasons.

Tiny houses have the same charm as full-size houses, just in less space. The rooms are smaller, but the home is still fully livable.

Owners can save money on energy costs. Since tiny houses are smaller, there are fewer areas to light, heat and cool. This can save you hundreds of dollars a month and thousands of dollars a year on utilities.

You can completely customize your tiny home. Since they aren't cookie-cutter homes built in a subdivision, you can build the home exactly how you want.

These homes can be built on a mobile platform, meaning you can travel with your home and live almost anywhere.
How To Build A Tiny Home
Building a tiny house can initially feel overwhelming, but with these simple steps, you'll see that it can be manageable.
Step 1: Choose A Type Of Tiny House
Before starting construction, it's important to determine your needs in a home. Prioritize those first, then move on to your wants.
Decide On A Tiny House That Meets Your Needs
As you think about your home's necessities, consider the following:
Building on wheels if you'll travel often

Consider living off-grid for more sustainability and privacy

Think about the features you must have in your home for safety, comfort and accessibility

Consider paring as many items as possible as a part of your downsizing process
Figure Out Your Floor Plan
As you prepare your floor plan, picture yourself in the home and think about how you feel. If you want to physically see how tiny the area is, tape it out on the floor with painter's tape. Mark the exact square feet of important rooms like the kitchen to ensure it provides enough space.
As you create the floor plan of your tiny house, don't forget about living space. Think about where you and maybe another person will spend most of your time, and account for the time you'll need apart.
When preparing your tiny house design, check with the local building codes to ensure you meet the requirements.
Step 2: Buy Land For Your Tiny House
If you're not building a tiny house on a mobile platform, you'll need land. Unfortunately, since land is a finite resource, finding the land you want can be one of the hardest parts of the building process.
When you find land, you must either pay for it in cash or get a land loan to buy the property for your tiny house. Financing terms are stricter with land loans because there isn't much collateral for the bank to use if you default. However, if you have solid plans to build on the land immediately, it can be easier to secure financing. Not all lenders offer land loans, so you may have to do your research. Rocket mortgage® doesn't offer land loans at this time.
Check Local Laws
Zoning laws can make finding a place to keep your tiny house difficult. Always research local zoning laws and ask questions to ensure your home is compliant.
For example, many areas prohibit long-term parking of tiny houses, lumping them into the same category as RVs. Other communities have more flexible guidelines. However, they often require minimum square footage of 2,000 feet, which excludes tiny houses.
The easiest way to ensure you follow the area's laws is to find a tiny home community and buy a plot within its confines.
Apply For Any Needed Permits Or Variances
Make sure you have all the permits you need to build your home. Your work must fall within the zoning laws to get the permits. If it doesn't, consider filing for a variance to get permission to do the construction you planned for your tiny home. Prepare your arguments and consider hiring an attorney to plead your case.
Step 3: Set Your Budget
Much like building a regular home, the cost of building a tiny home varies widely. It depends on the house size and style, materials and labor cost. According to HomeAdvisor, the average cost of a tiny home is between $30,000 and $60,000. The most basic kit home can cost as little as $4,000, while luxury tiny homes can cost over $150,000.
If you want to minimize costs and ensure you get the features you want in the home, consider a DIY project for as much of the construction as possible. Labor can make up to 30% – 60% of the project cost. A few other ways to lower costs include purchasing tiny houses as kits or prefabricated homes. In addition, the less customized your tiny home is, the less it will likely cost.
Step 4: Get Your Financing Together
Tiny doesn't always mean cheap, and if you don't have the cash to pay for a tiny house in full, you will need financing.
A tiny house on wheels is considered a mobile home, which means it may not be considered real property. Typically, a house must be permanently affixed to the ground to classify it as real property. If that's not the case, the house won't qualify for traditional financing.
However, tiny houses on a foundation are considered unique properties. Because there aren't many of them around under 1,000 square feet, it can be difficult for appraisers to determine the home's fair market value.
Step 5: Assemble Your Materials
There are many choices of materials when building a tiny house. However, supply chains have remained shaky since the pandemic, so it's best to look at a material's availability before choosing it.
Most commonly, tiny house homeowners build their homes with wood, but another suitable option is steel. However, steel tends to be more expensive than wood, so the people who choose it need a heavier material for their homes.
As for siding, homeowners use many materials, including vinyl, wood and metal. If you're on a tight budget, consider using recycled materials to save money.
Step 6: Start Building
The final step is to build your home! If you hire someone to do it, your job is done. However, if you're doing it yourself, you can access DIY videos and articles online to help you through the process.
Tiny Home FAQs
Are There Tiny Home Communities?
Typically, tiny houses exist outside of tiny-home-specific communities. However, there are some where like-minded homeowners live together in their tiny homes. A few popular areas of tiny home communities include Cloudland, Georgia; Las Vegas, Nevada; and Lyons, Colorado.
Will My Tiny Home Appreciate In Value?
It's too early to predict if tiny homes will appreciate. While the hope is that they will, there isn't a huge market for them yet. They are still considered unique properties. Since appraisers and underwriters rely on comparable properties to determine a home's market value, there isn't a lot of data for them to use to measure a tiny home's likelihood of appreciation.
Can I Get A Mortgage To Buy A Tiny House?
There is financing for tiny houses. However, it's harder to find than traditional loans. In addition, when financing a tiny home, you must follow the lender's guidelines, including whether the home is mobile or permanent, and they may require a loan minimum, which a tiny house might not meet. This differs from buying a traditional home in many cases. If you need financing to build the home, you may need a construction loan since the home is not yet complete.
Other options for financing a tiny house include a personal loan, RV loan or builder financing.
The Bottom Line: Tiny Homes Can Help Big Dreams Come True
Building a tiny home can help your off-grid, travel or sustainable living dreams come true. Of course, it's not for everyone – especially if you aren't ready for such an extreme act of downsizing. Luckily, there are other options, including a smaller traditional house.
If you're ready to consider a smaller house – but not so tiny – apply for financing online now and see how we can help you find the best home option for your goals.