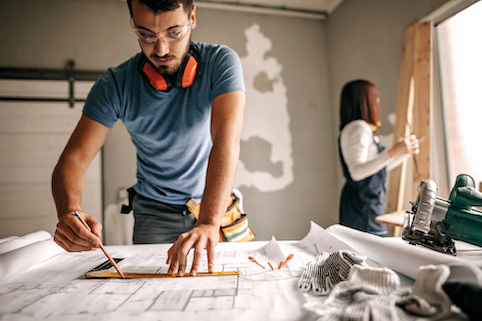 What Is A Construction Loan And How Does It Work?
Published on October 3, 2022
If you've been going from open house to open house and not finding anything you like, you might decide it's time to build the home you want yourself. While building a new home can be expensive, it's not completely out of reach, especially if you live in an area with open land available for development.
However, getting a loan to finance the process could be a challenge. If you want to build a brand-new house from the ground up but don't have the funds to do so out of pocket, a construction loan will likely be your best option. Learning how these loans work can help you to get the loan you need to build the right house for you. Let's break it all down to see if a construction loan is right for you.
What Is A Construction Loan?
A home construction loan is a short-term loan with a higher interest rate that's used to cover the costs of building a home. Here are a few details about construction loans to consider:
Construction loans are short-term loans, so funds are typically available for 12 – 18 months while construction is being completed.
Construction loan funds are only available during the building phase of your home and can't be used to furnish or decorate your home once it's built.
Once the funds from the construction loan have been used and the house has been built, this type of loan is typically converted or refinanced into a standard long-term mortgage loan.
See What You Qualify For
Congratulations! Based on the information you have provided, you are eligible to continue your home loan process online with Rocket Mortgage.
If a sign-in page does not automatically pop up in a new tab, click here
How Does A Construction Loan Work?
With construction loans, the money doesn't come in all at once. Instead, the builder receives an array of disbursements that are called draws. Whenever your builder requests a new draw to cover the finances for the next stage of work, the lender will send out an inspector to the construction site to check out the progress on their behalf for approval to move forward and pay for the next stage.
Before you break ground, be sure both you and your builder understand the lender's draw schedule, including when and how disbursements are made.
With a construction loan the funds go directly to the builder or general contractor as needed. These funds can be used for all the costs related to the project, including:
Permit costs
Land
Construction materials
Labor
Landscaping
Appliances
How To Get A Construction Loan
The construction loan application process is similar to a mortgage, but before you can get a construction loan, you need a plan for your future house. Once you've got your plan, you've obtained your loan approval and you're preparing to break ground, your builder will receive the first disbursement of the funds.
Check Your Finances
Getting a construction loan is similar to getting a regular mortgage. You'll be asked to provide documentation like tax returns, W-2s and bank statements that demonstrate your ability to afford the loan. The lender will also pull your credit score. The construction loan lender may also require that you have a certain amount of cash set aside in case building costs end up being higher than expected.
To qualify, you'll typically need:
These will vary since different construction loan lenders may have different requirements.
Find A Builder
Before you can get approved for a construction loan, you'll have to show the lender the detailed plans for the project, including cost estimates. To do that, you'll need to find a qualified home builder in your area.
The National Association of Home Builders (NAHB) has an online directory to help you get started, but you'll want to carefully research any contractor before you commit. Don't be afraid to ask hard questions, as finding the right builder can make a big difference in the long run.
In some cases, your lender may also need to approve of the company that's building your home before approving the loan. You'll also need to make sure that your builder understands your lender's draw schedule.
Get Preapproved
You won't be approved for a construction loan until you have all the previously mentioned details sorted out. However, you may want to start having conversations with potential lenders before you begin the planning process. This gives you the flexibility to shop around for different lenders so you can get a better idea of how much you'll likely be able to borrow.
Purchase Homeowners Insurance
While you probably won't be living in your home while it's being built, your lender may require you to purchase homeowners insurance with builder's risk coverage before they approve your loan. This helps protect you during construction and you can convert it into regular homeowners insurance policy once construction is finished.
Getting A Personal Loan Has Never Been Easier.
The Rocket LoansSM application process makes borrowing simple.
Apply Now
Types Of Construction Loans
As you shop around for loans, you'll need to decide which type of loan makes the most sense for you. A few different types of construction loans are available, each with its own pros, cons and requirements.
Construction-Only Loan
A construction-only loan is exactly what it sounds like: You're receiving the funds to cover only the cost of construction. After that, you'll need to get another separate loan to refinance the construction loan into a mortgage.
With these types of loans, you'll go through two separate application processes and two separate closings. This can mean extra documentation and paperwork, and possibly higher closing costs.
The main benefit of these types of construction loans is that they give you the freedom to shop around for your mortgage. When you get a construction-to-permanent loan, you're limited to whatever rates and terms are offered by the construction loan lender. Construction-only loans allow you to find the mortgage that's best for you.
End Loan
If you happen to come across the term "end loan" in your search for a construction loan, this is simply referring to the final mortgage loan that you'll use to pay off your initial construction loan.
Construction-to-Permanent Loan
A construction-to-permanent loan is a construction loan that converts to a permanent mortgage once the building is completed.
With this type of loan, all of your financing is rolled into a single transaction, meaning you'll only have to complete one application and go through one closing process. This can make financing your home simpler and potentially cheaper, as you'll only be paying closing costs on one loan.
Additionally, with a construction-to-permanent loan, you don't have to worry about not being able to obtain financing for a mortgage once your home is completed. Once you have your approval for the loan, you won't need to go through the approval process again. The loan will simply convert into a permanent loan when construction is completed.
Owner-Builder Construction Loan
Owner-builder construction loans are aimed at individuals who wish to be their own general contractor instead of hiring a builder to manage the process and all the subcontractors involved. While acting as your own general contractor can save you money, this option is typically only available to those who have proven experience as a home builder or are licensed to oversee these types of projects.
FHA Construction Loans
If your credit score doesn't qualify you for a conventional construction loan, you may be able to qualify for an FHA 203(k) loan. These are government-backed loans provided by the Federal Housing Administration (FHA) that can be used as a construction-to-permanent loan. FHA 203(k) loans allow you to borrow with a lower down payment, but include additional fees and requirements.
VA Construction Loans
If you're a qualifying veteran or spouse, you may be able to take advantage of a VA construction loan from the Department of Veterans Affairs (VA). These programs allow you to borrow money to buy land, and finance both the construction of a new home and a future mortgage.
Construction Loans Vs. Renovation Loans
Sometimes construction and renovation loans may be mixed together or used interchangeably. However, while construction loans are designed to build a new home, renovation loans are intended to improve or repair an existing property.
If you're a current homeowner and looking to finance your renovation, there are options available. Another option
These may include fixer-upper properties and could take the form of financing from government-sponsored enterprises, such as Fannie Mae HomeStyle® and Freddie Mac CHOICE® low down payment renovation loans. FHA 203(k) loans can also be used as renovation loans
How Do Construction Loan Interest Rates Work?
Your interest rate on a construction loan will depend in part on the type of loan you get, but construction-to-permanent loan rates are typically more in line with standard mortgage rates, while construction-only loan rates might be slightly higher.
This is because the length of the term is usually 12 – 18 months, compared to the 15 – 30-year terms of a mortgage. Also, until the house is complete, it can't serve as collateral for the loan.
During building, you can typically make interest-only payments on the loan, and you'll only be charged interest on the amount that's been disbursed. However, once the building process is complete, you'll need to pay off the balance of the loan or refinance the remaining balance into a longer-term mortgage loan.
Construction Loan FAQs
Have more questions about construction loans? We have answers.
Can you use land as collateral for a construction loan?
Yes. If you already own the land that you're using to build your home, you can use it as collateral for a construction loan. This may allow you to get a larger loan or make a smaller down payment.
Can you use construction loans to buy furniture?
No. If you don't use all of the construction loan, the remaining balance is either directly refunded to you or taken off your balance. While you can't use the construction loan on furniture or decor, you can use it on landscaping, appliances or other permanent fixtures.
Can construction loans cover the design phase of home construction?
Unfortunately no. If you want to hire a builder to come up with the plans and cost estimates for your home proposal, you'll need to pay that money out of pocket or obtain a separate personal loan.
The Bottom Line: If You Can Borrow It, You Can Build It
Building a house can seem overwhelming, but construction loans can relieve some of the stress. Make sure to reach out to different lenders and shop around for the best rates when looking for construction loans.
While Rocket Mortgage doesn't offer construction loans, we can help you get a refinance to turn your construction loan into a regular mortgage once the building is complete.