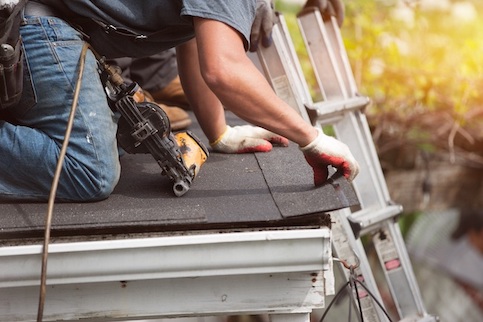 Need Repairs? 5 Steps to Hiring a Reputable Contractor
Published on October 9, 2019
If you're in need of a major home repair, you may want to get it done as soon as possible in order to minimize the headache of a disruption in your living space. There's also the temptation to pick the first option you find on Google.
Moreover, if there's been a recent storm or other event and lots of properties in the area need repair, you'll need to be aware of the potential for a scam. If you don't get a good vibe, it's a major warning sign.
Reputable home improvement companies don't wander around looking for customers. These individuals are seeking out people who are stressed and may jump on a good deal without checking credentials.
Chances are they'll either do a substandard job and you won't be able to find them to redo or complete the work, or, especially if you've paid upfront, you'll never see them again.
When it comes to hiring contractors who come to the door, Angie Hicks, founder of Angie's List, urges caution. "If someone's going door-to-door, you should pass on hiring that company and do your research. You'll want to work with a local company that has a good reputation," says Hicks.
With that in mind, there are five steps that will guide you on how to hire a reputable contractor.
Get Multiple Bids
Speak with several contractors who specialize in the kind of job you need done and get written estimates from at least three, whether you're looking to hire a general, independent or home renovation contractor. When you compare estimates, look beyond price to compare the quality of the building materials, work methods and timelines. Be cautious of estimates that are too high or too low and ask questions about anything you're not sure about. You'll want to hire a contractor who communicates well with you – so if there are signs of nonresponsiveness now, look out!
When you're reviewing the bids, make sure they're showing you fixed prices for the work and not something that's going to change without good reason once the project starts. The goal here is to minimize additional surprises and stress.
Hire Local When Possible
Local contractors should be easier to contact before, during and after your project, and may be more familiar with local building codes or homeowners association restrictions. Ask for a physical address and references so you can inquire about the quality of their products, their workmanship and if the customer would hire them again.
It's a good idea to check with the Better Business Bureau, too. I recently hired a tree-removal contractor who assured me he was licensed and insured. However, when I entered his name, I learned the BBB gave him an F rating (their lowest) and he wasn't licensed. BBB also has a scam tracker on its website to help you spot scammers and file a report.
Check Credentials
Make sure a contractor's credentials are in order, including licenses, bonding, insurance and references. "Don't just take their word for it," says Hicks. "Ask for a copy of their insurance policy." The contractor's certificate of insurance should provide the name of the insurance company, policy number and the policy limits. It's a good idea to contact the insurance company directly to ensure the policy is in effect and to verify coverage. "You'll want to make sure they're insured for damage to your property and injury to any of their workers who are hurt on your property," says Hicks.
In addition to the BBB, states will often have a registrar of contractors where you can check the person's licensing and whether they have any complaints or concerns against them. How long the contractor has been licensed can also be important because inexperienced contractors carry more risk than someone who's been around the block.
Finally, be sure to look at online reviews at sites like Angie's List and others. There's no substitute for the insight that comes from personal experience.
Don't Rush
Read the fine print on all estimates and contracts. If a contractor says you need to sign immediately, watch out. Take your time and do your due diligence. Even if you're recovering from an emergency and don't have time to thoroughly research a contractor, ask neighbors, family or friends to see if they've had a good experience with an emergency services contractor. Don't hire that person walking around! Don't pay in advance or in cash! And don't pay in full until the project is complete and you've done your final inspection. Plus, if subcontractors were used, ask for signed releases so it's documented that they've been paid in full by the contractor, advises HomeAdvisor.
Keep a Project File
A written contract signed by both parties should outline the project, including its start and estimated end date, cost and payment milestones. If it's a large project, for example, you might pay one-half down and one-third when work is partially completed, and the balance due upon completion and inspection of repairs. The contract should outline all guarantees – what is guaranteed, who is responsible for the guarantee and how long the guarantee is valid. Contract changes should be acknowledged by all parties and in writing, says HomeAdvisor. Keep everything about the project in a file because, after all, "You never think you're going to have a problem until you do," says Hicks.
It's a good idea to keep all project plans because you'll need them in order to move forward if you're doing something like a renovation loan or a similar mortgage option. It's crucial to have this kind of documentation because progress and home value are evaluated by referencing the original plans for the project.
Do you have any advice on contract services? Let us know in the comments below!
Apply for a mortgage today!
Apply online for expert recommendations with real interest rates and payments.
Start Your Application