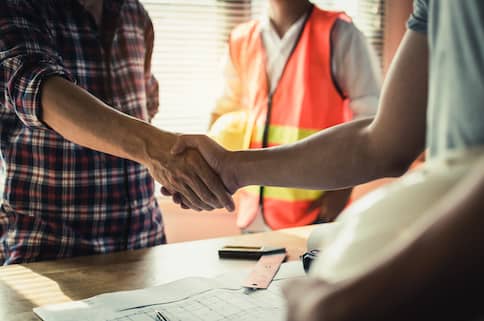 Hiring A Contractor: A How-To Guide For Homeowners
Published on March 21, 2023
Tackling any type of home renovation project may seem overwhelming. Perhaps you need to knock down a wall to have room for the kitchen island of your dreams. Maybe you want to create more space by adding a finished basement to your home. Whatever project you have in mind, it's always a good idea to turn to an expert.
The right contractor will be able to handle everything, from sourcing materials to completing your home renovation efficiently. However, finding a contractor you can trust to bring your vision to life might not be as easy as you think.
How To Hire A Contractor In 7 Steps
You have the project in mind when you're on the hunt for a contractor. Now, how can you ensure that you find the right expert for the job? Here are seven steps you need to take.
1. Decide On The Type Of Contractor You Need
Depending on your home improvement project, there's a contractor who will best suit the job. Keep in mind that there are several kinds of contractors, so be sure to consider exactly what you need when you're looking for the person to do the job.
There are general contractors and specialty contractors, and there's a major difference in their roles on a project. General contractors are responsible for overseeing a construction assignment. Instead of completing the work on their own, they hire subcontractors who complete the projects. Essentially, they supervise and manage large-scale assignments to ensure the job is being done efficiently.
Specialty contractors are experts at completing specific projects. Plumbers, electricians, carpenters, floor layers, roofers and HVAC technicians are considered specialized contractors. If you're looking to have minor to moderate work done, like installing new plumbing or knocking down walls, it might be best to hire a specialty contractor.
2. Establish A Renovation Budget
Creating a remodel budget is a crucial component of any renovation plan. What needs to be considered in your budget? The obvious things like materials and labor are a must, but you should also include the cost of any required inspections, as they're essential to ensure a renovation is in compliance with local codes.
You should also establish how you would finance the project, whether it's from your personal funds or tapping into your equity to do a cash-out refinance. Make sure you have everything laid out ahead of time to minimize your chances of going over budget.
3. Seek Referrals And Recommendations
You'll often find that word-of-mouth recommendations are quite reliable. Ask your friends, family, co-workers and neighbors if they know of any contractors that can get the job done. If you have a trusted real estate professional that you've worked with in the past, they may also be able to point you in the right direction. Thanks to the internet, you can also search for reviews online.
4. Check Credentials
Any contractor you want to work with should be transparent when it comes to what they do. First, it's important to make sure the contractors you're interested in are licensed and insured. Having the proper credentials will not only show you they're reliable, but it could also protect them and yourself in the case of a mishap. Asking a contractor if they're insured and licensed are must-ask questions during the interview process, as it could save you thousands down the line if anyone is injured, or anything is damaged.
You should also ask for photos from previous jobs and request a portfolio so you can see their completed projects. See what types of work they've done in the past and make sure it aligns with what you're wanting them to do for your home. If they've worked on projects like yours in the past and you're happy with the way those projects look, they may be worth hiring.
You can also turn to the Better Business Bureau (BBB) as a viable source for information on your prospective contractor. The BBB is a nonprofit organization that collects information about licensed businesses, and rates them based on that information. Ratings are based on ample factors including the type of business, how long it has been around, transparency of business factors and public complaints. While BBB ratings are not a guarantee of a business's reliability or performance, they can still provide useful information.
5. Get Multiple Bids
Getting multiple bids can ensure you're getting the best value and quality for your home improvement project. This allows you to compare not only price, but everything from years of experience to cleanup. Having multiple options allows you to look at the different highlights each contractor has and decide which one gives you the most bang for your buck. For instance, you might be quoted the same price from two contractors, but one might have a more interesting portfolio, offer outside services (like cleanup), or secure the required building permits for you. Having a few options gives you the flexibility to choose whoever offers the best value for your specific goals.
6. Choose The Right Contractor For You
Now that you've thought about the job you want done and you've considered price estimates, the quality of work and how you'll afford to get the work done, it's time to choose the right contractor for you. Be sure you carefully consider your options. Contractual work is an expensive, long-term investment, so you want to be sure that you choose a contractor that your future self will be happy with.
7. Establish A Payment Schedule
Now that you've picked the best contractor for your project, it's time to establish a payment arrangement. Usually, contractors don't receive a lump-sum payment. Instead, a construction agreement is typically broken into progress payments that are made at regular intervals. For instance, you may come to an agreement that serves you an invoice at the end of every month with 10-20 days to pay the contractor.
Additional Tips For Hiring A Contractor
While you should follow the seven steps above when you're looking to hire a contractor, it's also important to:
Take Your Time
Getting your dream project completed is exciting, but it's very important that you don't rush the process. Just like buying a house or car, home renovation projects are long-term commitments. Rushing the process can result in subpar or overpriced work, so you want to be patient going into this. Take your time finding the right contractor and let them finish the project efficiently – don't cut corners.
Keep A Project File
Keeping track of contracts, invoices, proof of insurance and all other project documents will protect you in the case of any mishaps. Fingers crossed that your project can be completed without any hiccups, but unfortunately things sometimes happen. Whether a contractor gets injured on the job, a pipe is destroyed or work is not done according to your contract, having your paperwork organized will save you from a headache later down the line. Keep track of all your documents and store them in a safe, accessible place.
Hire Local
Hiring local has plenty of perks. Not only would you be supporting businesses in your community, but you could also save money because travel expenses will not be totaled into your final cost. Furthermore, scheduling inspections, getting estimates and resolving problems will be faster and more flexible. Having a contractor who is readily available means being able to have face-to-face communication, which is far more reliable and helpful than virtual assistance.
It's also more likely that contractors in your community have a reputation with other locals, meaning that you can receive more accurate ratings from people in your area. If you decide to hire a general contractor, it's likely that they will have relationships with subcontractors in the area, ensuring the best of the bunch are hired to complete your project.
Consider Insurance
It's likely that you already have homeowners, auto and health insurance. However, if you're not equipped with coverage, it's crucial that you have coverage before your renovation project starts.
Your contractor should have liability insurance, which would ensure you're paid in the case someone is injured, or someone's property is damaged, and they're legally liable. If they're not found legally liable for any reason, you'll be responsible for the costs associated with the damage. If a contractor is not insured, you should not hire them.
Ready for a remodel?
Get the money you need for your next home improvement project with Rocket LoansSM.
See My Loan Options
Questions To Ask When Hiring A Contractor
Be sure to ask plenty of questions before you hire a contractor. Questions may include:
Can you provide images of previous work?
Can you provide references?
Are you licensed?
Are you insured?
Do you have flexible payment schedules?
What types of projects do you have the most experience with?
Asking these questions prior to making a hiring decision can save you trouble down the road. Make sure you're making the right choice by checking that the contractor you're choosing is skilled, reliable and insured.
The Bottom Line
Hiring a contractor to complete the project of your dreams can be exciting, but it's also crucial that you're careful in your decision making. Don't rush and settle on the first (or cheapest) contractor that you come across. Instead, take your time and do proper research to avoid ending up with work that is unsatisfactory or unsafe.
Once you follow the above steps on your quest for finding a contractor, you'll be well equipped to trust the process and know what works for you. It all comes down to asking the right questions and doing the right background work and research to find the contractor that's the right fit for you and your project.
If the projects you're looking to complete are on the pricier side, you may need to look at financing options. One popular option for homeowners who have built up equity in their home is the cash-out refinance or "refi." Cash-out refis allow homeowners to leverage their equity for substantial cash. Interest rates are typically lower than for many other types of loans, and there's even the possibility to refinance to a lower interest home loan in the process, if rates are down. If this sounds appealing, why not start the process to get a cash-out refinance today?