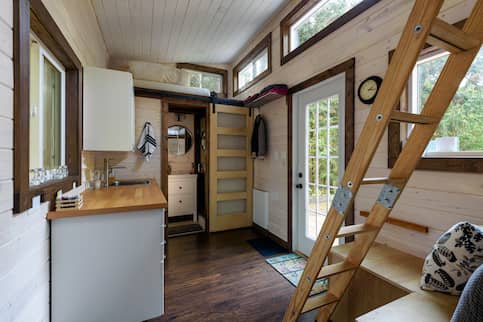 Tiny House Cost: How Much Should You Budget?
Published on March 25, 2022
There's something to be said for living the simple life. In a world that is so often fixated on modern convenience and connectivity, transitioning to a minimalist lifestyle can be a breath of fresh air for many home buyers.
The most appealing factors of tiny home living are affordability, efficiency and eco-friendliness, according to a 2020 survey by Fidelity National Financial subsidiary IPX1031. But whether you're interested in a tiny home to embrace minimalism, get closer to nature or purely to lighten the financial load of home buying, it's important to understand how these houses differ from traditional homes beyond their smaller square footage.
Although Rocket MortgageⓇ doesn't offer financing for tiny homes, we believe knowledge is power, so we're here to walk you through everything you need to know about buying or building a tiny house.
How Much Is A Tiny House?
The average cost of a tiny house ranges from $30,000 – $60,000, though the cost to build a tiny home can be up to $150,000 depending on the upgrades and amenities added.
Other factors that impact the cost of a tiny house include the size of the house, whether it's built on wheels or a foundation, the type of building materials used and the building permit costs in your area. But on average, you can expect to pay about $150 per square foot.
Apply Online with Rocket Mortgage
Get approved with Rocket Mortgage® – and do it all online. You can get a real, customizable mortgage solution based on your unique financial situation.
Apply Online
Is It More Expensive To Build Or Buy A Tiny House?
Building a tiny house will almost always be cheaper than buying one pre-built, but that doesn't always mean it's the right option. Building a tiny home often requires a specialized skill set most average homeowners don't possess, so it's important to balance the value of your potential savings against the risk involved with building a house yourself.
Most tiny house builders spend $20,000 – $60,000 on building materials, depending on the material's quality and demand. Tiny homes on wheels are typically more affordable than those fixed to a traditional foundation, as the foundation alone can tack on an additional $5,000 – $8,000 to the overall project price.
If you aren't ready for the responsibility of building a home from the ground up, prefabricated tiny home kits can be purchased for as little as $4,000 for a basic shell with no amenities. Or you can opt to go all-out with a more extensive model, which will come with everything you need but could cost $150,000 or more depending on your taste.
Cost Of A Traditional Home Vs. Tiny Home
The median home sale price was $356,900 in 2021, according to CNN. This is a 16.9% increase from 2020, so it's no surprise to find more and more people considering a move to non-traditional housing like tiny homes, which average around $45,000.
But of course, it's important to remember the reason for the significant difference in cost between a traditional home and a tiny one. Yes, traditional homes cost more – but for good reason. Not only are you getting more space, but you're also making a long-term investment that should appreciate over time.
On paper, some tiny homes aren't even seen as homes, and are instead treated as personal property. This means that tiny homes will not experience the same increase in value over time as traditional property.
In addition to the difference in cost, you'll also find that the process of buying a tiny house is different than buying a traditional one. This is because you can't purchase a tiny home with a traditional mortgage.
Mortgage lenders have a minimum amount they are willing to lend, typically higher than the cost of a tiny house, so you'll have to find financing elsewhere. Common alternatives for financing a tiny home build include construction loans and personal loans.
Costs To Consider When Building A Tiny Home
Building a tiny house is an ambitious endeavor, so there's a lot to consider before you start your project. How big will your tiny home be? Is it going to be mobile or fixed to a foundation? What kind of amenities do you need for it to be livable?
These questions will impact the overall design of your home as well as the budget you'll need to bring it to life, so let's take a look at each factor in more detail.
The Land
In order to build a home, you'll need the land to build it on. Depending on where you live, local zoning laws may dictate how and where your house can be built. For example, it's illegal in many areas of the U.S. to place your tiny house on a friend's or family member's property for free.
If you choose to forgo a permanent foundation and instead build your tiny house on wheels, you can save yourself from having to purchase land; however, you'll still have to pay a decent amount in rent or campground fees to park for an extended period of time and connect your home to utilities.
If you want to build a permanent residence, you can consider getting a land loan to lighten the financial burden. But keep in mind that land loans typically come with larger down payments and higher interest rates than typical home loans due to increased risk for the lender.
To help mitigate this risk and increase your chances of loan approval, you'll want to create a detailed building plan for the lender demonstrating how you intend to develop the land should you be granted financing.
Square Footage Of The Home
Square footage can drastically change the price of any house, and with tiny houses ranging between 100 and 400 square feet, the cost of your tiny home can depend on its size.
The nationwide average price per square foot of a tiny home is about $150. However, you could end up paying upward of $400 per square foot depending on the floor plan, materials and amenities you choose.
Building Permits
Building permits are another key component of the costs of building a home. Permits average around $1,350 nationally, although you may end up paying more for larger floor plans and custom designs.
Amenities And Design Upgrades
Some of the biggest contributing factors to the cost of your home build are the design and amenities you choose. In general, the more you want to customize your tiny home design, the more it will cost.
While tiny home kits are relatively affordable, custom designs will require specialized designers, architects and contractors who will add to the overall project cost. Opting to incorporate design upgrades like custom cabinetry in the kitchen will also drive up the price.
Furniture And Appliances
Tiny homes aren't just small homes – they're tiny. With limited square footage, finding furniture and appliances that suit your space is of the utmost importance. To save money on amenities and maximize on this limited space, many tiny homeowners end up targeting furniture that can serve multiple purposes, such as a sofa with hidden storage beneath.
Be sure to consider your lifestyle when selecting your appliances. While you can certainly save money and space by choosing compact appliances, like a mini-fridge over a full-size refrigerator, the financial savings may not be worth it if you enjoy cooking
The Bottom Line
Tiny homes aim to provide all the comforts of traditional housing on a smaller scale and budget. If you've been searching for ways to declutter your home – or even declutter your mind – downsizing to a tiny home may be a good way to wipe the slate clean and realign your priorities.
But despite all their advantages, including affordability, tiny homes aren't right for everyone. The more you try to make your tiny home like a traditional one, with added square footage, luxury amenities or other add-ons, the closer the price is going to get to that of a traditional house. So, take the time to explore your options before taking the leap.
Ready to take the next step toward a minimalist lifestyle? Learn more about tiny home financing!
Ready to talk details?
Connect with local custom home builders on HomeAdvisor.
View our affiliate disclosure policy here.
Get A Quote Today