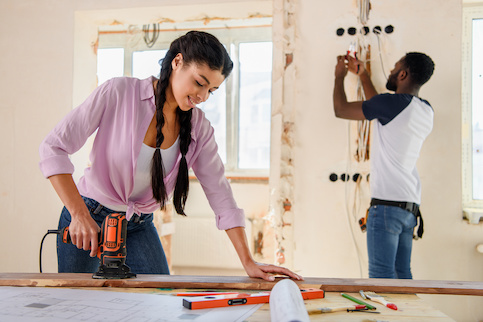 Home Repair Grants And Loans For Your Home Improvement Projects
Published on July 17, 2020
Repairing things around your home can increase its value and make you feel much better about your living space. But home improvement can be very expensive to do right. Luckily, there are a wide variety of resources available to help homeowners fund these projects.
What Are Home Improvement Grants And Loans?
Home improvement grants and loans are types of financial aid the government provides to homeowners looking to make their homes more livable. This includes making your home more energy-efficient, safer for your family and/or more accessible to people with disabilities.
We've gathered a list of options available for homeowners to help make their next remodel a reality.
Let a pro do it for you.
Find a top-rated pro to help on HomeAdvisor.
View our affiliate disclosure policy here.
Get A Quote Today
Federal Incentive Programs And Government Grants For Home Repair
Home improvement loans are available through a variety of federal, state and local government programs. Some of these programs cater to specific groups of people like veterans, seniors or low-income families. But with all the options available, you're likely to find one that works well for you. Let's take a closer look.
Government Loans And Grants
The federal government offers funding for many types of home improvements and renovations. Some of these include Rehabilitation and Repair Loans, Property Improvement Loans and Rural Home Improvement and Repair Loans. Their website even has information about community-based programs and resources for protecting yourself against deceptive home improvement contractors. Contact your local Department of Housing and Urban Development (HUD) office to see what financing options might be available to you.
FHA Rehab Loans
Since it's uncommon for lenders to give out additional loans immediately after taking out a mortgage, new homeowners have the opportunity to turn to the federal government for alternative options. One example, an FHA rehab loan, provides a federal remodel incentive. The FHA guarantees the loan and offers the purchase mortgage and remodel funding in the same package. There are limits depending on the owner's income and type of remodeling project, but the FHA rehab loan is one option experienced homeowners or first-time home buyers can take advantage of when they undertake major improvements to the home.
At this time, Rocket Mortgage® doesn't offer FHA rehab loans.
Home Repair Grants for Low-Income Families
For homeowners living in rural neighborhoods, the U.S. Department of Agriculture offers remodel incentives through its Section 504 home repair program. This home improvement program offers low-interest loans to homeowners that earn below 50% of the area median income. The loan program also provides grants to elderly low-income owners to remove health and safety hazards from their homes. For more information and to apply, contact your local Rural Development office.
Home Repair Grants For Senior Citizens
Going through major life transitions as we age can prompt a need for alternative home conditions. Whether that requires adding wheelchair accessibility, attaching safety grips around the bathroom or installing a nonslip safe floor, senior citizens have support available to finance their aging-in-place home additions. Senior citizens can find information and resources for funding remodeling projects through the Home Repair and Modification guide on the Eldercare Locator website, run by the Department of Health and Human Services.
Home Repair Grants For Veterans
The U.S. Department of Veterans Affairs offers three home repair grants for disabled veterans who need to make home modifications:
Specially Adapted Housing (SAH) Grant:

This grant is for eligible homeowners that need to make a house more sustainable for independent living. This grant can be used to build a new adapted home, to adapt an existing home and even help pay off the mortgage of a house that was not purchased with a VA loan. The SAH Grant can award $100,896 in the 2021 fiscal year. Typically, this is available for veterans who have sustained severe permanent disability including the loss of use of more than one limb or loss or loss of use of a leg. Only 120 veterans per fiscal year can qualify for this grant based on the loss of the use of only one limb. You can also qualify if you're blind in both eyes – defined as having 20/200 vision or worse – or certain severe burns

Special Housing Adaptation (SHA) Grant

: This grant is for disabled veterans who have been injured in service-related incidents. Similar to an SHA Grant, it allows eligible veterans to make modifications to their homes or purchase a previously adapted home to meet their new needs. SHA grants can provide up to $20,215 in the 2021 fiscal year. In order to qualify for this grant, you have to have the loss or loss of use of both hands, certain severe burns or qualifying respiratory of breathing injuries. It's important to note that you can use funding from either a SAH or a SHA grant up to six times throughout your life, so the funding isn't restricted to use in a single year.

Temporary Residence Adaptation (TRA) Grant

: Available to qualifying veterans and active service members who are living with a family member temporarily and need to adapt the home to make it livable. Funding levels for this grant depend on which of the above grants you would qualify for if this was your permanent home. If you would otherwise qualify for a SAH grant, you can get up to $40,637 for the 2021 fiscal year. If you qualify for a SHA grant, the available funding would be at $7,256.
Contact your regional Veterans Affairs office to check your eligibility for this assistance. You can also find more information on applying for a service-connected disability-related housing grant.
Home Repair Loans For Native Americans
The Section 184 Indian Home Loan Guarantee Program provides financial assistance for new construction on homes as well as rehabilitation projects on houses owned by Native Americans and Alaska Native families. This program was established in 1992 to increase access to capital and help facilitate homeownership in Native American communities. This program assists Native American homeowners with low down payments and flexible underwriting. Section 184 loans can be used both on and off native lands for single-family home purchases, new construction, refinancing and rehabilitation of existing homes.
Home Repair Grants For Historic Homeowners
While the majority of government grants for historic renovations are offered to nonprofit organizations, there are some funds available to individuals renovating a primary residence with historical value. Tax incentives may also be available for owners of historic properties. Learn more about historic preservation programs through the Preservation Directory.
Other Ways To Finance Your Home Improvement Needs
There are several other ways to finance home improvement projects. Many homeowners have the option to take advantage of privately-funded programs and loans.
National Residential Improvement Association
This is a private sector, non-government association of prescreened contractors. These contractors work to make homeowners aware of the wide variety of programs available to help finance their home improvement needs. They aim to educate homeowners on the programs, grants and loans that aren't necessarily promoted or common knowledge. These contractors are thoroughly screened, insured and trained to help homeowners find grants, lower-interest-rate loans, tax incentives and more.
PACE Loans For Green Investments
PACE loans can be used to finance many different environmentally-friendly home improvements. These loans aren't available in every state. However, where available, they offer easy-to-qualify-for loans with no down payment required.
Keep in mind that these loans are attached to the property as a primary lien rather than being personally secured by the homeowner. Most conventional and government mortgage programs will not work with PACE-encumbered properties because they take precedence over the mortgage. However, you may be able to pay these off in a refinance of your mortgage.
HELOC
Home equity lines of credit (HELOCs) allow you to borrow up to a certain percentage, usually 75 – 80%, of your home's value. By using a percentage of your home's equity, HELOCs provide you with a revolving line of credit for large expenses like remodels.
These are similar to a cash-out refinance, only HELOCs are a second mortgage on your home, unlike a cash-out refinance, which uses a new mortgage. Keep in mind that with HELOCs, as with adjustable-rate mortgages, your rate can go up or down as the market changes. Because these aren't the primary lien on your home, the rate tends to be slightly higher to compensate the lender for taking on the additional risk.
At this time, we don't offer HELOCs.
Cash-Out Refinance
Homeowners with a significant chunk of equity in their homes can use a cash-out refinance for home improvement by using equity. To qualify, homeowners must have a decent FICO® Score and a clean credit history. The process is similar to a purchase mortgage application because a cash-out refinance creates a new mortgage on the home.
The advantage of this over something like a HELOC is that it's based on your primary mortgage. Because the lender is first in line to get paid in the event that you default on the loan, it's less risky. You can get a lower rate.
Weatherization Assistance Programs
Free weatherization programs offer financial help with certain types of improvements for heating, cooling and electrical systems, as well as purchasing new appliances with better energy efficiency. This type of funding is offered to low-income households through the Weatherization Assistance Program.
The Bottom Line: Where There's A Will, There's A Way
Home improvement projects can be expensive, but that shouldn't stop homeowners from making their remodel hopes a reality. Your home is where you spend the majority of your time. Sometimes changes are necessary to make your home habitable, useful and safe for your family.
Luckily, homeowners have a wide variety of resources from both government and private organizations to choose from if they need assistance. For more information and useful resources for homeowners, head over to our Learning Center.
If you would like to look into a cash-out refinance, we can help. You can apply online or give us a call at (888) 452-0335.
Let a pro do it for you.
Find a top-rated pro to help on HomeAdvisor.
View our affiliate disclosure policy here.
Get A Quote Today