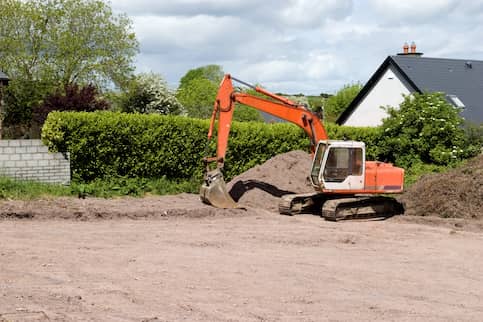 What Is A Land Loan And How Does It Work?
Published on February 23, 2022
If you're thinking about building your own house instead of buying one, you're probably going to need a land loan. Since there is not yet a physical home to act as collateral when you buy empty property, the land financing process works differently from obtaining a mortgage. While it may seem confusing at first, don't panic – land loans are not as complicated as you may think.
Let's break down what a land loan is, how it works and how you can use one to find the perfect piece of real estate for whatever you're building.
What Is A Land Loan?
A land loan is used to finance the purchase of a plot of land. The terms and requirements for these loans tend to vary based on how the borrower intends to use the land – and when they plan to do so. For example, lots that buyers plan to build on immediately or in the near future may have less strict requirements than lots purchased by borrowers with no solid building plan in place. The closer the land is to being ready for building to start, the easier it will be to get financing, as well as more favorable interest rates and down payment requirements.
There are three types of land that you can get a loan for – raw land, unimproved land and improved land.
Raw land is completely undeveloped land with no electricity or utilities in general. This type of lot can be difficult to get financing for if you don't have a very solid plan to develop the land. Interest rates and down payment requirements tend to be higher for raw land loans as well. In some cases, you may have to make a down payment of up to half the value of the loan.
Unimproved land is similar to raw land but is typically slightly more developed and may have access to some utilities. Unimproved land is usually somewhat easier and more affordable to finance than raw land.
Improved land is land that has access to utilities, roads, amenities, etc. Since it's the most developed type of land, these lots may cost more than raw or unimproved land – but interest rates and down payment requirements for improved land are lower.
Rocket MortgageⓇ does not currently offer USDA or land loans.
See What You Qualify For
Congratulations! Based on the information you have provided, you are eligible to continue your home loan process online with Rocket Mortgage.
If a sign-in page does not automatically pop up in a new tab, click here
How Do Land Loans Work?
Getting a land loan is somewhat similar to the process of getting a mortgage. Just like financing a house, you'll need to have good credit, a low debt-to-income ratio (DTI) and enough money to make a down payment. Land loans are considered riskier than home loans, however, since there is no property for the lender to use as collateral. To account for this risk, these loans typically have higher down payment requirements and higher interest rates.
Land loans often have much shorter terms than typical home loans, too, with loan lengths of 2 – 5 years being common. At the end of the loan term, many land loans require a balloon payment to pay off the balance of the loan. If you're considering getting a land loan, you may want to think about whether you can develop your property before the balloon payment is due.
What's The Difference Between A Construction Loan And A Land Loan?
A construction loan is a type of short-term land loan intended to provide borrowers with the money to buy land and build a house. These loans are sometimes set up to convert from a construction loan to a regular or "permanent" mortgage loan after the home is built. Construction loans have terms of around 1 year, after which the owner must either convert their loan to a mortgage or apply for one. These loans are intended for borrowers that are ready to build right away. Regular land loans, on the other hand, are better suited for borrowers that don't have immediate plans to build.
Rocket Mortgage doesn't offer construction loans at this time.
Apply Online with Rocket Mortgage
Get approved with Rocket Mortgage® – and do it all online. You can get a real, customizable mortgage solution based on your unique financial situation.
Apply Online
How Do I Get A Land Loan?
Many conventional mortgage lenders do not offer land loans, though there are lenders that specialize in these types of loans. In some cases, there may be government incentives to purchase land, particularly in rural areas. Here are a few of your options:
USDA Loans
The U.S. Department of Agriculture (USDA) provides multiple loans and grants to borrowers looking to build or develop land in rural areas. They offer land loans to borrowers who earn 50% – 80% of their area's median income with terms of around 2 years and below-market interest rates. To qualify, the land borrowers are developing must be located in a rural area.
SBA 504 Loans
Small Business Administration (SBA) 504 loans are a land loan option for those looking to purchase land for commercial purposes. These loans offer slightly longer terms than other land loans, with 10- and 20-year maturity terms available. To qualify, borrowers must intend to use the loan to build or improve upon buildings, facilities, parking lots or landscaping that is used for commercial purposes. Borrowers must also operate as a for-profit company in the United States, must have a tangible net worth of less than $15 million, and must have an average net income of less than $5 million after federal income taxes.
Are There Other Ways To Fund A Land Purchase?
If you're unsure about getting a land loan or construction loan for your building or development project, there are other ways you can finance land, too, including the following:
Seller Financing
Seller financing is when the buyer and seller of a property work out the sale arrangements themselves without a bank or other financial institution involved. This can be a great option for borrowers that may not meet the credit score or down payment requirements for a regular land loan.
When buying a property directly from the seller, both parties will usually sign a land contract. This legal document records the sale of the lot and any other agreements between the two parties. When you finance a property directly through the seller, it's important to note that you may hold equitable title of the lot but won't technically hold legal title until you pay off the loan. Sellers are also entitled to enforce any personal restrictions or requirements they may wish to include, so it's important to work with a reputable seller and make sure you know the exact terms of the loan agreement.
Home Equity Loan
Another option for purchasing land is to use the equity you've built in your home to fund the purchase. A home equity loan is essentially a second mortgage made up of the equity you've built in your home. This can be withdrawn as a lump sum which you will repay in fixed installments. It may be easier to qualify for and finance land using funds obtained through a home equity loan because lenders consider it less of a risk, seeing as the funds are tied to your home as collateral. You may also secure lower interest rates going this route.
The Bottom Line: If Building A Forever Home Is Your Dream, You'll Probably Need A Land Loan To Get Started
Whether you want to build a house or develop commercial property, land loans can provide you with a blank canvas of real estate to work with. Keep in mind, however, that these loans typically require large down payments and may charge higher interest rates, depending on how developed the land being purchased is. Before you purchase land, be sure to review all of your options, including construction loans and even seller financing to make sure you're choosing the option that works best for you.
Still on the fence about purchasing land? Check out our guide to whether you should build or buy when looking to settle into your dream home.
Ready to talk details?
Connect with local custom home builders on HomeAdvisor.
View our affiliate disclosure policy here.
Get A Quote Today