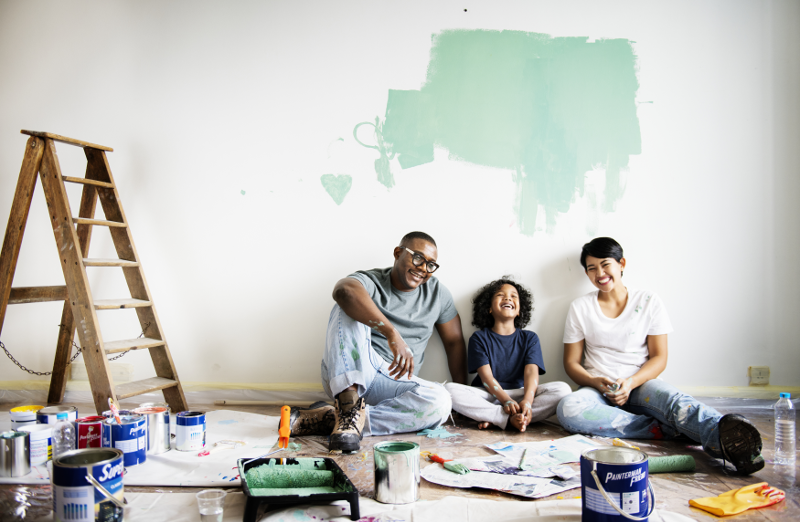 Home Improvement Loans: How To Finance Home Renovations
Published on January 22, 2021
Disclosure: This post contains affiliate links, which means we receive a commission if you click a link and purchase something that we have recommended. Please check out our disclosure policy for more details.
Making changes to your home can be expensive, and not everyone can afford to make those changes out of pocket.
This is where home improvement loans come in. These loans can help you afford the upfront cost of big updates or repairs that make your home safer, more livable or more enjoyable. However, anytime you consider borrowing money, it's important to ensure you can ultimately afford to take out the loan and that you pick the best loan type for your needs.
Here's everything hopeful home renovators need to know about home improvement loans.
What Are Home Improvement, Or Home Remodel, Loans?
Homeowners take out home improvement loans for a variety of reasons, including remodeling, updating and completing repairs to their home. These types of loans can come from several sources. Homeowners have options in cash-out refinances, home equity lines of credit (HELOC), second mortgages and personal loans.
How Do Home Improvement Loans Work?
As the name suggests, home improvement loans can help finance home improvement projects or other renovations in a home.
How exactly do these loans work? It depends on the type of loan you get, as home improvement loans can come in a variety of different forms.
Typically, when people talk about "home improvement loans," they're referring to personal loans that are used for the purpose of making updates, upgrades or repairs to their home. When you get a personal loan, your lender will deposit the amount you're borrowing into your bank account for you to use however you choose. You'll immediately begin paying back that loan on a monthly basis.
However, other types of loans can also be used to pay for home improvements, and each type has its own pros, cons and intricacies you'll want to consider before determining which one is best for you.
No matter what type you get, the general workings are the same: you apply and are approved for a loan, the lender gives you the money and you pay the lender back with interest.
Once you receive the money from your lender, you can begin paying for things related to your home improvement project, such as tools, supplies or labor.
How To Get A Home Improvement Loan
To get a home improvement loan, you'll first want to determine what type of loan is best for you (keep reading to learn more about the different types of loans that can be used for this purpose). Once you've done that, you can begin shopping around at different lenders that offer the type of loan you're looking for.
The requirements for getting a loan will depend on what type of loan you get and the lender's individual requirements. For a personal loan, a lender might have specific credit score and debt-to-income ratio limits for borrowers. For a loan that's tied to your home, such as a cash-out refinance, you may also need an appraisal.
Best Options For Home Improvement Loans
Here are some of the most popular types of loans that are used to finance home improvement projects.
Cash-Out Refinancing
If your current mortgage interest rate is higher than the average market rate and you have equity in your property, you might want to consider a cash-out refinance as your home improvement loan option. This means that you'll refinance your existing mortgage and convert the equity in your home to cash.
Not only can this adjust your current mortgage to more favorable and affordable terms, but it'll also give you the money you need to pay for your home improvements without having to take on a separate loan.
If current market rates are higher than your current loan terms, a cash-out refinance might not be the best option for you. Even though you'll be able to dip into the equity in your property, it would mean paying more interest on the rest of your loan balance for the remainder of your term.
If you think a cash-out refinance could be the right choice for you, the next step is to get approved.
Home Equity Loan
A second mortgage, also known as a home equity loan, is just what it sounds like. It's another mortgage that acts as a second lien on your property. Your second mortgage lender will provide you with a large, lump sum that you pay back over a specific amount of time. With each payment, you pay a portion of your loan balance and interest. Rates are typically fixed and your rate and term will depend on your credit and employment history, just like when you applied for your first mortgage. There may be limits set by lenders or investors in the loan regarding how much of your existing equity you can take a loan against but it is possible to refinance a second mortgage.
This can be a good option for those seeking home improvements because it can get you a lot of money that you can spend however you need. Interest on a second mortgage is also tax-deductible if it's used for home improvements, so you'll see additional savings when you file your taxes for the year.
The drawback of a second mortgage is that it's an additional lien on your home and comes with a higher rate due to risk (if there's a hardship, lenders assume you're going to make the payment on your primary mortgage first). If it goes unpaid, you'll risk possible foreclosure action and legal consequences. If you're concerned about added risk to your home, this may not be the right option for your home improvement goals.
Quicken Loans doesn't offer home equity loans at this time.
Home Equity Line Of Credit (HELOC)
A home equity line of credit, or HELOC, allows you to borrow money by using your home's equity as collateral. Your lender will set a borrowing limit. You can take as much money from the line as you need, pay it off and borrow again within an agreed upon time frame, known as the draw period (typically 10 years). The interest rate is fixed for a certain period of time, and then it will adjust up or down based on market conditions for the remainder of the loan term.
During the draw period, you only pay interest on the equity you use. This may be the only payment you make during the draw period as you may not be required to pay toward principal at that time.
Once the draw period is over, you'll enter the repayment period. There are a couple of different ways repayment can look depending on the terms of the loan.
For example, if you had a 20-year HELOC and the 10-year draw period is over, you'll have to pay both the interest and principal (which will be a higher monthly payment than the interest only payments you made during the draw period) in order to pay the full loan off by the end of the term.
A HELOC could also be structured as a "balloon mortgage," meaning, the full principal balance is due as one lump sum payment at the end of the term. If you can't afford to make full payment at that time, your best bet is to apply to refinance and roll the HELOC into your first mortgage. If your HELOC is initially set up with a balloon payment, and you don't anticipate being able to afford the lump sum or roll it into your first mortgage when the repayment period arrives, you should plan to make payments toward the principal throughout the draw period.
If you're considering a large renovation and aren't totally sure how much it will cost, a HELOC might be a good option for you. For example, if you decide to redo your kitchen, a contractor may quote you an initial estimate of $10,000. But, as time goes on, you may run into issues with repairs or decide on different paint, cabinetry or other extras for the room. A $10,000 estimate could easily double in this case. A HELOC may help you out and allow you to borrow as needed.
If you're certain how much you'll need for your home repairs, a traditional second mortgage or cash-out refinance may be a better choice. In that situation, you'll have one lump sum, allowing you to complete your renovations and pay the loan back in a straightforward manner.
Like home equity loans, many HELOCs aren't tax-deductible after the 2017 tax year unless you use them toward projects around the house. If you have any doubts, always contact a tax advisor.
Quicken Loans® doesn't offer HELOCs at this time.
Personal Loan
A personal loan used for home improvement is typically the most unsecured form of debt. It's different from most of the options reviewed above because it's not backed by the collateral of your home. Like a credit card, your rate will depend on your creditworthiness. Rates on these types of loans are typically fixed. This means your payment won't change and you'll be able to easily budget for the payment with your other expenses.
You might want to consider a personal loan for your home improvements if:
You don't have much equity in your home
The project is relatively small
You can pay off the debt within a shorter time frame (3 – 7 years)
A personal loan may not be the right choice for you if your home improvement goals require a large sum of money. Personal loans typically have higher rates and shorter loan terms than a second mortgage or cash-out refinance, so your payments may be less affordable than with other options.
For example, let's say a person with excellent credit is approved for a $20,000 personal loan for a home repair. Their rate is an average 13% and they're required to pay it back in 5 years. That brings their payment to over $450 each month. A monthly payment this size might be difficult for some.
If you feel a personal loan is the right choice for your home improvement needs, visit Rocket Loans® for more information on how to apply and get started.
Calculate Your Personal Loan Payment
Please enter a term between 1 and 240 months.
Please enter an interest rate between 0% and 40%.
Your Monthly Payment
Total Paid Over 60 Months
... you'll save $0 in total interest
*Legal Disclosures
This personal loan calculator estimates a monthly payment based on the loan amount, term, interest rate and additional payments that you input. You can then change the loan amount, interest rate or repayment term to see different options. Calculated payments and savings are estimates only, as your actual rates and payments may differ from the estimates provided by this calculator as a result of qualifying factors. This is not a commitment to lend.
Getting The Best Home Improvement Loan Rates
As with other loan types, the best way to get a good rate on your home improvement loan is to minimize the risk you pose to lenders as a borrower. This means having a good credit score and keeping your overall amount of debt low compared to your income.
Shopping around and getting rates from multiple lenders is also important if you want to get a good rate, because it allows you to compare offers and ensure you get the best deal available.
Can You Get A Home Improvement Loan With Bad Credit?
Some lenders offer loans to borrowers with less-than-ideal credit, but your options might be more limited and the loan will likely come with a relatively high interest rate.
If you're struggling to get a home improvement loan but are in need of assistance to upgrade or repair your home, you might want to explore any home improvement grants and programs that are available to you.
Choosing The Best Way To Finance Home Improvements
Now that you know your home improvement loan options, how do you choose?
When making this decision, consider the following:
How much your monthly payment and total due will be
How much flexibility you need in the borrowing amount
What terms work best for your unique financial situation
If you're still confused about which options make the most sense for your home improvement needs, contact our Home Loan Experts to review your options.