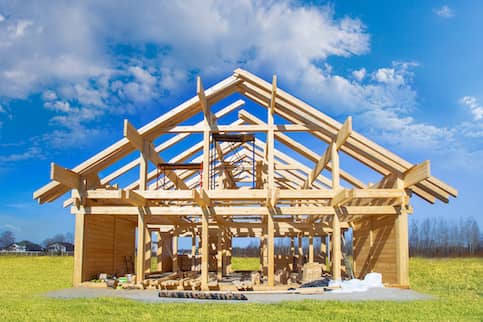 Kit Home: Definition And What You Need To Know
Published on June 13, 2023
Having a new house built from the ground up is a time-consuming and expensive project. It can involve any or all of these steps:
Buying the land
Hiring an architect
Producing a site plan
Getting government approval and purchasing building permits
Arranging utility hookups
Hiring a builder
Making decisions on dozens of interior fixtures and finishes
Anyone who has gone through this process knows that, while it can be exciting and challenging, it can also be frustrating and often fraught with delays. According to a 2021 report from the U.S. Census Bureau, it takes an average of 7.2 months to build a house from start to finish in the conventional way.
One way to simplify and speed up your home build is to buy a kit home.
What Is A Kit Home?
Kit homes, or prefab homes, are partially prefabricated in a factory and shipped in sections to the job site. They are meant for landowners to build by themselves or with the help of a contractor. Kit homes are more affordable than traditional on-site construction because the manufacturer can purchase materials in bulk and cut and assemble components in an efficient factory setting.
Kit homes originated in the early 20th century to allow for the quick construction of homes. In those years, the Sears, Roebuck & Company was the premier kit home manufacturer. It's believed that there are still thousands of Sears kit homes still standing across the U.S. Today, multiple companies have their own specialties and different building kits. Consumers can shop plans and order online. Many architects all over the world are increasingly putting their visions of design into prefab and kit homes, stressing modern design, affordability and use of sustainable and recycled materials.
The kits vary in quality, size and floor plans and are often less expensive than traditional houses. They range in size from the increasingly popular tiny homes to conventional 2,000-plus-square-foot homes. Unlike modular and manufactured homes, which are built off-site in modules, kit homes are pre-assembled in flat sections. These sections include walls, floors or roof trusses. These sections can be efficiently stacked on a flatbed trailer and shipped to the build site.
See What You Qualify For
Congratulations! Based on the information you have provided, you are eligible to continue your home loan process online with Rocket Mortgage.
If a sign-in page does not automatically pop up in a new tab, click here
How Much Are Kit Homes?
While building this type of home is often cheaper than building a traditional house, many factors influence the final price. According to HomeAdvisor, as of May 2023, panelized building kits can cost an average of $40 – $80 per square foot. But there is much more that goes into a home than the structure. You must factor in the cost of the land, utility hookups, permits, building contractors and appliances. For this reason, the true final cost of building the exact same kit home in two different locations can vary widely. You should have a clear assessment of how much these additional factors affect overall cost before you start.
Building A Kit Home
The cost to build a kit home will depend on the wants and needs of the homeowner. Aside from materials and components of the home, labor and construction costs can dramatically increase the final cost. It's recommended to meet with a contractor to determine if buying a kit home is a sound financial choice.
Keep in mind that each kit home manufacturer offers different packages, and they currently don't follow any federal regulations. As a result, some home kits might be cheaper but come without critical pieces, such as a foundation. So, a lower price doesn't always mean a better deal.
Additionally, purchasing land and making your lot home-ready can be costly. For example, if you're building on a new plot of land, you may have to set up utility connections and pay contractors the associated costs. Therefore, it's crucial to consider each facet of building your own home to get an accurate idea of the cost.
Financing A Kit Home
If you don't have the cash available, financing a kit home is similar to getting a mortgage for a traditional home. Since most kit home manufacturers don't finance their products, homeowners can turn to mortgage lenders for assistance. However, you'll also need to take out a short-term home construction loan to address the costs of building your home.
Home construction loans are usually harder to qualify for because few lenders offer them. At this time, Rocket Mortgage® does not offer these loans. These loans may require a down payment of at least 20% and a credit score of 620. The loan funds the costs your builder charges you for constructing your home (but not designing it, which the homeowner must finance on their own). After building your home, you can apply with your lender to refinance your construction loan to a traditional mortgage.
Looking for the right place to build?
Find the perfect plot for your new house on Rocket Homes.
View Land Listings
Kit Home Pros And Cons
If certain criteria are met, the affordability and convenience of a kit home makes it a great choice. But if other factors are present, a kit home project could be fraught with difficulties and not even reduce costs very much. Here are some of the pros and cons to consider:
Pros
Affordability: Factory-built home panels are less expensive to build because the manufacturer saves by buying materials in bulk. Building in a climate-controlled factory setting, with the help of machinery, reduces waste and increases efficiency. You'll realize the biggest savings if you're skilled in building trades and are able to do much of the work yourself.
Saves time: Manufacturers can usually deliver building kits within a couple of weeks. Kits arrive with all materials, hardware and assembly instructions. Assuming your builder is ready to begin upon delivery, build time can be reduced to a matter of weeks.
Collaborative design and customization: Many kit home manufacturers have base model designs that can be customized to fit your specific needs. You can work with a designer in a virtual setting to achieve the floor plan you want, making you a collaborator in the project.
Excellent for a second home or vacation retreat: Many kit homes are built as a secondary living space adjacent to an existing house (extra room for a growing family or an aging relative) or as a vacation property in a rural area. A simple kit home cottage is a great solution for a lakeside or mountain retreat, where it can be difficult to find a builder and materials.
Cons
Land procurement and site development: The cost of the kit home is only one factor in its total cost. You must also buy the land and pay to have it hooked up to utilities, such as electricity, natural gas, water and sewer. You'll also have to apply for and pay for construction permits.
Delivery limitations: Almost all manufacturers have delivery limits based on where your property is. Typically, companies will not deliver a kit farther than 750 miles away. If you're ordering from a different state or outside a company's usual delivery radius, it may cost you additional delivery fees.

Little to no standards: Kit homes

are newer in the economy and still growing in popularity. Therefore, the Department of Housing and Urban Development (HUD) has not yet imposed any standardized, industrywide regulations on them.

Labor costs:

If you don't have experience with plumbing, electrical and other trade work, you may want to consider hiring contractors

to complete that work for you. The added labor costs can get pricey depending on the extent of work you need.

Hard to verify quality:

When you choose a builder for a traditional home construction, you can typically visit some of their existing builds and assess the quality of their work. Most kit homes are purchased online. You see photos and design drawings, but no actual houses built from these kits. Seek a manufacturer with a long track record of satisfied customers and multiple positive testimonials.
Kit Home FAQs
Where can I build a kit home?
Kit homes can be built in all 50 U.S. states. Before you begin shopping for plans, however, you should contact your local government building authority to inquire about code restrictions and permitting.
How long does it take to build a kit home?
It really depends on how many hours you or a contractor can throw at the project, but most kit homes go up more quickly than traditional-built houses. If you have a team of contractors, it could be built in a few months. With just one or two DIY owners on the job, it could take a year or more. In either scenario, the kit home can be built faster because whole sections of the house come preassembled.
Can I build a kit home myself?
For someone who is proficient in several building trades, including carpentry, plumbing and electrical, it's possible, especially if it's a tiny house or simple cottage. In larger houses the pre-built panels are too heavy for one person to manage. Some couples and families enjoy the challenge of building their kit home together, even if the project takes many months.
The Bottom Line
While kit homes are sometimes seen as unconventional, they have been a housing option in America for over 100 years. Kit homes offer the advantages of lower costs, high customization and quick turnaround time. Costs can be cut further if you do some of the work yourself. However, kit homes do not follow any federal regulations or building standards. Furthermore, the costs vary according to land acquisition and site development in your locale. Finding a lender to finance your project can be challenging.
If you've decided to purchase a home and you're exploring home loan options, apply for a mortgage today to ensure you have financing for your housing needs.