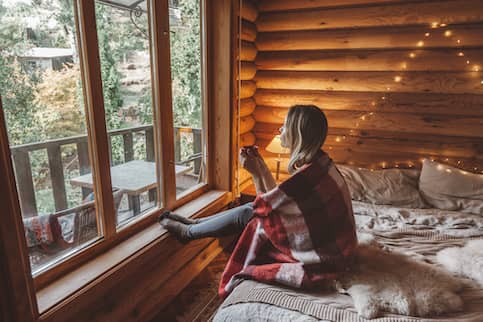 Tiny-Home Financing: Loan Options And What To Consider
Published on November 9, 2020
At this time, Rocket Mortgage® doesn't finance tiny homes without a permanent foundation.
Taking your tiny-home dreams and making them a reality will likely require more footwork than traditional home buying. Tiny-home financing includes some unique considerations: zoning regulations, whether to certify the tiny home as an RV, how many square feet you can live with, and whether the home should be mobile or on a foundation.
Throw in the possibility of having to move this dwelling in the future, and you may find yourself bogged down in the weeds rather than enjoying the process of thrifting and building your tiny home's dream interior. Let's walk through the hurdles and considerations of tiny-home financing so you can get to the fun.
How To Finance A Tiny Home
The chances of finding a traditional mortgage lender to finance a tiny house are lower than with a more common home loan program. Most lenders have minimum loan amounts that still exceed the average cost of a tiny house. The popular FHA loan has a minimum 400-square-foot requirement in order to qualify for the loan. What that means is that the highly regulated mortgage options are quite limited, and so is your access to low interest rates.
For Rocket Mortgage® to finance your tiny home, it must be built on a permanent foundation. Secondly, an appraiser has to find comparable properties in the area. Finding comparable properties may pose a big hurdle if you go with any mortgage lender.
More typical tiny-home financing options include an RV loan, personal loan, home equity line of credit (HELOC), online lender and plain old thriftiness. You can try to persuade your local credit union to furnish you with an RV loan, but there may be a hitch to that (pun intended).
Building Vs. Buying: Considering Your Options And Its Effects On Tiny-Home Loans
Much of the tiny-house movement's appeal is the DIY approach to how you live your life, when you retire and what you consume. The best-case financing scenario for a tiny home is to pay entirely with cash. Instead of saving $10,000 – $20,000 for a down payment on a 30-year fixed mortgage, you can use those funds to pay for materials to build out your own tiny home. It's the ultimate sweat equity building fairy tale, but it's doable, especially if you have construction skills.
Another great scenario is finding a home already constructed in an area with recent sales of other tiny homes built on permanent foundations. If that's the case, you may be able to use a traditional mortgage lender for financing.
If that's not feasible, another option is a credit card. Even with introductory rates, at some point you're most likely going to be paying high interest rates, somewhere around 15.99% – 25.99%. Some people enter the tiny-home life entirely on good credit and view their monthly credit card payments as tantamount to a mortgage payment.
Before you go this route, it may be best to look into personal loans, because the interest rate will be better. Our friends at Rocket LoansSM may be able to help you with a loan to finance your tiny-home dream.
Building: Finding A Tiny-Home Contractor
Hiring a contractor isn't just for the less construction-savvy. Contractors are experts in local laws and coding requirements to ensure any new home is above-board. The tiny-home movement may take up most of your social media feed, but it's far less federally regulated than typical single-family homes. That means ordinances can vary greatly by city, county and state.
The tiny-home construction community has flourished in recent years, and these specialized contractors are now located in nearly every state. There's an abundance of books, resources and even festivals to attend that can help you determine the ideal look, size and contractor for your tiny home.
Tiny homes can even come with enhanced financing benefits when built with a builder or contractor. Lower starting rates for loans and longer loan terms are just some of the potential upsides of partnering with a tiny-home builder versus using a traditional personal loan.
Buying: Using The RV Loan Option
The Recreation Vehicle Industry Association (RVIA) certifies homes to be road-worthy, meaning they fall under the guidelines of the U.S. Department of Transportation's National Highway Traffic Safety Administration. These temporary living quarters must also comply with strict manufacturer codes.
While these codes can create unwieldy, expensive construction processes for a small shop, a few tiny-home manufacturers – most notably, Tumbleweed Tiny Homes – build out RVIA-certified dwellings. If you're looking to buy a preowned tiny home, be sure it's RVIA-certified so you can qualify for this lower-interest loan option.
How Do I Get An RV Loan?
Opting for an RVIA-certified home allows you to apply as a borrower for an RV loan through a variety of lenders like major banks, credit unions and online lenders. Major banks and credit unions will often have longer loan terms of up to 20 years and smaller monthly payments.
If you have a FICO® Score below 580, the first step to getting a decent RV loan is to boost your credit. Interest rates on an RV loan are generally going to be higher than rates for a traditional mortgage. Of course, the higher your credit score and the better your credit history, the more likely you are to qualify for a lower interest rate.
You may also finance your RV through an online vendor who has likely partnered with a smaller online lender. Their financing options might go up to 84 months, with rates of 4.5% – 7.5%. It's a higher rate than a traditional mortgage, but it's easier to pay off in less time because of the lower home cost.
See What You Qualify For
You can get a real, customizable mortgage solution based on your unique financial situation.
Get Started
Can You Move Your Tiny Home?
Let's say you're living in your tiny home, financed with the best-case option for your circumstances – but a couple of years down the road, you decide you want to move or your employer wants to relocate you. Well, you're on wheels, so it shouldn't matter, right?
Unfortunately, it does. If it's a domestic move, the American Tiny House Association has pulled together a state-by-state directory of tiny-home rules and regulations. Every municipality, town and state can have different laws and codes. Essentially, there's no national policy.
For instance, in most counties across the U.S., county-wide building restrictions say you must build homes over 1,000 square feet, unless you're somewhere like Park County, Colorado that has a building code variance.
Domestic Moves
If you've decided to move or you're faced with a relocation opportunity, you have options for your tiny home. Your domestic options are better if you have a mobile, RVIA-certified tiny home. You can advocate for temporary living quarters at a campground or RV park until you can find land or a backyard to accommodate your home.
If you have a tiny home on a foundation and it's not RVIA-certified, the situation becomes more challenging. Ask yourself these questions:
Is the place I'm moving to tiny-home friendly?

Is there land to accommodate my move?

If so, will my employer help me locate or find land?

Is moving the house part of my relocation benefit package?
Technically, a tiny home on a foundation is considered in many communities to be an Accessory Dwelling Unit (ADU), and it can only be built if a primary home preexists on the land. You therefore have the option of purchasing a home in your new community and applying for an ADU permit.
However, tiny-home communities have cropped up all over the country, allowing owners of tiny homes to rent land for a few hundred dollars a month and enjoy a more communal living arrangement. When researching for the right place, try to find a tiny-home community or co-op that's already established and with land that's up to code.
International Moves
Unless your home is a storage container, moving a tiny home overseas might present a quandary. You'll need to determine cost and weight, whether the country you're moving to has tiny-home regulations and if there's a place to plop down your home. Be sure to research different areas before planning an international move.
The Bottom Line: Financing A Tiny Home May Be Atypical, But It's Possible
While it may seem complicated to finance and maybe move a tiny house, some great resources are available to help. With the tips we've covered, you'll have the right resources to finance a tiny house and move it if needed.
If you want to buy a tiny home built on a foundation with comparable tiny-home sales around it, apply online today to get started. You can also give us a call at (888) 452-0335.
Find A Mortgage Today and Lock In Your Rate!
Get matched with a lender that will work for your financial situation.
Get Started