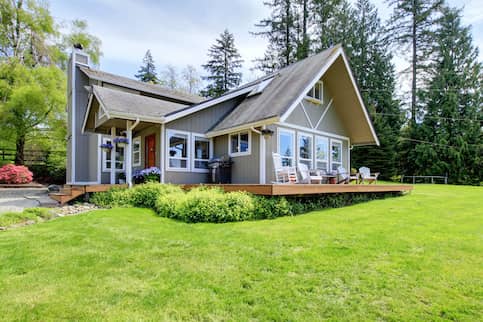 Modern Farmhouse Style: A Quick Guide
The modern farmhouse style is a cozy combination of the classic look with some contemporary touches. They combine to create an elegant, functional space.
Joanna Gaines from the HGTV show "Fixer Upper" popularized the modern farmhouse style. It's perfect for updating a vintage farmhouse space or giving your home a new interior design style. Modern farmhouse is as flexible as it is functional and is more of a stylistic movement than a type of home.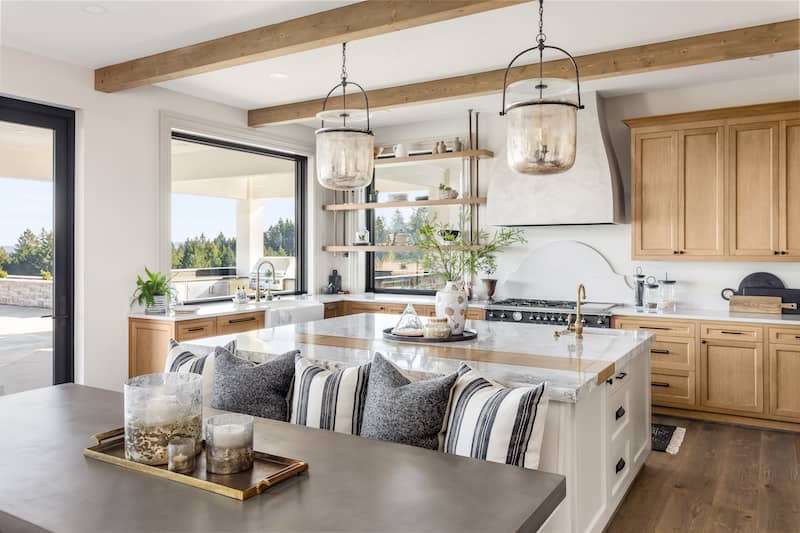 Modern Farmhouse Style: The Basics
The modern farmhouse style excels in seamlessly combining old and new. If you want a space with rustic vibes but is functional and classic, modern farmhouse decor can be a great choice for your home.
This genre of interior design borrows from traditional farmhouse style and tends to mimic European designs from the 16th and 17th centuries. These rustic-style homes used natural materials, like wood or stone, and practical designs with open floor plans in relatively small spaces.
The modern farmhouse style incorporates contemporary design features while retaining structural elements like wood beams or shiplap. Generally, a neutral color palette serves as the base, and you'll find splashes of color in the home, like blue accent furniture or bright green home decor.
This style may feature vintage furniture or fixtures while incorporating other simple, functional design styles, like Scandinavian or industrial design. The overall effect is an update on early American style for today's needs.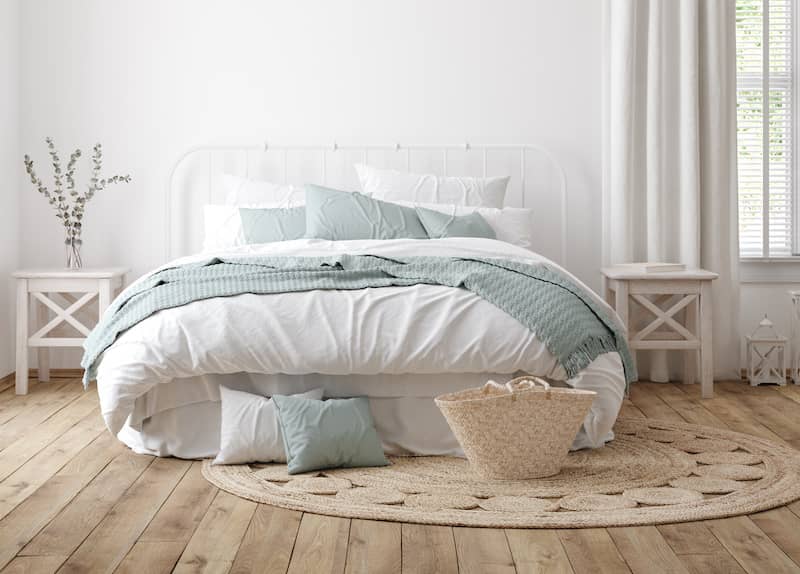 See What You Qualify For
Congratulations! Based on the information you have provided, you are eligible to continue your home loan process online with Rocket Mortgage.
If a sign-in page does not automatically pop up in a new tab, click here
Modern Farmhouse Interiors
Though farmhouse-style houses have been around for ages, you can replicate the modern farmhouse aesthetic in different spaces. Farmhouses are typically ranch-style homes with open floor plans, but the cozy feel of the modern farmhouse style can be achieved in a variety of home interiors.
The architectural features of modern farmhouse homes can include:
Exposed wooden beams
Natural wood paneling
Brick fireplaces
Large windows for lots of natural light
Shiplap features
Cast iron appliances or hardware
Stone or marble accents
Wooden floors
If you're planning on renovating your home, adding some of these features can set the groundwork for transforming the inside of your home from top to bottom. If you're interested in a more DIY approach, working on some of these features can be great at-home projects. Installing shiplap on kitchen walls or in mudrooms is a popular DIY project.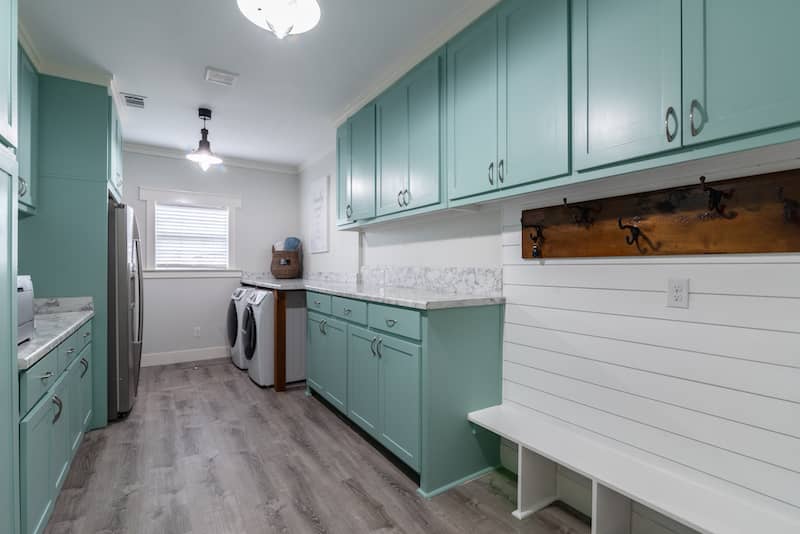 If you want to update your space without committing to renovations right now, a fresh coat of paint in a neutral color palette can be the first step. Here are some decor ideas that can give you the farmhouse look without breaking the bank:
Paint kitchen cabinets in hues of blue or green
Replace brass hardware with black fixtures
Use sliding barn doors for tight spaces
Use a restored vintage piece as a focal point
Add reclaimed wood furniture and accents
Layer blankets and textiles for a comfy feel
Install natural wood floors
These easy updates can supply some farmhouse flair to your home without the time, effort and cost of a major renovation.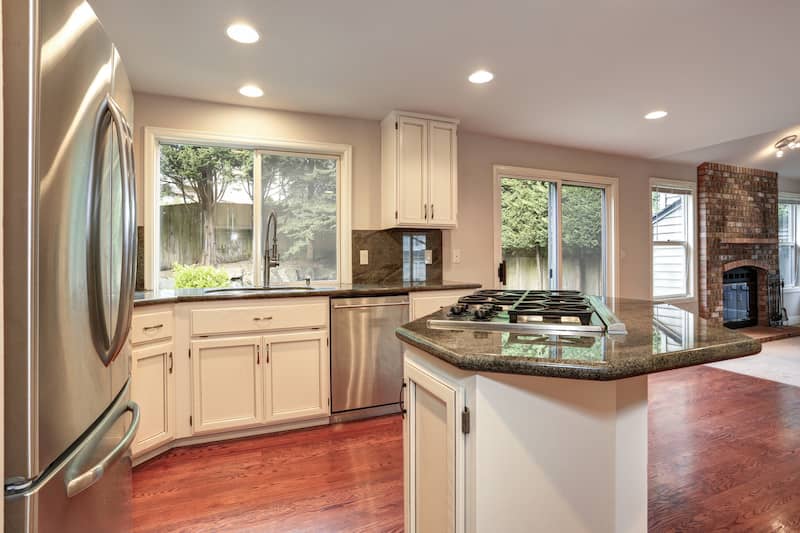 Modern Farmhouse Exteriors
Since farmhouses have evolved over time, the idea of a classic farmhouse has evolved along with it. That said, many farmhouses have common characteristics. Here are some basic characteristics you might see:
Painted white wood
Brick or stone features
Board and batten siding
Covered front porches
Shuttered windows
Simple black and white or beige color schemes
In a modern farmhouse home, you can spruce up standard features by installing a brightly colored green door or painting shutters blue to add contrast. Modern farmhouse exteriors tend to be minimalist and feature simple landscaping and clean lines.
Updating these homes will focus on incorporating your personal contemporary style. Choosing early American furnishings like vintage mailboxes and house numbers can help give your home a modern farmhouse look.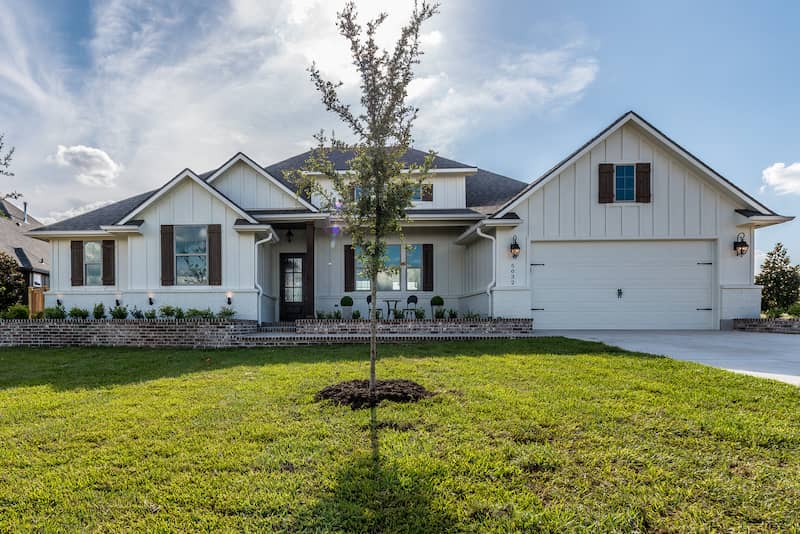 Modern Farmhouse FAQs
Let's look at some common questions about the modern farmhouse style.
What does a modern farmhouse kitchen look like?
Modern farmhouse kitchens incorporate interior design elements, like neutral color schemes, shiplap accents, natural wood and pops of color in blues and greens. They often feature long dining tables, marble or wood kitchen islands and black industrial-style light fixtures or appliances.
What's the difference between country style and modern farmhouse?
Modern farmhouse aspires to cut down on clutter and focus on clean, comfortable, usable living spaces in a neutral color palette. While country style has a similar vintage feel, it's a bit more eclectic. Bright colors and floral patterns are common. You'll even find them on interior and exterior accessories.
Is modern farmhouse decor still in?
Modern farmhouse design is a newer trend and, it's still a popular interior design style. Since you can add your own spin with personalized furnishings, the style keeps evolving and changing.
The Bottom Line
Whether you live in a traditional farmhouse or are just looking to update your space, the modern farmhouse style offers a unique mix of old and new. If you want a functional and stylish space where your family and friends can comfortably relax, the modern farmhouse style may be the right choice for you.
Ready to get started on some interior renovations? Apply for a cash-out refinance online today.
Apply Online with Rocket Mortgage
Get approved with Rocket Mortgage® – and do it all online. You can get a real, customizable mortgage solution based on your unique financial situation.
Apply Online