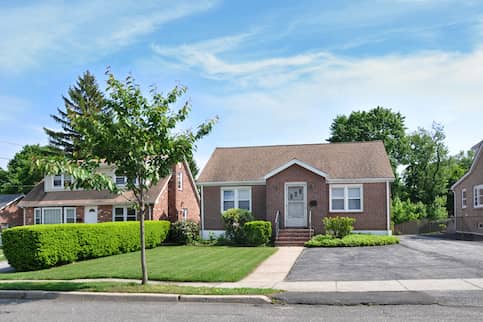 What Is A Bungalow? A Complete Guide
Published on May 22, 2023
If you're set on buying a new home, architectural style might influence your decision on the type of house you purchase. If you're in the market for a smaller home with some charm, a bungalow-style house could be a particularly good fit.
Let's take a look at the history of bungalows, all the characteristics these homes have to offer, and the advantages and disadvantages of buying a bungalow.
Bungalow Definition
What is a bungalow-style house exactly? It's most often a one-story home featuring minimal square footage and a low-pitched roof that overhangs a large front porch. While the exterior might catch your eye, the interior is likely to do the same. With built-in cabinets and shelving, the whole living space tends to have a Craftsman style to it.
This type of home's architectural style is fairly common throughout the country and is still a popular choice among home buyers despite its centuries-old history.
A Brief History Of Bungalows
Bungalows date back to the mid-17th century, coming from the Bengal region of South Asia. This most often single-story home made its way to the British in the early 19th century and arrived in America by the early 20th century. California was the first state to adopt this style of home, but it soon became popular in many other areas of the country.
What Makes A House A Bungalow?
There's a reason a bungalow-style home has that name. If you think of a cozy, warm interior with simple but unique features, you might just think of a "bungalow." Although some people view a bungalow-style house as a tiny home because of its limited floor space, bungalows and tiny homes have key differences. One is that bungalow homes are larger. Another is that bungalows have the potential for home additions.
Interested in other characteristics that define a bungalow-style home? Let's take a look.
Bungalow Architectural Style
Here are a few characteristics that distinguish a house as bungalow-style:
Open floor plan
Low-pitched roof
Covered porch
Single-story
Minimal square footage
Built-in cabinetry
Proximity to urban areas
Types Of Bungalow Homes
Different types of bungalow-style homes developed in the 20th century, and you can now find them all over the world. Here are some of the bungalow-style houses you could find on the real estate market:
California-style bungalow: A California bungalow is typically made of wood materials, stucco and shingle siding. To many onlookers, these homes have striking similarities to a Craftsman-style bungalow.
Chicago-style bungalow: A Chicago bungalow is usually made of brick and can be one-and-a-half stories. They have low-pitched roofs with a wide overhang.
Mission-style bungalow: A mission bungalow has its roots in Spanish architecture. They tend to feature round archways, beautiful art glass and tile roofs.
Craftsman-style bungalow: A Craftsman bungalow is widely considered the classic bungalow style, and it's often more widely seen than the other styles. These homes typically have shingled roofs with wide front windows and are typically painted in neutral colors.
Tudor-style bungalow: A Tudor bungalow features a gabled roof, a stone chimney and narrow windows. The architectural style of this home resembles some of the architecture from medieval times – but with a traditional-style-bungalow twist.
Prairie-style bungalow: A prairie bungalow will have piers that support a low overhanging roof and prairie-style windows. The interior of these homes usually features ceiling beams and unique woodwork.
If you're interested in finding one of these homes for you, a real estate agent can offer their experience and knowledge plus access to pocket listings and the multiple listing service (MLS).
Take the first step towards buying a house.
Get started today to see what you qualify for.
Start The Process
Pros And Cons Of Buying A Bungalow-Style House
Now that we've gone through the characteristics of a bungalow-style home, it's important to know the advantages and disadvantages of buying one.
Pros
The front porch of a bungalow home can be quite the eye-catcher, but that's not all these homes have to offer. Other pros include:
Affordability: Bungalows tend to be cheaper than most homes due to their reduced square footage.
Low maintenance: Since these homes are smaller in size, they tend not to require a lot of upkeep.
Unique features: Bungalows attract some buyers because of their unique characteristics such as ceiling beams, big windows and a large porch – just to name a few.
Potential to expand: One advantage of these homes is that you can build up or out. Although a house may technically lose some of its "bungalow" style once renovations are complete, the option to expand is often enticing.
Cons
Although bungalow homes offer many advantages, they come with a few disadvantages as well. Let's take a look at some of the cons:
Limited space: The inside of a bungalow typically has rooms that are atypically close together, offering residents little personal space.
Darker interior: The original bungalow-style design limits the amount of sunlight allowed into the home, creating a relatively dark and potentially depressing interior compared to more traditional houses.
Small bedrooms and bathrooms: Compared to more contemporary homes, bungalows tend to have limited storage space along with small bedrooms and bathrooms.
Lack of privacy: With windows accessible from the ground, bungalows lack privacy compared to many other homes.
The Bottom Line
Bungalows are unique homes with Craftsman-style features and a quaint, cozy feel. While typically having less square footage than other home styles, if you're a first-time home buyer this type of home might be a good fit for you because of its potential for expansion.
If you're ready to embark on your journey to owning a bungalow-style home or any home, get started with Quicken Loans.
Find A Mortgage Today and Lock In Your Rate!
Get matched with a lender that will work for your financial situation.
Get Started