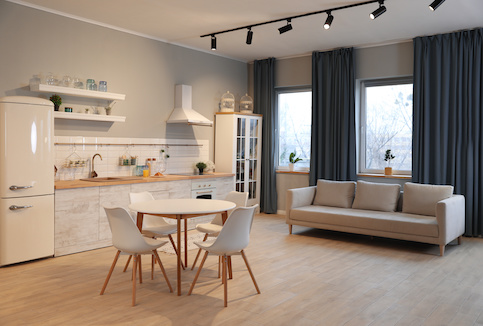 What Is A Duplex And Is It Right For You?
Published on February 25, 2020
We tend to think inside the box when it comes to real estate. Most home buyers view their housing options as limited to single-family homes or apartments in multistory buildings. But in the U.S., the housing market offers a wide variety of choices. One commonly overlooked option is a duplex. If you're trying to decide which style of living is most appropriate for your circumstances, learn what a duplex is and why it may make the most economic sense for you.
What Is A Duplex Home?
A duplex is a two-family dwelling with two distinct units that are attached but have separate, private entrances. The two attached units share either a common wall or floor, depending on their layout. They are ideal for extended families, first-time home buyers and real estate investors.
While duplexes can be found across most geographic areas, in New York City the term "duplex" refers to a different type of housing: A two-story apartment that has a staircase – or in rare cases, an elevator – within the unit. These spacious NYC apartments can be found in luxury high-rises and tenements alike.
What Is The Difference Between A Duplex And Other House Types?
Throughout the rest of the country, duplexes are often confused with similar types of multifamily housing options: Twin homes, triplexes and quadplexes. Twin homes are similar to duplexes in that they have two units that share a common wall. However, unlike a duplex, a twin home is considered to be two separate properties, given that the property line bisects the land at the common wall, providing each unit with its lot.
Duplexes are more similar to triplexes and quadplexes (also referred to as fourplexes) in that they are viewed as one property on a single plot of land. The only difference is that triplexes have three units and quadplexes have four.
Townhouses are also often brought up in comparison with duplexes and twin homes due to their architectural similarities. They both have shared walls with neighboring, although townhouses allow for some extra privacy due to being individually owned. That is the main difference between the two – townhouses feature several dwellings, but are individually owned. On that level, they both ask their owners to be responsible for property maintenance, utilities and community fees.
Apply for a mortgage today!
Apply online for expert recommendations with real interest rates and payments.
Start Your Application
Duplex Vs. Apartment Living
An apartment and a duplex are both multiunit structures with outside owner. However, they differ in the particulars of that ownership. While both can have landlords, apartments are generally rented out by real estate firms. So, when an issue arises, you speak with a representative from there or the property management company instead.
The two structures require that the entire property be purchased, not the units themselves, to own them as well. Unless you can do that, you are renting the apartment. This means that you are not responsible for certain costs and maintenance for the structure, but you also can't rent out the space or modify it in many ways.
Does Buying A Duplex Make Financial Sense?
To determine if buying a duplex makes financial sense for you, begin by considering your real estate goals and priorities. The ability to live in one unit and rent out the other can be a considerable economic advantage for anyone who wants an entry into real estate investing.
If you're interested in a particular neighborhood or a higher-end home but are aware that it's slightly out of your price range, buying a duplex can allow you to rent out the extra unit to a tenant who is able to shoulder the expenses. And if you're not looking for a primary residence and want to jumpstart your real estate investing, purchasing a duplex house can make it easier to keep an eye on your investment properties and make your work as a landlord that much simpler.
On the other hand, if you have extended family and want a housing option that provides you with greater privacy and comfort, a duplex is the perfect opportunity to pool your resources so that you can be close – yet not too close. The most beneficial aspect of owning this type of housing is that your options are plentiful, and you can adapt the way you utilize your investment as your lifestyle changes.
Pros And Cons Of Duplex Living
There are advantages and disadvantages to every style of home, whether you rent or own. Here are a few things to consider before you decide duplex living might be right for you:
Pros
Duplexes can be more affordable than buying a home in a nice neighborhood.
You only have one neighbor as opposed to multiple, like in an apartment complex.
Buying a duplex can enable homeowners to use the second unit as an investment property.
Owning the property allows you to create a housing option for extended family.
Cons
Sharing property and amenities with a neighbor could lead to conflict.
Unless stated otherwise, you may be responsible for your own home maintenance.
Your neighbor could be your landlord if they live in the other unit.
There may be privacy issues because you usually have to share certain spaces like the backyard.
Is A Duplex Right For Me?
Overall, whether a duplex is the right home for you depends on your preferences. It provides a great transition space for first-time home buyers who want to build up responsibility as well as possible real instate investors. The opportunity for long-term benefits may make the duplex an appealing option depending on your financial goals. If you believe a duplex might be the right investment for you, consider applying for a mortgage today at Rocket Mortgage®.
Apply for a mortgage today!
Apply online for expert recommendations with real interest rates and payments.
Start Your Application