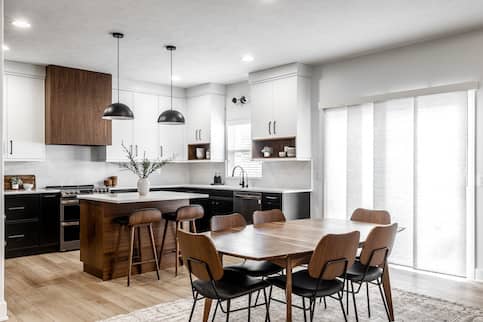 What Is A Midcentury Modern House?
Published on April 5, 2023
When buying a house, you have many different architectural styles to choose from. Many of those styles are the product of different eras and periods when architects wanted to push boundaries and create something that elevates a property rather than blends in with existing homes.
Few types of architecture accomplish this better than a midcentury modern, or MCM, house. If you're just starting to look at properties, familiarizing yourself with this unique style can better equip you to choose the right type of home for your needs. In this article, we'll take a look at what midcentury modern homes are, the types of designs they feature and what you should consider before buying one.
What Is A Midcentury Modern Home?
Midcentury modern architecture and home design debuted around the end of World War II and incorporated design elements that were unique and previously unseen in homes before the war. Some of those features included:
Bright, natural lighting

Clean, minimalistic lines

Open floor plans

Built-in shelves and other decor items
This type of architecture continued to gain popularity through 1969 before new styles and types of homes gained prominence.
Important Design Elements Of Midcentury Modern Architecture
It's the design elements that set midcentury modern architecture apart from other types of homes built during the same period.
Floor-To-Ceiling Windows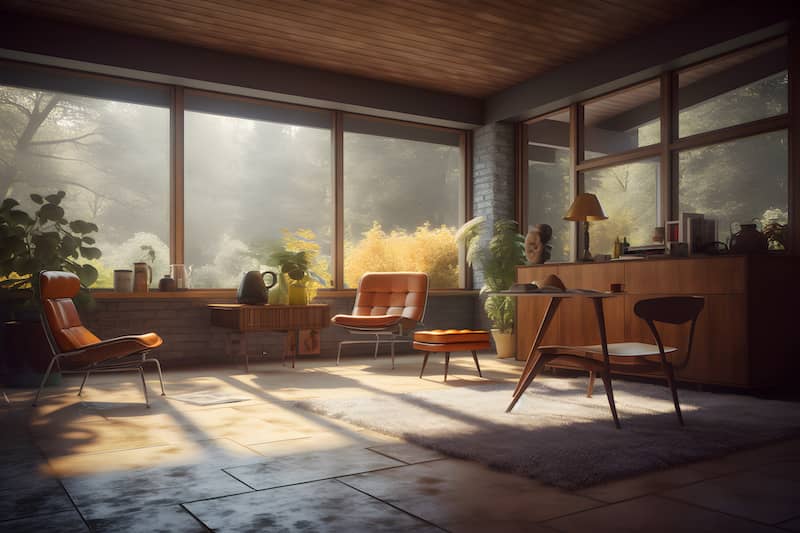 One of the most important priorities of midcentury modern homes was to emphasize and maximize natural light and reduce the barrier between nature and the home.
To accomplish this, architects added floor-to-ceiling windows throughout the home. The windows often looked out on the front yard and backyard and gave homeowners a clear view of their property – an element that was typically missing in other architectural styles.
Open Floor Plans
Many older home styles break up the living space into small, individual rooms. This technique makes it easier to keep certain activities relegated to specific spaces and can enhance the feeling of privacy homeowners experience when using a particular room. However, it can make a home feel much smaller than it is.
Midcentury modern homes eliminate that closed-off feeling by using open floor plans. Rather than walling off the kitchen from the living room and dining room, midcentury modern homes get rid of those walls. This design element has been incorporated into many more recent architectural types as well.
Split-Level Layout
Midcentury modern design focuses on creating dimension in the space. One of the ways architects accomplish this is by manipulating elevation throughout the home. Sunken living rooms with short steps up to the dining room, or bedrooms and lofts on a second floor, all help add variety to the space without making it feel closed off.
Simple, Clean Lines
Midcentury modern homes can be described as the precursor to modern hygge or minimalist design. Architects incorporate simple, clean lines and decorate the space with different textures and natural elements, like stone, green or living walls and wooden paneling along ceilings and walls.
Emphasis On The Outdoors
Midcentury modern architects wanted to eliminate the boundary between the home and the natural world, so they positioned the floor-to-ceiling windows to showcase the front yard and backyard. The homes also feature sliding glass doors and numerous entry points to access the outdoors easier.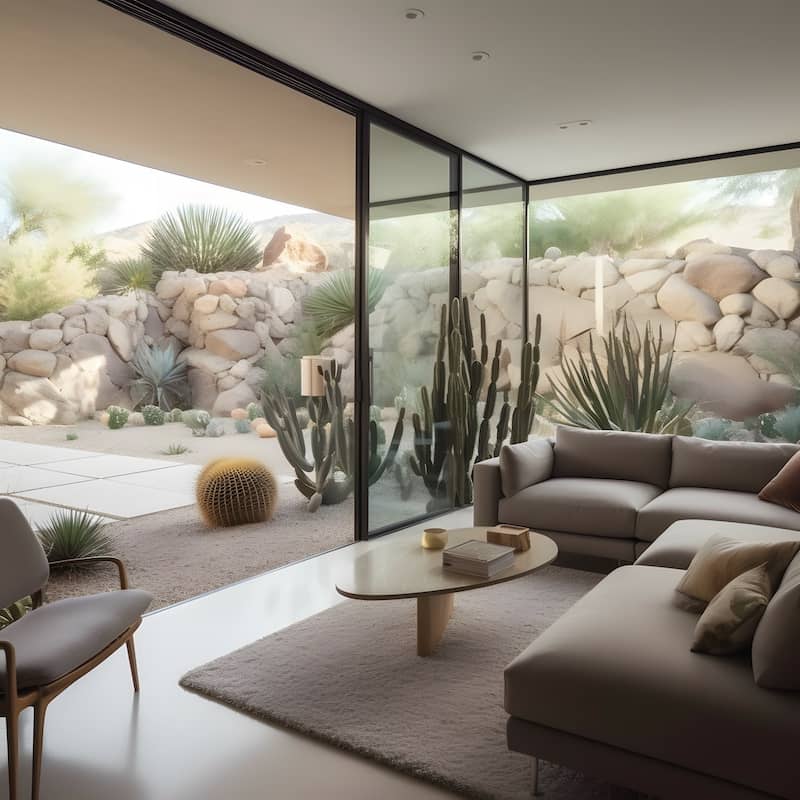 Examples Of Midcentury Modern Homes
The best way to fully understand what midcentury modern homes look like is to take a look at some of the most well-known examples.
Fallingwater
Fallingwater was designed by Frank Lloyd Wright, arguably the father of midcentury modern architecture. The home features a split floor plan, tons of windows overlooking the beautifully landscaped property and natural elements to decorate the space. The home was designed in 1935 but still serves as a prime example of midcentury modern architecture in its infancy.
Meryl Streep's House In Pasadena, California
Meryl Streep's home in Pasadena is an excellent example of midcentury modern design. The property features a lush and richly landscaped yard, and the house has floor-to-ceiling windows that overlook the grounds in almost every room. The architects also added skylights to maximize the amount of natural light the house receives.
Philip Johnson's Glass House In New Canaan, Connecticut
The Glass House is a unique, single-level home featuring floor-to-ceiling windows along all exterior walls. Johnson created the home with a completely open floor plan, using cabinets and other design elements to break up the space rather than relying on walls or other permanent structures. With a small footprint, the windows make the space feel much larger than it is.
Ready to Find Out What You Qualify For?
See options that work for your unique financial situation.
Get Started
Is Owning A Midcentury Modern Home Right For You?
Midcentury modern homes are a wonderful option for many homeowners, but you'll need to think about a few things before you decide to buy one. Let's take a look at the most important considerations to keep in mind.
Maintenance Costs
One of the unfortunate things about many midcentury modern properties is that many of them have been neglected over the years. Because these properties are older, they often need more maintenance than newer homes. If you're unprepared, the costs can put a serious strain on your budget.
Think about how much you can realistically afford to spend on your home and make sure to factor projected maintenance and repair costs into your calculation.
The Amount Of Glass
Since large windows are a huge part of midcentury modern homes, buyers should be prepared for the impact that much glass may have on their homeownership costs. The more glass you have in a home, the more potential there is for heat and cold to seep inside the home. This can cause your energy bills to skyrocket during the summer and winter.
Furthermore, the windows will eventually need to be replaced, and depending on the size of your home, it could cost tens of thousands of dollars.
Resale Potential
Midcentury homes are not for everyone, and their architectural style appeals to a certain type of home buyer. This can make it more difficult to sell the home if you ever need to move. However, buyers who appreciate this type of architecture will likely be willing to pay more for the property, helping you snatch a higher sale price.
The Bottom Line
Midcentury modern homes blur the line between the indoors and outdoors and embrace a minimalist aesthetic that appeals to many would-be buyers. Though the homes are older, their unique layouts and tranquil designs can make the space feel like a peaceful escape from the hustle of daily life.
If you're thinking of buying a midcentury modern home, start the mortgage application process online. The sooner you do, the sooner you can start looking for properties with confidence.