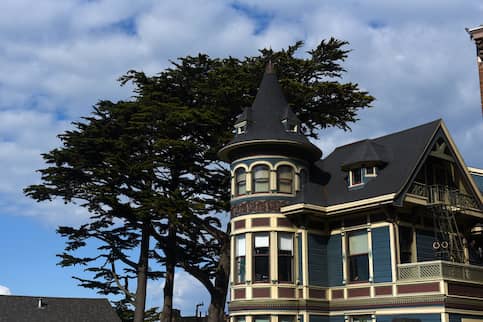 What Is A Victorian House: Features, History And More
Published on March 9, 2022
If you've always admired historic homes, you may wonder what it's like to own a Victorian house. While they are gorgeous and stately, they have their pros and cons you should think about before buying one.
Here's everything you must know about buying a Victorian style house and calling it your home.
History Of The Victorian Style House
Victorian houses got their name from their era – the Queen Victoria era, which was 1837 – 1901. So the style is reminiscent of the style you'd see during that time, although today, they are almost an interpretation of periods even before the Victorian era.
The Victorian house was popular for upper-class white people in the 1800s. The houses were typically large to the point that they stuck out among other houses in the area. They usually had very ornate architecture and had at least two stories, but sometimes even three stories.
Victorian houses usually had a stone or wood structure, and it wasn't unusual to see towers, turrets, and gabled roofs. In addition, many houses in the Victorian era were painted in bright colors, and the interior was just as eccentric as the exterior.
Take the first step toward buying a house.
Get approved to see what you qualify for.
Start My Approval
Exterior Characteristics Of A Victorian House
It's easy to pick out a Victorian house from a line of houses because of the unique characteristics that differentiate it from other styles, such as colonial homes.
The features you'll find include:
Most Victorian houses have at least two stories, if not three. As a result, they look very tall in stature from the street and almost feel intimidating as you walk up to them because of their grandeur.
Victorian houses made of brick or partial brick often have glazed bricks in a color different from the rest of the house. This helped the houses stand out in the area and added an element of beauty to the home's exterior.
Beautiful bay windows often adorn Victorian houses. You'll recognize them with their protruding style from the rest of the home. They give the home a look of elegance from the outside and from the inside. These big windows let in the natural, beautiful sunlight.
Most Victorian homes have elaborate porches that even wrap around the home. Most porches are eclectic and add to the home's appeal. You may find ornamental fixtures throughout the porch that help accentuate the home's beauty.
Most Victorian houses have steep, gabled roofs to accommodate the towers and turrets. These are triangular-shaped roofs with a tall peak in the middle.
If you look closely at Victorian era houses, you'll see the intricate millwork around windows, doors, and other areas of interest. The millwork is beautifully detailed to give the home even more character.
Most Victorian houses are painted an eccentric color. Even if the entire home isn't a bright hue, a portion of it, like the bricks, might be.
It's rare to find a Victorian house with one style window. Instead, you'll find houses with stained glass, oddly shaped windows, and even multipane windows. There wasn't a right or wrong way to adorn Victorian houses, so you might find four or five different types of windows in one home.
During the Victorian era, builders experimented with different shapes and styles, which led to the addition of towers and turrets on many homes. You may find narrow and pointed turrets or wider and rounder towers adorning a Victorian home.
Interior Characteristics Of A Victorian House
The interior plans of a Victorian house are usually just as ornate as the exterior and include the following:
Unlike today's home style, most Victorian homes have a closed floor plan, which means long hallways or areas between each room, closing each room off from one another.
Long hallways are paramount for Victorian houses. They are what separate each room from one another and provide privacy throughout the home.
Ornate crown molding is common in Victorian era houses to match the ornate exterior architecture.
Just like the exterior windows of a Victorian home are ornately detailed, so are the inside windows and trim. As a result, you'll find detailed woodworking throughout.
Fireplaces are found in most parlors and other common rooms throughout Victorian houses. Many even had multiple fireplaces, one in each room meant for guests or entertaining.
Even the stairs in Victorian houses can be detailed and ornate. Long, winding stairs are often a part of the architecture and are what helps keep the home's closed floor plan.
Popular Victorian House Styles
Despite their common characteristics, there are many different Victorian house styles to choose from, appealing to buyers of different tastes.
Italianate
Italianate houses are copies of homes you'd find in Italy. Many people call them Italian villas. Unlike traditional Victorian houses, they have flatter and wider roofs. The home itself is usually rectangular, and the windows are narrower and less ornate than traditional Victorian homes.
Gothic Revival
Gothic Revival homes are reminiscent of churches in England with their steep roofs, pointed arches, and ornate detailing around windows and doors. Many people compare Gothic Revival homes to castles without traditional towers and turrets.
Queen Anne
Queen Anne architecture houses are the most popularly known structures in Victorian homes. They have detailed ornamental windows and doors, towers and turrets, and steep gabled roofs.
Second Empire
Second Empire houses have a square architecture with heavy pitched roofs. They don't miss out on the ornate details, though, as they have detailed millwork throughout the windows, doors, and porches. These houses are replicas of homes found in France during Napoleon III's reign.
Folk Victorian
The Folk Victorian is a simpler version of a Victorian home. It doesn't have the towers or turrets, but it has the closed floor plan, detailed millwork inside and out, and the steep gabled roofs of Victorian homes.
View Your Refinancing Options
See expert-recommended refinance options and customize them to fit your budget.
Start Your Refinance Online
Buying A Victorian House
Buying a Victorian house doesn't come cheap. While you can find them in some areas for around $500,000, it's not unusual for them to be $1 million or more. They may not look like they are worthy of the price from the outside, but a closer look at the detail within each home, makes it easy to see why.
Price aside, though, there are other considerations to make when buying a Victorian house. Since they are historic homes, they often have more problems than newer homes, and the issues usually cost more because of their historic nature.
As with all types of houses, you should consider several pros and cons of Victorian homes.
Pros Of Victorian Era Houses
You're preserving the community's history
Buying a Victorian house means you're buying a historic house, and you promise to maintain its structure and aesthetics as the city requires. As a result, you're preserving a part of the area's history, and you may even come across people who have a fond memory of growing up in the home or visiting it.
Unbeatable character and charm
You get a level of character and charm with Victorian houses that you don't get from any other architecture. They capture the attention of everyone as they pass by, giving them something to admire and smile about. They don't blend into the environment – they stick out in a good way.
They often have an amazing history.
If you're lucky enough to learn about the home's history, it can make the home mean even more to you. Each owner has a story that they can share about the house, adding charm and appeal for you.
If you aren't the cookie-cutter type person, you can buy an eclectic home with its own personality. Even though the home came as is, its character may fit well with yours, giving you an even greater sense of accomplishment in owning a home.
Cons Of Victorian Era Houses
There may be strict rules.
You can't do what you want with historic homes. Your ability to renovate the home may be hindered by what the city will allow. You will likely have to get all repairs and renovations approved before starting them.
The renovations can be expensive.
Since you're likely working with materials that aren't common for today's homes, it can be harder and more expensive to come across the materials to renovate or repair the home.
Insurance can be expensive.
Homeowners need home insurance, but insuring a Victorian era home can be much more expensive than insuring a newly built home. Because these homes often cost more to repair, the insurance premiums are high to account for the cost should there be a total loss.
There may be more problems with the home.
Existing homes almost always have some issues, but Victorian homes have many unexpected issues like asbestos and mold. Therefore, it's always best to have an inspector look at the home before you commit to buying it.
The Bottom Line
A Victorian house can be a great purchase for the right person. They have their charm and character that are unlike any other architecture available today. If you're into historical homes and want to help preserve your city's history, it can be a wonderful purchase.
Just make sure you're aware of the work, cost, and additional issues that could come along with owning a Victorian home before you buy it. They can be an incredible purchase that provides many years of incredible homeownership for the right person.
If you're ready to buy a house, whether Victorian or not, get preapproved with Rocket Mortgage® to help the buying process go as smoothly as possible.
Take the first step toward buying a house.
Get approved to see what you qualify for.
Start My Approval