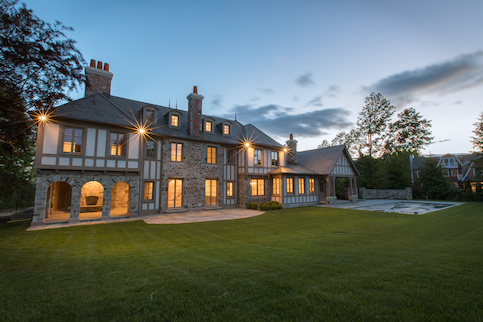 Tudor House: A Complete Guide To This Type Of Home
Published on April 20, 2023
If you've ever tried to imagine the ultimate storybook house, it might look a lot like a Tudor-style house. The old and quaint, yet endearing look of Tudor houses are eye-catching inside and out.
If you've ever considered buying a home of the Tudor-style variety or you simply want to learn more about Tudor houses, continue reading to find out all you need to know about these types of homes.
What Is A Tudor House?
Tudor-style homes have a distinguished architectural style to them. These homes feature steeply pitched roofs, front-facing gables and half-timbering with stucco or stone that fills the space in between. You're also likely find the floor plans to be two or three stories, with ceiling beams and brick chimneys.
These types of homes didn't just pop up out of nowhere, though. In fact, their history runs centuries deep.
The History Of Tudor Homes
The architectural style of Tudor homes dates to the early 16th century in the United Kingdom. The Gothic and Renaissance elements of the house intrigued Americans beginning around the early 19th century when Tudor-style houses began popping up mainly in the Northeast and Midwest U.S. but were also interspersed throughout the country. The Tudor architecture eventually went mostly out of style around the end of World War II when the colonial-style house became more prominent.
Tudor-Style House Characteristics
A Tudor-style house has striking features that set it apart from more contemporary designs on the outside and continue inward.
Let's take a look at both the interior and exterior characteristics of Tudor-style homes so you'll have a better idea of what these homes look like.
Exterior Characteristics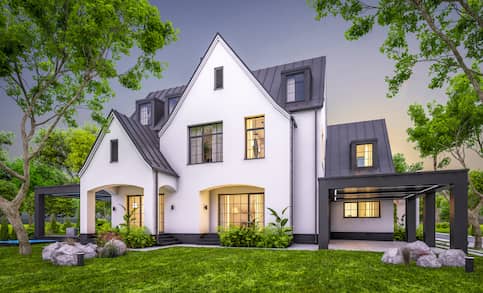 The exterior of a Tudor house has some unique architectural and landscaping elements. Here are some features that make the exterior of a Tudor-style house stand out:
Steeply pitched roofs
Front-facing gables
Tall windows
Neutral color palette
Decorative half-timbering
Brick or stone chimneys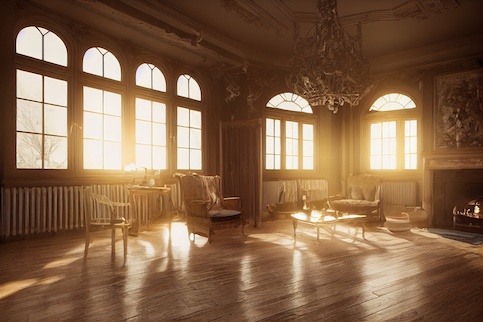 The interior of a Tudor house typically consists of formal, separate rooms versus an open-style layout. The interior rooms tend to come with a neutral color palette instead of loud, vibrant hues. Other interior characteristics of most Tudor-style houses include:
Asymmetrical layout
Wood paneling and trim
Arched doorways
Brick or stone fireplaces
Ceiling beams
Glass decorative windows
Tudor House FAQs
Not sure if a Tudor home is right for you? Below are some frequently asked questions about Tudor-style houses, along with their answers, so you can make a more informed decision.
Should I buy a Tudor-style house?
Buying a home comes with both pros and cons. The classic look of Tudor-style houses makes them attractive, but the purchase price might be a bit high, as will any renovations..
Knowing what you can afford and working with a knowledgeable real estate agent can help you decide whether a Tudor house is the right fit for you.
What does a Tudor house plan look like?
The floor plan of a Tudor house is broken up into individual rooms rather than an open-floor-plan layout. These homes are typically two or three stories and come with defining features on the exterior as well as the interior.
Where can I find a Tudor home?
Today, as historically, Tudor homes are most often seen in the Northeast and Midwest, which are areas that tend to have long winter months. Although you can also still find Tudor houses in other parts of the country, they're not as common.
Let our friends at Rocket HomesSM connect you to your dream Tudor-style home.
Take the first step toward buying a house.
Get approved to see what you qualify for.
Start My Approval
The Bottom Line
Tudor-style houses remain on the market due to their popularity, which stems largely from their charm and distinct characteristics. With casement windows, gable roofs and brick or stone details, these homes are attractive to the eye and appealing to those who appreciate their unique architecture.
Interested in buying a Tudor-style house or something similar? Get started with us and speak with a Home Loan Expert today!