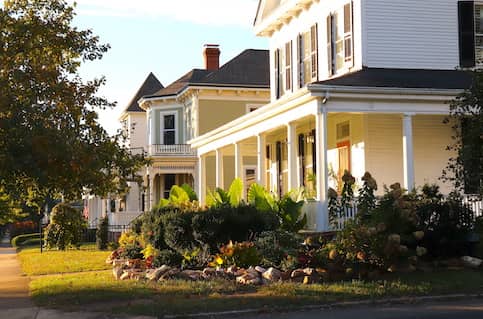 Colonial-Style House: What To Expect When Buying One
Published on April 17, 2023
In the 1600s and 1700s, and again during the revival period in the late 19th century, colonial homes were the go-to architectural build in the United States. Guided by the design features of their former European residences, the early English settlers constructed the colonial home based on what they knew, drawing inspiration and materials from the New World where they settled.
And while each colonial-style home is influenced by the cultural climate (German, French, British, etc.) to which these early settlers were accustomed, some striking architectural attributes define this type of home.
What Is A Colonial-Style Home?
The most obvious attribute of a colonial home is its symmetry. Colonial-style homes normally have a square or rectangle shape, with the front door located in the exact center and the same number of windows reflected perfectly on either side. They traditionally have two or three stories with similar, traditional room layouts.
Colonial homes are often associated with the East Coast of the United States, but they're also prevalent in other parts of the country. If you're looking to buy a home with fireplaces, a bit of history and a brick or wood exterior, a colonial-style home might just be for you.
Additionally, colonial homes can possess:
High-peaked roofs with little to no roof overhang
Massive central or end chimneys
Pillars, dormer windows and brick detailing (mostly in later colonial-style homes)
Materials used to create the look varied by location, from brick to wood-frame to vinyl. In a later version of the colonial-style home, builders developed the "four-over-four" style, referring to four rooms on each floor.
While each type of colonial home varies, these are the most basic characteristics found in most.
Popular Colonial House Types
The term "colonial" referred to the houses built by the 17th-century European colonists. As already mentioned, the build was based on what they knew from their previous homes in Europe.
However, their new homes evolved and adapted in design based on the regions where they settled. For example, English settlers built wooden cottages, while Dutch settlers incorporated stone and brick – a technique used in Holland.
To get a better idea of what colonial architecture style means, let's examine the seven most common types of colonial homes and the features of each build.
English Colonial
English colonial homes were designed by the first settlers in New England. The main feature of this type of home is its wood-frame construction.
The original versions of these homes were simple in design, typically featuring two stories with an open floor plan and fireplace located in the middle of the room to heat the entire house. This also meant the chimney was placed in the center of the home.
To keep water and snow from entering the home, the roof was built with overlapping shingles or clapboard on the exterior walls, with diamond-shaped, lead-paned windows.
German Colonial
Similar to English colonial homes, early German colonial-style homes were also located around the Northeastern United States, primarily in New York, Pennsylvania, Ohio and Maryland.
Like the English colonial, these homes featured steeply-pitched roofs with side gables and a centrally located chimney. But in contrast, their window placement was symmetrical on the sides of the home, with small eclipse arches over each window.
German settlers used stone walls, drawing from materials used in the traditional style of their old homes. The walls were built thick, sturdy and insulated.
A tell-tale sign of a German colonial home was the slight upward curve, or kick, at the edge of the roof.
Georgian Colonial
This style of home was named after Kings George I – IV of England and became popular during the 1700s and 1800s.
This style was known for perfect symmetry and balance in the exterior design, with a central door flanked on both sides by symmetrical windows. Fireplaces were located at each end of the house – rather than the middle, like the previous colonial styles.
This style of home was very decorative, emphasizing the appearance of the interior living space. As a result, more complex central hall floor plans started to appear and become popular. They also incorporated elaborate mantel pieces, arched entryways and decorative molding.
Federalist Style
Federalist and Georgian-style colonial homes are often confused for one another. Federalist homes utilized more ornate, decorative elements, however.
For example, federalist homes often featured a balustrade, which resembled a half-fence, on the eaves hanging off the roof. Many of these homes also had a Palladia, which is an arched window over the doorway.
While these additions added to the home's elegance, they were non-essential to the function of the home.
French Colonial
Unlike the English and German settlers who put up stakes in Northeast America, French settlers made their way down south, settling in Mississippi, Louisiana and other southern parts of the country. Southern French colonists combined techniques from France and their experience with the new terrain to optimize the design of their homes.
Like most colonial homes, French colonial homes were built symmetrically with a square or rectangle frame and a second-story. But they also had a second-story used primarily as a living space. This was in preparation of possible flooding, which was a regular occurrence in the hot, swampy region where they resided.
These homes were also known for their large, covered porches, which shaded the interior of the home from the hot sun and kept the house cooler in the summer.
Colonial Revival
The Colonial Revival refers to the 1870s, when America began reflecting on the early colonial time period as part of its centennial celebration.
During this time, construction drew inspiration from the many different styles of colonial home. As a result, most of the architecture from this period blended many features of all the aforementioned styles.
The Revival Era also coincided with the beginning of the industrial revolution, which made decorative molding and elements widely available, though they were less elaborate than previous handmade details. Many people also added porches – like those from French colonial-style homes – and sunrooms for functionality.
Neo-Colonial
The 21st century brought with it the neo-colonial style home. This style draws inspiration from both the original and revival-style of colonial homes, but it utilizes 21st-century materials like vinyl siding.
Most common neo-colonial homes have a similar structure: two-story, featuring a square shape, with side gable roofs and few decorative features on the outside. Some homes, like the federalist-style ones, may have more decorative entryways or dormers, but whether they're adorned with these attractive elements depends on the homeowner's preference.
Neo-colonial style homes are the type of homes you see still today, lined up down a winding side street and perhaps interspersed with a few ranch-style homes.
Find A Mortgage Today and Lock In Your Rate!
Get matched with a lender that will work for your financial situation.
Get Started
Pros And Cons Of Buying A Colonial Home
Let's take a look at some of the advantages and disadvantages of owning a colonial home.
Pros Of Colonial-Style Houses
Classic, timeless design has wide appeal and may ensure high resale value.
Spacious, simple layouts make it easy to decorate rooms.
Homes are typically two or three stories.
Houses boast many cozy elements like fireplaces and intricate woodwork.
Cons Of Colonial-Style Houses
There are no high ceilings or open floor plans.
Two stories can make it difficult for those with mobility issues.
Original colonials may need special maintenance to ensure the stability of elements such as wood foundations and roofs.
Historic colonial homes may come with a high price tag.
The Bottom Line
Learning the history of various types of homes may help you narrow down your search during the home buying process. If you're feeling lost or confused about which home is right for you, make sure you reach out to a real estate agent. They can help make your home buying experience easier.
Want to start looking for the colonial-style house of your dreams? Get started with us today!
Find A Mortgage Today and Lock In Your Rate!
Get matched with a lender that will work for your financial situation.
Get Started