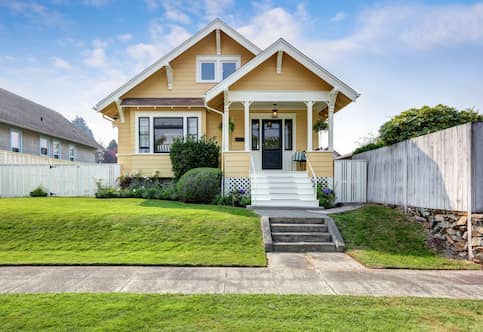 Craftsman House: A Beginner's Guide
Published on March 30, 2022
When you think of popular house styles, you may picture the elegant towers and turrets of a Victorian, the stately brick face of a Colonial or the quaint framework of a Tudor. But if you value handmade, individualistic design, a Craftsman house may be for you.
What Is A Craftsman House?
A Craftsman house is a home style that emphasizes the use of natural materials and hand-worked goods. This architectural style, which was developed in the early 20th century, relies on well-constructed architecture highlighted with hand-crafted decorative details.
Where Did Craftsman Homes Originate, And When Did They Get Popular?
Craftsman homes first emerged in the United States at the turn of the 20th century. Taking inspiration from the British Arts and Crafts movement, the American Arts and Crafts movement could be seen reflected in things like furnishings, pottery and even homes with the creation of the Craftsman style.
Craftsman homes were seen as the antithesis to Victorian-style homes, which were built to showcase the advancements of American manufacturing and innovation. By contrast, Craftsman-style houses wanted to emphasize the importance of hand-crafted goods and buildings over the extravagant, mass-produced Victorian style.
Gustav Stickley, an Arts and Crafts furniture designer, popularized the idea of Craftsman homes through his magazine, "The Craftsman." The magazine highlighted simplicity in materials and design and even provided specific home plans for readers.
What Makes A House A Craftsman Style?
Now that you understand where and why Craftsman-style homes originated, you may be wondering what these houses look like. Is a large, overhanging porch enough to classify a house as a Craftsman? Not quite, but if you're picturing Doc's bungalow from "Back to the Future" – also known as the Gamble house – you're on the right track.
Exterior Design
Craftsman-style homes are relatively easy to spot from the street. Though there are multiple different types of Craftsmans, the exterior design of these homes features distinctive characteristics including:
One-story to one-and-a-half-stories tall

Screened in or covered front porch

Low-pitched roof

Tapered columns supporting the roof

Deep overhanging roof eaves

Exposed beams and rafter tails

Multi-pane windows

Partially paned doors

Earthy tones and colors
Interior Design
Inside the home, the Craftsman-style is in the details. The exact design of a Craftsman house depends on the individualized house plans, but common features the Craftsman style include:
Built-in cabinets and shelves
Prominently featured natural materials, including wood, stone and brick

Handmade features and woodwork

Nature-inspired colors like brown and green
Open floor plan
Apply Online with Rocket Mortgage
Get approved with Rocket Mortgage® – and do it all online. You can get a real, customizable mortgage solution based on your unique financial situation.
Apply Online
What Are The Different Craftsman Styles?
When we're discussing Craftsman-style homes, it's important to note that there are actually several different types of home styles that could be considered "Craftsman." And while each of these homes share certain commonalities, there are some big differences in design between them, so let's take a look at each sub-category you could consider.
Bungalow
A bungalow is the most traditional style of Craftsman house. You can recognize a bungalow by its charming front porch and low-pitched, gabled roof. Exposed beams and rafters are common characteristics of these homes, with thick square or round columns bordering the steps to the – often enclosed – porch.
Prairie
Fathered by famous architect Frank Lloyd Wright, Prairie-style homes are often flat to the ground and feature open floor plans designed around a central living space. Outside, these houses have strong horizontal lines and long, hipped roofs that overhang the structure, sometimes by several feet.
Mission Revival
Mission Revival homes put a West Coast twist on the Craftsman style, utilizing smooth stucco on the exterior to mimic adobe construction. These homes take many of the structural concepts of bungalows and prairies, like gabled roofs and overhanging eaves. Then they tack on their own unique elements derived from Spanish architecture, like arched windows and a distinctive red tile roof.
Four Square
A four-square house is a square, two-story box comprised of four equal-sized rooms on each floor. These homes are easy to spot from the street due to their rectangular, symmetrical design and wide porch, which like other Craftsman homes, is covered with a pyramidal roof.
How Much Do Craftsman-Style Houses Cost?
Craftsman homes typically range in cost from $300,000 – $400,000 depending on the size and condition of the property, according to This Old House. Of course, the exact price you'll pay will also depend on the location and whether the house has undergone any significant repairs and remodels since its construction.
Why Should You Invest In A Craftsman Home?
Craftsman houses come in many shapes, sizes and styles. But what these homes have in common is a commitment to architectural integrity, a focus on handmade decorative details, and an open floor plan to foster connection within the home.
These craftsman properties have stood the test of time for good reason. Quality and simplicity are timeless qualities in design, so Craftsman houses are often in high demand. In fact, many of the core elements of these homes can be found in modern architecture, as the Craftsman style remains one of the most popular home styles to this day. And with recent spikes in popularity, Craftsman homes have become an appealing option for real estate investors.
How To Modernize A Craftsman-Style Home
The Craftsman home style may be considered timeless, but that doesn't mean it can't be improved upon. Because while certain architectural details hold up over time, others may lead to the home feeling run down or outdated, especially when compared to modern and contemporary homes.
But modernizing a Craftsman-style house can be a delicate balancing act. You want to incorporate enough modern elements to suit your personal needs and style without diminishing the home's architectural individuality. To keep the vintage charm and incorporate modern convenience, consider the following ways to make your Craftsman home feel more current.
Accentuate The Home's Original Architecture
Craftsman homes are the pinnacle of American craftsmanship and design, so when you're modernizing the home, it's important to keep the focus on the original architecture as much as possible.
Aim to accentuate the architectural features that are already in the home, like the original hardwood floors and fireplace. Hardwood floors can be refinished and fireplaces can be refaced – creating an opportunity to modernize without inherently altering the home's design.
Add A Touch Of Modern Decor
One of the best ways to update a Craftsman house is by incorporating some modern decor. Decor can be easily removed or changed as your tastes develop over time, so you don't have to worry about making changes to your home that you'll regret in the future.
Modern furniture, rugs, throws and pillows can add personality to the space without detracting from its original character. To seamlessly blend modern decor with classic Craftsman style, stick to earthy, neutral tones.
Accent And Trim Exterior Colors
Craftsman homes feature a fair amount of detailing, so when you're refreshing your home's exterior, choose a contrast color to draw attention to the trim. In the peak of the Arts and Crafts movement, Craftsman-style homes typically had one body color, one major trim color and one or two accent colors.
Choose a color for your trim that goes well with the body of the home and stay away from dark or bold tones, which may feel overwhelming to the eye. Craftsman homes are known for softer colors, so lean into natural, medium-contrast color combinations, like sage green with tan, burnt orange with off-white or deep burgundy with an orange yellow.
Incorporate Modern-Traditional Fixtures
Another way to honor your home's traditional design elements with a modern twist is by incorporating modern-traditional finishes and fixtures.
Finishes that would have been utilized in the early 20th century – like marble, soapstone and wood – will blend the best with the Craftsman style. For fixtures, lean into timelessness, choosing those that fit your modern aesthetic while still paying homage to the classic style of the home.
The Bottom Line
A Craftsman is a traditional home style from the early 20th century made popular due to its emphasis on functionality, its use of natural materials, and its timeless appreciation for handmade goods.
This home style has stood the test of time, remaining popular over several decades – and homeowners looking for more contemporary touches can easily modernize these classic properties without sacrificing their original character in a few simple steps.
Ready to talk details?
Connect with local custom home builders on HomeAdvisor.
View our affiliate disclosure policy here.
Get A Quote Today