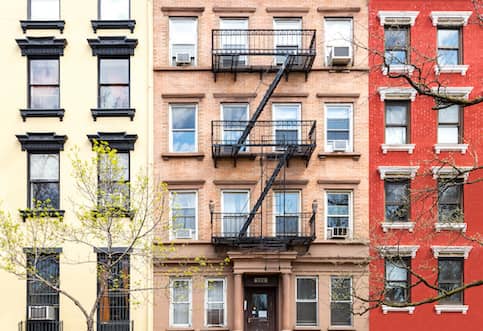 Types Of Apartments: A Complete Guide
Published on May 25, 2023
If you're not ready to buy a house, other types of homes are available for you to choose from. Whether you've been looking for something on the smaller side or want to enjoy the amenities of communal housing, an apartment can be a good option.
Let's learn about the pros and cons of apartment living and the different types of apartments you might want to consider.
What Is An Apartment?
An apartment is a real estate property that's part of a larger building consisting of a few or many units. The size and layout of an apartment can range from a studio to a multi-bedroom apartment, and numerous types of apartments can be offered in the same complex.
Apartment living can be a great option for those who aren't yet in a position to buy and maybe want access to amenities such as a pool or extra security to the building.
See What You Qualify For
Congratulations! Based on the information you have provided, you are eligible to continue your home loan process online with Rocket Mortgage.
If a sign-in page does not automatically pop up in a new tab, click here
Different Types Of Apartment Buildings
Before we take a look at the different apartment types, it's important to understand the different types of apartment buildings. Here are a few you might come across when apartment hunting:
Low-rise: A low-rise apartment building will have no more than four stories. These buildings are sometimes referred to as "walk-up" apartments because they have no elevator and use stairs for apartment access.

Mid-rise: These types of apartments will typically have 5 to 11 stories, but the number can vary depending on location. Mid-rise apartments typically have at least one elevator in their complex, along with a lounge area.

High-rise: High-rise apartments have at least 12 stories and are sometimes used as a mixed-use space, depending on the size. These mixed-use spaces can consist of other businesses or rented office space. High-rise apartments tend to be in larger cities.

Townhouse: A townhouse is attached to other apartments. These types of homes have a wall connecting to the other property, and they typically come with multiple floors.

Duplex: Similar to a townhouse, a duplex will share a wall (or a floor or ceiling) with a neighboring unit. A duplex is different from a townhouse in that it only shares walls with one neighbor. A townhouse, on the other hand, can have neighbors on each side.

Triplex: A triplex is like a duplex but composed of three private, separate living quarters.

Fourplex: A fourplex apartment building includes four separate living spaces, each with a private entrance. These apartments either sit on top of each other or stand side by side.
Different Types Of Apartments
Now that we know what type of building your apartment can be in, let's explore the different types of small apartments on the market:
Studio: A studio apartment is like a hotel room in layout. The kitchen, living room and bedroom are usually contained to one area, with the bathroom to the side.

Alcove studio: Similar to a regular studio in most respects, an alcove studio will also have a "nook" or separate area for the bed. This offers some privacy from the rest of the apartment.

Convertible studio: This type of studio also resembles a traditional studio. However, a convertible studio offers a bit more room to accommodate a wall separating the bedroom from the rest of the living space.

Micro studio: A micro studio boasts very little square footage, typically around 300 square feet. Although small in size, micro apartments are fully functional with flexible living arrangements.

One bedroom: A typical one-bedroom apartment has a designated area for your bedroom, while your living area and kitchen are close by.

Loft: Lofts have high ceilings and many have unique features such as exposed brick, cement walls or pipes. These apartments typically have an industrial feel with an open floor plan, and they can have their own separate bedroom apart from the living area.

Garden apartment: A garden-style apartment can be single-occupancy or a multi-bedroom layout. Tenants will share a common open space featuring a lawn or garden. These apartments can also be referred to as ground-floor apartments, as they feature direct access to the outdoors.

Convertible flex apartment: A convertible flex apartment features a main bedroom and has extra space that can serve as an office or another small bedroom.

Railroad apartment: A railroad apartment has one singular long hallway with rooms along the side. These types of apartments can have one, two or three bedrooms.
The Pros And Cons Of Apartment Living
Now that we've reviewed the different types of apartments, it's important to know the general advantages and disadvantages of apartment living.
Pros
For some people, an apartment can provide a more affordable living situation than a more traditional home and a mortgage. You also have easy access to amenities like parking, laundry, a swimming pool, a fitness center and lounge areas. If you live in an apartment, you also don't have to worry about fixing something that needs repair – there's a maintenance team for that.
Cons
One of the main disadvantages of living in an apartment is that you aren't building any equity – unlike when you buy a home. Apartment living also has some restrictions on the way you can personalize and decorate your space. Additionally, you may find yourself lacking privacy if you live in an apartment complex where others live either next to you or just above or below you.
The Bottom Line
If you're thinking about apartment living, you have many different sizes and layouts to choose from – perhaps making it easier to find something that fits your needs. Apartments can also work for those who just aren't quite ready to purchase a home and take on some of the responsibilities that come with homeownership. But buying a home has a ton of upsides, not the least of which is having a place to call your own and manage as you see fit.
If you're ready to make the leap to homeownership, we're always here to help. Get started by speaking with one of our Home Loan Experts today!