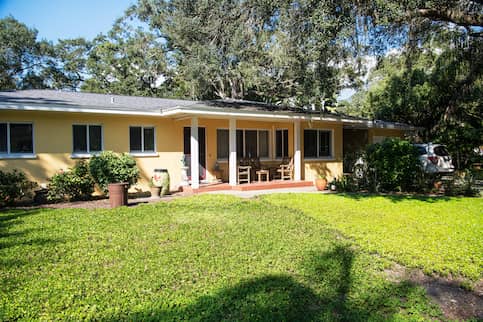 Ranch-Style Houses: Everything You Should Know
Published on June 13, 2023
If you're interested in buying a house, you'll quickly discover you have many different styles of homes to choose from. One popular housing option is a traditional ranch-style house. Whether you're a first-time home buyer or looking to downsize, a ranch home could be the perfect fit.
When you walk into a ranch house, you'll find an open-concept living space with low-pitched ceilings. Although smaller in size, ranch-style homes have a lot to offer a potential homeowner. Let's take a look at the interior and exterior features of this type of home, and we'll also review the different styles of ranch houses you can find on the real estate market.
What Is A Ranch-Style House?
A ranch-style house, also known as a rambler house, is a single-story home with an open-concept design intended to create a nice flow throughout. These homes typically have large windows surrounding the exterior, as well as low-pitched roofs and, in many cases, a large patio space either in the front or the back of the home.
Although ranch-style homes usually only have one floor, the basement in these properties is often finished to double as a living space – whether that be an extra bedroom, office, kid playroom or home theater. Ranch houses may be smaller in square feet than many homes, but you can optimize the space to your liking.
Common Characteristics Of Ranch Houses
Before we delve into the different styles of ranch houses, it's important to know that they all share characteristics that make them a ranch-style home. These types of houses are typically single-story, with an open floor plan and fewer square feet than most modern-day homes.
Here's a breakdown of a ranch home's inside and outside.
Ranch-style interior: This type of house often has simple and minimalistic design elements throughout the open-concept layout. The interior may also include multiple bedrooms and a basement that doubles as a living space. These houses are typically one-story and rectangular, although some designs are in a "U" or "L" shape.
Ranch-style exterior: Ranch houses usually have large windows surrounding the outside of the home, with different building materials such as brick or siding. You'll also find a low-pitched roof and sliding glass doors to welcome you onto a patio space. An attached garage can also be part of a ranch-style design.
See What You Qualify For
Congratulations! Based on the information you have provided, you are eligible to continue your home loan process online with Rocket Mortgage.
If a sign-in page does not automatically pop up in a new tab, click here
The Different Styles Of Ranch Homes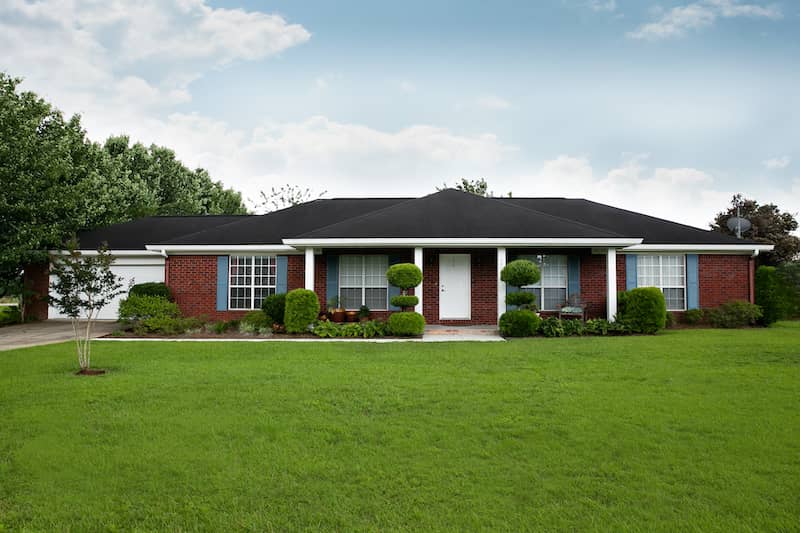 Although ranch homes have a similar architectural style and share common characteristics, they come in various styles. Next are a few types of ranch-style houses you might find when searching for a home to buy.
California Ranch
The California ranch is the original ranch-style house that came about in the 1920s. Influenced by Spanish architecture, these homes have some features in common with suburban ranch homes.
Suburban Ranch
These ranch-style houses originated after World War II when people started moving to the suburbs. The suburban ranch design is meant to be simple and has been replicated throughout the United States.
Storybook Ranch
If you're looking for a mix of a California ranch and suburban ranch-style house, a storybook ranch might fit your taste. These homes have designs and features that cater to both styles of houses, with brick chimneys and gabble or thatched shingles.
Raised Ranch
A raised-ranch home, also known as a split-entry level home, gets its name from the entry stairs being raised and the fact that these houses almost always have two floors. The entryway staircase will connect but also separate the main living spaces from the garage and basement space.
Split-Level Ranch
Similar to a raised ranch, a split-level ranch will have multiple floors, usually three. With bedrooms and living space at the top, the kitchen and living area are in the middle, followed by the basement at the bottom.
Pros And Cons Of A Ranch-Style House
Now that we're familiar with the different styles of ranch homes and their most common interior and exterior features, let's take a look at the overall advantages and disadvantages of ranch-style houses.
Pros
Owning a ranch house has benefits besides just curb appeal. Other pros of ranch-style homes include:
Open floor plan: Most ranch-style homes have an open-layout versus all rooms being closed off and separated from the rest of the house.
Easy maintenance: These homes tend to be smaller, which means less maintenance and housework required.
More accessibility: A ranch house typically has one floor, making it easier to navigate without a staircase.
Cons
While the ranch house style has many advantages, it's important to also consider some drawbacks to purchasing this type of property. Cons of ranch-style houses include:
Lack of privacy: If a ranch house has only one level, it could lack privacy – especially with the large windows surrounding the exterior of the house.
Potential for costly renovations: It can be expensive to add a second level to the original design of the house.
Less yard space: Ranch-style homes typically have less yard space due to their layout, but that's not always the case depending on the location.
The Bottom Line
Available in numerous styles, a ranch house can cater to many potential buyers. Whether you're just getting into the home buying process, ready to downsize or just like the look of a ranch-style house, we're here to help.
Ready to start your home buying journey and settle into your dream home? Get started with us and speak with a Home Loan Expert today!
Apply for a mortgage today!
Apply online for expert recommendations with real interest rates and payments.
Start Your Application