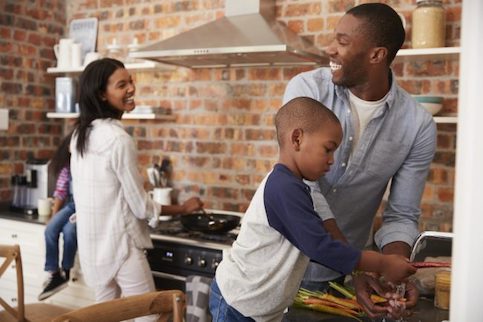 VA Loans: What You Need To Know
Published on July 25, 2022
The VA loan is a popular loan program for service members in the United States because it provides qualified military veterans, service members and surviving spouses access to homeownership at the best possible prices.
Are you a veteran, active-duty service member, National Guard member or surviving spouse of a military member looking to purchase a home? Follow along to learn the essential VA loan requirements and the most critical details of VA loan eligibility.
What Is A VA Loan And How Does It Work?
VA loans are home mortgage loans backed by the Department of Veterans Affairs (VA). They are designed to help those who serve and have served our country afford quality housing.
Since the VA does not offer mortgage products directly, you will still go through a mortgage lender to obtain a VA loan. However, the VA does determine who can receive a VA loan and which mortgage lenders can issue them. If you default on your loan, the VA promises to pay back a portion of the loan to the lender. This decreased risk allows lenders to offer you more favorable terms on your loan.
VA loan requirements differ from conventional loans because they are non-conforming loans. That means they do not meet the guidelines set by Fannie Mae and Freddie Mac to determine loan qualifications.
Conventional loan requirements typically include a required down payment, higher credit score requirements and a debt-to-income ratio (DTI) of no more than 50%. VA loans, on the other hand, do not require a down payment. Nearly 90% of VA loan borrowers put no money down. VA loans also have no credit score and DTI requirements. However, your lender may have their own requirement based on your financial situation.
Who Can Qualify For A VA Loan?
VA loans are offered to eligible veterans, active-duty service members, qualifying members of the National Guard and qualifying surviving spouses. As a current service member, you must have served at least 90 continuous days of active service. To qualify as the spouse of a service member, the service member must have lost their life in the line of duty or due to a disability as a result of that service.
For veterans, National Guard and Reserve members, your eligibility depends on when you served. Head over to the VA's website to look into your specific requirements.
Certificate Of Eligibility (COE)
If you believe you're eligible based on your service, the first step in the VA loan process is obtaining a Certificate of Eligibility (COE). A COE is a document issued by the VA that shows your lender that you qualify for a VA loan. To receive a COE, you must provide the VA with certain information depending on your military status. These documentation requirements are as follows:
Veterans must submit Form DD-214, which certifies military discharge.
Active duty service members and National Guard or Reserve members need a statement of service supplied by their superior.
Discharged members of the National Guard must provide NGB Forms 22 and 23.
Discharged members of the Selected Reserve must submit a copy of their annual Retirement Points Statement along with proof of honorable service and discharge.
Surviving spouses who don't receive dependency benefits need to submit their spouse's Form DD-214, their marriage license and their spouse's death certification, as well as a copy of VA Form 21-534EZ.
Surviving spouses who receive dependency benefits need to print and finalize VA Form 26-1817.
If you have the documentation ready to request your COE, you can ask your lender for help submitting the paperwork and securing your COE. You can also request a COE by mail, but this option will take longer than going through your lender.
Benefits Of A VA Loan
There are many reasons why VA loans are some of the most widely used benefits available to those who qualify. Here are some of the most important:
Down Payment
The VA does not require you to provide a down payment to qualify for a VA loan, which means you borrow 100% of the value of the home. However, lenders may require a better debt-to-income (DTI) ratio or a higher credit score if you plan to borrow 100% of the value of the home. Remember that you'll still have to pay closing costs when you close on the property, so be sure to save up in advance.
Private Mortgage Insurance
VA loans do not require private mortgage insurance (PMI), even without a downpayment. This is a crucial benefit compared to conventional loans that typically require purchasing PMI for loans with less than 20% down. Avoiding PMI can significantly increase your buying power by allowing you to afford higher principal and interest payments.
PMI can cost anywhere from 0.1%-2% of the loan amount. If you pay 0.5% PMI on a $300,000 home, you would add $125 to your monthly payments alongside your mortgage. You can put that money directly toward your mortgage with a VA loan without PMI.
It's important to note that, while there is no PMI, you will be required to pay a VA funding fee, which we'll dive into later.
Interest Rates
Lower interest rates can be one of the most enticing benefits of VA loans. While the rates will change daily depending on the economy and the specific lender you're working with, VA loan rates are consistently lower than conventional rates.
Capped Lender Fees
To lower your closing costs, the VA restricts lenders from charging borrowers for specific fees you may have to pay for a conventional loan. Lender's fees for services such as document preparation, lender's attorney fees and escrow fees cannot exceed 1% of your loan amount. However, there are some itemized fees that lenders can charge separately. These include VA appraisal fees, title examination fees and credit report fees.
Guide to VA Loans
Discover a more affordable loan option for United States Veterans, Service Members and spouses.
Read the Guide to VA Loans
VA Loan Requirements
The personal financial requirements for VA home loans are not very specific, as the VA's goal is to assist veterans of all financial situations who may not qualify for conventional loans. However, each lender will have their own requirements, so it is essential to work with them to get the best deal possible. On the other hand, the VA has specific requirements for the type and structure of homes purchased with VA loans to ensure veterans are safe and pay a fair price for their homes. Here are a few requirements you may have from the VA or your specific lender.
Property requirements: Any home purchased with a VA loan must meet the agency's detailed minimum property requirements (MPRs). A VA-approved appraiser will inspect the home to determine whether it meets the MPRs, focusing on whether it is safe, structurally sound and reasonably priced.
Credit score: The VA does not have a specific credit score requirement, but your lender may. A lender's typical minimum credit score is 580.
Income: The VA does not have maximum or minimum income limits to qualify for a VA loan. The VA's flexible income standards state that a veteran must have a "satisfactory repayment ability" and a stable income.
Loan limit: There are no specific VA loan limits, but it's ultimately up to your lender to determine how much you can borrow. Even though VA loans are non-conforming loans, many lenders require you to follow the conforming loan limits. The baseline conforming loan limit for 2023 is $726,200.
Debt-to-income ratio (DTI): No specific DTI ratio is required to qualify for a VA loan. However, the VA's suggested DTI standards are slightly more specific. If you have a DTI exceeding 41%, the VA may look more closely into your application and ask for additional compensating factors to qualify you for the loan.
VA Funding Fee
The VA funding fee is a one-time fee that borrowers pay the VA to oversee the program and keep it going for future generations. This funding fee varies depending on the borrower. It can be paid at closing or financed into the total cost of the loan.
The funding fee amount depends on the type of VA loan you get, your military status, the amount of your down payment when you purchase and whether it's your first VA loan. Surviving spouses, veterans with disability honors and active-duty personnel who have received a Purple Heart do not have to pay the funding fee.
| | |
| --- | --- |
| Type Of VA Loan | Explanation |
| VA Purchase Loan | Qualifying veterans can use purchase loans to buy single-family homes, condos, manufactured homes or multi-unit properties. The backing of the VA allows veterans to take advantage of favorable terms on loans. |
| Interest Rate Reduction Refinance Loan (IRRRL) | Also known as a streamline refinance, an IRRRL allows you to refinance a VA loan without a credit check, income verification or home appraisal. The interest rate on the new loan must be lower than your current one. |
| VA Cash-Out Refinance Loan | This allows you to liquidate up to 100% of your home equity, the largest percentage of any similar loan. You can turn your equity into cash to pay off high-interest debts or pay for large purchases like home improvements. |
VA Home Loan Next Steps
1. Find a lender that offers VA loans.
As mentioned above, while VA loans are backed by the federal government, you still need to go through a private mortgage lender to obtain a loan. If you're looking for a lender with experience providing VA loans, Rocket Mortgage is a great place to start.
2. Secure your COE.
Once you find the right lender for you, your COE ensures your ability to get a VA loan and offers proof of your military service. If you don't meet the qualifying criteria, you should talk to your lender about other options, such as the opportunity to apply for a conventional loan.
3. Apply for approval
It is best to go through the VA loan approval process before starting your home search. Getting an approval letter can give you a good idea of the types of homes you can look for in your price range and makes you more convincing in the eyes of a seller. Sellers typically take offers from potential home buyers with these types of letters in hand more seriously than those who do not have preapproval.
4. Find your dream home and make an offer
Once you find the perfect home for you that meets VA guidelines, it's time to make an offer. Work with your real estate agent to craft an offer within your financial limits that entices a seller to take your deal.
5. Get a VA home appraisal
A VA home appraisal is required for all VA loans to assess a home's fair market value and ensure it's safe to live in. An appraiser looks at your home's basic structure and ensures it meets the VA's MPRs.
6. Close on the house
Finally, the big day has arrived. At closing, you'll sign the mortgage documents and your lender will explain the terms and requirements of your loan, including how to make payments to your lender each month. While you may not have to provide a downpayment for a VA loan, you'll still pay closing costs worth 3% – 6% of the purchase price. Make sure to budget for these expenditures and prepare to wire the money or provide a check at closing.
VA Loan FAQs
What are the disadvantages of a VA loan?
Some home buyers may find that the minimum property requirements for VA loans restrict their options during their home search. The entire homebuying process may also be slightly more complicated due to a federal agency's involvement.
What is the minimum credit score for a VA loan?
As mentioned above, the VA has no exact credit score requirements, but your lender will require you to have a specific credit score. You can expect to need to have a credit score of at least 580 to qualify.
Is it hard to get a VA loan?
If you meet the VA loan eligibility requirements, it is relatively easy to qualify for a VA loan, thanks to the flexible financial requirements. While there are some additional paperwork and property requirements that you don't see with conventional loans, these extra steps can be worth it to get a better deal.
Can you use a VA loan more than once?
Yes. If you sell your home and pay off the mortgage in full, your entitlement to a VA loan is restored in full and you can apply for another VA loan. There are also certain circumstances, such as receiving permanent change of station orders, in which you can hold two VA loans simultaneously.
The Bottom Line: VA Loans Are A Great Resource For Veterans And Others Who Qualify
VA loans are one of the most beneficial resources available to service members and veterans looking to buy a home. If you qualify, you could purchase a home with no down payment, no PMI, a lower interest rate, lower closing costs and flexible financing standards. With this assistance, those who qualify can achieve the American dream of homeownership that they deserve.
Remember that you must go through a private lender, not the VA directly, to obtain a VA loan. If your military service or that of your spouse makes you eligible for a VA loan, you've come to the right place. See what you qualify for today!
Ready to Find Out What You Qualify For?
See options that work for your unique financial situation.
Get Started