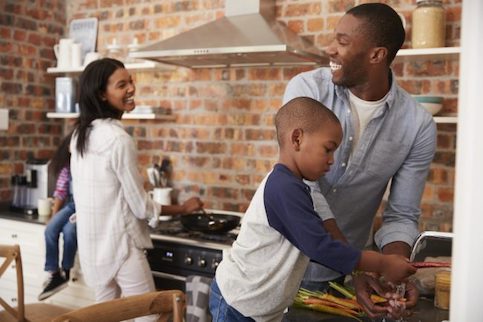 A Complete Guide To The VA Loan
Published on July 25, 2022
The VA loan is one of the most popular loan programs in the United States because it provides qualified military homeowners with lower rates and paves the way for homeowners to decrease their monthly mortgage payments.
As a military veteran, active duty military member or spouse of a military member, all of these VA home loan perks might sound good to you.
But how do you know whether or not a VA loan makes sense for you and if you qualify for a VA loan? We'll cover the definition of a VA loan, VA loan requirements, how a VA loan works, the steps to get a VA loan and more home buying details in this piece.
What Is A VA Loan?
What is a VA loan, exactly?
VA loans are home mortgage loans sponsored by the Department of Veterans Affairs. VA loans are offered to eligible veterans, active-duty service members, qualifying members of the National Guard and qualifying surviving spouses. They are designed to help those who served our country afford mortgages and housing.
VA loans offer a number of advantages over traditional home mortgage products. These can include low interest rates, low monthly payments as well as purchasing a property without a down payment.
See What You Qualify For
Congratulations! Based on the information you have provided, you are eligible to continue your home loan process online with Rocket Mortgage.
If a sign-in page does not automatically pop up in a new tab, click here
How Does A VA Loan Work?
When you get a VA loan, you still go through a mortgage lender to obtain one. The VA itself does not offer mortgage products directly. However, the VA does determine who can receive a VA loan based on its guidelines and which mortgage lenders can issue them.
A VA loan is not like a conventional mortgage, which is a mortgage that is not backed by a federal entity. Conventional mortgages are created and serviced by private lenders.
Conventional loan requirements typically include a required down payment (sometimes as low as 3% down), higher credit score requirements (usually at least 620) and a debt-to-income ratio (DTI) of no more than 36%.
We'll go over the specific requirements for a VA loan later on in the article. But first, let's talk about different types of VA loans.
Types Of VA Loans
There are different types of VA loans, including the following:
VA Purchase Loan: A VA Purchase Loan is one of the most common VA loan types. It allows you to borrow up to the conforming loan limit for Fannie Mae and Freddie Mac for a home purchase.
VA Interest Rate Reduction Refinance Loan (IRRRL): An IRRRL, also known as a VA Streamline refinance, is a quick refinance option for those who already have VA loans. If you want to lower your rate, change your loan term or switch from a variable rate to a fixed interest rate loan, you can save time and money using an IRRRL.
VA Cash-Out Refinance: A VA cash-out refinance replaces your current VA loan with a new loan and offers cash back to you in the process. You tap into your home equity and can use the cash you receive to work on your home, pay for college, add a swimming pool to your home, etc.
VA Energy-Efficient Mortgage: A VA energy-efficient mortgage (VA EEM) is a loan made with a VA purchase loan for an existing dwelling or a refinance loan secured by that home to add energy-efficient improvements. This can include solar heating and cooling systems, caulking and weather stripping, furnace modifications and more. The mortgage may be increased by up to $3,000 based on documented costs, up to $6,000 as long as the increase in the monthly mortgage payment does not exceed the likely reduction in monthly utility costs or more than $6,000 subject to a value determined by the VA.
VA Rehab and Renovation Loan: A VA rehab and renovation, sometimes called a VA rehab loan, helps qualified borrowers who want to purchase a home in need of repairs and upgrades include those costs in their loan amount. That way, they don't have to take out a separate loan. You must meet minimum service requirements, certain lender credit standards, purchase a primary residence, only make certain renovations and can only hit the maximum renovation amount ($50,000 in this case).
If you're not sure which one fits you best, your lender can guide you. In all cases, however, it's a good idea to go over the fine details with your lender.
Guide to VA Loans
Discover a more affordable loan option for United States Veterans, Service Members and spouses.
Read the Guide to VA Loans
VA Loan Requirements
Many veterans and military service members take advantage of VA loans, but they require you to meet certain requirements, including the following:
Active Service
You must meet specific active service requirements for both the Department of Veterans Affairs and your individual lender in order to qualify for a VA loan. You must have served for a minimum of 181 days of active service during peacetime, at least 90 consecutive days of active service during wartime or more than 6 years of service with the National Guard or Reserves or 90 days under Title 32 (at least 30 of these days must have been consecutive). You may also qualify as the spouse of a service member. The service member must have lost their life in the line of duty or due to a disability as a result of that service.
Occupancy
You must also meet occupancy and property-type requirements in order to qualify for a VA loan. The property you purchase must be a primary residence. Secondary homes, such as vacation homes, do not qualify for VA loans.
You must also plan to move within a reasonable amount of time, usually after 60 days of qualifying for a VA loan. If you're currently on duty, your spouse may live in the home but if you have a child, that child or another dependent cannot fulfill the occupancy requirement alone.
Credit Score
The VA doesn't ask you to adhere to any hard-and-fast credit score requirements but your lender will require you to have a specific credit score. You can expect to need to have a credit score of at least 580 in order to qualify.
Debt-To-Income (DTI) Ratio
Like your credit score with a VA loan, your lender will take your debt-to-income ratio into consideration for a VA loan. However, there is no specific cap on a DTI like there is for a conventional loan.
Down Payment
A VA loan does not require you to put down a down payment in order to qualify for a VA loan. Of course, lenders may require you to have a better DTI or higher credit score if you plan to put no money down. Remember that you'll still have to pay closing costs when you close on the property, so be sure to save up in advance.
Funding Fee
The VA funding fee is a one-time fee that borrowers pay to the Department of Veterans Affairs to oversee the program and keep it going for future generations. This funding fee varies depending on the borrower and can be paid at closing or financed into the total cost of the loan.
The funding fee depends on the type of VA loan you get, your military status, the amount of your down payment when you purchase and whether or not it's your first VA loan. Surviving spouses, veterans with disability honors and active duty personnel who have received a Purple Heart do not have to pay the funding fee.
What Is The Certificate Of Eligibility (COE)?
A certificate of eligibility (COE), is a document issued by the Department of Veterans Affairs and which shows your lender that you qualify for a VA loan. The specific requirements depend on the type of military qualification you offer:
Veterans must submit DD Form 214, which certifies military discharge.
Active duty service members and National Guard or Reserve members need a statement of service supplied by their superior.
Discharged members of the National Guard must provide NGB Forms 22 and 23.
Discharged members of the Selected Reserve must submit a copy of their annual Retirement Points Statement along with proof of honorable service and discharge.
Surviving spouses that don't receive dependency benefits need to submit their spouse's DD Form 214, their marriage license, and their spouse's death certification, as well as a copy of VA From 21P-534-ARE.
Surviving spouses who receive dependency benefits need to print and finalize VA Form 26-1817.
You can get your COE through the eBenefits website or mail your documents and a completed VA Form 26-1880 to the Department of Veterans Affairs.
VA Loan Limits
There are no specific VA loan limits, but it's up to your lender how much you can borrow. Many lenders require you to follow the conforming loan limits. In other words, in 2022, according to these limits, you may not borrow more than $647,200, but that number may be higher if you live in a high-cost area.
Entitlement benefits can work in your favor. Entitlement is the amount you may have available for a guaranty on a loan. Those with full entitlement don't have limits over home loans of $144,000. If you default on a loan over $144,000, the VA will pay your lender up to 25% of the loan amount.
You can gain access to full entitlement three ways:
You've never used your home loan benefit or
You've paid a previous VA loan in full and sold the property or
You've used your home loan benefit but paid the money in full after you underwent a short sale or foreclosure.
For more info on VA loan limits and entitlement, visit the VA housing assistance site.
How To Get A VA Loan
Now that we've gone over the answer to "How does a VA loan work?" let's go over the actual steps on how to get a VA loan.
1. Get A Certificate Of Eligibility
It's important to get a COE first because that ensures your ability to get a VA loan and offers proof of your military service. If you don't meet the qualifying criteria, you may want to talk to your lender about other options, such as the opportunity to apply for a conventional loan.
2. Apply For Preapproval
A mortgage preapproval is the first step in the process. A lender takes a look at your finances and does a soft credit check to help you determine how much home you can afford. It gives you a good idea of the types of homes you can look for in your price range and also makes you more convincing in the eyes of a seller. Sellers take offers from potential home buyers with preapprovals in hand more seriously than those who do not have a preapproval for a lender.
3. Make An Offer
Next comes making an offer on a property that meets VA guidelines. VA properties must have minimum property requirements (MPRs) to make sure the home you plan to buy is safe and structurally sound and also fit squarely into local codes. Homes that do not meet these guidelines can be remodeled to meet the appropriate standards.
4. Have A VA Home Appraisal Completed
A VA home appraisal ensures that you're not paying too much for a home, and both you and your lender will want to know that information!
An appraisal takes a look at the basic structure of your home and comparable properties to assess the fair market value of your home. The VA home appraisal ensures that the MPRs that we mentioned in the last step are met.
5. Close On The House
Finally, you'll make a purchase offer to buy a home and negotiate with the seller to address any counteroffers, put together a sales contract with the help of a real estate agent or attorney and close on your home. You'll sign the mortgage documents at closing and your lender will explain the terms and requirements of your loan, including how to make payments to your lender each month.
VA Loan FAQs
What are the benefits of using a VA loan?
Getting a VA loan allows qualified veterans, service members and spouses to tap into lower interest rates, no down payment, less stringent requirements, no PMI and other perks. They are one of the most widely used benefits available to individuals who serve in the U.S. Armed Forces.
Can you use a VA loan more than once?
You may be wondering how many times you can use a VA loan. Luckily, there's no limit to the number of times you can use your VA loan benefit over the course of your life. However, you still need to meet your lender's and the VA's specific requirements every time.
Are there closing costs on a VA loan?
You will have to pay closing costs on a VA loan. Closing costs include the charges for processing the loan itself. They include a VA funding fee, the loan origination fee (the fee to process your loan), your credit report to check your credit and more.
Check with your lender for a full list of fees or you can see those on your Closing Disclosure, a document that shows how much you'll owe at closing.
The Bottom Line
VA loans offer military veterans, active duty military members or qualifying spouses an opportunity to benefit from low interest rates, low monthly payments and no down payments. There are various types of VA loans you can tap into, and the process for qualifying involves specific requirements. With your COE in hand, talk to your lender today about your next steps.
Ready to find the right home for you? Get started on your mortgage application.