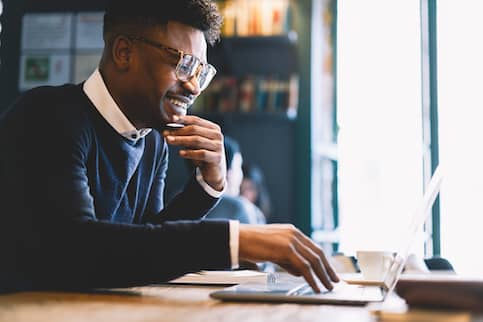 What Is A Title Search On A House – And Why Is It Important?
Published on April 6, 2023
So you've found a property you love. You've gone through the lengthy purchasing process, you've done your inspection and you're getting close to finalizing the deal.
There's one crucial step you can't overlook before you close: conducting a title search.
A title search is a critical component of the home buying process. It can ensure your property is protected from future claims while also showing any liens or claims against the property that could impact your final purchase.
A title search on property isn't just a technicality – a clean title is a requirement for a property transaction to take place.
Which leads to the question …
What Is A Title Search?
A title search is a search of public records that provides insight into ownership and claims on a piece of property. This search is a step in the mortgage underwriting process, and it's typically completed by a title company before a real estate transaction is completed.
When a property changes hands, its title transfers to the new owner. A title search shows the title's history throughout the property's existence. In other words, the search lays out all the government records of the title's transfer over the years.
So why do you need to do this? For starters, because buying property is a massive investment and you want to be sure there are no potential snags. Plus, it's typically not optional – before the transfer of title, most lenders require that you conduct a title search to find out if there are any potential issues.
A property title search will typically be conducted by a title company, which oversees the process of closing on a home in the run-up to closing. The title search provides crucial insight into a property's records to determine whether the seller indeed holds the rights needed to sell the home to you. In addition, a title search will reveal whether another party has a claim on the real estate holding that could derail the sale of the property.
To protect your interests, it's critical to get title insurance coverage to offset any potential liabilities that a title agency could have missed. For instance, there may be an outstanding debt associated with a property, such as unpaid property taxes or even a mortgage loan. If the title company missed this obligation, the party that is owed money can file a title claim and demand that the new owner repay this debt.
If you have title insurance, however, you can file a title insurance claim and your insurer will attempt to work out the issue and cover the costs of the conflict. Other issues that a title insurer may cover include:
Liens, like unpaid HELOCs or back taxes
Forged or flawed documentation
Conflicting wills
Unknown heirs to the property
Types Of Title Searches
There is more than one type of title search, and they include:
Full coverage

– A comprehensive title search that is conducted whenever a property is being sold. It typically includes a search for liens, bankruptcies and other judgment proceedings against the current owner as well as other parties on the title.

Limited coverage

– A narrow title search that generally looks only at records related to the current owner and deed.
See What You Qualify For
Congratulations! Based on the information you have provided, you are eligible to continue your home loan process online with Rocket Mortgage.
If a sign-in page does not automatically pop up in a new tab, click here
How Does A Title Search On A Property Work?
Title searches are performed by professionals known as abstractors within the county clerk's office. In their work, abstractors research, collect and review public records to find all the relevant information about individual properties. A title search could take days – or even weeks – to complete, as it requires abstractors to do a deep dive on each property and obtain myriad recorded documents from multiple sources.
This information is used to assemble an overview of the holding called the abstract of title, which lays out a timeline with details on various documents and transactions relevant to the piece of real estate that's up for sale.
As part of the home title search, title companies typically provide potential homeowners with a complete report of their findings. It's critical that this report demonstrates that the ownership of the property is free and clear of claims and other obligations in order for lenders and home buyers to move forward with the sale.
Why Is A Property Title Search Important?
There's a reason a property title search is often legally required as part of a property transaction. A title search on a property can turn up issues that include:
Incorrect legal descriptions of the property:

This

can result if an incorrect number or description has been inserted into the property's deed somewhere along its ownership. As a result, it could mean that you don't legally own the house, or the property lines are misdrawn and your actual property is different than what you currently see.

Liens:

A title search can find whether someone else can rightfully declare they have a claim

–

or a lien – on your property. Clarifying rightful ownership is a crucial part of a title search.

Outstanding property taxes:

If a previous owner has outstanding property taxes, a

tax lien can be filed against that property. Owners must pay off their taxes before selling a property, and a title search will find if there are property taxes that are owed to the government.

Encumbrances:

An encumbrance is a claim of ownership of a property, and examples include a lien or a structure that sits on two separately owned lots. A title search uncovers this potential difficulty and provides the opportunity to clear up any relevant issues.

Judgments:

A judgment is when a court orders a property owner to pay money owed to a creditor, such as an unpaid assessment. When a judgment is awarded, the creditor can use that judgment to place a lien on the seller's property. A title search would turn up this obligation and could help a purchaser ensure that they're not responsible for this debt moving forward.
How Much Does A House Title Search Cost?
A title search typically costs between $75 and $225, depending on factors including location of the real property, the title company's settlement service fee and the cost of the title insurance policy.
Home Title Search FAQs
Here are some questions that often come up in the title search process.
Who conducts the title search during a real estate transaction?
A title company or real estate attorney typically conducts a title search.
Can I do a title search myself?
While it's legal for home buyers to perform their own title searches, it isn't recommended. The process can take hours – or even days – to do deep research into a real estate holding and comb through extensive public records. Plus, remember that title searches are conducted by experts, and they will likely uncover possible problems you might miss. One overlooked issue can cost you far more than you could save by conducting a title search yourself.
How long does a title search take?
A title search typically takes between 10 and 14 days. As a general rule, the older the home, the longer the title search takes to complete.
What happens if my title search finds an issue?
Many title issues can be easily resolved by the owner. But in the case of more difficult situations, a title search unearths the problem early and ensures you can work to address the issue before it becomes too problematic.
The Bottom Line
Purchasing property can be a lengthy, complex process and adding another level of complexity certainly may seem daunting. But a title search is essential for you to step into your new home. It can uncover any issues that may be attached to the property and ensure that the person selling you the property is, indeed, legally allowed to do so.
Make it a priority to take the right steps toward buying a house so that you can move forward confidently into your dream home. Take action and start the process today.
Apply for a mortgage today!
Apply online for expert recommendations with real interest rates and payments.
Start Your Application