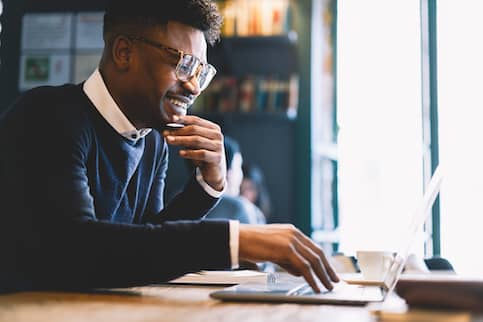 Property Title Search: Definition And Process
Published on March 18, 2022
From a home buyer's perspective, property title searches are an essential part of any real estate transaction. A title search is an examination of public records to confirm that the party trying to sell you your new house is indeed the rightful owner. Conducting a title search gives you the assurances that there's not a lien, claim or other encumbrance that could impact your potential purchase.
Property title searches provide the background information needed to determine if a proposed sale is legitimate. They can provide the confidence home buyers and lenders need to proceed with any given transaction. Here's what they entail.
Apply for a mortgage today!
Apply online for expert recommendations with real interest rates and payments.
Start Your Application
What Is A Title Search?
When property is bought, the title to the property transfers to a new owner, a process which the government records in public records. A title search involves reviewing these records to determine if the seller indeed holds the rights needed to sell the home to you.
In addition, a title search should reveal whether or another party currently has a claim on the real estate holding that could derail the sale of the property. A title search will often be conducted for you by a title company, who oversees the process of closing on a home, in the run up to closing.
Why Title Searches Are Important
A title search examines the chain of title transfers and can uncover problems that could put a home buyer at financial risk or halt the purchase of the home. It confirms that the seller holds the rights to sell the property and that no previous owners' obligations have the potential to create impositions for you down the road.
It's a common occurrence for mortgage lenders to require title searches and title insurance as part of the mortgage underwriting process.
After all, if they fail to conduct a title search, home buyers and sellers potentially overlook old claims against the property's title that could create legal hiccups later down the road. Prior owners' previous debts could also become your unexpected obligation. For example, what would happen if you were to skip conducting a title search, or the title search failed to find outstanding debts? Bills for home upgrades and improvements, unpaid property taxes or overdue homeowners' association fees could become your responsibility.
How Much Does A Deed Or Title Search Cost?
Buyers pay for the cost of the title search when they purchase a title insurance policy or as part of their closing costs. As a rule of thumb, you can expect it to cost $75 - $225, depending on where you're purchasing your new home.
Following the title search, the provider should issue a report detailing the chain of title, and if any issues exist regarding past debts or transfers of ownership that could create headaches going forward. No law requires you to use a third party to conduct a title search vs. conducting one yourself. Nonetheless, given the importance of the process, and the role it plays in purchasing a property, it's often best left to professionals to conduct.
Take the first step toward buying a house.
Get approved to see what you qualify for.
Start My Approval
Who Performs The Search?
A title company or real estate attorney will generally conduct a title search. While some home buyers choose to perform their own title searches, doing so typically isn't in your best interest. It can take hours or days to do deep research into a real estate holding and comb through extensive public records. Failing to uncover possible problems can cost you far more than you stand to save by conducting a title search yourself.
What Information Do Title Companies Look For?
Title companies will be on the lookout for any possible encumbrances as part of the search. Here are a few problems they'll be keeping an eye out for:
Easements
Bankruptcy records
Construction liens
Property records
Finding concerns related to any of these topics could put the sale of the property on pause until the owner resolves the outstanding liens.
What Happens During The Title Search?
Title searches are performed by professionals known as abstractors, who invest significant time and research into collecting and reviewing necessary information. A title search could take days or weeks to complete, as it requires abstractors to do a deep dive on the property and obtain myriad records from multiple sources.
This information is used to assemble an overview of the holding called the abstract of title. The abstract of title lays out a timeline with details on various documents and transactions pertaining to the piece of real estate that's up for sale. Should the title company encounter any outstanding with the property's title, they will notify you as soon as possible.
As part of their work, title companies will provide you with a complete report of their findings. It's critical that this report demonstrate that ownership of the property is free and clear in order for lenders and home buyers to move forward with the sale. As part of your new home purchase, you might want to purchase a title insurance policy, which can safeguard your ownership claims.
How To Protect Yourself From Financial Liability
Although title searches are comprehensive, they may not uncover everything problematic relating to a real estate purchase. Investing in title insurance is a wise choice for any home buyer, and you can do so before the title company starts their investigation. Should any issues arise, title insurance can help you offset potential financial liabilities.
The Bottom Line
Title searches are a vital part of the home buying process. They provide you and your home lender with confirmation that the title is free and clear, and no outstanding debts exist.
Failing to conduct a property title search could leave you exposed to legal or financial hazards. As a result, home buyers routinely invest in title searches and title insurance.
Ready to start looking for homes, and interested in learning more about the closing process? You can start the process by applying online for a mortgage today.
Apply for a mortgage today!
Apply online for expert recommendations with real interest rates and payments.
Start Your Application