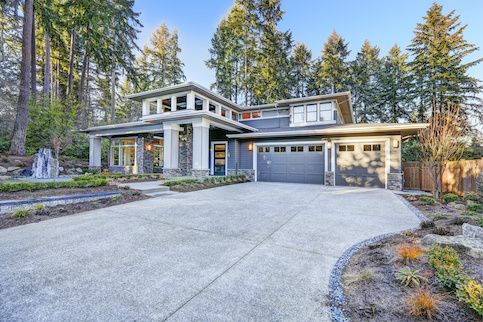 Jumbo Loan: Definition, Rates And Limits
Published on July 13 2021
If you're looking to purchase a home in a pricier neighborhood, you may find that you can't get a loan large enough to purchase your dream house. Don't worry, you still have options.
Conforming loans are generally sold to Fannie Mae and Freddie Mac, which means that they must adhere to the limits and requirements set by these government-sponsored enterprises. Jumbo loans, on the other hand, are not, and can be obtained through private lenders.
Jumbo loans may be a good option for you if you need a larger loan than the local limit for conforming loans and don't have the cash flow to put down a larger down payment.
If a conforming loan just won't cut it, read this article to gain a clearer understanding of jumbo loans, their qualification requirements and rates.
What Is A Jumbo Loan?
A jumbo loan (or jumbo mortgage) is a type of financing where the loan amount is higher than the conforming loan limits set by the Federal Housing Finance Agency (FHFA).
The 2022 loan limit on conforming loans for 1-unit properties is $647,200 in most areas and $970,800 in high-cost areas. For borrowers interested in purchasing more expensive properties, jumbo loans are a valuable alternative.
An added benefit of this mortgage option is that there's no mortgage insurance requirement. However, because this loan may come at a higher risk to the lender, it typically has slightly stricter qualification requirements than typical conforming loans that possess lower limits.
Find out if a Jumbo loan is right for you.
See rates, requirements and beneifts.
Explore Jumbo Loans
Jumbo Loan Limits And Requirements
In general, an underwriter evaluates a jumbo loan with many of the same lending criteria as they would a conventional loan – even if those requirements are a bit more stringent. You should expect your lender to request both your credit score and debt-to-income ratio (DTI), which compares your minimum monthly installment and revolving debt payments to monthly income.
However, it's not uncommon for lenders to request jumbo mortgage applicants to meet special demands before approving them for the loan. Because lenders take on higher risk with jumbo loans, these extra measures help ensure they are lending money to borrowers who have the capacity to make payments.
For instance, jumbo loan lenders often require proof of consistent income and cash reserves or liquid assets to confirm you have the funds to pay back your loan. On top of that, you might pay higher closing costs and a larger down payment.
More specifically, what you need to qualify for this loan will depend on what type of jumbo loan you're getting and the amount you need to borrow.
There are a few loan types we'll go over:
Home purchase

Rate or term refinance

Cash-out refinance

Investment property purchase or refinance

Land purchase
Jumbo Mortgage On A Home Purchase
If you're buying a one-unit primary property with a 30-year fixed interest rate and a loan amount of up to $2 million, you'll need to have a minimum median FICO® Score of 680 and a minimum down payment of 10.01%.
The maximum debt-to-income ratio must be no higher than 45%.
If the primary residence has more than one unit or the loan amount is higher than $2 million, you may have slightly different credit score requirements, and you'll need to make a higher down payment - up to 25%, depending on the loan amount of type of occupancy. You can also expect higher credit score requirements on 15-year fixed and adjustable-rate jumbo loans, which require a score of 700 or higher to qualify.
Rate Or Term Refinance On A Jumbo Loan
If you plan on doing a rate or term refinance on a jumbo loan, you'll need to have a minimum FICO® Score of 700 and a maximum DTI of 45%.
The amount of equity you're required to have in the home to refinance will depend on the loan amount. For a loan amount of up to $2 million, you must have at least 10.01% equity in your home. For loan amounts up to $2.5 million, you'll need to have more equity in the home (up to 30% depending on the loan purpose and property type).
Jumbo Loan Cash-Out Refinance Requirements
If you have a primary vacation or investment property, with one- or two-units, you can take cash out with a jumbo loan refinance. However, there are limits to how much cash you can take out, depending on how much equity you have in your home.
These limits are as follows:
If you have between 30% and 50% equity in your home, you can take out up to $300,000.

If you have 50% or more equity in your home, you can take out up to $500,000.

These guidelines

don't apply to

second homes and investment properties. Currently, the jumbo loan doesn't allow cash-out refinancing on second homes and investment properties.
Whatever the amount of cash you take out in your refinance, you must leave a certain amount of equity in the home. You'll need to leave between 10.01% – 30% equity depending on the property type.
Purchasing Or Refinancing Investment Properties With A Jumbo Mortgage
Jumbo loans are not limited to primary residences, making them a viable financing option for investors who want to buy or refinance their high-end properties. However, not all lenders may offer jumbo loan options for secondary or investment properties, and the ones that do could have specific requirements and loan limits. Be sure to do your research beforehand.
The Jumbo Smart loan from Rocket Mortgage® is a great example of a loan option for primary households and rental properties alike. With the Jumbo Smart loan, you can borrow up to $2 million for an investment property. If you want to purchase or refinance a vacation home, the property must be a single-family dwelling. Otherwise, rental properties can be either a single or double unit.
Similar to primary home requirements, you'll need at least a 680 FICO® Score and a DTI below 45% to qualify for the Jumbo Smart loan for your investment properties and secondary homes. Requirements may be higher depending on your loan purpose. Note that only the 30-year fixed jumbo loan is available for investment properties. 15-year fixed and ARM options are only available on primary and secondary homes.
Jumbo Loan On The Purchase Of Land
Whether you're purchasing or refinancing, you may use a jumbo loan for a home on up to 20 acres of land. The land can't be zoned for agricultural use.
Find out if a Jumbo loan is right for you.
See rates, requirements and beneifts.
Explore Jumbo Loans
Jumbo Loan Rates
Because there's greater risk involved in lending large amounts of money, jumbo loans are often erroneously thought to carry higher interest rates than conforming loans. However, jumbo loan rates can vary dramatically, depending on your lender, finances and down payment.
When mortgages are viewed as involving less risk, lenders may choose to offer rates that are in line with or even lower than conforming loan rates.
The extreme variation in jumbo loan rates makes it even more important to shop around before choosing a specific lender, as each will offer different loan terms.
VA Jumbo Loans
Veterans or active members of the U.S. military can qualify for VA jumbo loans if they're interested in purchasing homes that exceed the standard loan limits of their area. However, the requirements for VA jumbo loans are a bit more restrictive than they are for typical VA loans.
For VA loans, borrowers need to have a minimum FICO® Score of 620, but they don't need a down payment. This is not the case for VA jumbo loans. To qualify for these higher loans, borrowers must have a minimum score of 640 and may need to make a down payment.
If you don't want to make a down payment on a VA jumbo loan, the median credit score necessary is 740.

A 680 median FICO® Score will allow you to make a 5% down payment.

With a 640 median FICO®, the down payment is 10%.
It's important to note that other lenders may have different policies.
If you have an impacted entitlement, meaning you have a partial entitlement but not the full amount, different down payment guidelines apply. We suggest speaking with a Home Loan Expert.
The Bottom Line: Is A Jumbo Mortgage Loan Right For You?
If you're trying to determine whether a jumbo loan is right for you, you should first consider whether you truly need one.
Remember, the conforming loan limit is $548,250 – and up to $822,375 in high-cost areas, like Los Angeles, New York City and Hawaii. If the property you're interested in exceeds the limit for your area, you should see if making a higher down payment will make up for the difference.
Assuming that you still require a higher loan amount, you must next consider your financials. Jumbo loans come with higher monthly payments. If you feel you can afford to make these higher payments comfortably, just make sure that you have a high credit score and low DTI.
A jumbo loan can be the solution you need to pay for that perfect home. If you're ready to get started, create an account with Rocket Mortgage, so you can learn more about your options. And to go over your options in detail, feel free to speak with one of our Home Loan Experts at (800) 785-4788.
Apply for a Mortgage with Quicken Loans®
Apply online for expert recommendations with real interest rates and payments.
Start Your Application