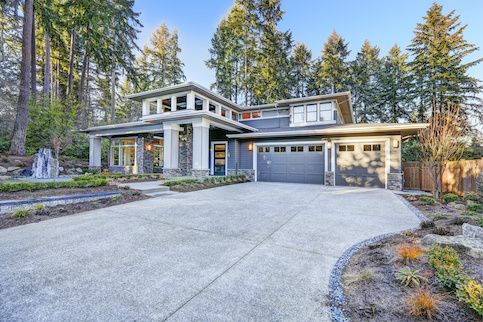 What Is A Jumbo Loan And Who Needs One?
Published on July 13 2021
If you live in an area where there are no lower cost housing alternatives available, or you're looking to purchase a higher-end home, you'll quickly learn that you'll need a jumbo loan to get the financing you need.
Getting a mortgage loan may seem overwhelming enough without having to get a jumbo mortgage – a home loan that exceeds government limits for most home loans.
Let's take a look at what a jumbo loan is, the requirements lenders are looking for and how to get one.
What Is A Jumbo Loan?
A jumbo mortgage loan is a type of financing where the loan amount is higher than the conforming loan limits set by the Federal Housing Finance Agency (FHFA). Specifically, it's a conventional nonconforming loan.
If you're looking for a home in the metro areas around New York City, San Francisco or any of the other most expensive areas of the country, a conforming loan – the most common type of conventional home loan – simply won't be big enough to cover the purchase price. For those purchases, borrowers will need a jumbo mortgage.
See What You Qualify For
Congratulations! Based on the information you have provided, you are eligible to continue your home loan process online with Rocket Mortgage.
If a sign-in page does not automatically pop up in a new tab, click here
Conforming Vs. Nonconforming Loans: What's The Difference?
Conforming loans are a type of conventional loan – a loan made by private lenders without government backing. Lenders who make these loans generally sell them to Fannie Mae and Freddie Mac after origination, which means that they must adhere to the limits and requirements set by these government-sponsored enterprises.
Nonconforming loans fall into several groups. Government-insured loans offered through the Federal Housing Administration (FHA), the Department of Veterans Affairs (VA) and U.S. Department of Agriculture (USDA) are a large group of nonconforming loans. Although those loans are also made by private lenders, they are not conventional loans because lenders wouldn't offer these loans without government incentives.
Jumbo loans are the most common type of conventional nonconforming home loans. These loans are offered by private lenders without any support from the government.
What Are Conforming Loan Limits?
Jumbo loans are needed to purchase homes with prices that exceed conforming loan limits. Those limits are imposed by Fannie Mae and Freddie Mac, who will not buy mortgage loans that exceed their loan caps.
The conforming loan limit for 2022 is $647,200 for most areas and up to $970,800 in the most expensive housing markets in the U.S., including Los Angeles, New York City and Hawaii.
To find out the limits where you are planning to move, use the FHFA's look-up map.
What Are The Advantages Of A Jumbo Loan?
For borrowers who want to buy a home in more expensive areas of the country, or are shopping for a luxury property, a jumbo loan may be your only option, unless you have the cash to make up the difference between the conforming loan limits and the purchase
What Are The Disadvantages Of A Jumbo Loan?
Because this loan may come at a higher risk to the lender, it typically has slightly stricter qualification requirements than typical conforming loans that possess lower limits and the interest rate might be slightly higher to reflect the risk of lending a large amount of money to a single individual or family unit.
Find out if a Jumbo loan is right for you.
See rates, requirements and beneifts.
Explore Jumbo Loans
Jumbo Loan Limits And Requirements
In general, an underwriter evaluates a jumbo loan with many of the same lending criteria as they would a conventional loan – even if those requirements are a bit more stringent. You should expect your lender to request both your credit score and debt-to-income ratio (DTI), which compares your minimum monthly installment and revolving debt payments to monthly income.
However, it's not uncommon for lenders to request jumbo mortgage applicants to meet special demands before approving them for the loan. Because lenders take on higher risk with jumbo loans, these extra measures help ensure they are lending money to borrowers who have the capacity to make payments.
For instance, jumbo loan lenders often require proof of consistent income and cash reserves or liquid assets to confirm you have the funds to pay back your loan. On top of that, you might pay higher closing costs and a larger down payment.
More specifically, what you need to qualify for this loan will depend on what type of jumbo loan you're getting and the amount you need to borrow.
There are a few loan types we'll go over:
Home purchase

Mortgage refinance

Investment property purchase or refinance

Land purchase.
Purchasing A Home With A Jumbo Mortgage
Because jumbo loans are generally non-conforming, lenders are free to offer loans according to their own terms and requirements. That means they can ask for higher down payments, set higher interest rates and require higher credit scores.
Rocket Mortgage® offers the Jumbo Smart loan, so we'll take a look at its features as an example, not as a sample representative of the loans most lenders offer.
The Jumbo Smart loan offers loan amounts up to $2.5 million.
Benefits Of A Jumbo Smart Mortgage
There are two main benefits to a Jumbo Smart loan.
We do not require private mortgage insurance (PMI), which represents a significant monthly savings if you're unable to put 20% down on your jumbo mortgage loan.
Additionally, our automated Jumbo Smart mortgage application process essentially treats Jumbo Smart loans like conforming loans in terms of required documentation. That means that you will receive the same disclosure and other consumer protections, as if you were getting a conforming loan.
That's an important point, because the nonconforming loan market typically doesn't offer the level of consumer protections available to those applying for conforming loans. That's because the government's most influential tools, the policies of the FHFA and the involvement of the FHA, Fannie Mae and Freddie Mac, have no role in this market, so there's no oversight beyond general prohibitions against fraudulent or misleading statements.
Loan Limits On Rocket Mortgage's Jumbo Smart Mortgage
We take a different approach to loosen rather than restrict access to jumbo loans. It provides up to $2.5 million for a 30-year, fixed-interest rate mortgage loan on 1 – 2 unit properties, or up to $2 million with a 15-year fixed or an adjustable rate-mortgage (ARM).
Note that only the 30-year fixed-rate jumbo loan is available for investment properties. The 15-year fixed-rate jumbo loan and ARM options are only available on primary and vacation homes.
| | | | |
| --- | --- | --- | --- |
| Types Of Jumbo Smart Loans | Can be used for primary residence with 1 – 2 units | Can be used for second or vacation home | Can be used for investment property |
| 30-year fixed | Yes, up to $2.5 million | Yes, up to $2.5 million | Yes, up to $2.5 million |
| 15-year fixed | Yes, up to $2 million | Yes, up to $2 million | No |
| ARMs | Yes, up to $2 million | Yes, up to $2 million | No |
Loan Requirements For Rocket Mortgage's Jumbo Smart Mortgage
The minimum credit score for a 30-year fixed jumbo loan on primary residences, vacation homes and investment properties is 680. The minimum credit score for a 15-year fixed loan or a Jumbo Smart ARM is 700, although requirements may vary depending on individual circumstances.
Typically, jumbo loans require down payments of 20% or more. Our Jumbo Smart loan requires only a 10.01% down payment for a single-unit home and 15% for two-family homes.
Types Of Jumbo Smart Loans

Down Payment For

Primary Residence

Down Payment For Second Home

Down Payment For Investment Property

30-year fixed

X

X

X

15-year fixed

X

X

Not available

ARMs

X

X

Not available
| | | | |
| --- | --- | --- | --- |
| Types Of Jumbo Smart Loans | Credit Score | DTI | Income And Assets |
| 30-year fixed | 680 | 45% | 6 month emergency reserve |
| 15-year fixed | 700 | 45% | 6 month emergency reserve |
| ARMs | 700 | 45% | 6 month emergency reserve |
Refinancing Your Home With A Jumbo Loan
When you refinance your home, you're essentially paying off your current mortgage with a new mortgage. If you needed a jumbo loan to purchase your home, you may need a second jumbo loan to refinance your mortgage.
There are many good reasons to refinance. You may have purchased your home when interest rates were higher and are now seeking lower rates through a rate-and-term refinance. You may want to tap some of the equity in your home for renovations with a cash-out refinance. You may have come into a cash lump sum and are planning to do a cash-in refinance.
Whatever your future plans, you can expect the jumbo loan refinance process to be very similar to the initial mortgage application process. You might also have accumulated enough equity in your home to refinance into a conforming fixed rate mortgage.
Jumbo Loan On The Purchase Of Land
Whether you're purchasing or refinancing, you may use a jumbo loan for a home on up to 20 acres of land. The land can't be zoned for agricultural use.
Jumbo Loan Rates
Because there's greater risk involved in lending large amounts of money, jumbo loans traditionally came with higher interest rates than conforming loans. Nowadays, however, jumbo loan rates approach the conforming loan rates offered by most lenders.
With home prices constantly rising, jumbo mortgages are far more commonplace than they once were. As a result, the distance between the average 30-year fixed-rate conforming loan rate versus a 30-year fixed-rate jumbo loan rate is closing. Some jumbo mortgage rates are in line with or even lower than conforming loan rates.
Keep in mind that jumbo loan rates can vary dramatically, depending on your lender, credit score and down payment.
VA Jumbo Loans
Veterans or active members of the U.S. military can qualify for VA jumbo loans if they're interested in purchasing homes that exceed the standard loan limits of their area. If your Certificate of Eligibility (COE) indicates that you have full eligibility, you have access to a loan amount limited only by your income, credit score and DTI.
However, if you have only a remaining entitlement, you may face VA loan limits based on the county in which the property is located.
To qualify for these higher loans, borrowers must have a minimum score of 640 and may need to make a down payment up to a credit score of 740.
The Bottom Line: Jumbo Loans Help You Buy A Home In The Most Expensive Real Estate Markets
A jumbo loan can be the solution you need to pay for that perfect home in your very expensive neck of the woods. Or it can be the ticket into the home of your dreams.
Ready to start your Jumbo Smart home loan application? Apply online today.
Apply for a mortgage today!
Apply online for expert recommendations with real interest rates and payments.
Start Your Application