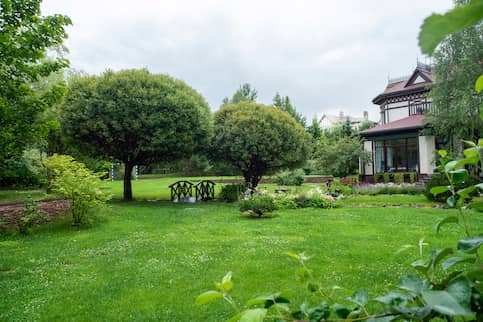 Jumbo Vs. Conventional Loans: What's The Difference, If Any?
Published on September 20, 2022
An important part of buying a house is choosing the best financing option. The type of mortgage you go with can depend largely on the price of the home you want and your financial situation, along with market and location factors.
Two popular choices among home buyers are conventional loans and jumbo loans. While jumbo loans are technically a subcategory of conventional loans – the blanket term for any loans not backed by the federal government – jumbo loans differ from most conventional loans in significant ways.
Let's break down the key differences between jumbo and conforming conventional loans so you can know which is more suitable for your situation and needs.
Differences Between A Jumbo Loan And A Conventional Loan
A major contrast between jumbo and conforming conventional mortgages is their respective loan amounts.
Conventional loans are available through banks, credit unions and other financial institutions. They're originated and serviced by private lenders and aren't insured by any government agency.
Most often, conventional loans are conforming loans, which by definition are loans that meet the funding requirements of Fannie Mae and Freddie Mac. These include the conforming loan limits put in place by the Federal Housing Finance Agency (FHFA). However, conventional mortgages can also be available as non-conforming loans, often in the form of jumbo loans.
The key difference between a conforming conventional loan and a jumbo loan is that jumbo loans are for properties that exceed conforming loan limits.
Find out if a Jumbo loan is right for you.
See rates, requirements and beneifts.
Explore Jumbo Loans
Jumbo Vs. Conforming Conventional Loan Requirements
The mortgage process for both jumbo and conforming conventional loans is similar, but they differ in certain requirements.
Since jumbo loans are for much higher loan amounts, lenders are taking a bigger risk when approving borrowers. For this reason, you'll typically face stricter requirements when applying for a jumbo loan than you would for a conforming conventional loan.
Borrower requirements can vary based on your lender, location and financial situation.
Qualifying For A Conforming Conventional Loan
For comparison, we'll consider the general minimum requirements for a conforming conventional loan.
These include:
Your desired loan amount will also factor into your loan approval. For 2023, loan limits range from $715,000 – $1,073,000 for a 1-unit home, depending on where you live. Also, conventional loans with a down payment of less than 20% will require private mortgage insurance.
Qualifying For A Jumbo Loan
To account for their larger loan amounts, jumbo loans have more rigid requirements for borrowers to meet before they can be approved. Jumbo loans most often require:
A credit score of at least 680

A DTI ratio no higher than 45%

A down payment of 10.01% – 25%

Up to 12 months of cash reserves
As non-conforming loans, jumbo mortgages have no certain loan limits, and they can be good for up to several million dollars. LTV ratios on non-conforming loans should be less than or equal to 89.99%.
For an easy comparison of the typical requirements and features associated with conforming conventional loans and jumbo loans, review the chart below. Please note, however, that these numbers can vary depending on your lender, your unique financial situation and other factors.
Requirements

Conventional Loan (Conforming)

Jumbo Loan

(Non-conforming)

Property type

Large, luxury home or property in competitive area

Loan amount

$715,000 – $1,073,000

Up to several million dollars

Down payment

3% minimum

10.01% – 25%

Minimum credit score

620

680

DTI maximum

43% – 50%

45%

LTV

Less or equal to 97%

Less or equal to 89.99%

Cash reserves

0 – 6 months

6 – 12 months

Mortgage insurance

Required if down payment is under 20%

Required by some but not all lenders
Jumbo Loan Vs. Conforming Conventional Loan Rates
Since jumbo loan amounts are higher than conforming conventional loans, it would make sense that interest rates would also be higher. There's no hard rule for this, however. Mortgage rates are largely determined by market trends and, of course, your credit score and down payment. Jumbo loan rates are competitive, though, so there's even the chance your rate could be lower than with a conforming conventional loan.
Your rate may also depend on your lender, too, as jumbo loans can be risky to approve.
When To Choose A Jumbo Or Conforming Conventional Loan
Different types of home loans are available for different scenarios, so make sure you're getting the right mortgage for your situation.
Consider a jumbo in the following instances:
You want to finance a large, luxury property

You want to finance a home in a high-cost or super-competitive area

You have a high credit score and income

You want to buy a high-cost vacation home
In the below cases, you may consider a conventional loan:
You need a loan amount that's below conforming loan limits

You have "good" or "very good" credit

Your income is good but not good enough for a jumbo loan
You can also talk with your mortgage lender about other financing options. You may not be limited to only conventional mortgages.
Jumbo Vs. Conforming Conventional Loans: Pros And Cons
Choosing the right home loan for you doesn't mean it'll be perfect. Both jumbo and conforming conventional loans have pros and cons.
Jumbo Loans
Consider these jumbo loan benefits:
You can borrow more money from your lender.

You can qualify for a competitive interest rate.

You can afford a more expensive home or live in a high-cost area.
Also consider these drawbacks:
You'll likely need a higher credit score and income to qualify.

You'll probably need to make a bigger down payment.

You may be required to have more cash reserves.
Conforming Conventional Loans
Consider these pros of conforming conventional loans:
You usually have lower credit score requirements than with jumbo loans.

You can finance with as low as a 3% down payment.
Also consider these cons:
Conforming conventional loans operate within conforming loan limits.

Down payments under 20% require borrowers to purchase PMI.
FAQs About Conventional And Jumbo Loans
Are jumbo rates typically higher than conventional rates?
As noted, interest rates on jumbo loans can be higher than interest rates on conforming conventional loans because of jumbo loans' higher loan amounts and the risks they present to lenders. However, jumbo rates tend to be competitive with market rates and affected by a borrower's creditworthiness, so you may see a range of different rates while researching.
What is the limit on a conventional mortgage?
The 2023 conforming loan limit for a conventional loan is $715,000, with a ceiling of $1,073,000 for high-cost areas. The FHFA assigns conforming loan limits by county, with around 95% of counties assigned the baseline loan limit. This limit is higher, however, for properties with 2 – 4 units.
Do jumbo loans have PMI?
No. Typically, most lenders do not require PMI for jumbo loans. Because these loans start with a higher down payment
What credit score do I need for a conventional mortgage?
The minimum credit score requirement for conventional loans is generally 620 if you want to qualify for a good interest rate. Jumbo loans usually have higher credit requirements, but some lenders might be willing to accept a score as low as 680.
The Bottom Line
If you need a bigger mortgage than conforming limits will allow, you might consider applying for a jumbo loan. If you can meet the credit requirements for this type of home loan, you could be on your way to owning that big, luxurious mansion or vacation home. Otherwise, you may still be able to afford a great home with a conforming conventional mortgage. The choice really comes down to the kind of home you desire and what your financial situation will allow.
Want a better look at your home loan options? Start the mortgage approval process today!
Find out if a Jumbo loan is right for you.
See rates, requirements and beneifts.
Explore Jumbo Loans