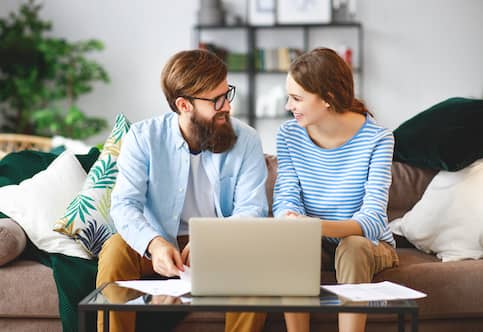 Can You Refinance A VA Loan?
Published on February 14, 2022
The VA loan is one of the most popular loan programs in America, providing qualified military homeowners with lower rates and an easy way to decrease their monthly mortgage. A VA loan is particularly appealing to eligible veteran and military home buyers because of exclusive benefits, namely, it enables them to buy a home with no down payment or refinance up to 120% of their home.
However, many service members have questions about the rules and requirements surrounding a VA loan and may not understand how this exclusive benefit works or if you can refinance a VA loan. In this article, we'll be breaking down the refinancing options for VA loans and what each of them have to offer.
Can You Refinance Your Home With A VA Loan?
Yes! You have several options when it comes to refinancing your home with a VA loan. Later on, we'll take a look at each of these loan type options, what kind of borrower best suits each, and what their benefits are. For right now, let's cover some other common questions.
See What You Qualify For
Congratulations! Based on the information you have provided, you are eligible to continue your home loan process online with Rocket Mortgage.
If a sign-in page does not automatically pop up in a new tab, click here
How Soon Can You Refinance A VA Loan?
To refinance with a VA home loan you'll have to meet the required waiting period of 212 days or 6 payments' worth of time – whichever period is longer. You can expect this required waiting period regardless of what VA refinancing option you choose.
Benefits Of Refinancing A VA Loan
For qualified borrowers with strong credit history and an anticipated long-term stay at their home, refinancing a VA loan can make a lot of sense. But why exactly should you refinance with a VA loan? Here are some of the benefits that this process has to offer:
Lower-than-average interest rates compared to most other loan types: This is based on the loans being a benefit for military personnel.
Potential for a lower monthly payment: A lower interest rate could mean a lower payment.
No monthly mortgage insurance premium: FHA loans and conventional loans with less than 20% down payment both require monthly mortgage insurance.
Ability to take cash out up to 100% of your home's value: This can help you better accomplish a home renovation or meet your financial goals.
Ability to refinance up to 120% of your home's value: A VA loan is one of the few loan products that can offer this benefit.
Relaxed credit guidelines: The VA has no set minimum credit requirement, which can make refinancing easier for VA loans. But remember, different lenders can set their own credit score requirements. Rocket Mortgage® requires a minimum credit score of 580.
There are no prepayment penalties: There's no penalty for paying off your loan early.
Foreclosure assistance: Veteran homeowners who find themselves in default can work with the VA for assistance in finding alternatives to foreclosure.
Ability to roll the funding fee into the refi amount: Remember, there is no funding fee for disabled veterans, eligible surviving spouses or active-duty Purple Heart recipients.
VA Loan Refinance Options
When it comes to a VA loan refinance, you'll have three different options to choose from. You can reduce the interest rate on your loan with an interest rate reduction refinancing loan (IRRRL) or get cash-out financing. We'll also touch on when you may be better off refinancing into a conventional loan.
Let's dive deeper into these three types of mortgage refinance to find one which may best suit you and your financial needs:
VA Streamline Refinance (IRRRL)
The VA Streamline refinance (IRRRL) – also known as an interest rate reduction refinance loan – is available for homeowners who currently have a VA loan and want to lower their interest rate. This type of refinance typically allows for little or no out-of-pocket costs, close faster and with less documentation than an average home loan.
While the VA doesn't have specific occupancy requirements for this type of loan, lenders set their own policies.
Some other benefits of an IRRRL include:
Refinance up to 120% of your home's value
Paying a reduced funding fee
Entitlement requirements do not apply
An appraisal may not be needed
Certificates of Eligibility (and other documentation) is not required
You may be able to lower your interest rate
You may be able to stabilize your monthly payments if switching from an adjustable or variable loan to a fixed loan
IRRRL Program Requirements
If you meet all of the following requirements, you may qualify for an IRRRL:
I already have a VA-backed home loan
I am using the IRRRL to refinance my existing VA-backed home loan
I can certify that I currently live in or used to live in the home converted by the loan
Additionally, if you have a second mortgage on your home, the holder must agree to make your new VA-backed loan the primary mortgage.
VA Cash-Out Refinance
A VA cash-out refinance is a great option for many veterans and service members looking to refinance their mortgage. It not only lets current VA loan homeowners take cash out of their home's equity for a variety of reasons – cover liens, bills or emergency expenses, make home renovations, etc. – but it also enables qualified homeowners to refinance their conventional or other loan into a VA loan.
It's also the only cash-out loan that allows you to utilize 100% of your equity. Other cash-out options require you to leave at least 20% equity in the home after the refinance. This should allow you more financial flexibility.
While it may sound like a home equity loan, it's different because instead of adding to your current loan, a VA cash-out refinance replaces your current loan – usually, with better terms attached than with other loan types.
Cash-Out Refinance Requirements
Minimum requirements for a VA cash-out refinance loan include the following:
Qualify for a VA-backed home loan Certificate of Eligibility
Meet VA's – and the lender's – standards for credit, income, and any other requirements
Live in the home that is being refinanced with the loan
A cash-out refi is a smart option for borrowers who may need funds to pay for school, cover debts, make home improvements, or take care of other unexpected expenses.
Refinancing A VA Loan To A Conventional Loan
Though a less desirable option when looking to refinance your VA loan, it's still worth mentioning refinancing your current VA loan to a conventional loan or FHA mortgage.
Depending on your situation, it may make sense to switch from your VA loan. Here are a few of these instances when it may be a smarter financial decision to switch to a conventional loan:
If you want a rental property: If you are interested in owning both a primary and secondary residence, you typically are not allowed to take out multiple VA loans to fund both properties. It's not uncommon for qualified VA loan borrowers to therefore move from one home to another, and use the VA loan to finance their newer primary residence, and switch the property they intend on renting out to a conventional loan. This can be a smart way to generate a passive income while making the most of your VA benefits.
If you have stellar credit and want better terms: Although VA loans are renowned for their attractive interest rates, if you already have excellent credit and are eligible for a conventional loan, then you may be able to refinance into terms that are better than those of a VA loan.
If you don't qualify for an IRRRL: The VA's IRRRL loan is a strong contender for many qualified VA borrowers, but for those who don't qualify, refinancing into a conventional loan may be the best option to get lower interest rates.
Conventional Loan Requirements
Though stricter than other loan options, you may qualify for a conventional loan:
Down payment of at least 3%
If you have a down payment lower than 20%, private mortgage insurance (PMI) is required and added to your monthly payment
Minimum credit score of 620
A debt-to-income ratio (DTI) lower than 50%
A loan within the limits set by Fannie Mae and Freddie Mac – as of 2022, the limit is set at $726,200 with exceptions in high-cost areas like Alaska and Hawaii
The Bottom Line
There's a common misconception that VA loans can be confusing, time consuming and tough to navigate, but so long as you understand the three VA refinance options available to you, the refi process doesn't have to feel overwhelming. What's most important is choosing an option that fits and benefits you most, and at Rocket Mortgage, we strive to keep things easy.
As a VA-approved lender, we can get the documents you may need, cutting through the red tape to help keep things moving along. We also service all of our loans, which means we won't sell your loan to someone else. When you work with us, you're with us for the life of your loan. So check out our Rocket Mortgage Refinance page for more information on refinancing.
View Your Refinancing Options
See expert-recommended refinance options and customize them to fit your budget.
Start Your Refinance Online