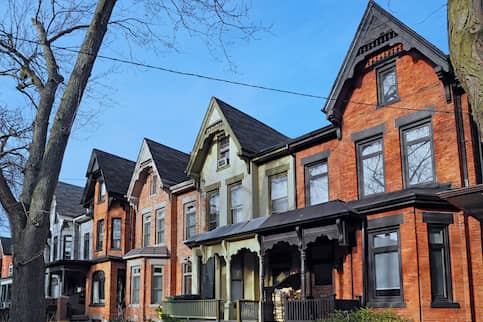 What Is VA Entitlement And How Does It Work?
Published on September 13, 2023
As you start shopping for a home, determining the right mortgage option is a top priority. Many veterans choose to apply for a VA home loan due to the extensive benefits like lack of a down payment and relatively low interest rates. But before jumping into the loan application, it's important to understand your VA entitlement.
Let's take a closer look at what a VA loan entitlement means within this home loan program.
What Is VA Entitlement?
The VA loan program is backed by the Department of Veterans Affairs (VA). The loan program is functional because the VA guarantees to repay lenders if a qualified borrower defaults on their VA home loan.
Essentially, the VA entitlement is the amount of money that the Department of Veterans Affairs guarantees. For example, if you default on your loan, the VA will repay the lender up to the entitlement amount.
Depending on your situation, you might have a full entitlement, bonus entitlement or a reduced entitlement (also known as a partial entitlement).
See What You Qualify For
Congratulations! Based on the information you have provided, you are eligible to continue your home loan process online with Rocket Mortgage.
If a sign-in page does not automatically pop up in a new tab, click here
Types Of VA Loan Entitlement
As a home buyer seeking to use the VA loan, there are three types of entitlement to be aware of. Note that relatively recent changes have essentially removed the VA loan limits on entitlement benefits.
VA Basic Entitlement
Prior to 2020, basic entitlement for a VA loan meant a guarantee of up to $36,000 on a loan of up to $144,000 without making a down payment. But as of 2022, if your loan amount exceeds $144,000, the VA will guarantee 25% of the loan amount even if you don't make a down payment. On top of your full entitlement, you might have a bonus entitlement (more on that below).
When you receive your Certificate of Eligibility (COE), the basic entitlement shown on the loan is $36,000. That's considered a full entitlement. Importantly, $36,000 isn't the limit of how much you can borrow. Instead, it's a reflection of how much the VA will guarantee on the loan.
With this basic entitlement, the VA will guarantee a loan of up to $144,0000. However, that doesn't mean $144,000 is your loan limit. After that point, the VA bonus entitlement kicks in.
VA Bonus Entitlement
VA bonus entitlement indicates the additional amount that the VA will guarantee if your loan amount exceeds $144,000. Sometimes this extra entitlement is referred to as additional entitlement or Tier 2 entitlement.
With this bonus entitlement, you won't encounter loan limits set by the Department of Veterans Affairs. However, you'll likely encounter a limit imposed by the lender that considers your income, credit and other financial details.
VA Reduced Entitlement
If you have a reduced entitlement, that usually means you have an existing VA loan that you are paying off or defaulted on a previous VA loan. Although there's no limit to how much you can borrow with a reduced entitlement, you will have to make a down payment if you exceed the entitlement.
Though the VA still backs your loan up to 25%, it subtracts the amount the department has already backed on your existing or prior loan(s).
How To Calculate Your VA Entitlement Amount
When you have full entitlement, the VA doesn't impose a loan limit. With that, you can borrow as much as a lender is willing to provide without a down payment, and the VA will back 25% of the loan's value.
However, the rules are a tad different when you have a reduced entitlement. Since the VA guarantees up to 25% of your loan amount, you can determine your remaining entitlement by multiplying the loan amount by 25% (or dividing it by four).
For example, let's say that you currently have a VA loan with a loan amount of $100,000. When multiplied by 25%, the entitlement you've used on that loan is $25,000. Next, subtract this amount from the $36,000 maximum basic entitlement to arrive at a reduced entitlement of $11,000.
But thanks to bonus entitlement, you may have more entitlement than you think. You can determine this by multiplying the conforming loan limit of your county by 25% and subtracting the entitlement you've already used. For example, if the conforming loan limit for your county was $715,000, 25% of that is $178,750. Subtract the $25,000 entitlement you've already used to arrive at the total remaining entitlement of $153,750.
Guide to VA Loans
Discover a more affordable loan option for United States Veterans, Service Members and spouses.
Read the Guide to VA Loans
Understanding Your COE And VA Entitlement Codes
If you are pursuing a VA loan, the first step is to obtain your certificate of eligibility (COE). This document provides proof to the lender that you meet the VA loan service requirements. To be eligible for VA entitlement, any one of the following must be true:
You are currently on active duty in the U.S. armed forces and have at least 90 consecutive days of military service.
You are a veteran who met the active duty requirements when you served.
You are a member of the National Guard or Reserves who meets the active duty eligibility requirements.
Your spouse was a veteran who died while serving or from a service-related disability.
If you meet the eligibility requirements, you can either request a copy of your COE through the lender or request it by mailing in a VA Form 26-1880. Once you have a copy of your COE, you'll see your entitlement code on the document.
You'll spot an entitlement code that indicates when you did your service. For example, the entitlement code "01" indicates that you served during World War II, but a "10" entitlement code means that you served in the Persian Gulf War. A common entitlement code is "05," which indicates that your entitlement has been restored after using a VA loan in the past.
In addition to your entitlement code, your COE will indicate whether or not you have a full entitlement or a reduced entitlement.
VA Loan Entitlement: FAQs
Let's take a look at some of the questions you may have about your VA loan entitlement.
What is a VA entitlement versus a guaranty?
A VA entitlement indicates how much the VA is willing to guarantee for eligible service members seeking a home loan. A guaranty is the term used for the amount that the VA actually guarantees on the loan.
What is the maximum VA entitlement amount?
As of 2020, the Department of Veterans Affairs doesn't set a maximum loan limit. Instead, the VA defers to what a lender is willing to loan a particular borrower. With that, you'll likely encounter a unique loan limit set by the lender based on your financial situation.
How do I restore my VA entitlement?
You can restore your VA entitlement by fully repaying the original VA loan and selling the initial property. For instance, you may be able to get a VA cash-out refinance, which restores your entitlement and applies it to your new mortgage.
How long does it take to restore my VA entitlement?
In some cases, it can take weeks to restore your VA entitlement. But if your lender can provide evidence of the sale of your previous property tied to a VA loan, that may expedite the process.
The Bottom Line: VA Entitlement Determines How Much Of Your Loan Is Covered
The VA home loan program offers a worthwhile opportunity for veterans seeking homeownership. Your entitlement amount totals up to 25% of your loan's value, depending on whether you have an existing VA loan or have defaulted in the past. If you are ready to move forward with a home purchase, apply for a home loan today.

Apply for a mortgage today!
Apply online for expert recommendations with real interest rates and payments.
Start Your Application