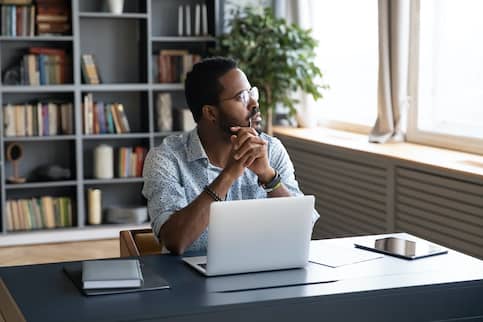 Types Of Refinance: Choosing The Best Option For You
Published on November 25, 2020
If you've built up equity in your home, you have a financial resource that you can use to help you meet your goals. That's good news if you're hoping to renovate your home, retire and travel around the world or pay for your child's college tuition. Fortunately, there are a wide variety of mortgage refinance products to help borrowers get what they need from their home.
Find A Mortgage Today and Lock In Your Rate!
Get matched with a lender that will work for your financial situation.
Get Started
What Is A Mortgage Refinance?
When you purchased your home, you most likely applied for a mortgage to pay for it. But now that you've been in the home for a few years, you might be considering a mortgage refinance, or getting a new – and better – mortgage to replace your current mortgage.
In most cases, a refinance means you go through the loan application process all over again. That means you'll have to factor in closing costs, including a new appraisal, before deciding on whether a refinance is right for you. Once your loan is approved, a new closing day is scheduled, and the proceeds of the new loan are used to pay off the old mortgage.
Types Of Refinance Loans
If you have a financial need and you own a home, chances are good there will be a mortgage product designed to help you. Let's take a look at the different refinance options that are available.
1. Rate-And-Term Refinance
A rate-and-term refinance means you are looking for a better mortgage than you were able to get the first time around. This traditional form of refinancing is perfect for those who want to lower their monthly payments, get rid of mortgage insurance premiums on their Federal Housing Administration (FHA) loan, adjust the length of their loan term or refinance their adjustable rate mortgage (ARM) with a 15- or 30-year fixed-rate mortgage.
Maybe your credit score is much higher now than it was when you first applied, or your income has risen and you want to pay off your mortgage more aggressively. Or maybe you've paid down some debt and have a much lower debt-to-income, or DTI, ratio. It's quite possible that you'll lock down a substantially lower rate if your credit score has moved up a bracket or two since the last time you applied.
What if you needed to lower your monthly mortgage payment even more drastically, as in the case of a divorce, or the death or disability of a spouse? Again, assuming you bought your home in 2010, you could refinance the balance of your mortgage with a 30-year fixed-rate loan to stretch those monthly payments out over a longer period of time, thereby lowering your monthly payment further still. You will pay more over the long term with this approach, but if your financial situation improves later on, you can always refinance again.
Find A Mortgage Today and Lock In Your Rate!
Get matched with a lender that will work for your financial situation.
Get Started
2. Cash-Out Refinance
In terms of the application process, a cash-out refinance is just like a rate-and-term, but the homeowner gets a check on closing day for whatever equity they seek to remove from the home.
If the borrower takes the cash and invests it back in the home, thereby increasing its resale value, the borrower is in approximately the same position, from a loan-to-value proposition, as they were before. In other words, they owe more, but they also own more.
3. Cash-In Refinance
With a cash-in refinance, you put a lump sum amount of money into your mortgage, either to lower your monthly payment, to build your equity up to 20% so that you can cancel PMI or MIPs, or to shorten your mortgage repayment period. Think of it as a way to make a down payment at any point during your ownership of the home.
4. Streamline Refinance
If you have a government-insured mortgage, such as a Federal Housing Administration (FHA), Department of Veterans Affairs (VA) or U.S. Department of Agriculture (USDA) loan, you may qualify for a streamlined refinance process. Streamlines require very little paperwork and no new appraisal, so closing costs are low.
The FHA Streamline Refinance does not require a new round of credit or income verification, or a new DTI calculation. Neither do the VA or USDA Streamline programs. Borrowers can qualify for rate and term refinance if they:
Have an existing FHA mortgage

Have made 3 months of on-time mortgage payments

At least 210 days have passed since you purchased or refinanced your home

Can show a clear monetary benefit to refinancing, either by showing that your monthly payments will be reduced or your repayment period will be shorter

Can lower your interest rate by at least 0.50%, in most cases
5. Reverse Mortgage
Certain borrowers over the age of 62 may qualify for a type of refinance called a reverse mortgage. With a reverse mortgage, you don't have to make payments on your mortgage while you're alive. You'll could even receive payments from the equity you have in your home. Then, if you sell your home or pass away, your loan balance will be paid through the sale of the home, or through payments made by your heirs.
Rocket Mortgage® does not offer reverse mortgages at this time.
6. No-Closing-Costs Refinance
Homeowners who do a no-closing-cost refinance don't have to pay closing costs up front on the loan, as its name suggests. The closing costs are rolled into the principal of the loan or covered by a higher interest rate.
7. Short Refinance
Homeowners who want to refinance to avoid foreclosure may benefit from a short refinance. With this option, the lender replaces the initial mortgage with one that has a lower balance, lowering the monthly payments to a more affordable amount. The homeowner benefits by getting to keep their home and the lender benefits by losing less money than they would in the event of a foreclosure. This is also known as a loan modification and needs the lender's approval and may have income tax implications for the mortgage client.
How To Navigate Your Mortgage Refinance Options
When deciding if you should refinance and what type of refinance to do, there are several factors that you should consider, such as:
The type of loan you have
The amount of equity you have in your home
Why you want to refinance
Your credit score and DTI ratio
Your home's current value
You can also consult with your lender to go over your refinance options and get recommendations on which may be the best for your situation.
The
Bottom Line
This list is not exhaustive. If you have equity in your home, you've got a myriad of options developed specifically to help you tap it to meet your financial needs. Before you begin the refinance process, however, make sure you carefully consider all your options and make sure that the benefits of refinancing are worth the cost. Want to get started on your refinance? Get preapproved today.
Take the first step toward buying a house.
Get approved to see what you qualify for.
Start My Approval